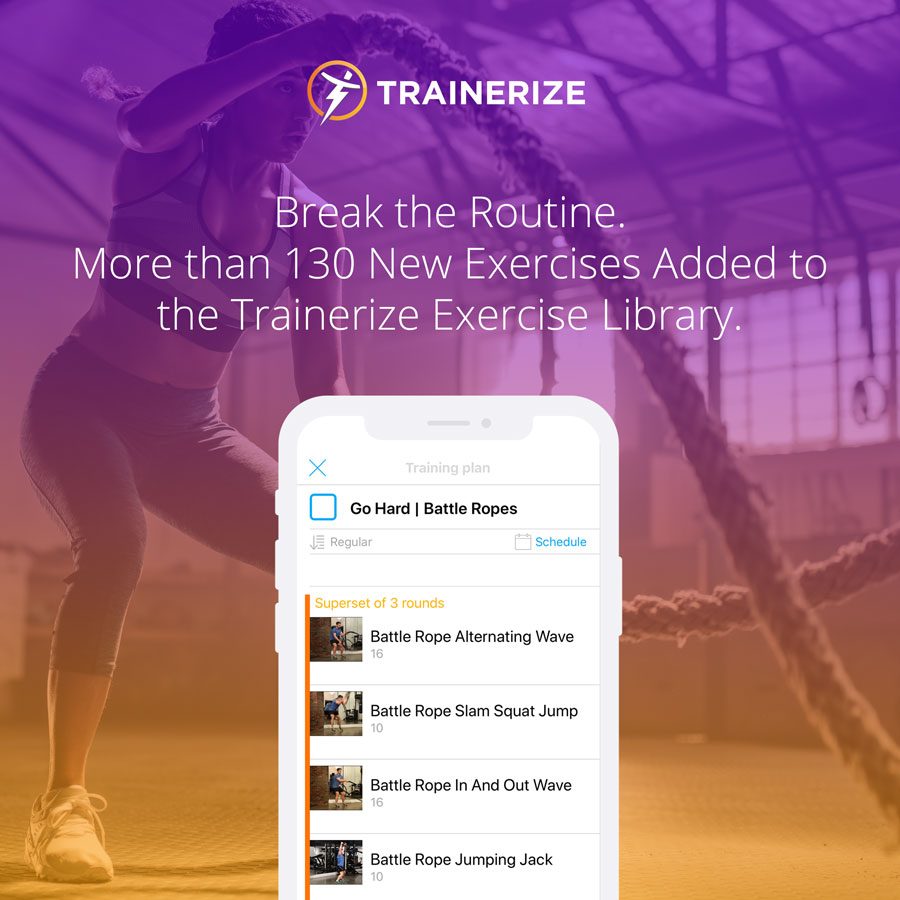 Workout boredom. It's real. It's here. And it's coming for your clients!
That might be a bit dramatic, but it's an unfortunate reality that for many clients, workouts have the terrible habit of getting old—fast.
You want them to stick to their routine; work their progressions; master their movements, and achieve personal bests, but you also need to be careful not to bore them straight into a plateau—or worse, giving up.
The good news is, with Trainerize, you have access to more than 1000 exercises that you can use to build workouts that not only keep your clients working hard but are fun, too!
To make sure you truly kick workout boredom to the curb and keep your clients training, we've just updated the Trainerize Exercise Library with what might just be our most exciting set of new exercises yet.
Perfect for in-the-gym sweat sessions, these 130 new exercises feature not just new movements, but tons of new equipment, too! From battle ropes to BOSU balls, we're giving you more ways to shake up your client's workouts and banish workout boredom for good!
Check out the list below to see what's new!
Sandbag
The sandbag just might be the most versatile pieces of equipment out there, but also one that's often overlooked. Praised for its ability to offer a challenging workout with just a few movements, adding sandbag exercises to your clients' workouts is sure to get them sweating. By combining both strength and stability, sandbag exercises stimulate multiple muscle groups at once and challenge your clients' bodies in new ways.
Sled
Perfect for strength, power, and speed training, the sled is a great piece of equipment to add your client's in-gym workouts. But it can also be intimidating for many clients—conjuring up images of Olympians, football players, or Dwayne "The Rock" Johnson dragging the weight of 10 refrigerators across a field.
Help your clients' get over their fears and discover that sled exercises aren't just for pro athletes (though they might feel like one when they use it) by adding them to their workouts. Then sit back and watch as your clients push, pull, drag, and sprint their way to great results.
Battle Ropes
Are we the only ones who hear AC/DC's "Thunderstruck" every time we see someone using battle ropes? There's just something hardcore about adding battle ropes (or battling ropes as they're sometimes called) to a workout.
Maybe it's the fact that with every swing, your clients will be both blasting fat and building muscle. Or maybe it's that battle ropes offer not just an upper-body session, but a full body workout complete with cardio. Whatever it is, add these exercises to your clients' workouts to help them battle fat and whip their bodies into peak shape.
BOSU Ball
With a flat surface on one side and a domed surface on the other, BOSU (which stands for "Both Sides Up") balls are great for balance, flexibility, and strength training. Choose exercises with the flat side up and your clients will be challenged to stabilize their bodies as they perform movements. Flip to the domed side and they'll gain an extended range of motion. With so many options, your clients will be constantly challenged.
Stability Ball
Also known as a swiss ball, stability ball exercises are an excellent way to spice up your clients' core workouts—not to mention they're ideal for clients with back and spine issues. If you're training clients who need modified core workouts or suffer from chronic back pain, stability ball exercises are sure to help you build balanced workouts they'll love.
Animal Movements
Have your clients take a walk on the wild side during their workouts, with animal exercises. By mimicking primal movements, these compound exercises promise both an intense and entertaining sweat sesh. From frog jumps to bear walks, they're sure to bring out the beast (mode) in all your clients.
Other Improvements
On top of all these new exercises added to the Trainerize exercise library, you'll also find that we've updated and refreshed a number of other exercises, many of which are trainer favorites.
Keep your clients training longer, with Trainerize.

Start your free 30-day trial today.