Our latest Tranerize upgrade has just gone live and we're happy to announce that it's powered with some amazing features.
What's new?
We are always adding new features to help you train and retain your clients better, so this time we have focused on branding and better customer experience. By popular demand, we've updated the following:
We added more ways to show your branding in the web and mobile app
We've made body graphs available on the mobile app
We added flexible start and end dates to clients training plans
we added a feature to the calendar to allow you to show or hide upcoming scheduled workouts for the next 1, 2, 3 … or how many weeks you want.
Read all about the new changes and discover how to make the most of them!
1. Branded Splash Screens
We've made some great changes to the splash screens that are displayed when you open the online and mobile apps. We wanted you and your clients to have a great experience when opening the web and mobile apps, so these are now branded with your logos!
You can customize the splash screens from the "Branding and Logo Menu" in your online account, choosing a black or a white background based on what fits your branding colors better.
Tip:  Splash screens work best when you upload a .png logo with a transparent background.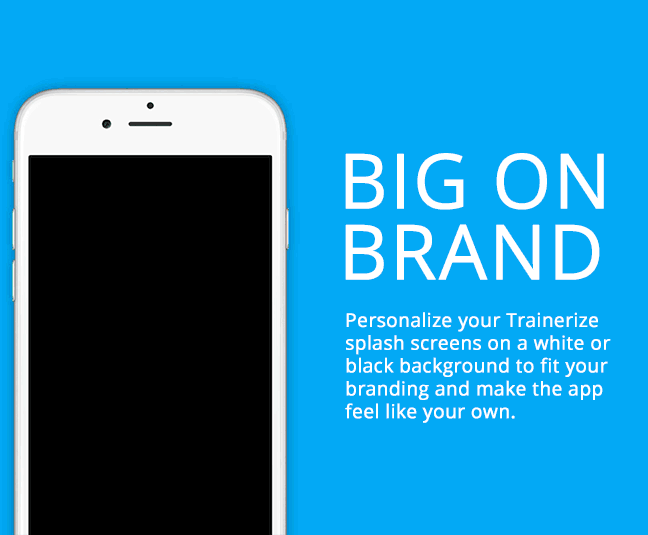 2. The Menu Bar Got a Makeover
With so many new exciting things that we keep adding to Trainerize, it was time for a "Menu" makeover! For both trainers and clients, the menu bar got reorganized, so you can find things faster.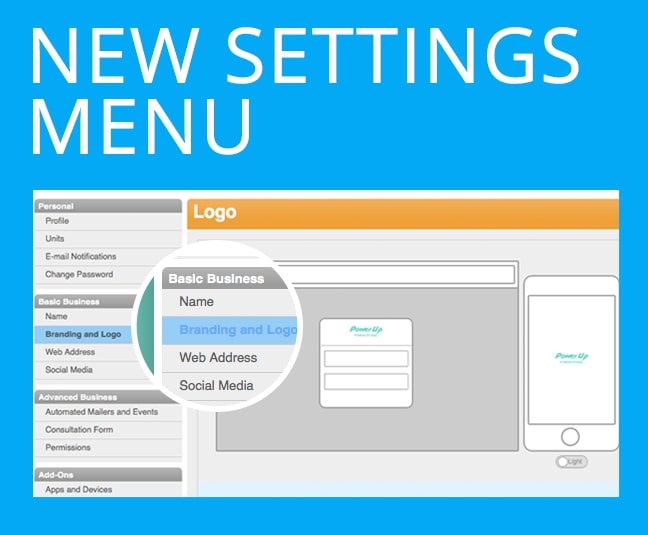 What's new:
NEW Devices menu – here you can download the mobile apps and connect to other fitness trackers and devices.
Settings menu – settings are now grouped by Personal and Add-ons. For Trainers, the rest of the account setting are grouped under Basic Business, Advanced Business and Add-ons.
3. Mobile Body Stats Graphs
After releasing our highly anticipated feature that allows clients to add body stats  right from their mobile apps, we are now making body stats graphs available in the mobile app!
Click on any of your body stats to create a beautiful landscape graph. This is exciting and motivating for clients, as they can see their progress straight from the mobile app.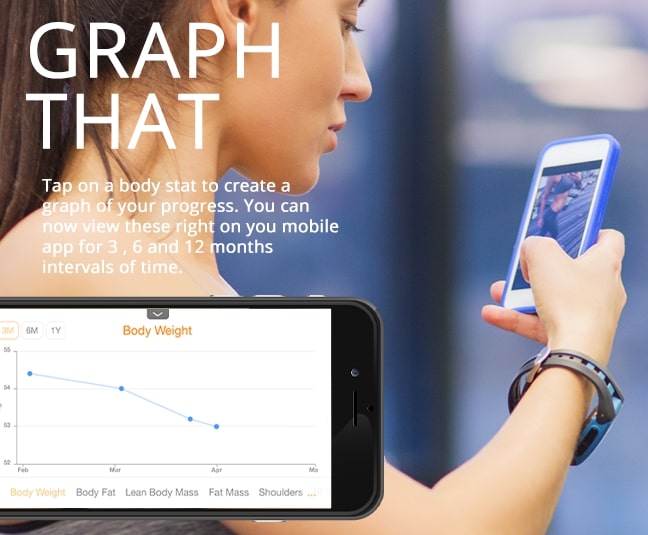 4. Training plan with flexible end dates
You can now change the start and end dates of your clients' training plans to get them in line with the dates of their billing cycles. You'll be able to set start and end dates with reminders. This is a great feature that allows you to better plan and manage your clients and your business.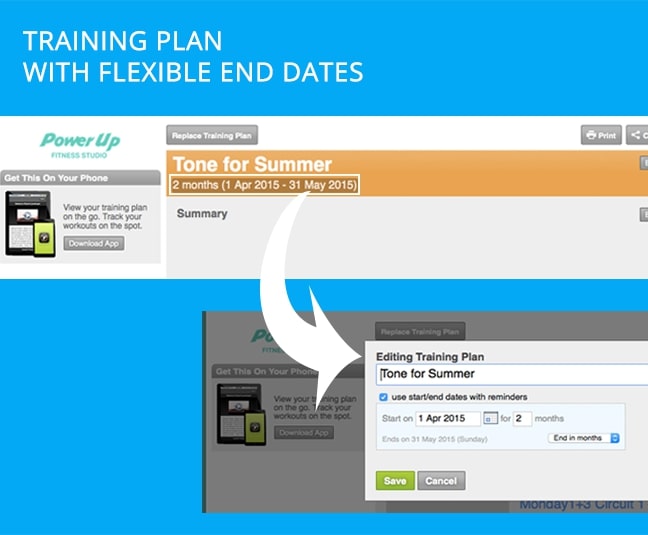 5. Show / hide upcoming scheduled workouts
Trainerize allows you to schedule workouts and reminders for more weeks in advance, so you can train more clients easier and plan their fitness journeys faster.
We know that sometimes you don't want to overwhelm clients with the next 2-3 months activities or scheduling coming up and you just want to progressively show what they have to do week to week, to keep them coming back. This is why we came up with an awesome way to improve visibility in the calendar.
You can now change calendar visibility to show or hide scheduled workouts. This way your clients can focus on current workouts and complete their milestones, one by one.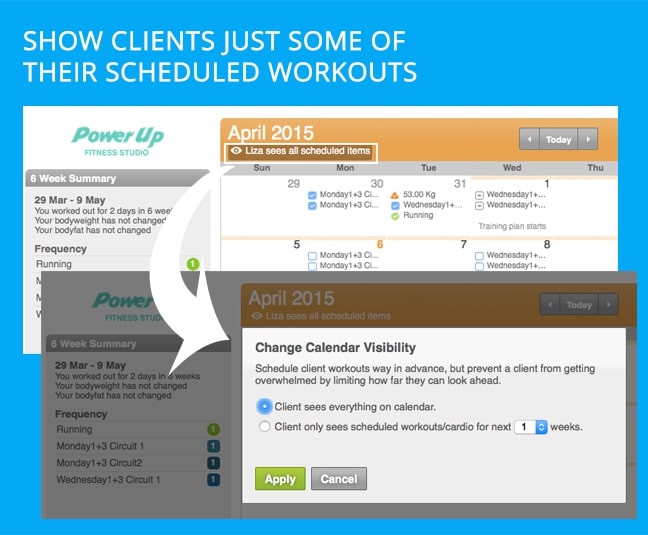 We hope you'll enjoy all the new features we launched. We are committed to make Trainerize the best platform for managing online training, so in the past months we have completely redesigned our mobile app, transformed the in-app messaging and launched scheduling for body stats graphs.
This is all because of the great feedback you've been providing on ideas.trainerize.com, so keep the feedback coming, and stay tuned! More exciting things are coming.
Take your Fitness Business to the next level.
Start your free 30-day trial of Trainerize.