We've Just Updated Trainerize!
Wait… what? YES, we're happy to announce that we've updated Trainerize again this week!
What we updated:
A brand spanking new Marketing Materials section has been added to Trainerize on the web. With the new materials we've made available, you'll be able to create amazing high quality promotional materials for your online training business faster than ever!
Why Marketing Materials?

Marketing is one of the biggest challenges that small fitness businesses and entrepreneurs are facing today. There are many ways to go about it and selecting the right marketing strategy for your business is key, especially when you have a limited budget.
The new Trainerize marketing materials will come in very handy when creating and designing your own online or print materials to hand out to clients, display in your gym or share online.
Where Can I Find Them ?

We've included Marketing Materials in a new section in your Trainerize Settings called the Success Center. This will be a new home for resources, best practices and educational materials that we will be making available for trainers in the near future.
The Marketing Materials section includes logos, branding guidelines, flyer creation content, Trainerize videos, banners, imagery and Trainerize screenshots.

Logos – Download Trainerize logos if you would like to co-brand your marketing materials. The "Powered by Trainerize" logo as well as the Trainerize icon logo are now available.

Branding Guidelines – Learn about the right way to use the Trainerize brand, fonts, logos and imagery. These are particularly useful when using our logo on your website and materials.

Printable flyer content – Download visual content, icons and graphics to mix and match when creating any promotional materials for your services or business. They are all in high resolution quality, so you can use them for both print and for web.

Web and mobile screenshots – We were surprised to see that so many of you have been using the screenshots we initially provided. We've added more in a special section on the Marketing Materials page just for these. Use them on their own or overlay them on top of your own images to promote your mobile app! (PS: Android screenshots are coming soon!)

Videos – We've created some great videos that will come in handy when showing clients what Trainerize is and how it works. Download these mobile videos and share them with clients or add them to your website.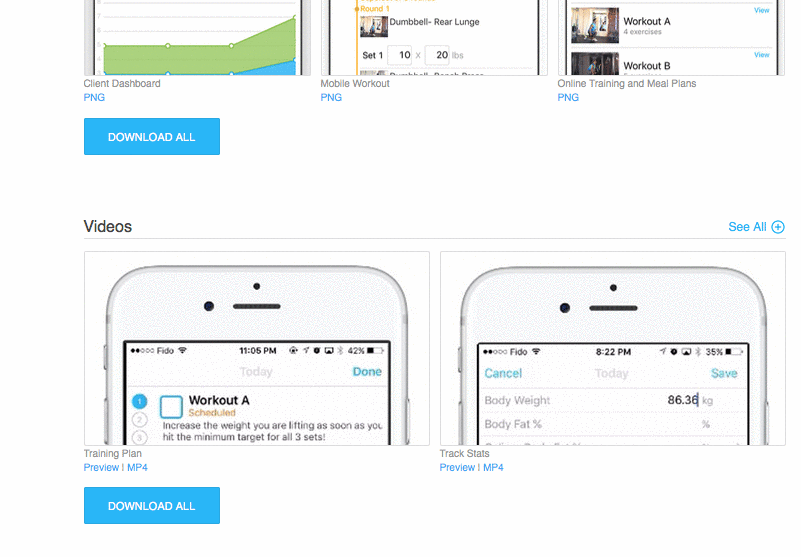 Banners – The Marketing Materials page also includes a few pre-designed banners along with their source files so that you can edit them and create variations if you choose. We've made it easy for you to create something really fast for your training website or for posting online through social media.

We hope the new marketing materials will come in handy and that you'll be able to easily create your own graphic materials without needing advanced graphic design skills. We've made many of the images with transparent backgrounds, so you can even layer these up using a program like Office PowerPoint or any other photo editing software.
We can't wait to see how you use the new materials! Please feel free to get in touch if you have any other ideas or suggestions for the Marketing Materials page.
And remember:
"People will stare, make it worth their while." 🙂