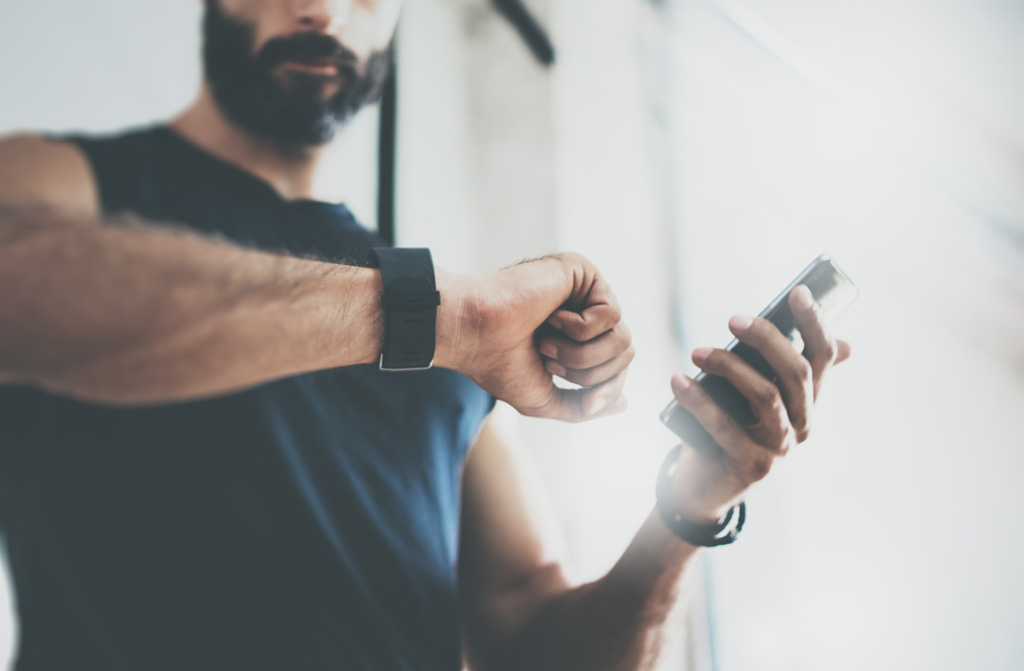 A few years ago, wearable fitness trackers started to go mainstream. There was that one specific holiday season where every mother and teacher received a fitness tracker as a gift. But how has the wearables industry evolved since then? Futuresource recently released a robust report—and now we've got the data to tell us exactly how trackers impact fitness and where we can expect the wearables industry to go next. 
What are fitness wearables?
To start, how do we define wearables? There's a spectrum of devices, ranging from basic step counters to fitness trackers, all the way to smartwatches. Some include GPS and others connect to devices via Bluetooth. The popularity of these types of devices kicked off in 2017, with 2018 being the first year where 100 million wrist-worn devices were shipped globally. As smartwatches gained popularity, the number of fitness trackers has decreased, but the overall shipments of wearables have continued to spike. 
That's the hardware, but what about the software? In their recent report, The Role of Wearables in Fitness Ecosystems, Futuresource defines wearables software in three stages, or generations.
1st Gen: Monitoring

– observing

 live data during activity.
2nd Gen: Monitoring and tracking

– u

tilizing data to observe trends over time.
Next Gen: Monitoring, tracking, and feedback

– c

oaches analyze data and produce actionable feedback.
As the sophistication of wearable software develops, the social habits surrounding the devices does too! Think of all the races that utilize wearables and apps, or the step challenges that workplaces utilize to encourage healthy habits. The Next Gen element includes a future opportunity for artificial intelligence (AI) to provide training insights and recommendations based on data. 
Gamification of fitness
More than ever, we count on technology to accomplish daily tasks and goals. Think of all the apps that you use to simplify your responsibilities! Day planners, journals, IOUs, bill payments, and reading lists have all migrated from paper and desktop computers to our smartphones. So it's no surprise that wellness is leaning that way too! Sleep, nutrition, and fitness can all be tracked and gamified, not only to provide motivation, but also to acknowledge and improve habits. 
Futuresource states that between Trainerize, Nike Run Club, MapMyFitness, and the behemoth Strava, over a billion fitness activities are tracked digitally each year—ranging from cycling and running to personal training and swimming. Why else are people doing this, other than to motivate and monitor their activities? 
Connection to trainers
Well, they're doing it to gain feedback! It's Next Gen, mentioned above as a feedback loop, that is especially exciting for us at Trainerize! We believe so strongly in the value using technology (including wearables and apps!) to connect fitness enthusiasts to their trainers. This two-tiered system of tracking data and then consulting with an expert provides fitness enthusiasts with the motivation and the feedback they need to become stronger and provides trainers with all the data they need to be effective. In the next five years, Futuresource predicts that on-demand virtual training, like the services currently provided by Trainerize trainers, will become the standard in the fitness industry, and will begin to rely heavily on data from wearables. 
Value of daily habits
Researchers expect that as wearables get smarter, they'll gather more holistic data for users to learn from. Rather than seeing separate nutrition, sleep, and fitness tracking, users will receive overall wellness reports. As such, and as data collects over time, daily habits will become essential to developing long-term wellness. Sound familiar? At Trainerize, we're already prioritizing habit-based coaching, habit tracking capabilities, and are working with industry experts to develop a habit coaching curriculum. 
Habit-forming is not only expected to become a central component of wellness going forward, but also of using wearables to facilitate long-term health. And of course, the next logical step from habit-forming, wearables, and fitness technology is AI. 
Powering future health and fitness experiences with AI
There's an obvious opportunity for AI to play a role in making more effective trainer-client relationships through data and forecasting. There's no telling yet what this will look like… but it's not hard to imagine machine learning playing a role in fitness that will be hugely beneficial to trainers and clients alike.
What else can we expect with wearables going forward? More accuracy. Data on hydration and blood sugar and oxygenation. Automated nutrition tracking. Smartphone connection will become less necessary. Machine learning will provide live biomechanical and aerobic feedback. Proactive encouragement of healthy habits. 
There's a lot coming! We can't wait to see what's next.