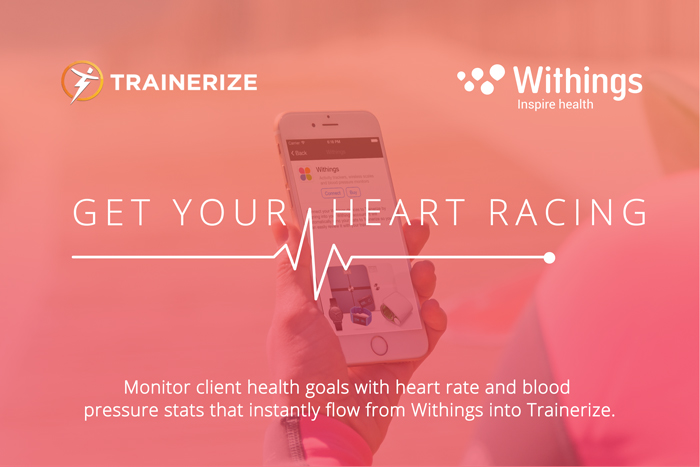 With devices and wearable technologies becoming an indispensable part of measuring and analyzing our progress, we felt the need to capture these stats inside Trainerize.
We are proud to announce our latest Trainerize update which allows an enhanced, more complete integration with Withings. Now along with importing weight, body fat percentage and other Withings Smart Body Analyzer related stats, you can import even more into Trainerize.
Blood pressure and heart rate stats now sync from Withings to Trainerize
This brand new integration revolves around blood pressure and heart rate stats taken with Withings devices. These will now be imported directly into Trainerize as soon as you take a measurement from  Withings.
This is exciting news for both trainers and clients. It enables trainers to more effectively monitor client health goals and guide them towards long term progress.
How to connect?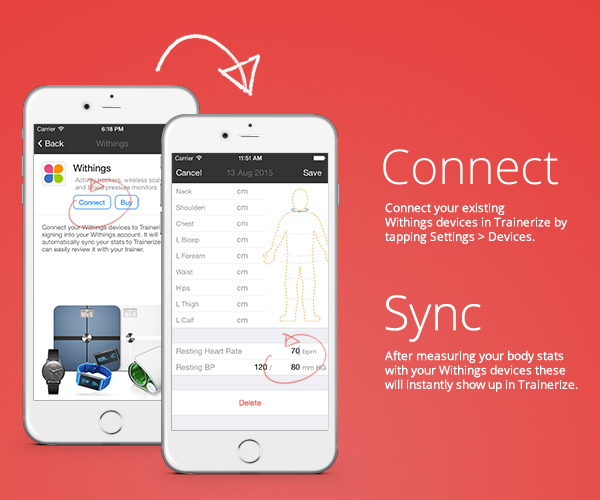 Clients can feed their body stats from Withings into Trainerize by connecting their devices from their phones from Settings > Devices. Clients will require a Withings account which they can connect to their Trainerize app.
Whenever a client records a new body measurement – weight, blood pressure or heart rate – it is saved in the Withings account and mobile app. From there, it's instantly synced to the Trainerize client dashboard as a new body stat measurement.
Get your heart racing for a healthier, stronger you
Giving fitness professionals access to client heart rate stats right inside Trainerize is a brand new way of keeping track of fitness progress and results. Trainers can keep track of client heart rates to see if they're working hard enough.
Not only that, but monitoring heart rate information can provide trainers and clients with lots of helpful health information. Changes in resting heart rate measurements can signal a more serious medical problem. According to the American Heart Association (AHA), the number of times your heart beats per minute can hint at a client's overall fitness level.
Connect to Withings:
Facebook : Facebook.com/Withings
Twitter : @Withings
Instagram: @Withings
Take your Fitness Business to the next level.
Start your free 30-day trial of Trainerize.