It's a huge moment for us here at Trainerize–we've been reviewed by InStyle Magazine!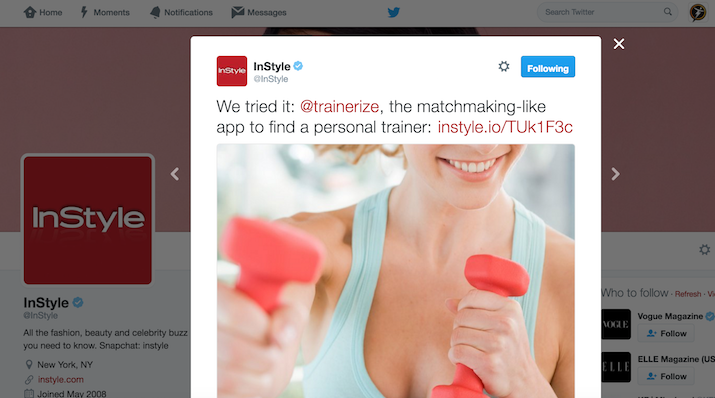 Author Lindsay Dolak, from InStyle, visited Trainerize.me, our online platform for finding a personal trainer, and found a trainer that felt right for her. She reached out to Tracy Holtzmann of Sleek Body Method through Trainerize.me, and they began communicating.
"The beauty of Trainerize is that it provides entirely virtual personal training and allows users to connect with their trainers anytime, anywhere." – Lindsay Dolak, InStyle
Tracy added Lindsay to the Trainerize app and began sending her workouts, based on her fitness goals. She recommended training abs, and doing high-intensity interval training (HIIT) for cardio a few times per week, plus she provided recommendations for macronutrient amounts (protein, carbs, fats) that she should try to hit in her diet every day.
"The highlight of my experience with the app was when I told Holtzmann I would be hitting the beach for vacation for 10 days without any gym access. Within a day, she provided a full week's training plan full of body weight and cardio exercises I could complete sans gym equipment, including beach sprints."
Lindsay then wrote a full-length review of Trainerize.me and the Trainerize app. Find out more about the review in the InStyle article!