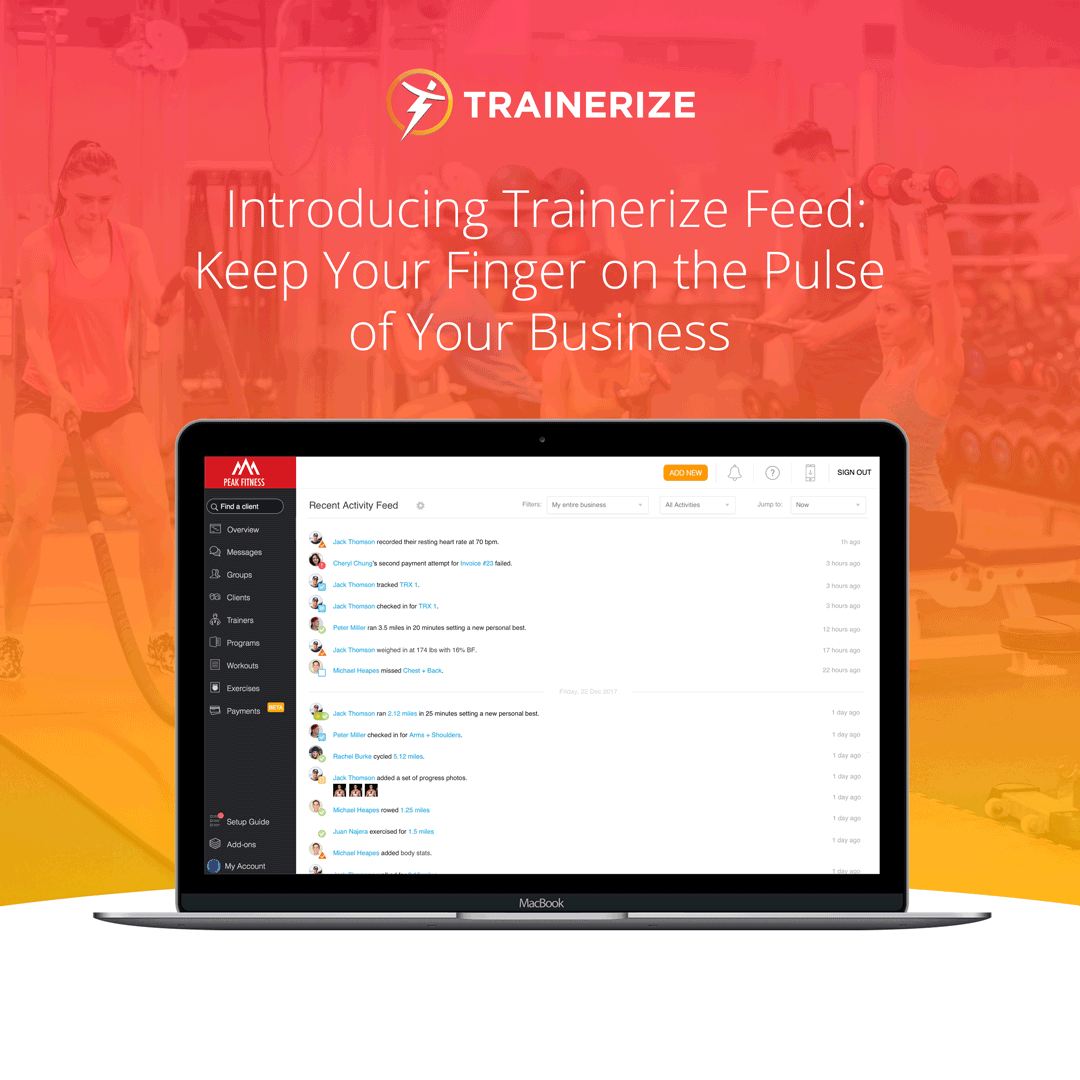 It's official. We live in the era of digital transformation. The upside of this is that we're more connected than ever: anything we want or need to know is now available anytime, anywhere with just a few taps. The downside, is that knowing, seeing, and keeping up with everything can get overwhelming at times (and we're not just talking about all the feels from the latest episode of This Is Us)!
The struggle is real with a constant battle for our attention coming from all of our devices, wearables, computers, and apps. Each in its own persuasive little way—with notifications, banners, badges, and messages—demands our attention. And these are all things we're actually interested in.
For fitness businesses, this struggle is so real it's practically on steroids! 💪 On top of your personal pursuits, you're also contending with client reminders, appointments, Trainerize messages, client and member check-ins, and calendar updates! And that's just the tip of the iceberg of what you have to juggle each day and keep track of—in the gym or at your desk.
It's a lot! We feel you. And that's why we want to reconnect you with the important things in your business.
It's time to take back your attention. It's time to focus on what matters.
Today we are happy to introduce Trainerize Feed, the simplest way to zero in on what matters most to you and your business. Now you can focus on meaningful interactions, feel your business buzzing and engage with your clients, in the same place.
Trainerize Feed is a dynamic and visual stream of updates and information that brings client activity and business stats together in one place, to keep you up-to-date on everything that's happening in your business while also letting you focus on what matters, at a time that's right for you.
*FOMO: Fear of Missing Out, as in: "Man, I had such FOMO with my fitness business until I starting using Trainerize Feed!"
With an omni-view approach to client workouts and nutrition, groups, payments and automation, Trainerize Feed is your ultimate FOMO* solution, right inside Trainerize.
What's So Great About Trainerize Feed?

Feel the Pulse of Your Business
Whether you're an independent trainer or a club owner, get in on all the activity happening daily in your business. From client achievements to business activities, know exactly what's happening, when it happens.

Join Your Clients' on Their Fitness Journeys
Follow your clients' fitness journeys and stay connected to them every step of the way. Keep tabs on client nutrition goals, workout activities, and personal bests, and review their progress checks and body stats at a glance to be ready to celebrate achievements or offer guidance and motivation in an instant.

YOU'RE GONNA LOVE THIS: Included in your feed's workout activities are missed workouts so you can connect with clients when they're starting to struggle and get them back on track ASAP.
Watch Your Fitness Community Grow
With new custom activity feeds for each group, you can monitor group members' activities and conversations and build fun and supportive online fitness communities for your clients.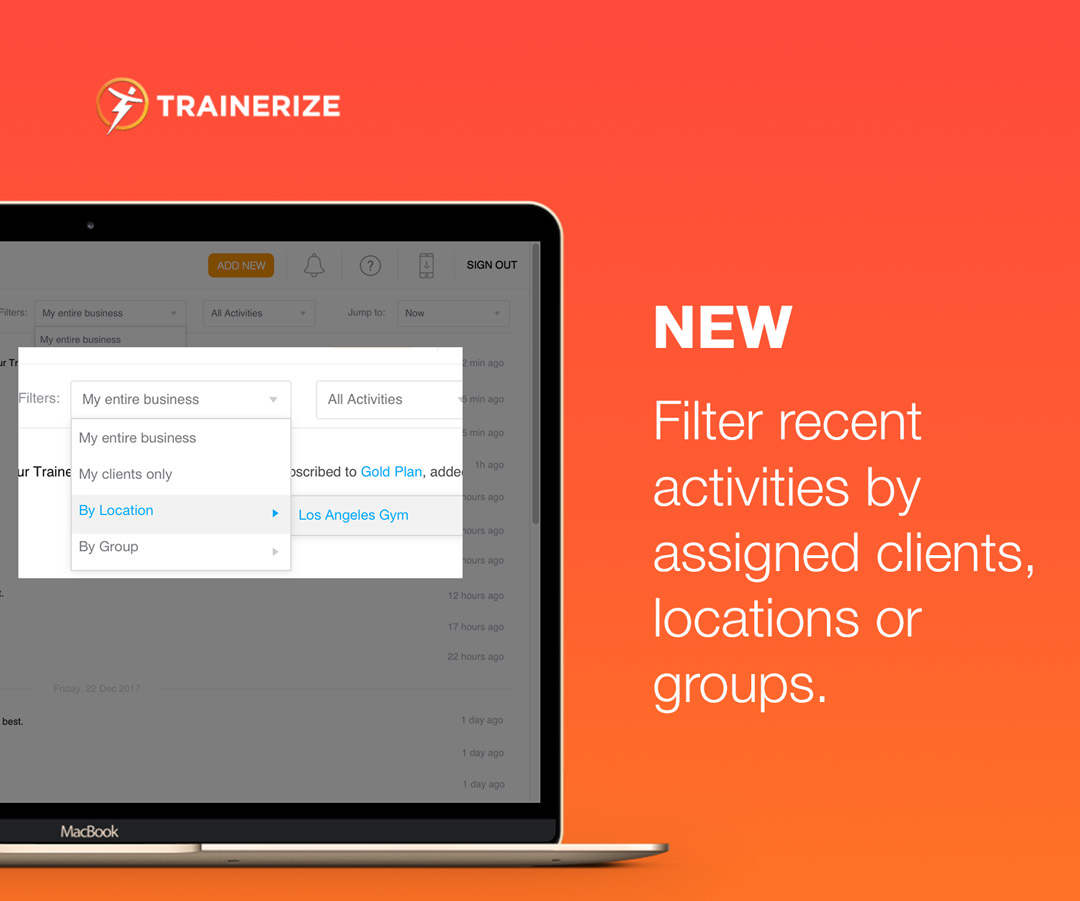 Engage in a Flash
Need more information or want to engage with a client or group? Interact with client activities as they happen by clicking on individual events on your Trainerize Feed. Quickly hop from the feed into client profiles or programs or instantly jump to Trainerize Pay or business automation settings.
Plus, with built-in filters, you and your team can quickly drill down to the things that matter most to you and your business:
Filter by client, by group, or by location
Filter by type of activity
Jump to a certain date or scroll back through the feed
What's New In-App?
One of the best things about Trainerize Feed is that it's everywhere you are. You'll find Trainerize Feed in multiple locations throughout the app, making it super easy to stay on top of things anytime you're logged in.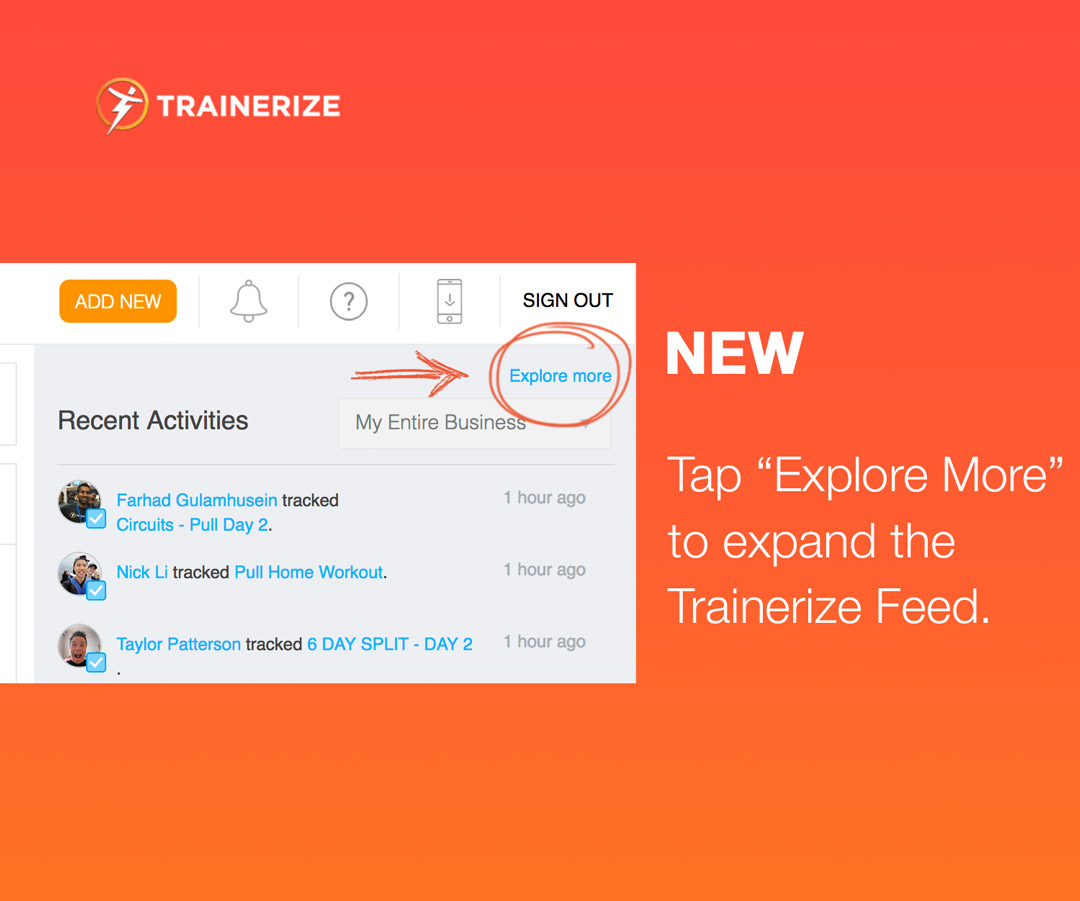 1. Overview Page
On the overview page, as soon as you log into the web app, you'll see Trainerize Feed in a slim sidebar on the right side of the page. This sidebar can be easily expanded (just click "Explore More") to access the full-screen view.
2. Feed Page
Want all the details on all your clients, locations, and business activities? You've come to the right place. In the main Trainerize Feed page, you'll find a full-screen scrollable list of all recent activities. To hone in on specific activities or narrow the list displayed, apply a filter or jump to a specific date.
3. Groups
In your groups, you'll also find Trainerize Feed, but this time featuring activities for only the members of that group. You can keep these activities private and only visible to you in the feed, or you can change settings to share workout and nutrition activities directly in the group and celebrate achievements together with your clients. Just one more way to build an online fitness community for your clients and streamline your client communications.
4. Client Profiles
Want to know what a specific client has been up to? That's easy. We've also added Trainerize Feed to individual client dashboards so you can quickly see all the activities for a specific client while you also review their overall workout and nutrition stats, personal bests and upcoming scheduled workouts.
With a no-fuss approach to staying on top of your client and business activities, you'll have more time and more energy to take care of the things that really matter—whether that's offering clients a little extra motivation and accountability along their fitness journeys, building stronger relationships with your clients or members, or analyzing your sales metrics to keep your business on a trajectory for growth.
Get ready to take back your attention and keep your finger on the pulse of your fitness business without all the clutter and distraction.
We're always listening to you—our amazing #TZtrainers—and love using your ideas and feedback to help make Trainerize the best app possible for your fitness business.
Trainerize Feed is just one of the many features that has come (and will come!) from your thoughts and opinions. So keep sharing! Tell us more about your experience using Trainerize and any features you'd like to see by posting in our ideas forum.
Not using Trainerize yet? What are you waiting for?

Start your free 30-day trial of Trainerize!