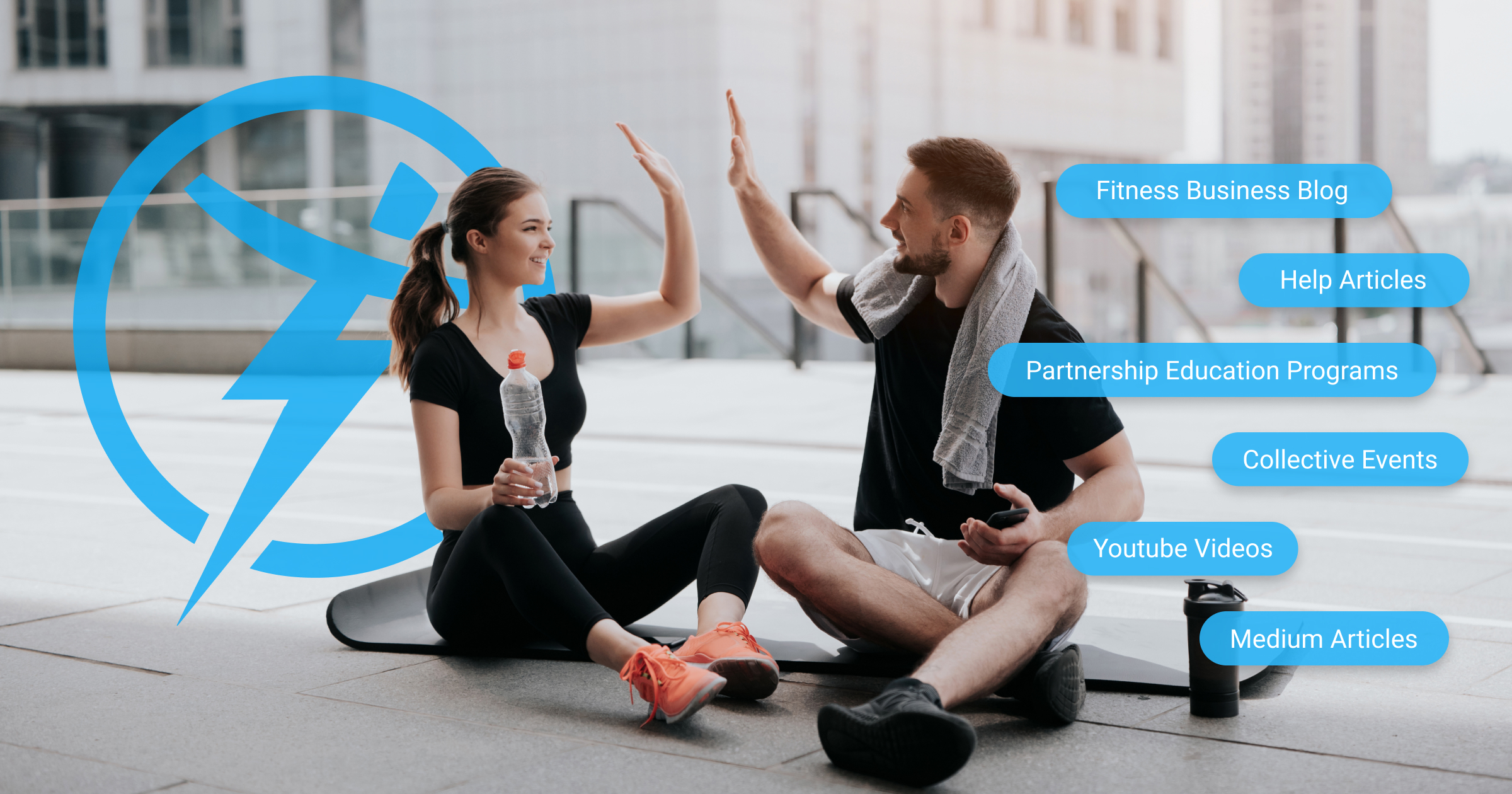 "Education is not the preparation for life; education is life itself" –John Dewey
As you can probably tell from the above quote, here at Trainerize, we're big fans of continuing education. In a world of ever-changing trends and technology, education is critical for continued growth and success, especially in the ultra-competitive fitness industry.
At Trainerize, our goals are to help trainers reach new clients, build stronger relationships with their existing ones, and promote a healthy lifestyle for everyone. To accomplish these goals, we've developed a ton of resources to help Trainerize trainers and fitness professionals expand their knowledge on all things health, wellness, business, and coaching.
Read on to find out how Trainerize can help support your education and personal growth.
1. Trainerize Education Partner Program
⚡️ WHEN YOU WANT TO BRING IN THE PROS

In February, we were stoked to launch our Education Partner Program, a collection of carefully curated courses, certifications, and education resources from leaders and experts across the fitness industry. The Education Partner Program offers training on everything from business administration, sales, and marketing to fitness, nutrition, and habit coaching.
We're always adding new education partners and resources to help our trainers level up and continue to grow. Check out the content currently available from our founding members ACE Fitness, Precision Nutrition, Jonathan Goodman's Online Trainer Academy, and BJ Fogg's Tiny Habits Academy—and get ready to crush your goals!
2. Trainerize Collective
⚡️ WHEN YOU NEED A BOOST OF COMMUNITY ENERGY
On March 23, we were thrilled to host our second online Trainerize Collective. We had an awesome time connecting with everyone! The engagement from attendees blew us away!
This year's collective featured sessions on social media marketing. We covered topics like building strong brand, YouTube and podcast strategies, all hosted by industry experts and thought leaders.
We can't wait to gather again, and we're hoping to host some in-person events soon! In the meantime, be sure to sign up for one of our upcoming webinars to learn from our team of Trainerize Coaches—the ultimate experts in all things Trainerize.
Take your Fitness Business to the next level.
Start your free 30-day trial of Trainerize. 
3. Trainerize Blog
⚡️ WHEN YOU WANT FIRST-HAND ADVICE AND BEST PRACTICES

Since you're reading this article, there's a good chance you're already familiar with the Trainerize blog. If this is your first visit—welcome (and feel free to subscribe here)! We write the Trainerize blog specifically for fitness professionals—and it's full of resources! Whether you're looking for info on customer retention, tips for navigating tax season, or some inspiration from successful Trainzerize clients, the Trainerize blog has you covered.
We also have numerous experienced personal trainers on our writer roster! They share what they've learned from years in the industry and can help you navigate the ups and downs of being a fitness professional. We also announce new features here first.
4. Trainerize Help Center
⚡️ WHEN YOU NEED GUIDANCE ON A SPECIFIC PROCESS

Many of our trainers have shared that the reason they became a trainer is because they love working with people and helping them reach their goals. That's why we know that for most of our users, working with a digital program is not the highlight of their day—working with clients is!
Because we know that our trainers want to be able to get things done quickly on our platform, we designed Trainerize to be as user-friendly as possible. However, if there's ever something that isn't clear, check out our extensive help center. We've got answers for tons of questions! Everything from how to set up a client's training calendar to how to sell products using Trainerize pay.
If your question isn't listed, you can always join a Facebook Live, submit a ticket, or send us a chat message anytime. We have an amazing team of Trainerize Coaches dedicated to helping you succeed.
5. Trainerize YouTube
⚡️ WHEN YOU NEED TO SCALE YOUR BUSINESS
Our YouTube channel is dedicated to helping you scale your fitness business and develop the freedom to live on your own terms.
We want to help our trainers understand the numerous features and integrations that Trainerize offers! Plus, how these features can help you achieve your business goals. That's why our channel features step-by-step tutorials on how to use Trainerize's different features. We also share insider info from personal trainers who have found huge success with Trainerize.
Like fitness, learning is a lifelong journey. We're always adding new resources to help you tackle new challenges, advance your career, and be your very best. We're here for you, every step of the way!
Up your Personal Training game.
Start your free 30-day trial of Trainerize.