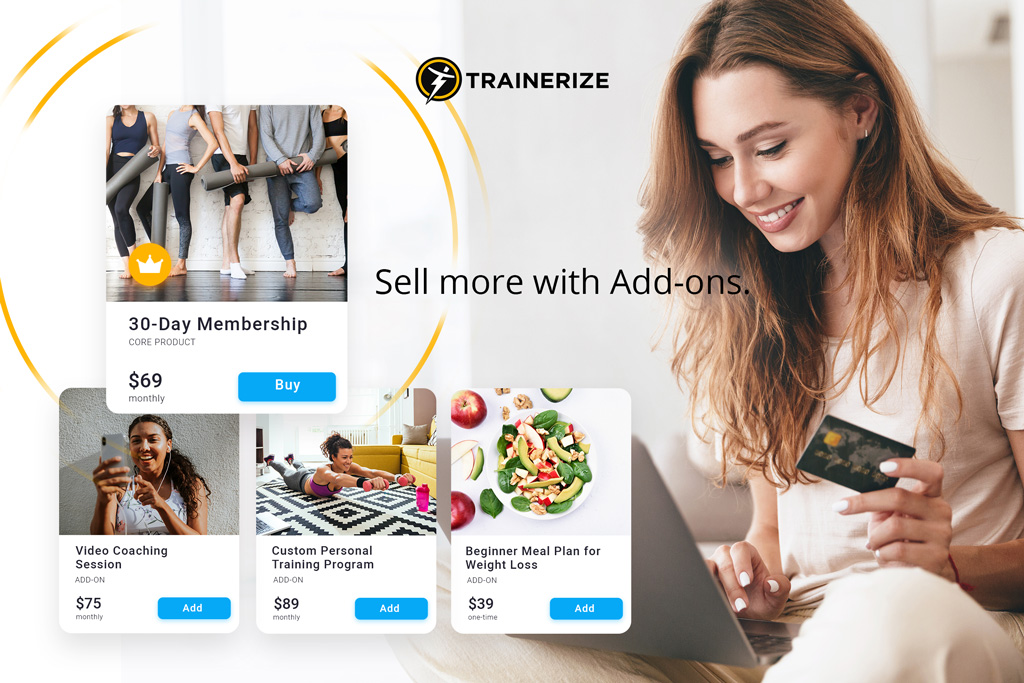 Do you want [fitness/nutrition/habit] coaching with that?
"Do you want fries with that?" It's a line we all know. And while it might seem like they're simply peddling their deep-fried potatoes, this simple sentence is a classic example of what's known as an "upsell". A powerful marketing tool for businesses in any industry.
By asking customers if they want to add an item to their purchase, businesses aren't just looking to boost their bottom line, they're actually giving their customers the chance to create their perfect buying experience— to get both what they want and need.
And now, you can do the same by using Trainerize Pay to sell more than one product to your clients and members at the same time! Say hello to Add-on Products! (And we can guarantee, what you're selling is a lot better for your clients than french fries!)
In this article, we'll cover all the new features in this release and how you can use them to generate additional revenue from your products!
Add-ons: what they are and how they can help you sell more
Membership Control: a new way to help automate your business
Using Core Products and Add-ons to build the perfect set of products for your business
1. Core Products vs. Add-on Products and the science behind it all
With Trainerize Pay, you can now build 2 different types of products: Core Products and "Add-ons."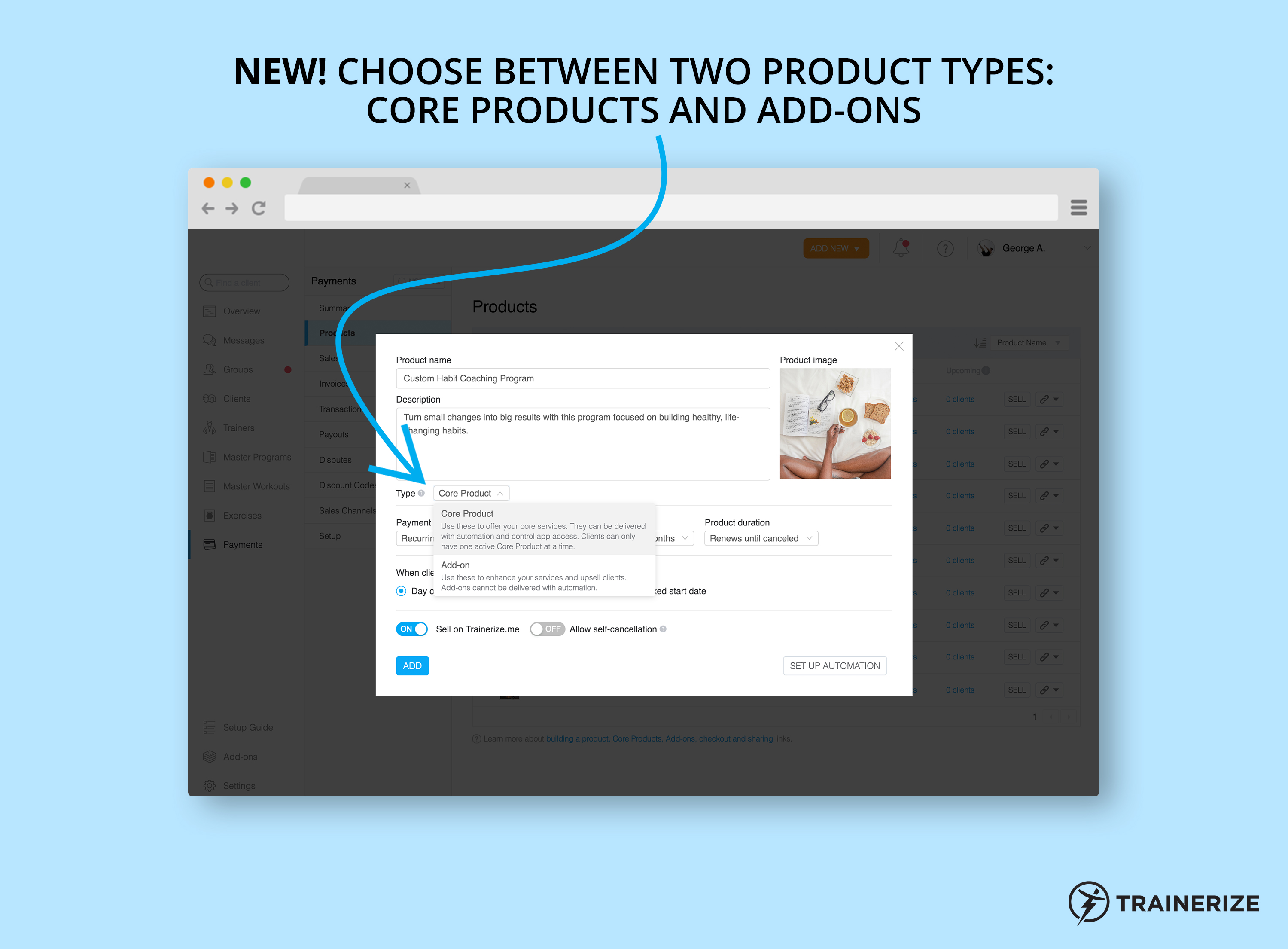 As their names indicate, core products are used to sell your business' key offerings.
If you run a brick and mortar club or studio, this might be a gym membership. If you run a personal training business, this might be your clients' fitness programs. What you choose will depend on what kind of business you run, but we recommend making your core products the "bread and butter" of your business—services or products that all if not most of your clients or members will need to purchase so they can train with you.
Here are some common examples of Core Products:
A basic gym membership that includes app access
A basic or low-touch personal training program that includes app access
A sequence of training programs ("Phase 1: Learn the moves", "Phase 2: Add some weights")
A free trial that transitions into a paid program
A starter package that transitions to an ongoing subscription ( "12-week Shred and Lean program" transitioning to "Coaching maintenance")
Each of your clients can have up to 1 active Core Product in their account at any given time, and up to 1 additional Core Product can be added to a client's product queue.
Core Products can also be used with Trainerize Pay's built-in automation features so you can quickly deliver training content and set up a client or member's account.
TZ Tip: If you're already using Trainerize Pay to power your online sales, any products you've already created will be automatically converted into Core Products as part of this upgrade.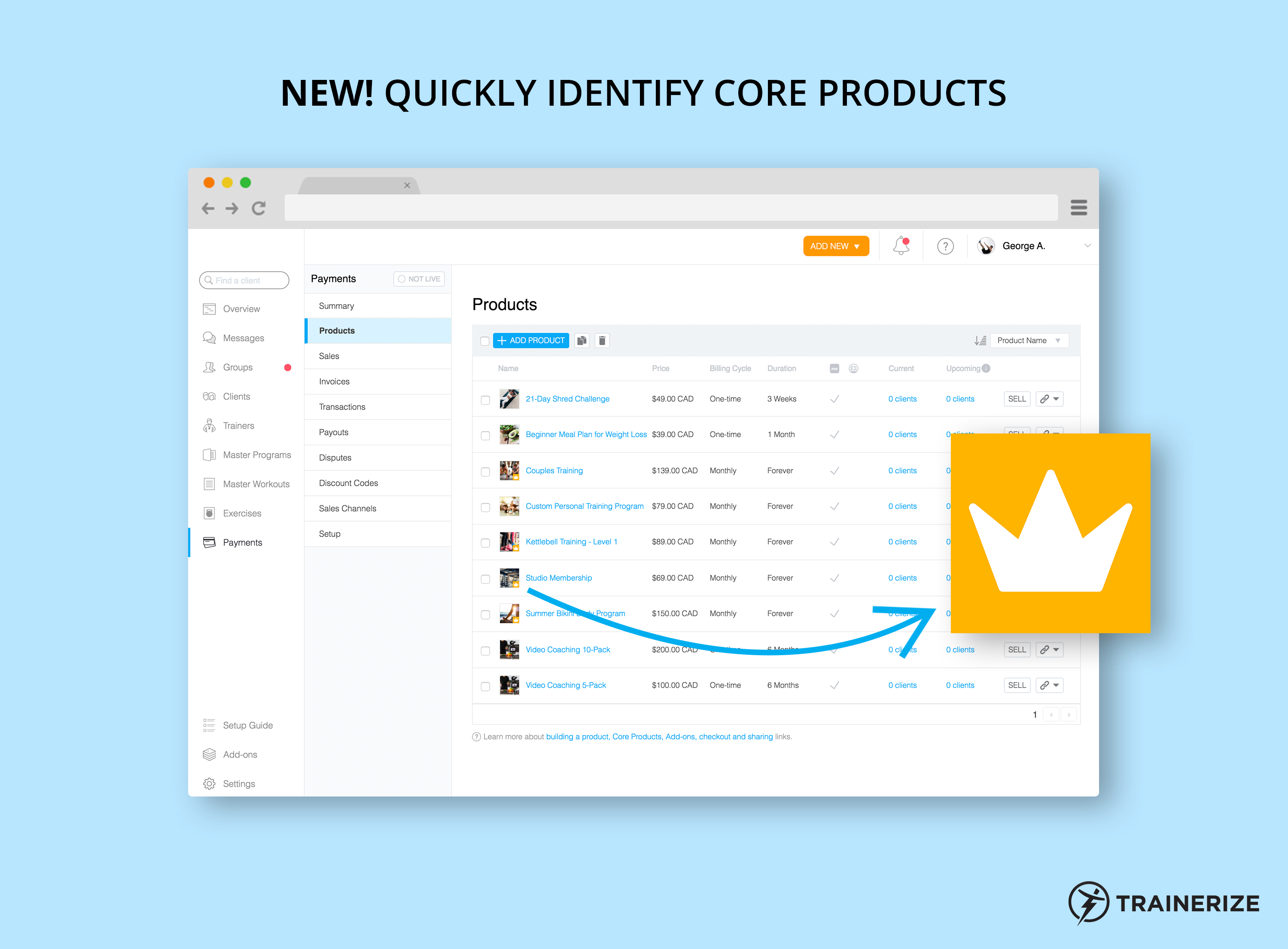 Add-ons, on the other hand, are used to complement, enhance, or combine with your other services.
You can be as creative and varied with your add-ons as you like! Examples include:
Program/membership enhancements
1-on-1, large group, or small group personal training programs or sessions
Nutrition coaching or meal plans
Habit or lifestyle coaching
Fitness, nutrition, or healthy lifestyle consultations
Video calls or coaching sessions
2-way messaging
Live video classes
The possibilities are virtually limitless!
Why Add-ons are so great for your business!💰
Add-ons are a win-win for both you and your clients.
As a business, Add-ons are an easy way to increase your member spend since you can use them to upsell members from a basic membership onto a collection of services.
They're also a great way to boost member engagement and retention because every add-on opens up new opportunities to foster community and build strong relationships between your members and your staff.
Not to mention, Add-ons can also save you tons of admin time! Instead of building umpteen variations of a product that includes different services, you can just create multiple add-ons for everything you wanted to sell, then promote a "bundle or multi-pack discount" to encourage clients to buy multiple products/services.
For your clients or members, Add-ons offer an unprecedented level of the freedom to mix and match services to create their perfect training package. Because each of your clients can purchase as many add-ons as they want, there's almost limitless levels of customization possible—something that can help them hit their goals and feel supported.
2. Introducing new membership controls to automate your business
To complement these new product types, we've also added a new feature called Membership Control that lets you treat active products like memberships to your app and automatically control:
who has access to your app and when 🔐
what kind of products they can buy and when 🛒
Think of it as a bouncer for your app! 💪💪💪 When someone's active products run out, their membership ends and they are automatically deactivated and their app access is revoked.
This lets you make sure clients without active products aren't taking up valuable client seats in your account
So, how does Membership Control work for your products?
ON: When Membership Control is turned on
When membership control is on, 2 things happen:
Clients must purchase a Core Product

before

they can purchase any Add-ons

Once all of a client's active products expire (either Core Products

or

Add-ons), they will be automatically deactivated and their app access removed.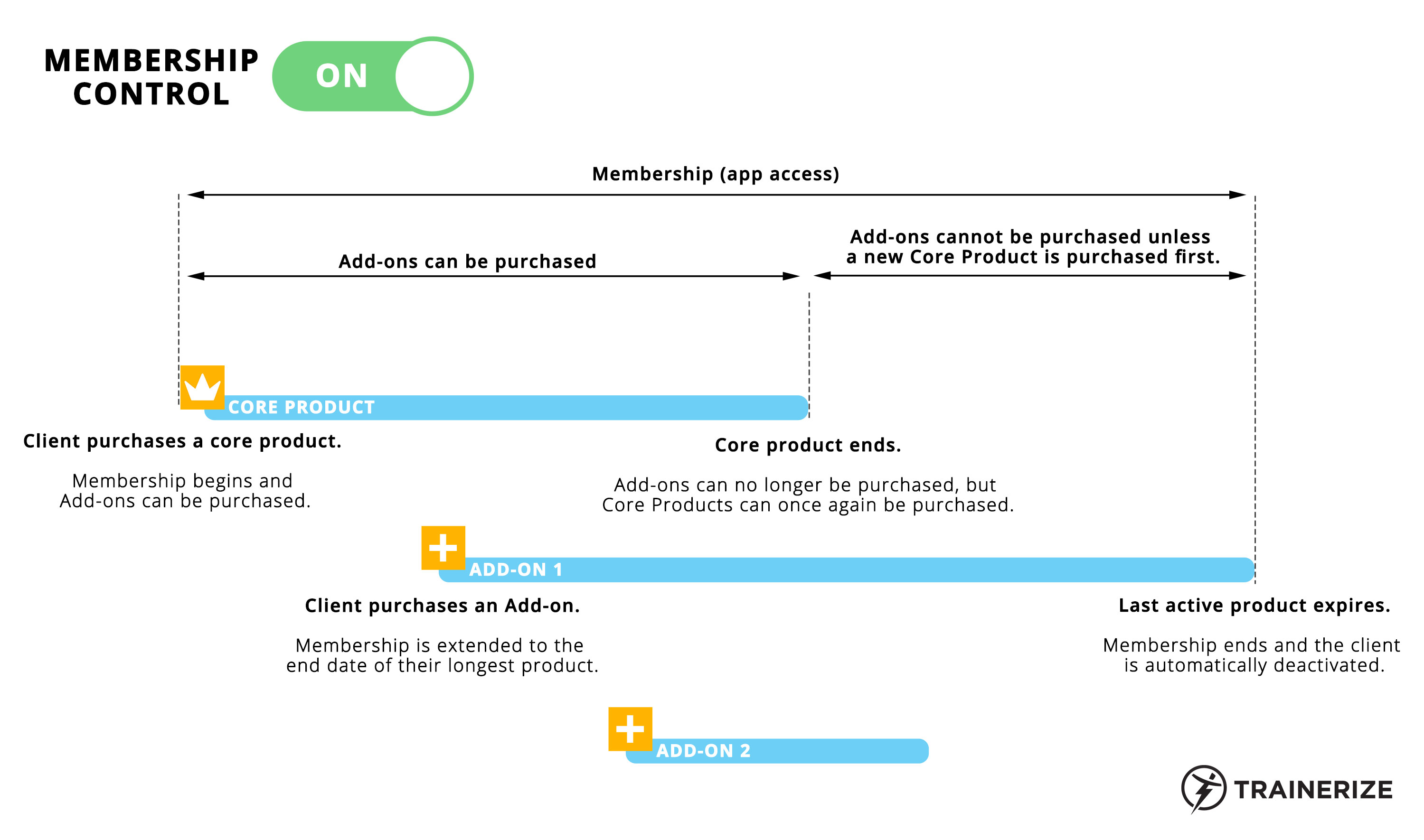 TZ Tip: If Membership Control is turned ON and a client's Core Product expires but they still have active add-ons, they won't be deactivated until their final Add-on expires. In the meantime, they won't be able to purchase any additional add-ons unless they first purchase another core product.
OFF: When Membership Control is turned off
When Membership Control is turned off:
Clients can purchase Add-ons freely without first needing to purchase a Core Product
App access will need to be controlled manually by their trainer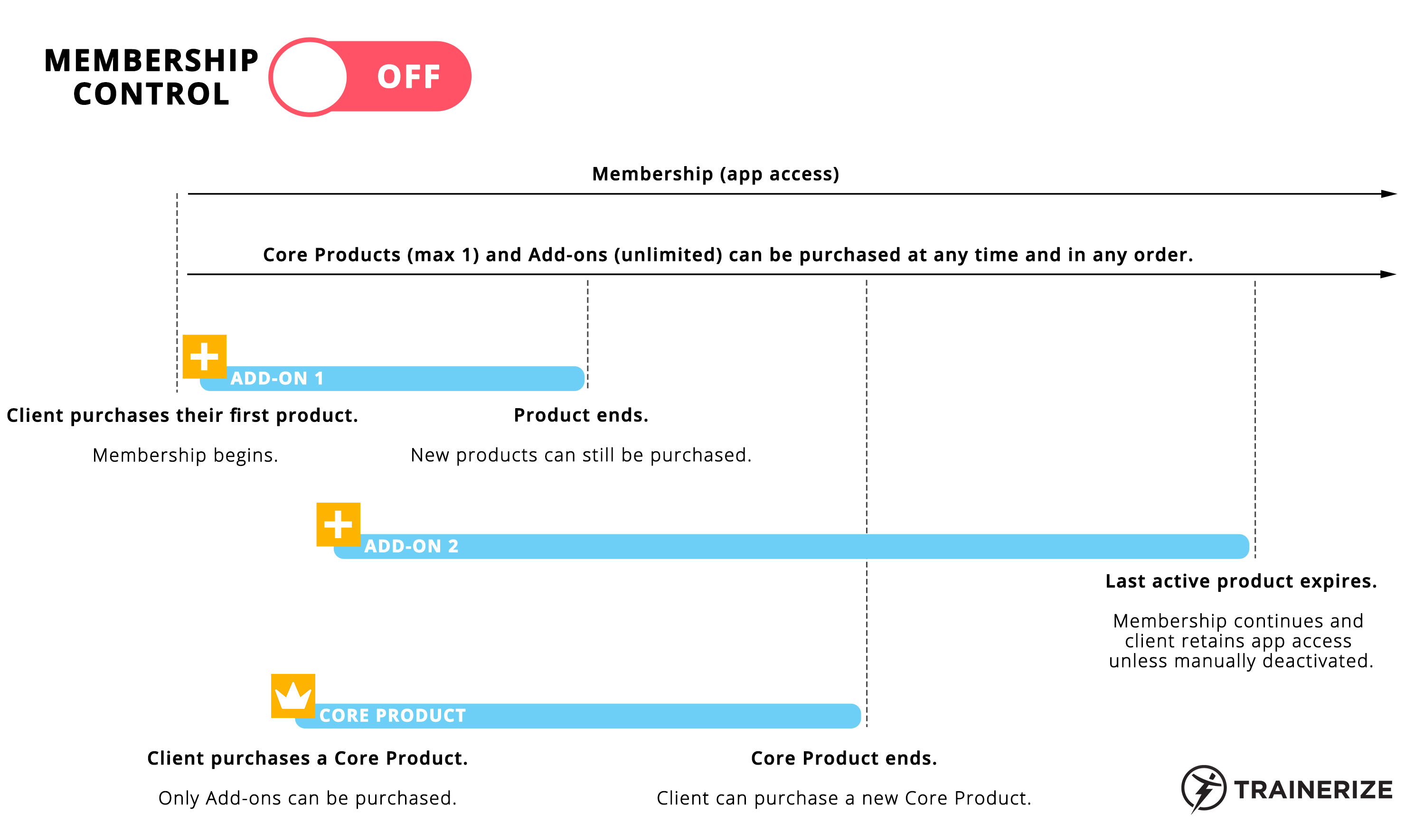 Now that you know the difference between Core Products and Add-Ons and how Membership Control works with each, let's look at how to use these features in your business!
3. Building offerings with core and add-on products
Using Core Products and Add-ons both together and separately opens up so many new and exciting ways to sell and market your products and services. 
To help you get started, we've put together a couple of guides on how to set up Core Products and Add-ons to maximize your revenue and give your clients an amazing buying experience. 
For membership-focused businesses, learn how to make a Core Product to sell your club memberships, then use add-ons to upsell your various services (including training, nutrition, habits, 1-1 sessions/consultations, on-demand or live video classes, challenges, and more).
Learn how to create product bundles by creating Core Products and Add-ons that complement each other. We'll show you how to build Core Products that align with your main business focus (exercise and personal training for example), then create add-ons that your clients can either purchase as a sort of "package" when signing up with you, or that they can add to their training as they go along.
And, this release is a wrap! Wondering what's coming next? Here's a sneak peek:
New ways to sell online 1-1 video coaching (Summer 2020)
Stripe platform changes with more flexibility on payouts and analytics! (Summer 2020)
Support for additional countries (All countries supported by Stripe will be available) (Summer 2020)
Layered or stacking programs and automation for Add-ons (release date to be confirmed)
Stay tuned for more!
We love to hear from you!
We're always listening to you, our trainers and fitness clubs using Trainerize Pay for their businesses! Tell us what you think about the new features and what else you'd like to see in Trainerize and Trainerize Pay! Vote here.