You know what feels great? Smashing through your previous sales records and watching your revenue hit an all-time high.
So, what if we told you you could have that feeling right now. And again tomorrow. And the next day. And the next… It might sound like we're joking, but with our latest update to Trainerize pay, we're confident that you really can make it happen.
After all, this release is packed with tons of new features—each one designed to help you make the sale. From a brand new Facebook Pixel integration and shareable links with discount codes built right in, to slick new product and checkout pages, this update gives you everything you need to become a marketing pro.
See what's new and learn how you can use these features to smash your sales records over and over and over. 👇👇👇
Slick New Product and Checkout Pages
Pop quiz: what's one of the easiest ways to lose out on a prospective client? Give them too many reasons to leave the checkout process before they actually buy!
When it comes to converting clients, the name of the game is sleek and simple. That's why we've redesigned both our product and checkout pages for all Trainerize Pay products to be exactly that. 
Optimized in every way possible for maximum conversion, these new full-screen pages feature slick white designs that give your clients exactly the information they need to complete their purchase as quickly as possible, without any unnecessary distractions, links, or "escape routes" (like menus, banners, or buttons).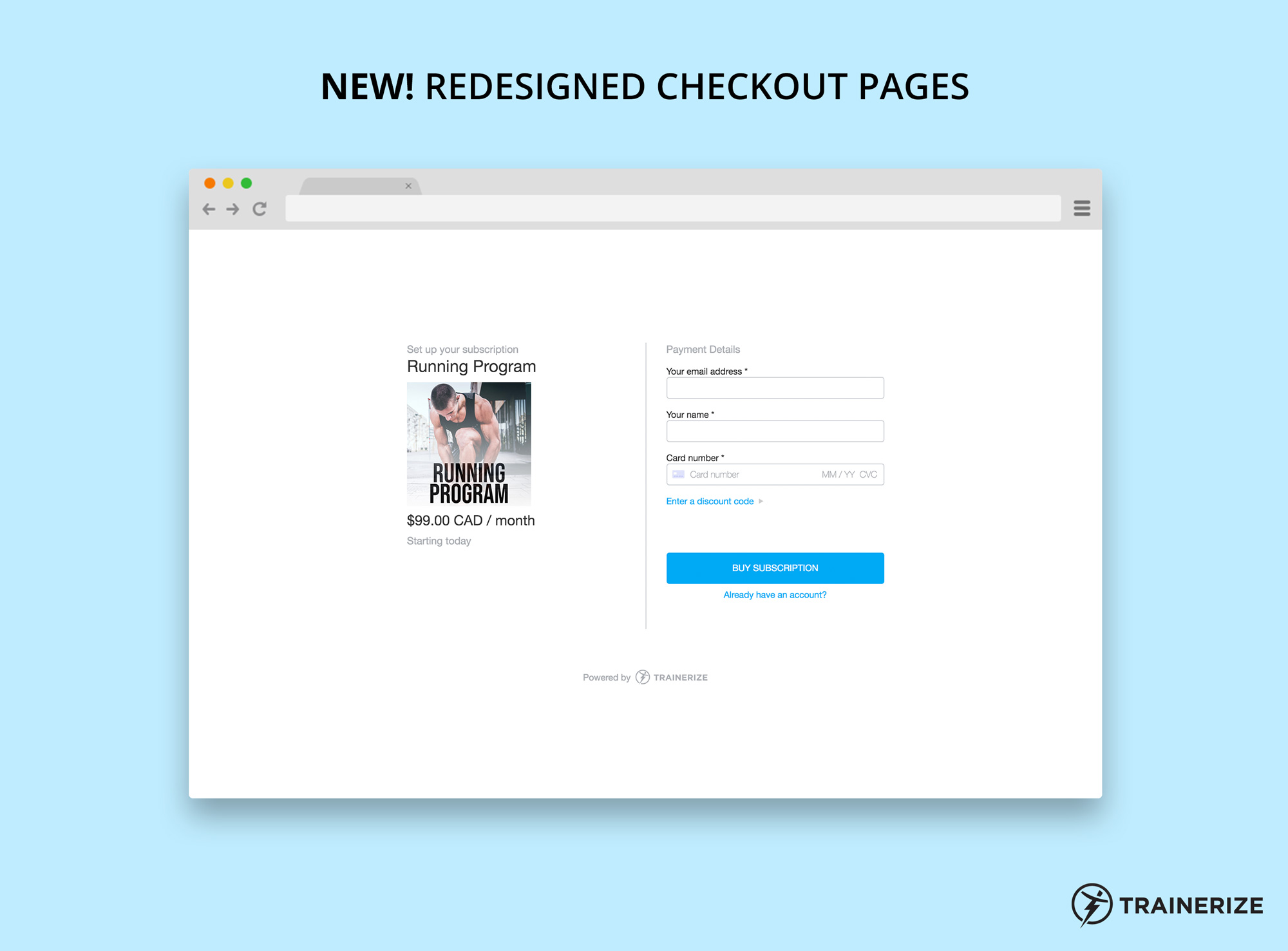 As an added bonus, they no longer feel like pop-ups which give clients more confidence when buying.
Just a few more ways we're helping you give your clients the best buying experience possible, while also helping you train more clients and make more money.
Product Links, Checkout Links, and Discount Links, Oh My!
To help you guide your clients through the sales process and take them to the ideal next step in their buying journey, we've introduced three new link types you can use to market and sell your training products.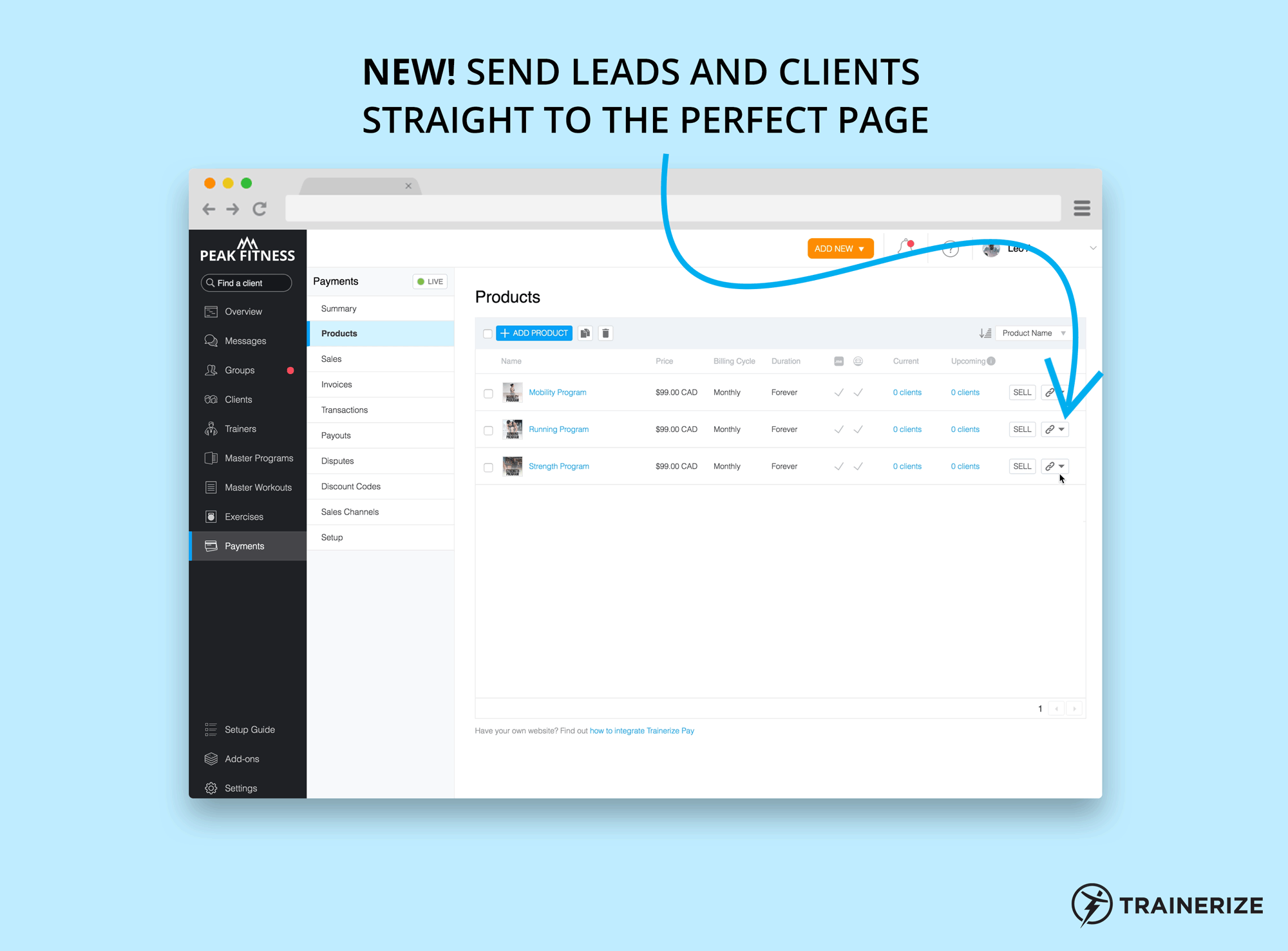 PRODUCT LINKS
The first is a product link, which leads to a page with a detailed description of the product and options for them to make a purchase.
These are the ideal links to share when you want to make an existing or prospective client aware of your products or services or highlight a specific program you think would be perfect for them.
CHECKOUT LINKS
The second is a checkout page link, which goes directly to a page where they can instantly enter their payment information and complete the purchase of a specific product.
You'll want to use these links to share with clients who are ready to purchase from you after you've warmed them up and already pitched them the product by email, in-app message, or through your website.
DISCOUNT LINK
The third kind of link is a discount link, which can be set up to take leads or clients to either the product page or the checkout page (you choose!) and automatically applies a pre-selected discount code when they get there.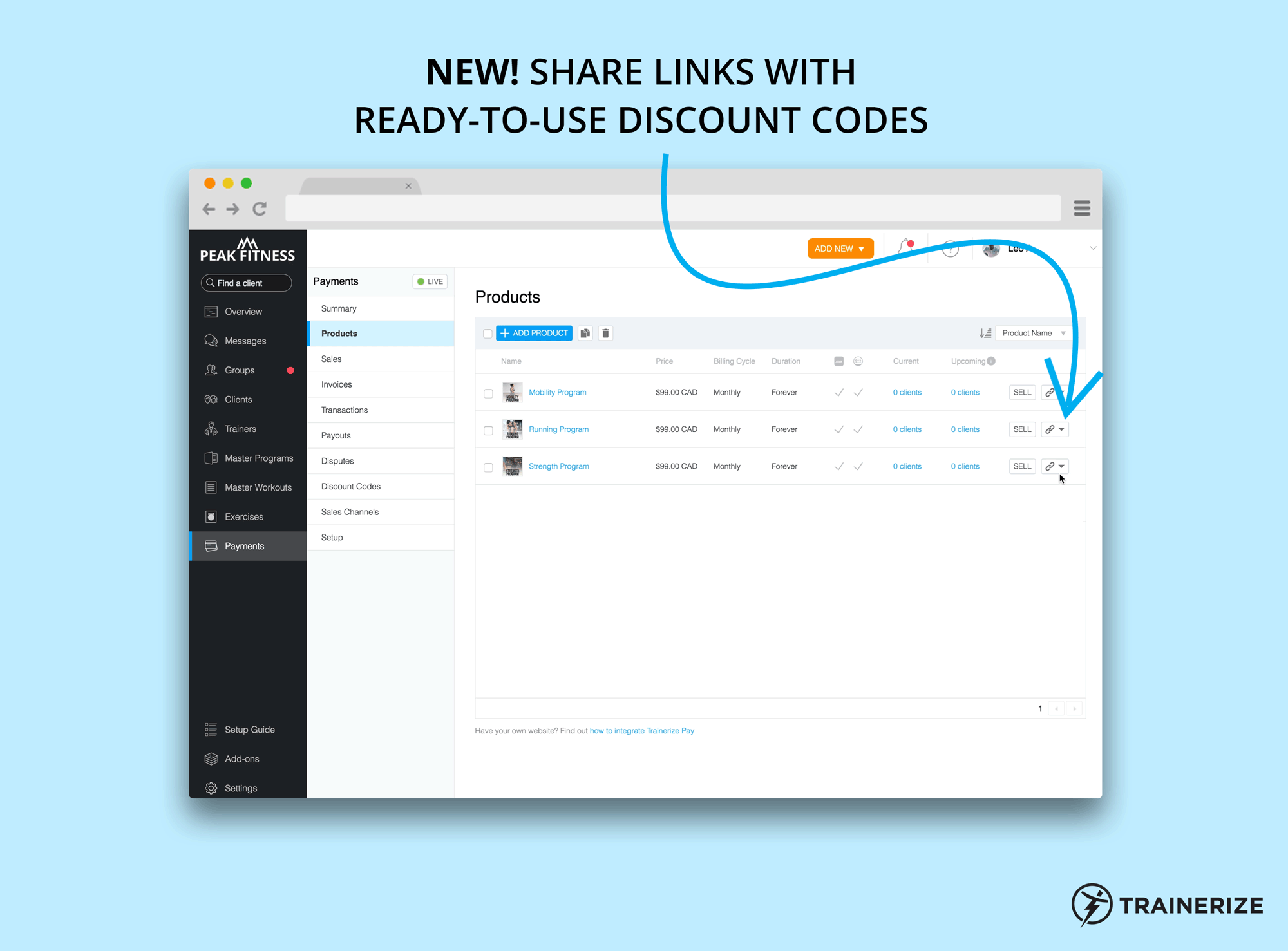 This is an amazing tool for upselling and converting leads and existing clients. For example, you can use a product page discount link in an email campaign to your leads, encouraging them to upgrade by a specific date to access a program at a special price. Or, you can use discount links in in-app messages to existing clients with a similar message to get them to buy their next program and keep training. 
What makes these three kinds of links so cool is the flexibility it adds to your marketing and selling strategies. You and your business can get both creative and strategic in how you share the links, embed them on your website, or leverage them on social media.
Promote Your Business on Facebook
Running social media ads is an amazing way to bring in new business. They can draw clients to your website, allow you to showcase your products or services, and help you target your marketing efforts to your ideal potential clients.
Just as important as running Facebook and Instagram ads is the process of measuring their performance, that is: how well are your ads working to attract and convert new clients. That's why we're letting you add a Facebook Pixel to your Trainerize.me profile, checkout, and product pages.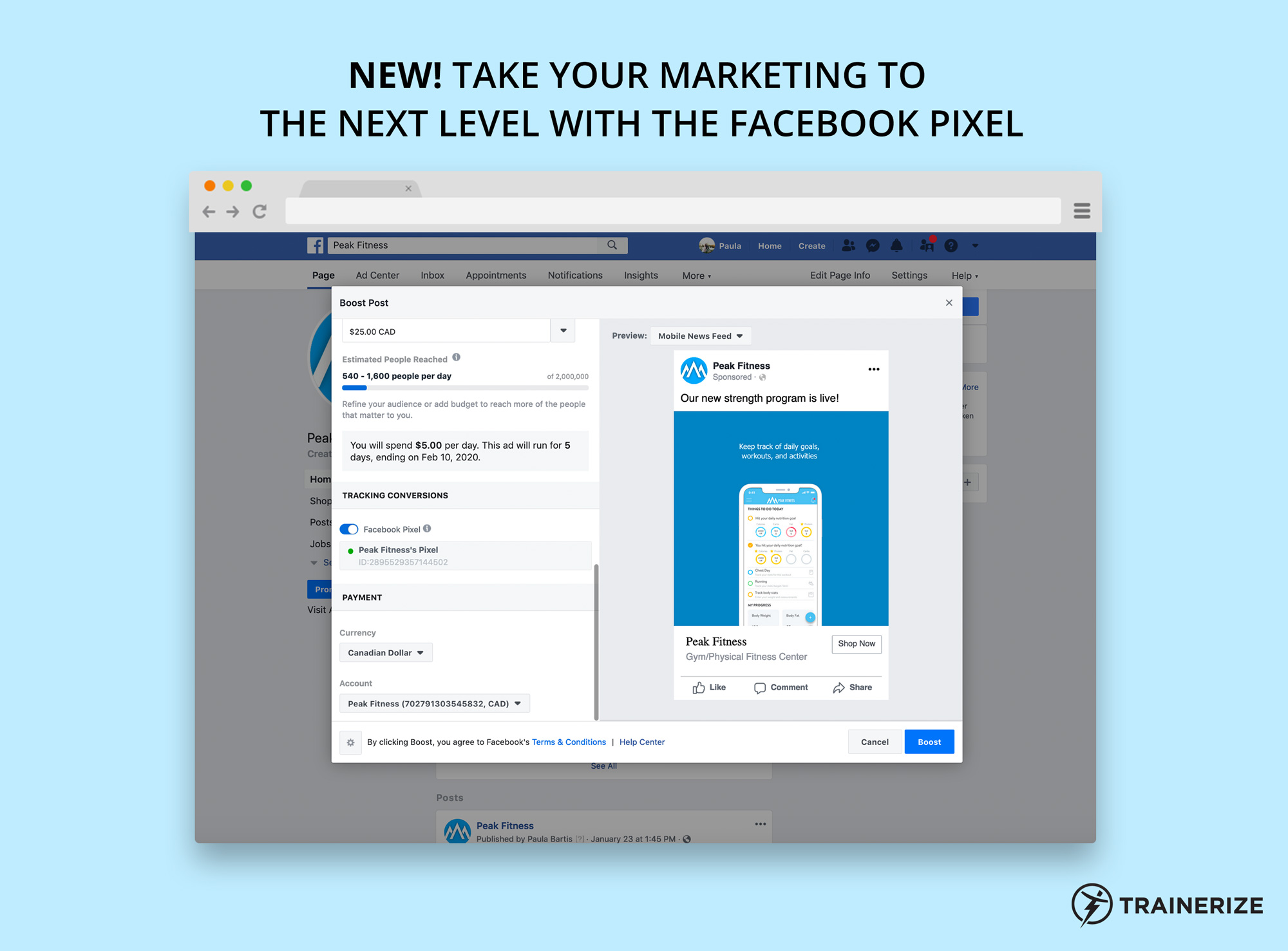 With a Facebook Pixel in place you can:
MEASURE + OPTIMIZE AD PERFORMANCE
Collect important information about how your ads perform on both Facebook and Instagram, then use that data to tweak and optimize your ads, lower your cost of acquisition (how much it costs you to hook a new client), and get the most out of your advertising budget and spend. 
TRACK PAGE ANALYTICS
Through the pixel, you can track the number of views, clicks, and conversions on your Trainerize.me profile, each of your product pages, and their associated checkout pages—powerful information that you can use to build the ultimate sales funnel.
ACCESS CUSTOMER INSIGHTS
In addition to what your page visitors are doing, the pixel also gives you a bit more information about who those visitors are. You can use that data to create retargeting audiences (you know those ads that appear after you've looked at a product online—that's retargeting) and lookalike audiences (people who have similar demographic information to your site visitors). 
CREATE PRODUCT CATALOGS
Finally, you can use your pixel to create a "shop" that's attached to your Facebook Business Page, promote your products directly in your ads on Facebook, and tag your products in your Instagram posts.
Upsell Features
You landed the client, guided them through an amazing goal-crushing training program, and now their package or subscription is about to run out. What's your next move? How do you keep that client training and get them onto a new program?
Ahh, the art of the upsell. It's a tricky thing! But lucky for you, it just got easier. 
Thanks to our new product link feature for in-app messages, you can schedule and send messages to your clients that include direct links to the perfect product for the next step in their fitness journeys!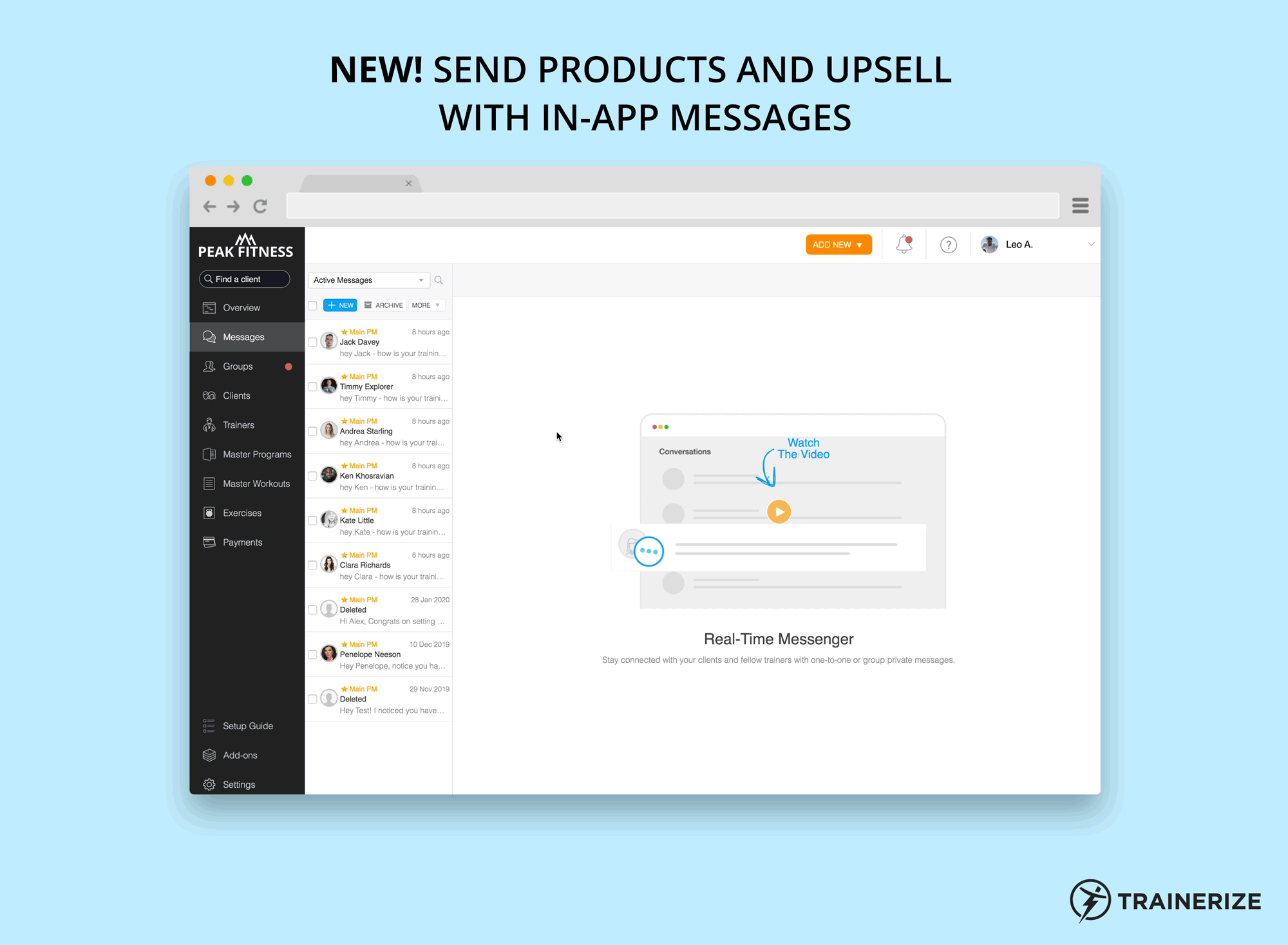 Sales Channel Resources
We know all of this can be a bit overwhelming, and wearing the hats of both fitness expert and marketing and online sales whiz can be hard. So we've put together some resources to help you do both by giving you the knowledge you need to rock every sales channel you use.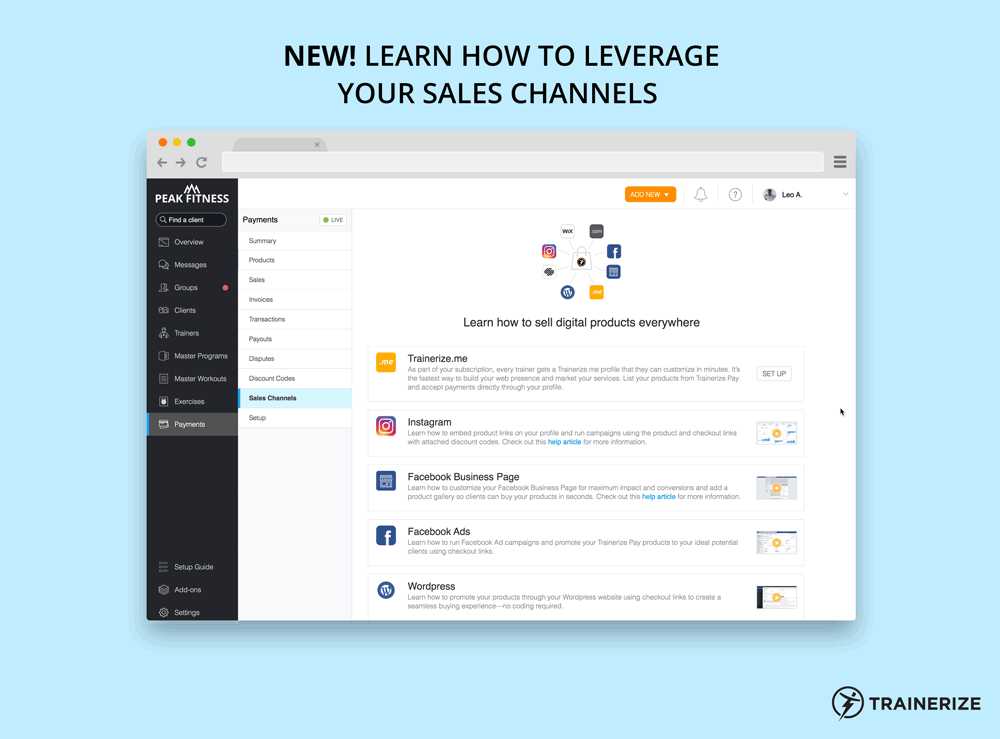 Take advantage of our recommended videos, articles, and more so you can start selling like a boss.
*NEW* Extra Security in Trainerize Pay 
Finally, we made some more upgrades to Trainerize Pay behind the scenes, in the form of new and more advanced security measures. 
Due to changing international regulations and innovations in online payment security, everyone already using Trainerize Pay will be required to upgrade their add-on by March 31, 2020. 
There's no additional cost to upgrade and it takes less than a few minutes to complete. You can find step-by-step instructions in our help center.