You'll notice signing into your dashboard that we've made many changes within Trainerize to help you work faster, scaling your training efforts.
Over the past few months, we've spoken to many of our trainers and the overwhelming feedback was to make it quicker and easier to manage a growing list of clients within Trainerize. We've taken all your great ideas and gone back to the drawing board. On the surface and under-the-hood, we've made critical changes. Let's review them.
Easily See Who Needs Attention At A Glance
The new platform-wide Needing Attention feature helps our trainers follow-up and engage their clients. Engaged customers are more likely to renew. We want to help you get your clients hooked on your service.
Red clients need immediate attention. Attend to each one until your attention list is empty. Easy.
Orange clients need attention soon. Just a heads up.
Make use of start/end dates on your training plan to activate reminders in Trainerize. We will remind you when clients are near the end of their plan and require a follow-up.
Walking a client through their set up is completely automated. However, in the rare case that a client might have e-mail or technical problems (ie. spam filters set too high junking everything), we highlight them so you can follow-up personally so nobody falls through the cracks.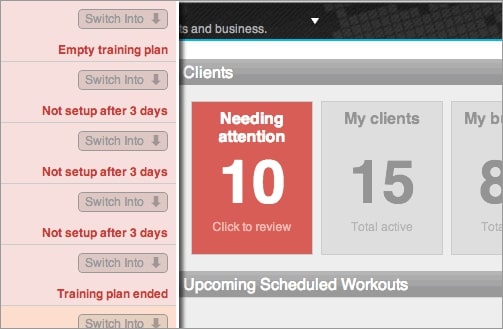 Distribute Training Plans Quickly
To Train A Massive Amount Of Clients Online
Many trainers have asked to be able to rotate training plans, or quickly populate plans from a template. We've streamlined the copy feature to allow you to do all these in one place. This allows you to quickly populate plans across your clients according to how you structure your business. Some workflows trainers use are:
You need a quick rough starting point. Create a few clients as templates (ie. Mass Building, Weight Loss). As clients are added, simply copy a template client to your new client. Tweak and customize for your new client.
You train clients using Levels or Phases. Simply create a template client per level or phase. As clients are added, copy the appropriate template to them. As they get stronger, progress them to the next step by copying a more advanced plan over it.
You group train. Use a client as your master client. Setup a training plan, then copy it to everyone. When you wish to rotate plans, update the master client, and re-copy to everyone.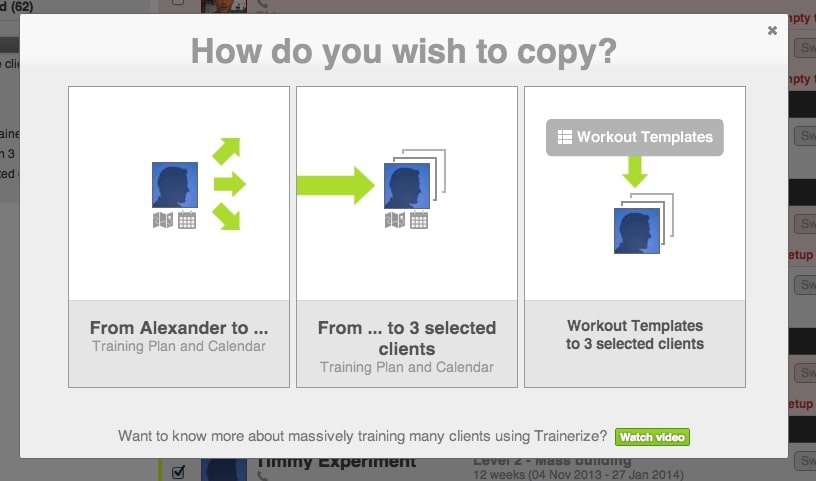 Visually See Clients Grouped By Training Plans
The new Sort By Training Plan view helps you more effectively manage group training by sorting them into groups.
Simply copy between clients or manually give training plans the same name, Trainerize will automatically organize them for you. In one click, quickly select groups of clients to message or copy training plans to.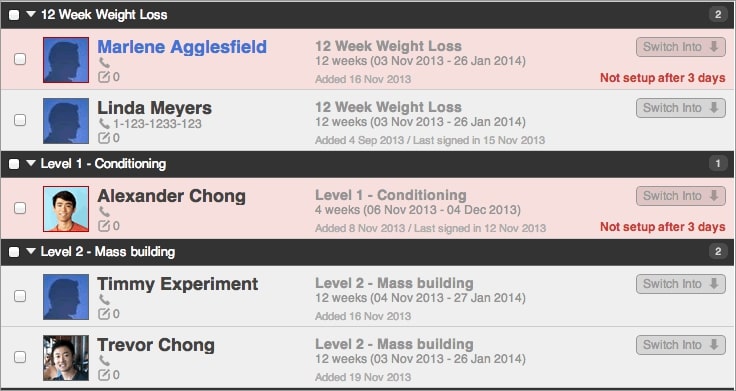 More Information. Less Clicks.
We've floated as much data up to the trainer level without being overwhelming.
The client page has more data in one view so you don't have to switch into each client to get an overview. Opening up a client's profile now shows you a complete picture of the activity of your client.
We've also overhauled many interface elements to make clicking and navigating through Trainerize easier.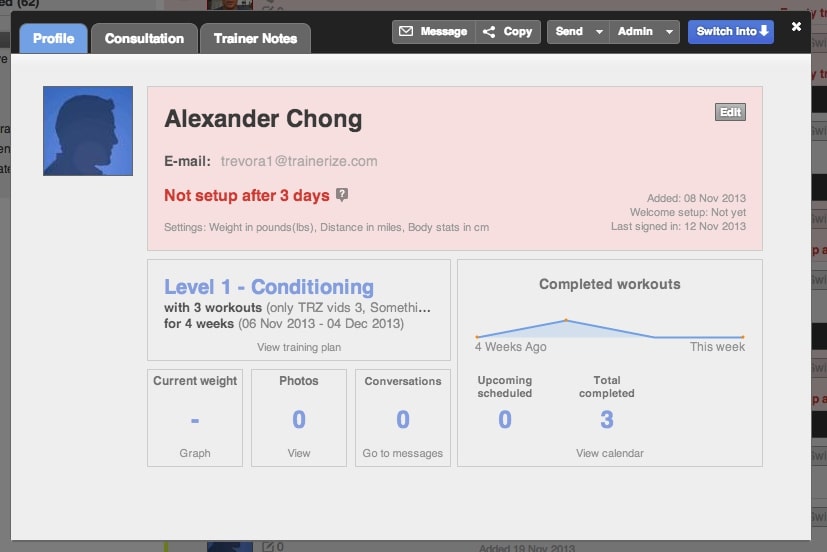 Minor updates and bug fixes
In v5.10, we've also done 100's of small fixes to improve the experience for you and your clients.
Ability to Make New training plan

Training plan start/end dates now shows up on calendar.
Calendar shortcut menu  with options to navigate to the start/end of the training plan, and to quickly locate the first scheduled workout if you build template clients.
Sign in / Setup time tracking. Allows you to monitor client engagement better.
Improved perfomance while selecting dates in graphs
Improved automated mailers to check in with your clients at various points of their training plan
Ability to setup with Facebook connect on the mobile site
More filters and sort options on the client page
Fixed Chrome scrolling issue
Miscellaneous bug fixes
Please hit up our Facebook or Twitter feed to let us know what you think about this release.
We look forward to building more awesome tools to help you power your Online Training business and we always love to hear your ideas on our ideas board.
Your Product Director@Trainerize
Trevor Chong