Trainerize update: We're upgrading on 10 Oct 2014 (Fri), 9pm-12am PST.
The service will be offline as we bring the new experience to life.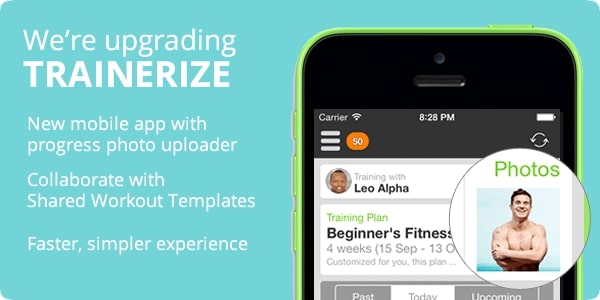 Easily Upload Progress From The Mobile App.
This is the most requested  feature by your clients!  The new mobile app allows you or your clients to quickly snap front, side, and back photos with guiding lines so photos can be compared easily side-by-side. We've rebuilt the web-app too to so that you get a smooth experience from any device.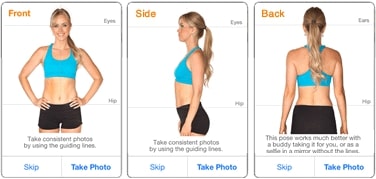 Tilt The App, Compare Progress Side By Side, and Share To Facebook
Comparing progress has never been this fun. Tilt your phone and swipe through your photos side by side. See a great comparison? Upload to Facebook from there. This feature is geared to fuel your client's motivation! It also helps you easily collect great progress photos like these from our  friends at WeBeFit.com to show off great body transformations. Great photos are a good testimonial tool to recruit new clients.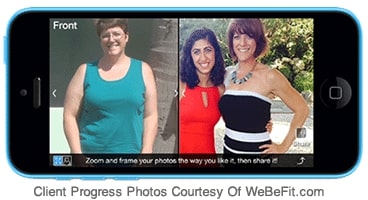 Use Photos To Improve Client Experience And Retention
Add New Client Photos and Assess Them Over Time
Use the new photo feature to upload client progress photos during initial consultations or assessments. Keep your phone or tablet handy, enter your client's initial measurements and upload a photo for their first assessment. As they train with you, they can load the app anytime to see their progress and it will remind them of the great results they are getting from your program.
Set Photo Milestones And Schedule Photo Dates
Whether training with you in-person or online, ask clients to take a monthly photo or to take a photo at the start and end of their training plan. Since clients have the app, they can upload their own photos anytime at home with a friend. This allows you to focus on training, and saves your clients money by not having to take progress photos during valuable training sessions. Since Trainerize is cloud-based, trainers have access to client progress anytime, anywhere.
How To Get The New Mobile App
The new mobile apps will be released shortly after the web upgrade, pending app store approval. Trainers and clients will need to upgrade to the Trainerize v1.10 mobile app. If you have auto-update turned on in the Apple App Store or Google Play Store, there is nothing you need to do. If not, simply click Upgrade when prompted as you launch the app. **Guiding lines only available on iOS devices.
---
Collaborate Between Trainers With Shared Workout Templates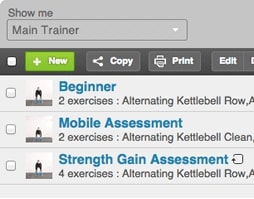 We've made collaborating in a studio or gym with multiple trainers easier. Workout templates are now shared. Trainers can duplicate another's trainer's template as a starting point, or copy another trainer's template to a client.
Create Fast and Effective Fitness Assessments
For gyms, this feature enables you to create a smoother, more consistent sign up and assessment process for your trainers. Centralize any initial fitness assessments or other monthly/routine performance tests under one head trainer. When a new client signs on, every trainer can use the same template to onboard them. Keep using the same workout template to demonstrate progress over time.
Share Pre-built Workout Templates with Other Trainers
For online trainers, quickly build template workouts under one head trainer. As your business grows, you will get more trainers and more clients. Now your new trainers can easily use the head trainer's templates to get started and take on the new clients.
---
Changes To Trainerize With This Upgrade
In the new version, we've made a few changes to make the product simpler and easier to use, but it may impact your current workflow. Please take note:
Hiding/showing workouts inside training plan will be retired because of more options to collaborate like shared workout templates and copying between clients.
Photo tagging has now changed to 3 poses. Existing photos are retained but will not show on the new mobile app until they've been tagged into one of the 3 new poses.
Changes to training plan workouts now update onto scheduled/missed workouts on the calendar. When you change a workout, all current and future workouts will be automatically updated on the calendar.
Client permissions have been simplified. We've removed two client permissions "Manage own training plan" and "Manage custom exercises". We did this to simplify the client experience so clients can more easily pick up using your training services.
We've rewritten a lot of the engine behind Trainerize to make the experience faster than ever before.
The Workout Builder has been updated so you can easily change custom exercises from within the workout builder now if you make a mistake
Branded logins. Show off your logo right from the login screen.
Better stability with multi-tab use and automatic session-ending for your security after long periods of idle.
As always we strive to provide the best possible experience for our trainers. We work hard to deliver features you will love and listen closely so that we can deliver an even better platform with each update. Please keep the ideas flowing and we will continue to make this the best Online Personal Training Platform available.
Thank you,
Team Trainerize
Take your Fitness Business to the next level.
Start your free 30-day trial of Trainerize.