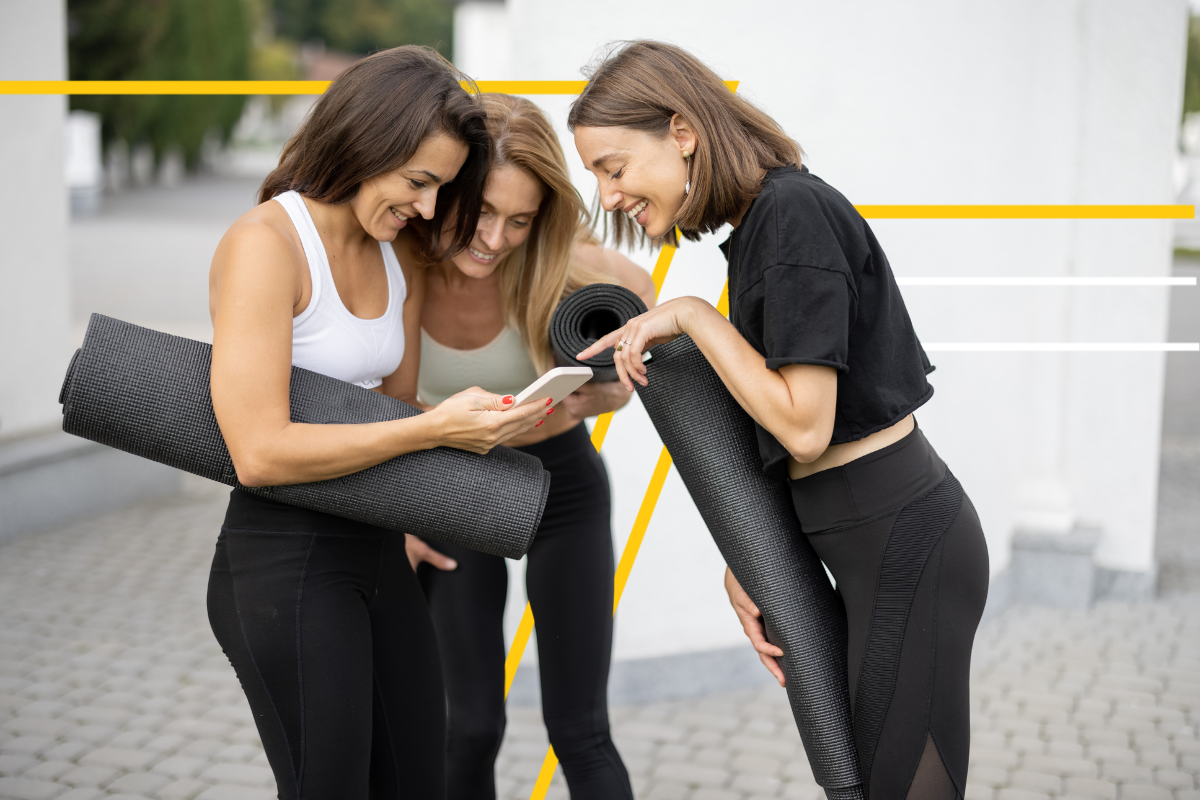 People are busier than ever, and fitness is evolving to meet them where they're at. More often than not, that's at home—and on-demand fitness content is the way to reach athletes anytime. 
With on-demand fitness, you can help your clients meet and exceed their goals using dedicated content. It's also just smart business. Once you've got content shot and edited… it's there forever, ready for use anytime a client needs it. 
At ABC Trainerize, we know a thing or two about on-demand content, 'cause our whole focus is helping fitness professionals bring more to their clients, wherever they're at. So let's dive in, and explore how you can improve your client experience with on-demand fitness!
Why create on-demand content?
One trainer can only be in so many places, and on-demand content lets you be in more places at once. Using gym management tools that offer video streaming, gyms and personal trainers can take their businesses to the next level while offering clients even more. 
The core approach is creating on-demand fitness classes. This strategy allows you to give your clients what they need from any location, and help them get healthy on their own schedule. Well-created video training is engaging and easy to follow as a matter of accessibility—since nobody wants to be confused training at home. Often, home workouts are built around at-home training tools like the Peloton bike or dumbbell sets, so athletes only need a piece or two of specialized equipment. 
With on-demand content, you also gain the ability to manage multiple clients in real-time. By offering readily available workout videos and courses, as well as live-streaming workouts, you can meet the needs of several clients without having to replicate the same work for every individual. This empowers you to broaden your reach and meet the needs of your clients… even when they all have different personal goals.
The best on-demand content formats for fitness clubs
These are some of the most popular kinds of content on demand in the fitness world. With a blend of these options, you can offer your clients a winning and inspiring experience that helps them achieve their personal fitness goals.
7-day challenges
Exercise challenges are a wonderful way to get people excited about fitness, and they are a great form of on-demand content too. 7-day challenges like these involve setting a specific goal (or set of goals) each athlete to do everyday. (Think of the Hundred Pushup Program, for example.)
Why it hooks people: Time-boxed challenges motivate clients to accomplish more in a short period.
Specialized workouts
Everyone has different goals, and specialized workouts are a great way to help them meet those goals. You get to tap into peoples' favorite modes of training, and help them dive into popular fitness trends on-demand. Common options include high-intensity interval training (HIIT), strength training, pre-and-post-natal, recovery, or even flexibility. 
Why it hooks people: Specialized training helps you attract people with very targeted fitness needs.  
View this post on Instagram
Virtual bootcamps
A self-paced fitness bootcamp is a great way to help someone kick it into gear and meet their fitness goals. These high-impact courses are perfect for shredding fat or building muscle, even for beginners. While the live class approach to bootcames is still popular, these pre-recorded or live-streamed classes are becoming more popular by the day. 
Why it hooks people: On-demand bootcamps courses bring the intensity and energy of classic bootcamps, without the same time commitment. 
Mind-body sessions
Health isn't just about supporting the body—it's also about supporting the mind. Mind-body sessions combine a focus on the mind and body, and they're one of the most popular forms of on-demand content. The most common types of workout services in this niche include yoga, meditation classes, and breathing exercises.
Why it hooks people: Mind-body courses are accessible for folks of all fitness levels, and attract athletes who prioritize holistic wellness. 
8 of the best on-demand platforms for fitness
If you're looking for an online fitness platform to scale your business and give your clients even more, these options are an excellent place to start. These popular fitness streaming services will allow you to deliver a variety of workout formats to clients anywhere in the world.
The perfect tool for trainers across all niches, ABC Trainerize is an all-encompassing powerhouse for fitness training. Ideal for client communication, meal planning, on-demand content, and scheduling, this gym management suite adapts to the needs of trainers and their clients. With a full suite of tools, you can work on-demand content creation into the mix with all your other fitness offerings. 
Pros:
Supports every aspect of fitness businesses, including on-demand video

Allows trainers to communicate directly with clients and share self-serve training resources

30-day free trial available
Cons:
Platform is feature-heavy, which creates a learning curve for some new users
VPlayed
Source: VPlayed
Made to support video-based businesses worldwide, VPlayed is a great way to share your knowledge and expertise with a client base. Designed to help you scale an on-demand content business, this platform supports everything from video streaming to libraries.
Pros:
Highly ranked among video streamers

Effective integration with popular content tools
Cons:
Designed for general content creation, not fitness-specific content
TrueCoach
Source: TrueCoach
Created by Xplor, TrueCoach is a platform for personal trainers that is made to bring training into the virtual space. With this dedicated platform, staying in touch with clients is quick and easy, and you'll be able to deliver on-demand fitness services to clients, no matter where they're at. 
Pros:
14-day free trial available

Tailored to personal trainers
Cons:
Limited business branding options (no custom app)

Pricing can be steep for smaller businesses
WellRight
Source: WellRight
Designed to cater to corporate workplaces, WellRight makes it easy to bring wellness programs into the workplace and support your team's wellness goals. Focused on empowerment and resilience, this is one of the most powerful on-demand video platforms out there.
Pros:
Great for teams and groups

Comprehensive video hosting features
Cons:
Tailored specifically to business teams

Can be limited when it comes to customization
TotalCoaching
Source: TotalCoaching
This dedicated personal training software is made to be a point of connection between fitness experts and their clients by supporting communication and planning. Offering simplified planning for your clients, this system is full of pre-made fitness content that can have a high impact, making it ideal for those who are focused on curating workouts (rather than creating on-demand content from scratch).
Pros:
Pre-existing database of workouts in a wide range of categories

Easy workout and nutrition planning
Cons:
More tailored to the specific database rather than original content

Minimal branding opportunities for the app
FitSW
Source: FitSW
Positioned as an all-in-one app for personal trainers, coaches, and gyms, FitSW is committed to making fitness more accessible. Offering dedicated metrics that help you track client performance, this system is easy to use and works as a powerful tool for those who are seeking to better connect with clients using on-demand content.
Pros:
Strong suite of analytics tools for tracking business success

Simple and comfortable dashboards for decision-making at a glance
Cons:
Challenges when making custom workouts

Takes a percentage of payments from clients
PT Distinction
Source: PT Distinction
Marketed specifically to trainers, the goal of PT Distinction is to save trainers time by helping them create and distribute digital resources. With a smooth interface and easy-to-use tools, PT Distinction simplifies eating and training for your clients while creating a lasting point of connection. PT Distinction also allows for delivery of on-demand content, although it's not the core platform focus. 
Pros:
A clean and easy-to-read interface

Automated tools to simplify managing several clients at once
Cons:
Some users report technical difficulties and forced closing with the app

Updates and bug fixes may be hard to come by
My PT Hub
Source: My PT Hub
Created as a seamless dashboard for personal trainers and their clients, My PT Hub offers a stylish app and plenty of features. Made for managing your favorite clients from a distance, this system helps with everything from finance to communication. Accept payments, sell packages, and deliver on-demand classes from anywhere in the world—even while you sleep!
Pros:
30-day free trial available

Support for bootcamps and classes
Cons:
System is not as easy to follow for less tech-savvy clients

Some users have reported trouble receiving refunds when issues arise
So, what's next?
Your clients want on-demand fitness, and you've got the foundation you need to step up and deliver it. And using an on-demand fitness management system like ABC Trainerize will make it easier to share knowledge and expertise with your clients, wherever they need it. Whenever you're ready to scale up your business and support more clients, we're right here. 
Ready to take your fitness business to the next level?
Start your free 30-day trial of ABC Trainerize today!