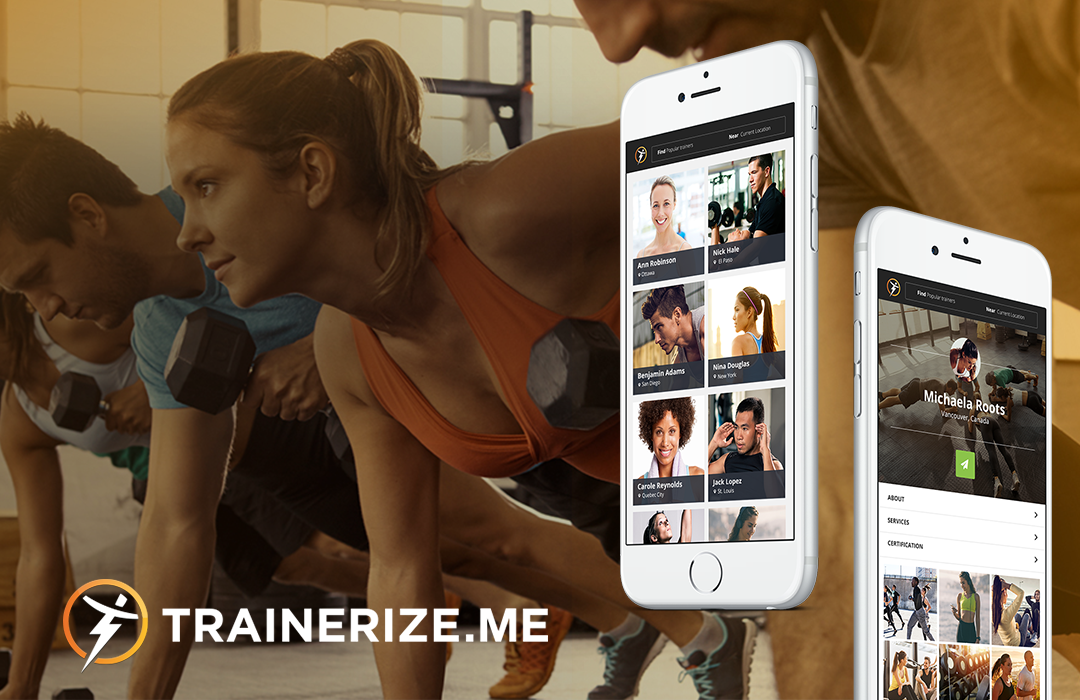 We're beyond excited to announce the launch of Trainerize.me – the world's first ever online personal trainer platform that helps Trainerize trainers connect with potential clients worldwide, while allowing clients to find and connect with the perfect online personal trainer.
Through a powerful profile matching algorithm and location-based search functionality, visitors reaching Trainerize.me can search for personal trainers in any area, learn about them and connect with them through the messaging feature. This enables trainers to get more business and motivate more people through their beautiful and user-friendly Trainerize.me profiles.
Trainerize.me profiles will not only be searchable on the Trainerize.me website, but they will be visible in online search results, and will connect trainers to people around the world who are looking for a trainer online.
For the Fitness Enthusiast:
Search for the Perfect Online Personal Trainer
It's easier than ever for people to find an online personal trainer. Visitors to Trainerize.me can search out specific trainers by location or by specific training services, and then complete research on the trainers by visiting their social profiles or website to get a feel for how they train. Once they've found the perfect trainer, all they have to do is message them right from the page to connect!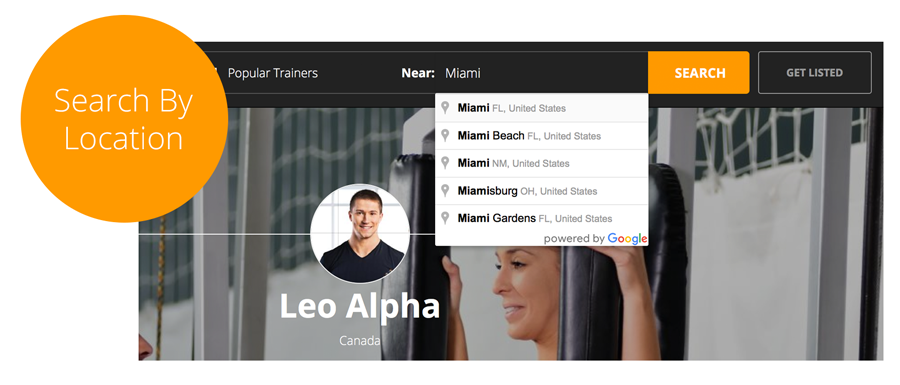 For the Personal Trainer:
We Make it Easy for People to Find Your Page
We do the hard part, and take care of hosting and optimizing Trainerize.me pages for search engines. This will help drive traffic to the profile pages so trainers will get discovered by future clients. All trainers have to do is make sure their profile looks great to attract clients to get in touch!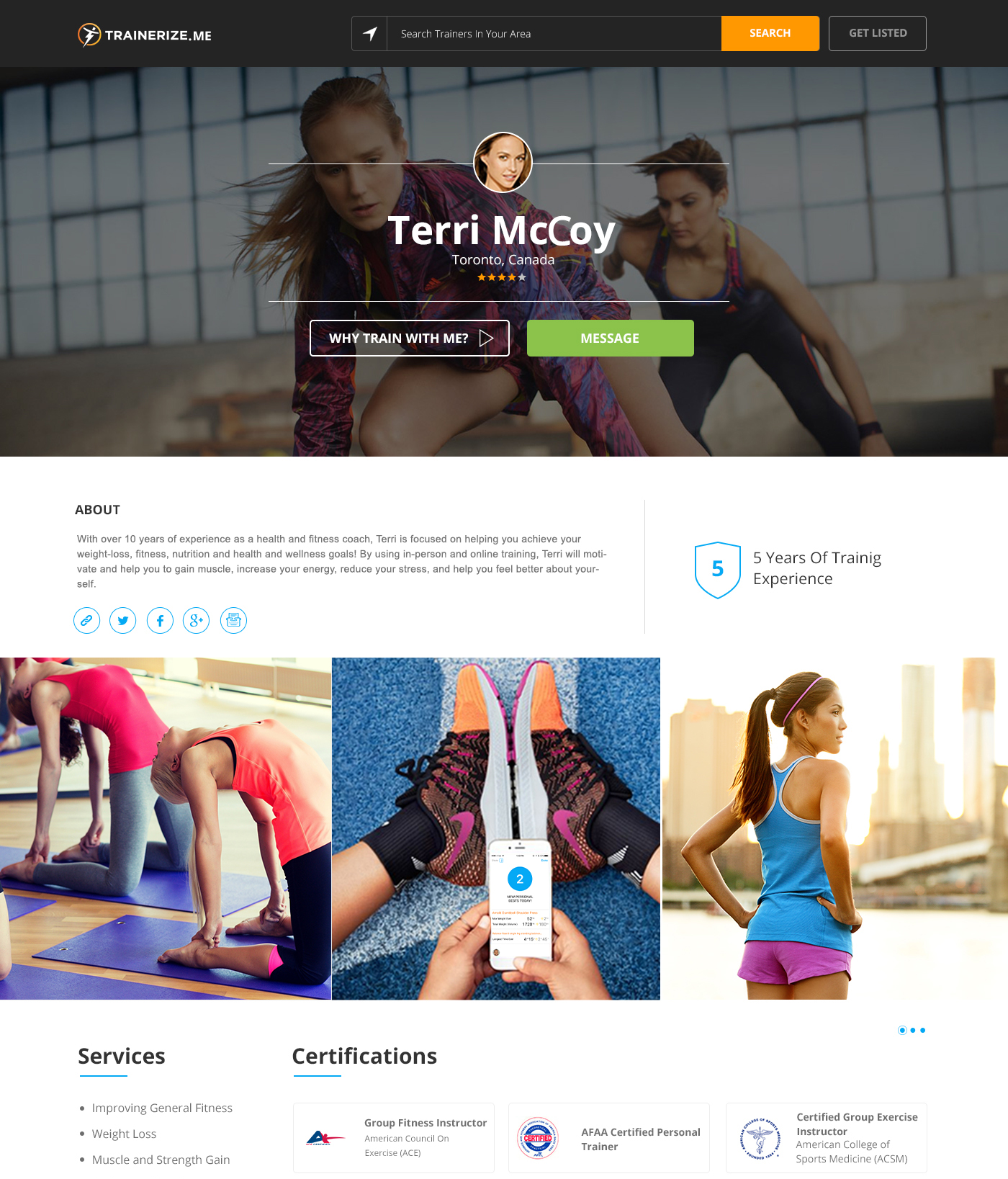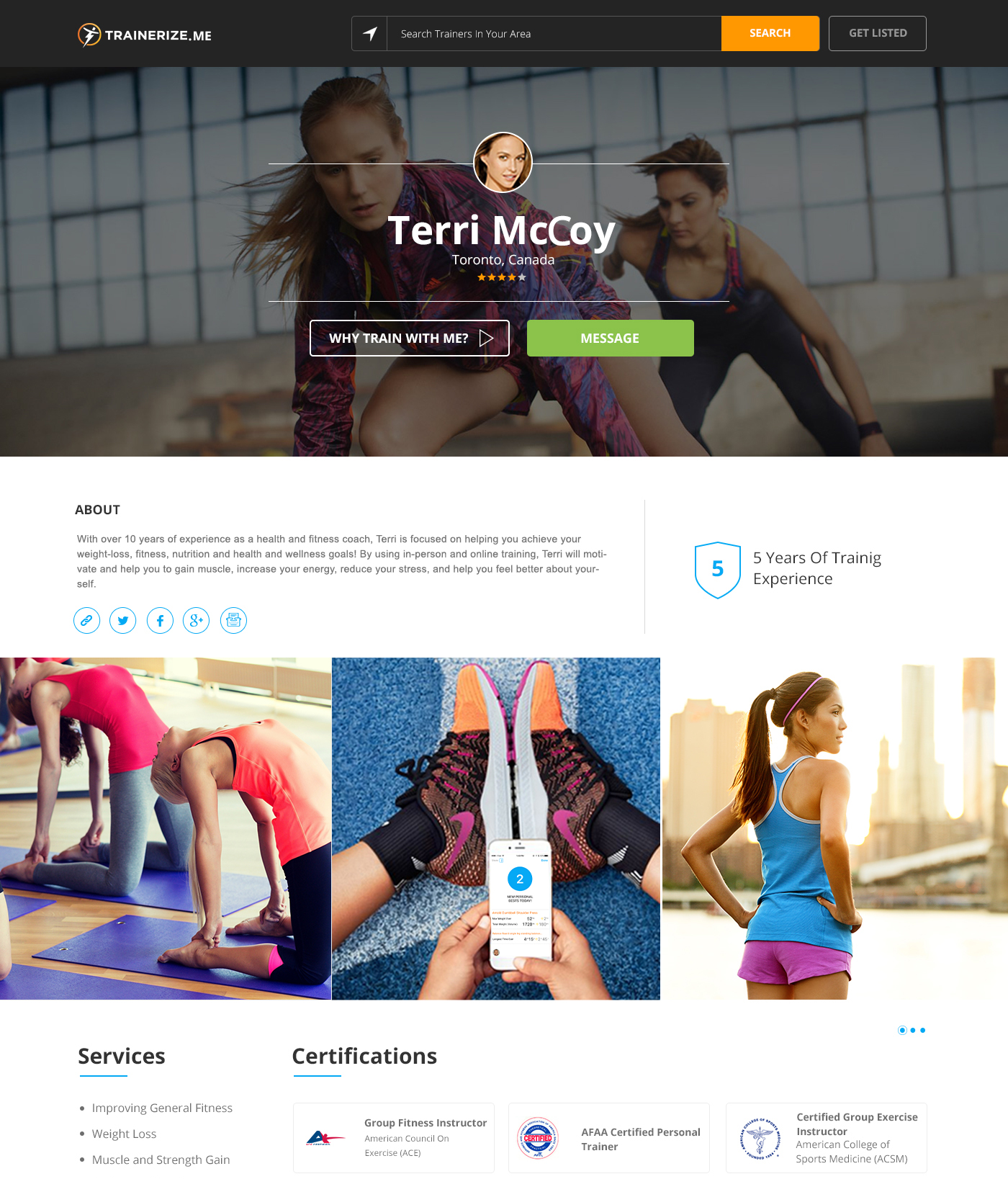 What's Included in a Trainerize.me Profile Page
PHOTOS. Trainerize.me pages can dazzle visitors with a high-quality profile photo, cover image, and a photo feed that shows off their training style.
PROMOTIONAL VIDEO Here's where trainers can share with potential clients why they are the ideal trainer with a custom "Why Train With Me?" video on their profile.
ABOUT SECTION Trainers can use this section to describe themselves, their education, training style, and boast about their training experience.
EXPERIENCE & CERTIFICATIONS This section lists any relevant certifications, the number of years experience the trainer has with personal training, and the training services that they offer for clients.
SOCIAL SHARING  Trainers can link to all of their social profiles so potential clients can learn more about their fitness business. Share Trainerize.me profiles with the world! Trainers can use their social media channels to promote their listing.
MESSAGING  Once someone has decided they have found the perfect online personal trainer, they can use the messaging feature to connect with the trainer. We make sure this message ends up directly in the trainer's inbox in Trainerize. The trainer then just has to add their new client to Trainerize and start training them. Easy as that!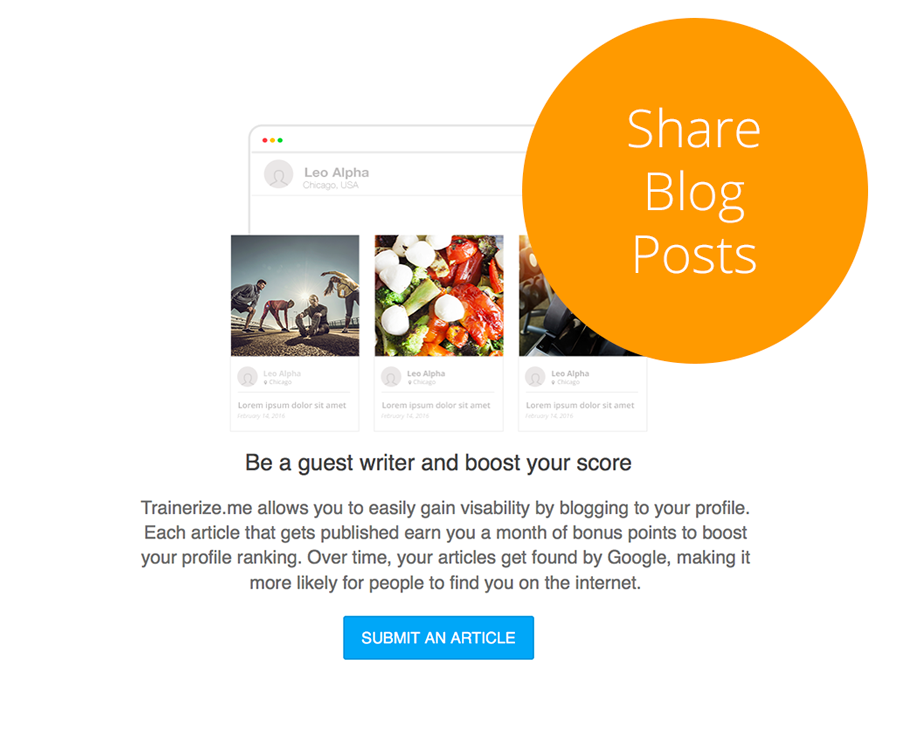 Share Blog Articles on Trainerize.me
Providing captivating information and sharing your knowledge is an excellent way to attract visitors to a profile page. Personal trainers can use Trainerize.me to show off their training expertise, nutrition background, or their brand to get discovered by clients worldwide! Trainers can submit articles to be featured on the Trainerize.me blog and on their own profiles.
Any blog articles you submit to your Trainerize.me profile will show up in Google search results and on the Trainerize.me blog. The blog articles will attract visitors to learn more about the topic, making them discover you and potentially start training with you.
Company Pages for Gyms and Studios
For gym or studio owners who manage several trainers–don't fret; we have an answer for that too. With a paid Trainerize account, the Administrator gets a company page to manage, in addition to the trainers getting individual profiles. All of the trainers will be listed on the company page, just like a regular gym website.
Service Multiple Locations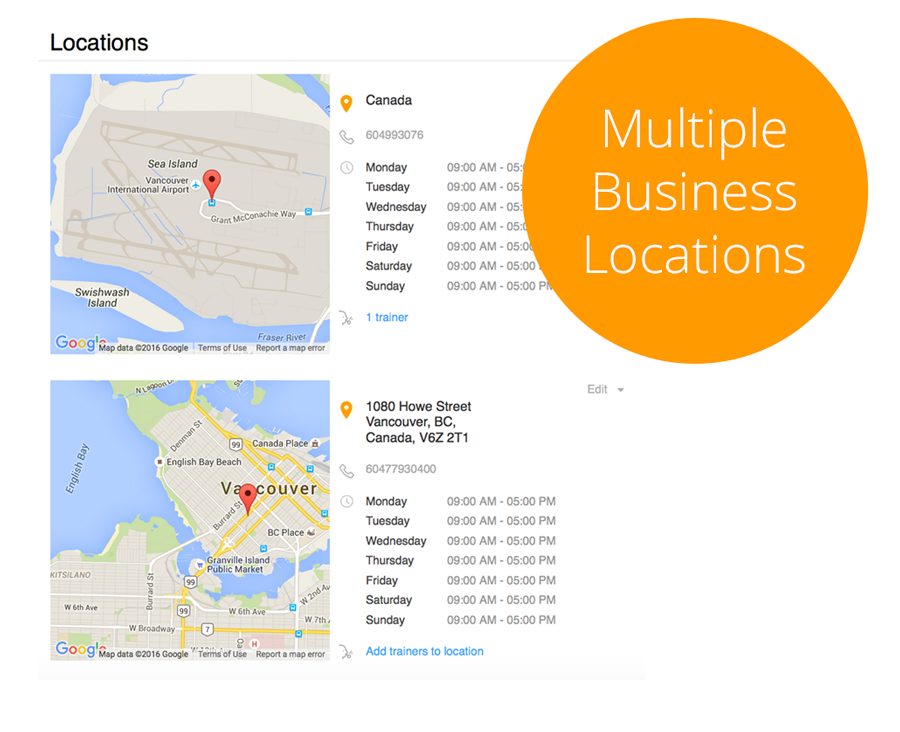 Business administrators on a Studio Plan can now list multiple locations in Trainerize. These will be linked to the Trainerize.me company pages and will showcase contact information, opening hours, as well as trainers assigned to that specific location. Location pages will give business owners a new way to promote their business.
If you are looking for a personal trainer to train you online, go ahead and start searching the database based on your location or area of fitness you are interested in. If you are a personal trainer–don't wait, get listed on Trainerize.me today!