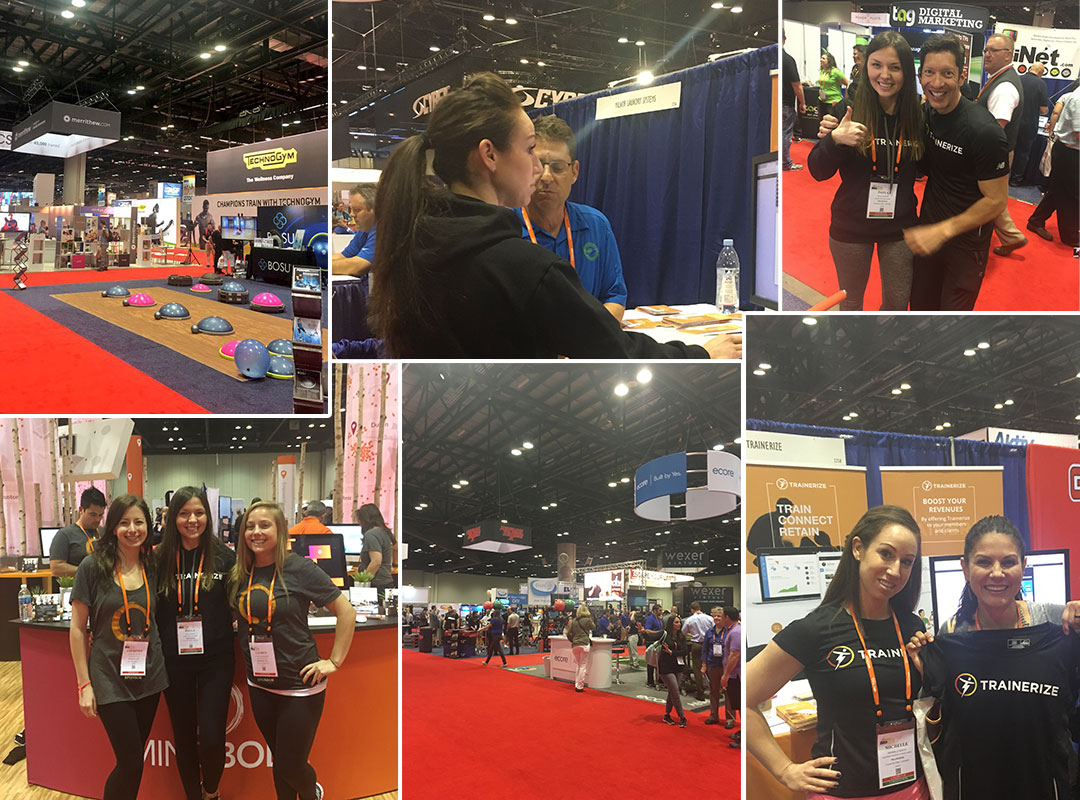 We booked our tickets, packed our bags, and hopped on a plane excited about the adventure of learning and networking ahead of us at IHRSA 2016. We underestimated the amount of fun we were going to have and the amount of amazing people we were going to meet!
If you stopped by the Trainerize booth at the IHRSA trade show, we want to start by saying THANK YOU and it was amazing meeting you! We cannot begin to describe how awesome it was to meet so many other fitness professionals from all over the world, especially those who are already Trainerize users. Hearing how other trainers are using their Trainerize app to help grow their business and talking to new trainers and gym owners who aren't yet using Trainerize about how they can benefit from it was inspiring!
While at IHRSA we got a lot of questions at the booth that we had not yet been asked, however, because they were such good questions we thought it would be a good idea to share those questions and the answers in a blog post.
Here are 7 Questions we received while at IHRSA and the Answers from Michelle – Our Resident Expert Trainer.
Can you build periodized training programs for clients in Trainerize?
Yes! Trainerize allows you the ability to create a specific training plan for each separate client. Within each training plan you can create workouts specific to each training phase, add them into a client's calendar, and specify how long you want each training phase to last. Trainerize gives you the ability create a year's worth of periodized programs for any specific client, or copy a training plan to a number of different clients with just a few clicks.
When are you going to get more exercises using resistance bands?
We are always happy to get feedback from any Trainerize users (or potential Trainerize users) regarding things they want to see with the software. We have taken this request into account and will work on getting more resistance band videos into the software. If you are looking at adding these videos sooner, it is very simple to film your own resistance band videos and add them to your own Trainerize account.
You can film your own videos from your smartphone and upload them very easily (stay tuned for my next blog post on this topic!). My clients have told me they like seeing the videos of me performing the exercises because they say they feel like they are training with me even when they're at home (great for client retention ;)).
I own a gym and have 10 trainers working for me, how can I monitor the programs being sent out to their clients?
As a gym owner, you will have a master account and then have the ability to add your trainers into your gym's Trainerize site. This means you will have access to all of their clients and all of the programs that your trainers create.
Can I use Trainerize for small group training?
Yes! Trainerize is getting ready to release an exciting new update which includes small group training options (Stay tuned!), however, we also had a current Trainerize user come to our booth and explain how he uses his software for small group training (so it's possible right now!). This particular trainer informed us that he added workouts to each small group member's app and then they simply followed their workouts through their app allowing him to walk around, monitor form and offer motivation; he was able to push clients who needed it.
Can Trainerize be used for at home Pilates or Yoga workouts?
Yes, because even though Trainerize does not currently have any pre-loaded yoga or pilates videos (we're working on this!), you can easily make your own or use any videos you can find on YouTube. Trainerize can be used for physiotherapy, active rehab, athlete and team training, at home workouts and so much more. This is where your creativity can come in. 🙂
If I have clients paying good money to train with me one on one right now, what if clients decide to go for online training instead because it's cheaper? Won't this hurt my business?
As a personal training and group fitness studio owner I can speak from experience that I have never had a problem with this. I feel if people can afford one on one personal training they will continue to do that, because there's still no replacement for the accountability of making an appointment with your trainer and having someone stand right next to you to push your through your workout.
I have found that Trainerize has allowed me to hold on to those clients who make an initial purchase of personal training, but then find they can't continue due to budget. This is something I offer them to keep them as a client (train in person once per week or even once per month and then do the rest online). This keeps them in your business, they will continue to get results, and is better than losing them all together.
What's the best way to price my online training?
Their is no set price for online training and if you do a quick google search, you will find trainer pricing varies from quite expensive to quite cheap! My recommendation is to first think about how much of your time this training will take up and then think about how much your time is worth? The last thing you want to do is price your services to low with the hopes that you will get a lot of clients; you will end up spending way too much time catering to these clients.
Pricing is something that will be a process of trial and error, start with a price that you think will work and see what happens. One tip: always start with a higher price before you bring it lower, because once you set your prices lower it is hard to raise them (but people are always happy to see a price reduction). Stay tuned for an upcoming blog post dedicated to this topic!
I hope this may have answered any questions you have regarding Trainerize and how it can help your business.