We're happy to announce the launch of the new Trainerize Mobile App Version 1.8 for iOS and 1.7 for Android.
It's available now, so if you have auto-update turned on, the app will have updated in the background. If not, simply launch your old app and you will be prompted to download the latest version.
Messaging and Training Plan Updates are now Automatic
The new mobile app will intelligently update itself when any new messaging/workout content that is available. Your new training plan and messaging updates will always show up without manually having to refresh the app.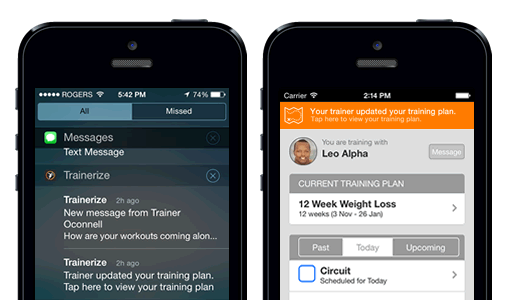 Push Notifications For New Messages and Training Plan Updates
Any client or trainer with the mobile app on iOS or Android has in-app notifications like WhatsApp or Facebook messenger.
Easily get new message notifications and tap to quickly reply.  Whenever a trainer updates any training plans and signs out, clients are notified of the changes and their app automatically refreshes. With the new apps, clients won't miss another message because it'll come straight to the mobile app in a push notification!
If you have any issues with junk mail filters during the setup of Trainerize, try our setup troubleshooting tips to bypass junk filters.
We're committed to making Trainerize the best trainer-client messaging platform for you.
Admin Trainers Can Share And Manage Other Trainer's Clients
Admin trainers can now switch into another trainer's client account on-the-go right from the mobile app just like they can with the website. Quickly  share, manage or temporarily pick up another trainer's client if a trainer is on vacation or off work.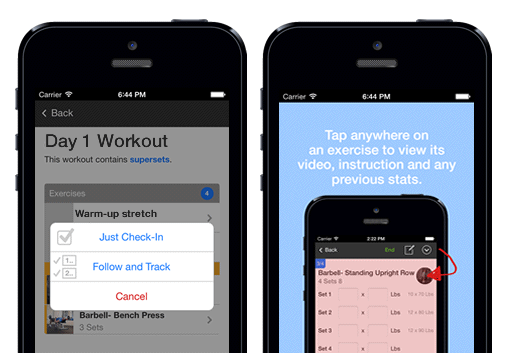 We've improved the Wizards and more
New in-app Wizards will clearly show your clients how to "Follow and Track" Workouts. This will make it easier for new and existing clients to learn their way around the app and start making the most of the experience.
Delete old messages from your inbox
New Interface Improvements to improve the look and feel
Improved layouts for trainer and client e-mail notifications and include links to Open the Mobile App or download iOS and Android app.
Miscellaneous bug fixes
Have You Suggested A Feature?
We take your feedback seriously and we prioritize our roadmap based on the most voted features by you on our idea forum. Suggest or vote for a feature now.
Thanks,
Team Trainerize