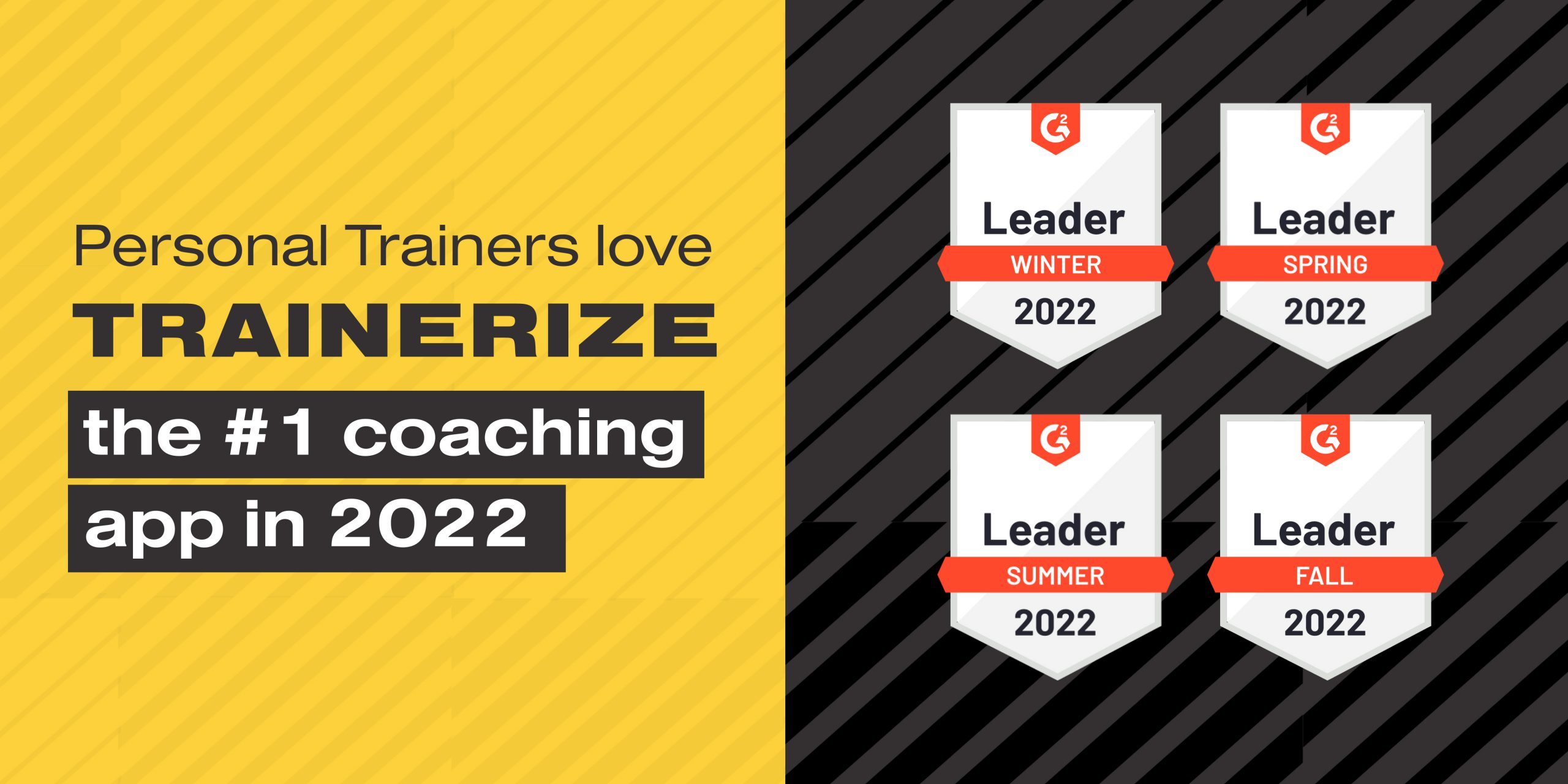 Trainerize was the winner of G2's award for Best Personal Training Software in every season in 2022, claiming the #1 position in Winter, Spring, Summer, and Fall. 
The criteria for this particular recognition consists of review scores from the G2 user community and data aggregated from online sources and social networks. The points process takes into account how well the fitness software can aid fitness professionals keep track of client information, create training and nutrition plans, schedule meetings/training sessions and easily manage client payment information.
Trainerize exceeded all of the necessary criteria and acts as an excellent repository for nutrition, habits and fitness goals. In addition, Trainerize aids its users with keeping track of their clients' progress and increasing client engagement.

Throughout 2022, the Trainerize platform was also awarded with several other badges from G2 under various categories, including: Best Usability, Best Results, Best Relationship and Users Most Likely To Recommend.
Speaking after G2's Winter award winners were announced, Trainerize Platform President, Sharad Mohan said, "for Trainerize to be recognized as a Leader in Personal Training Software is not only gratifying, but extremely motivating. This award is based on real-life consumer reviews and feedback, which not only makes it so much more meaningful, but also tells us that what we're doing at Trainerize is working. So we're going to keep doing it—and more. We'll keep delivering the kind of platform personal trainers and fitness businesses both want and need—and that their clients and members love using." 
About Trainerize
Trainerize is a client engagement mobile app and software that allows fitness businesses and fitness professionals to expand their reach beyond their physical spaces, better connect with clientele, build meaningful relationships, and digitize the training experience. Fitness businesses use Trainerize to boost member engagement through digital services as well as attract new members by tapping into the market of online training. To learn more, visit www.trainerize.com.
About ABC Fitness Solutions
ABC Fitness Solutions (abcfitness.com) is the premier software and related services provider for the fitness industry. Building on a reputation for excellence in support for clubs and their members, ABC is the trusted provider to boost performance and create a Total Fitness Experience for members of clubs of all sizes, whether a national franchise, regional chain or a local gym. Founded in 1981, ABC helps over 20,000 clubs and facilities in 75 countries perform better and more profitably, offering a comprehensive SaaS (Software as a Service) club management solution that enables club operators to achieve optimal performance. ABC Fitness Solutions is a Thoma Bravo portfolio company; a private equity firm focused on investing in software and technology companies (thomabravo.com).