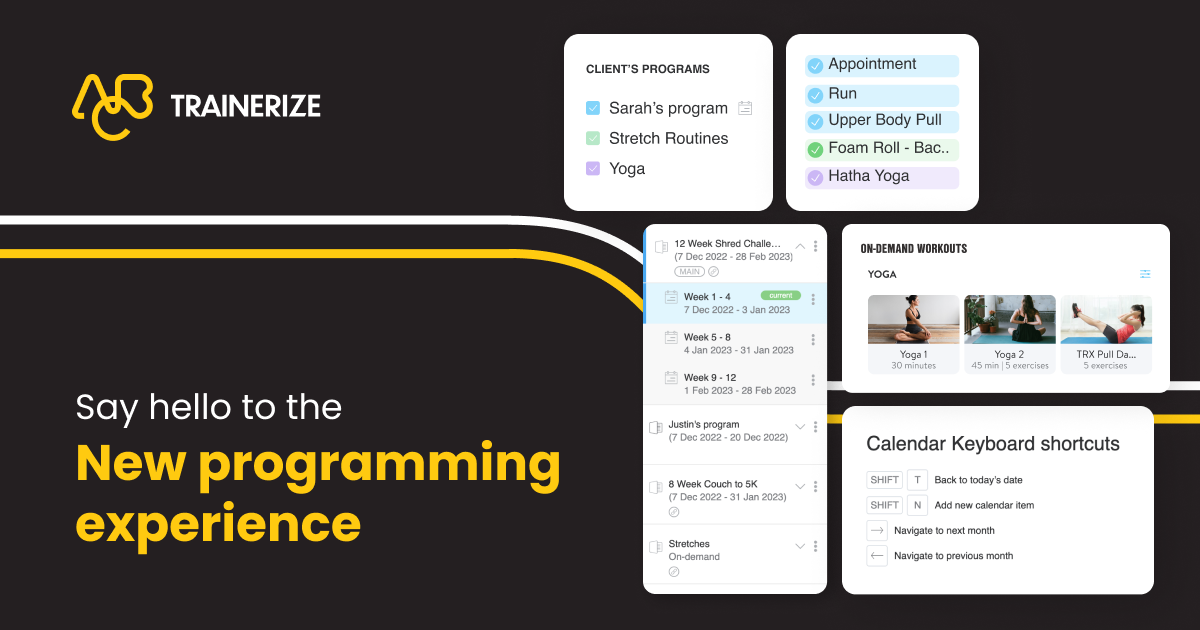 When we first started Trainerize, we poured our hearts and minds into creating the best app to help you deliver your fitness content and programming to your clients. That was over 10 years ago. 
And while we've recently been investing into other areas of coaching, like habit coaching and more advanced nutrition coaching features, fitness coaching and programming remains at the core of Trainerize. These past two years, we've been working on creating a more powerful and seamless way for you to sell and deliver multiple programs within Trainerize. Which is why, we're incredibly excited to unveil a brand new programming experience for you and your clients! 
Whether you want to assign multiple programs to a client, share a library of on-demand workouts for clients to pick and choose to do anywhere, anytime, or create and sell a variety of new memberships and products–you now can! 
Our new programming experience will allow you to sell and deliver multiple programs at a time to clients and give access to on-demand programs and libraries in a more seamless way inside the app. It's perfect for selling clients on additional add-on programs like a 2 week Summer Body Shred program or on-demand mobility program on top of their main program. This way, you can truly tailor your clients' programs and help them best achieve their goals. 
Why you and your clients will love the new programming experience
Sell a variety of new memberships and products – Instead of being limited to selling just one program to a client, you can sell and deliver additional programs at once to create new memberships and products. Simply bundle a few programs together and sell it as a new product!
Give clients more programming options – Clients will love being able to pick and choose additional programs they want to purchase to compliment their training and fully customize their experience. You can sell additional programs like an on-demand yoga program or a three week ab program for beginners. 
Meet our newest programs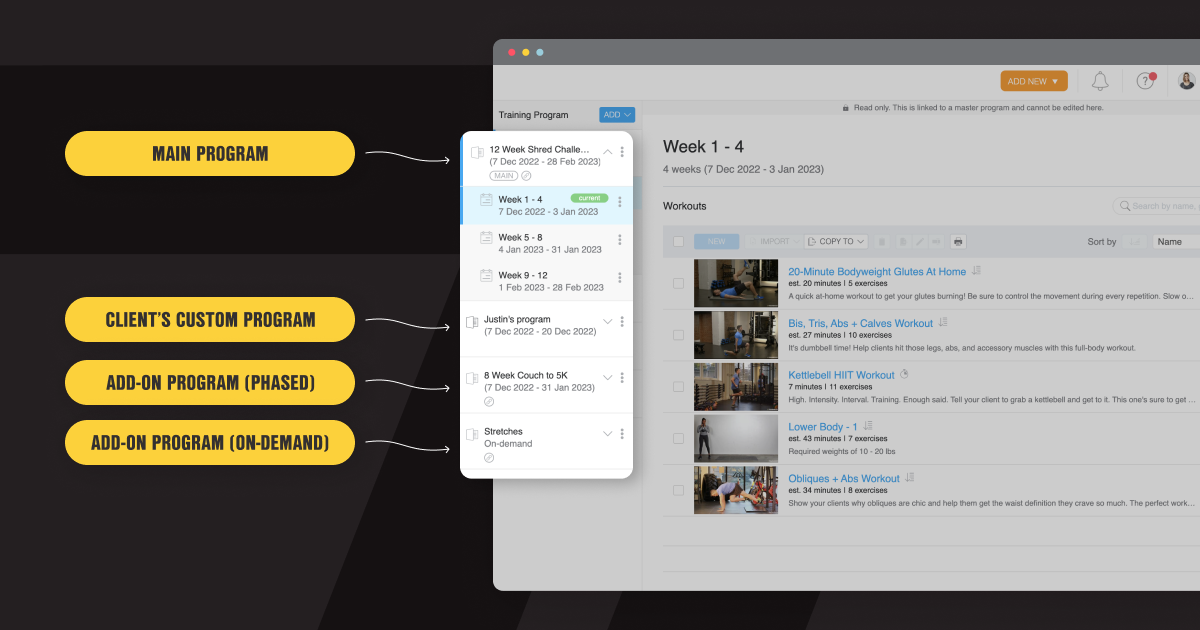 The stars behind this new programming experience are all of the new programs. They work together to allow you to fully customize your clients' training experience. 
Previously you could only deliver one program to a client, but now your clients can have multiple programs at once, including a Main Program, Client Program, and any additional Add-on Programs. Plus, on top of phased training programs, you can create and deliver a new type of program, on-demand programs! 
Here's a quick summary of all of the programs you can deliver in Trainerize.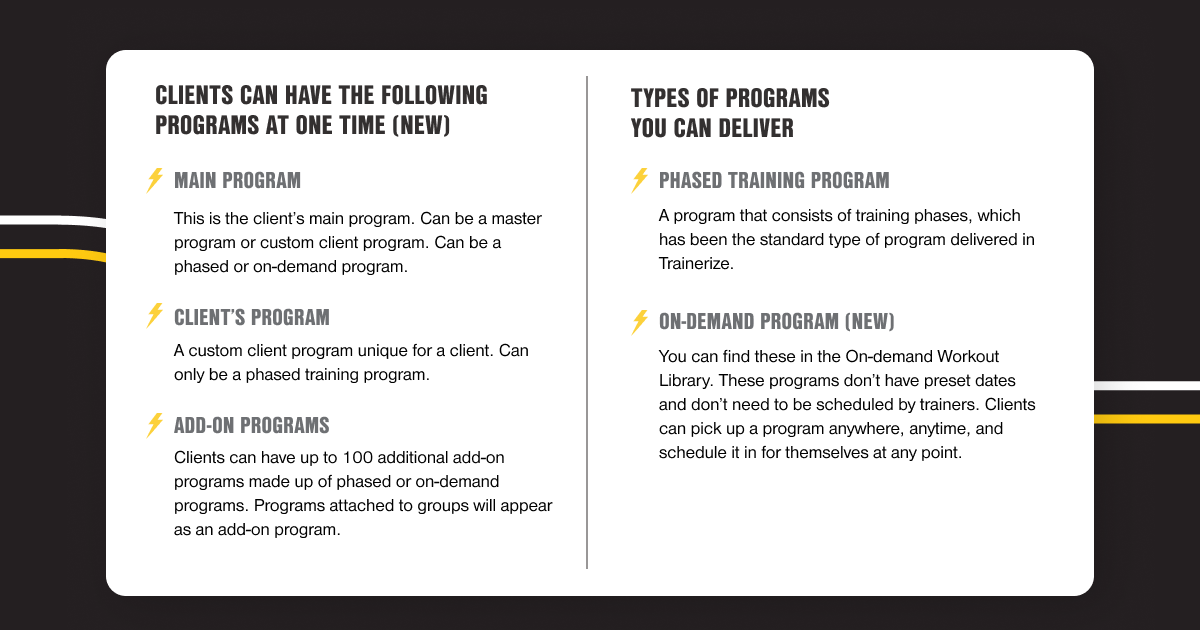 Deliver your workouts on-demand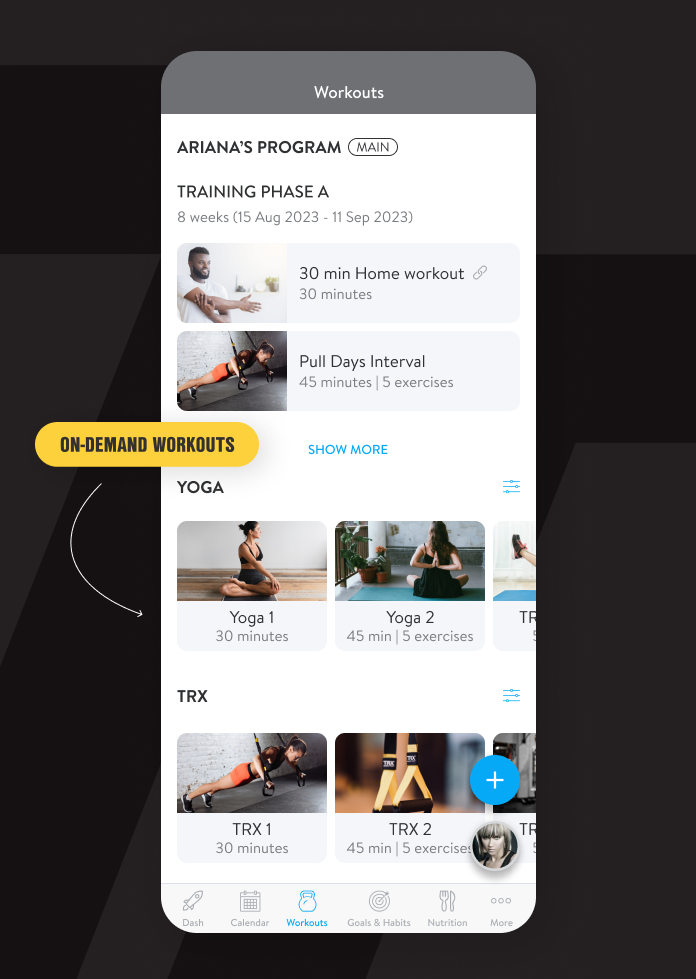 Ever wanted to share a library of workouts and let clients stream them on-demand wherever, whenever? 
With the introduction of On-demand Programs, you can bundle workouts like mobility stretches together or create a collection of yoga video workouts as an on-demand program and seamlessly deliver it in app. That way, you can easily sell on-demand programs on their own or as an additional program to compliment their existing training program! 
These workouts within the on-demand program won't be scheduled into the client's calendar, but instead clients can do them whenever they like or schedule the workouts themselves. This lets them train at their own pace and customize their own training. 
Note: On-demand programs can be delivered to your clients as a Main Program or an add-on program, but not as their custom client program. 
Say hello to a new and improved calendar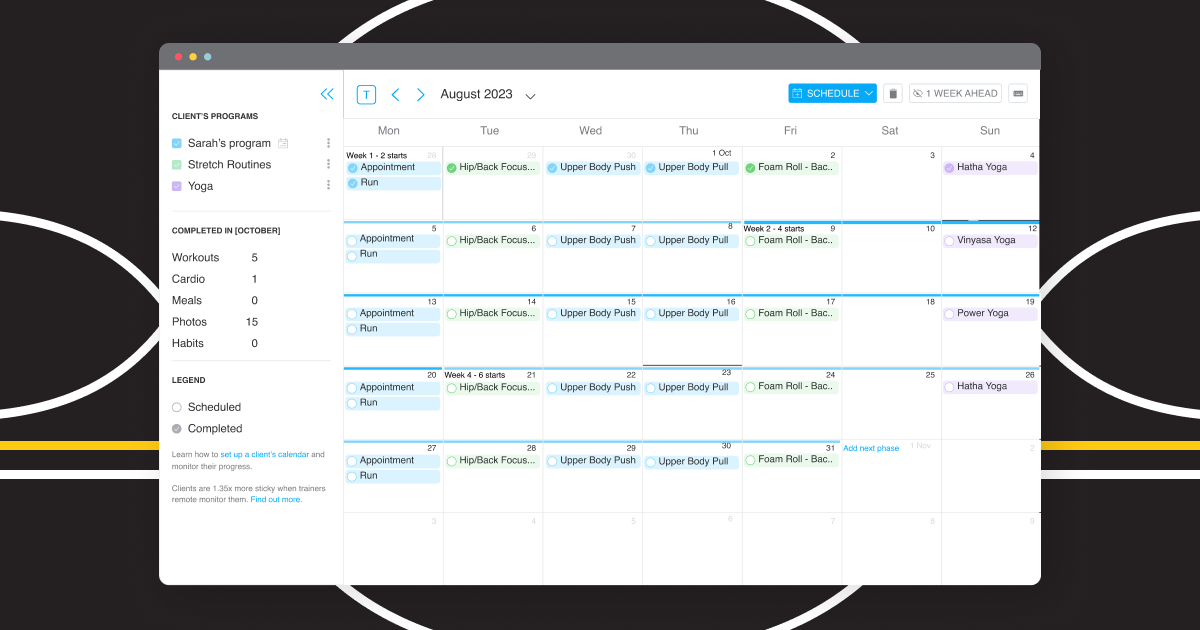 Easily view programs from your client's calendar 
After you've delivered all of your programs to your client, we knew you needed an easy way to see their programs on the calendar at a glance. Which is why, you can view all of your client's subscribed programs' activities color-coded on their client calendar on the web. That way you can quickly see a birds eye view of their entire training program and get a sense of what they're up to. 
Plus, you'll be able to hide programs from being displayed while scheduling and planning. Making it easy to just focus on a few key programs. Learn more in this article.
New UI for activity dialogues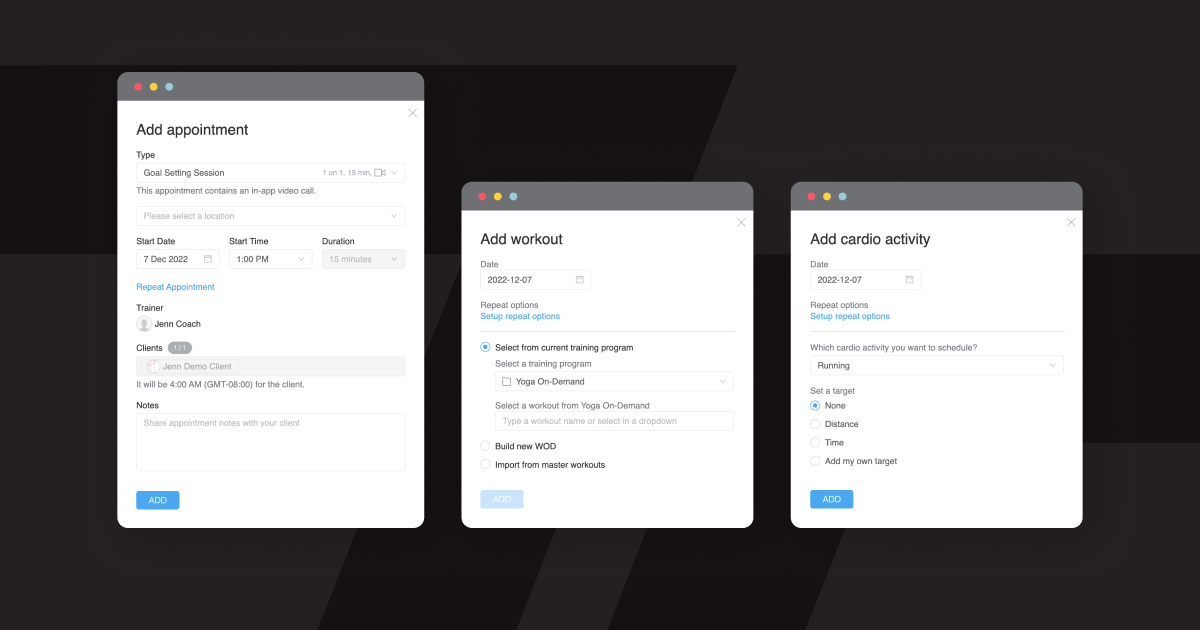 It's about time we've included this into the calendar. In this update, we knew many of you needed an easy way to schedule an appointment with your clients, right from the calendar. Which is why we've gone ahead and added it to the scheduler dropdown option, so you can schedule appointments faster than ever! 
Plus, when adding a new calendar item like scheduling workouts, cardio, appointments, body stats, and photos into a client's calendar, you'll notice that there's some new changes to the UI of the activity dialogues. We've improved the scheduling flow by simplifying the UI and introduced additional scheduling or repeating options to help you schedule your programs faster.
Additional changes and features to the calendar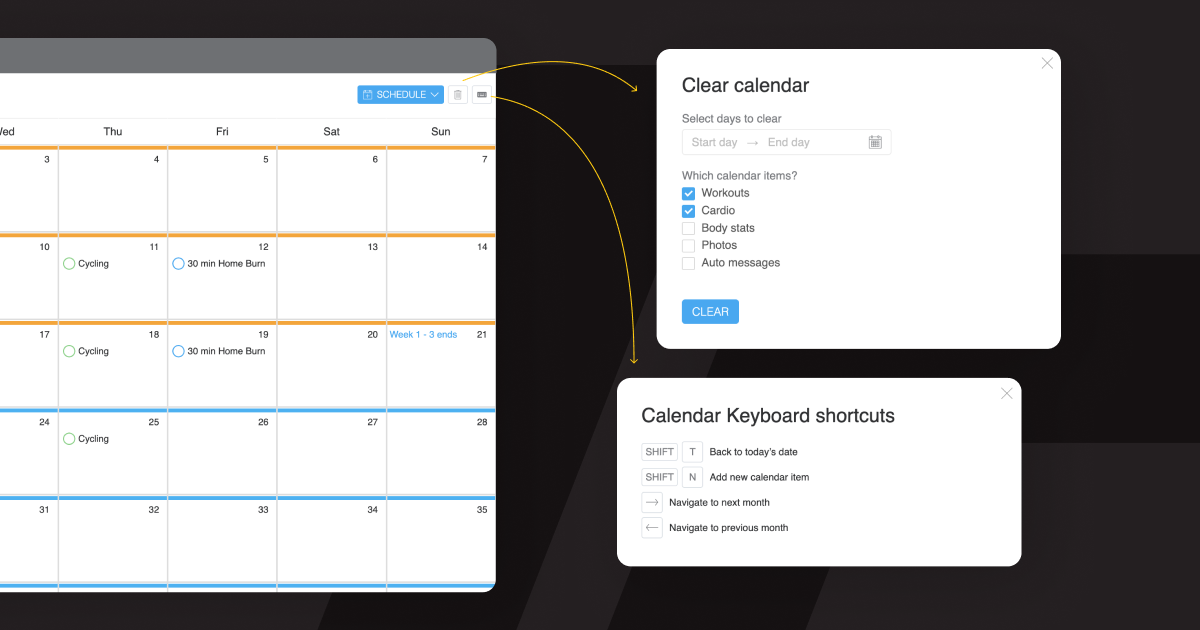 Quickly clear items in your master program calendar
But that's not all, we've also made some small, but mighty improvements to the calendar so you can program even faster. For example, we've introduced the ability to clear a master program calendar more easily, so you can ditch deleting items one by one (because who has time for that!). Simply choose the timeframe and which calendar items you'd like to clear and leave the rest to us! 
Flex those fingers & get ready for keyboard shortcuts
We've also added a super cool feature to the client calendar and master program calendar. With our new calendar keyboard shortcuts, you can easily toggle between months and add a calendar item with the touch of a few buttons! Which one will you try first? 
Clients will say goodbye to the calendar view on the web
Clients will no longer be able to view their calendar on the web, however they will still see their activities appear in their Things-to-do and have the ability to schedule activities from the dash. As almost 98% of clients use the mobile app first, this change will help simplify their web experience and allow us to dedicate more resources towards building features for clients on the mobile app. 
Selling and delivering programs more seamlessly in Trainerize 
With the ability to sell multiple programs at a time to clients and offer on-demand programs, you've unlocked the ability to also sell a variety of new memberships and products. Instead of selling just a membership to a training program, perhaps you can add a higher tiered membership that includes a training program and additional on-demand workout programs of just stretches, ab workouts, yoga, etc, as add-on programs. 
What if your clients only want access to a library of workouts that they can pick and choose to do on-demand? Well, you could easily just sell a product that includes that on-demand program. 
Deliver programs automatically
Best of all, delivering the programs in Trainerize is incredibly seamless with our product automation features. In the new programming experience, we've added product automation to Add-on products now. So whether you're selling a Main or Add-on product to clients, you can set up the automation and the program is delivered to clients the second they purchase! 
Improved Product Automations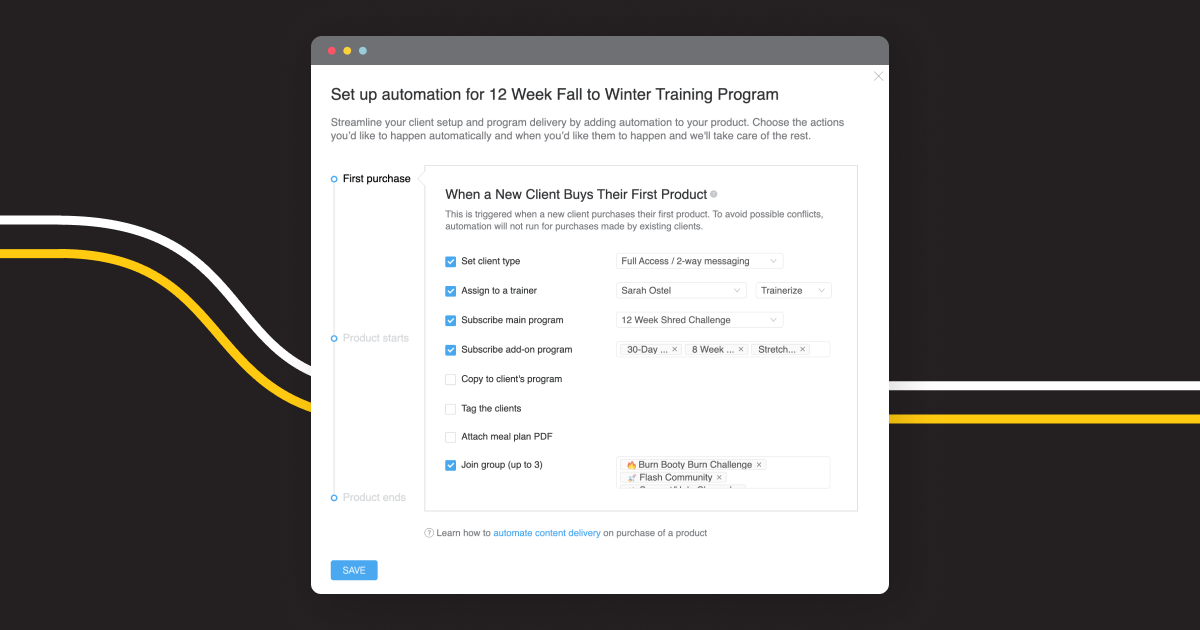 You'll notice that we've also made some changes to the product automation to accommodate the new programming. You'll notice you can specify what main program is delivered, add up to 100 add-on programs, and include up to three groups (and it will deliver any group program attached). That way, the moment you make a sale, all of the programs can be delivered right away, and all at once! 
We hope you love this new programming experience as much as we do! Stay tuned as we'll continue to share our latest improvements to our programs in Trainerize. Until then, happy programming! 
Need some help getting started?
We've put together some help resources you can refer to as you're trying out the new programming experience for the first time (or if you ever need a refresher!). 
Let us know what you think? 
As you know, we're always listening to you—our amazing #TZtrainers. We love using your ideas and feedback to help make Trainerize the best app possible for your fitness business.   
Help us shape the future of the programs in Trainerize by letting us know which features you'd like to see here! Or if you have other features you'd like to see added, submit an idea or vote for your favorites in our ideas forum!