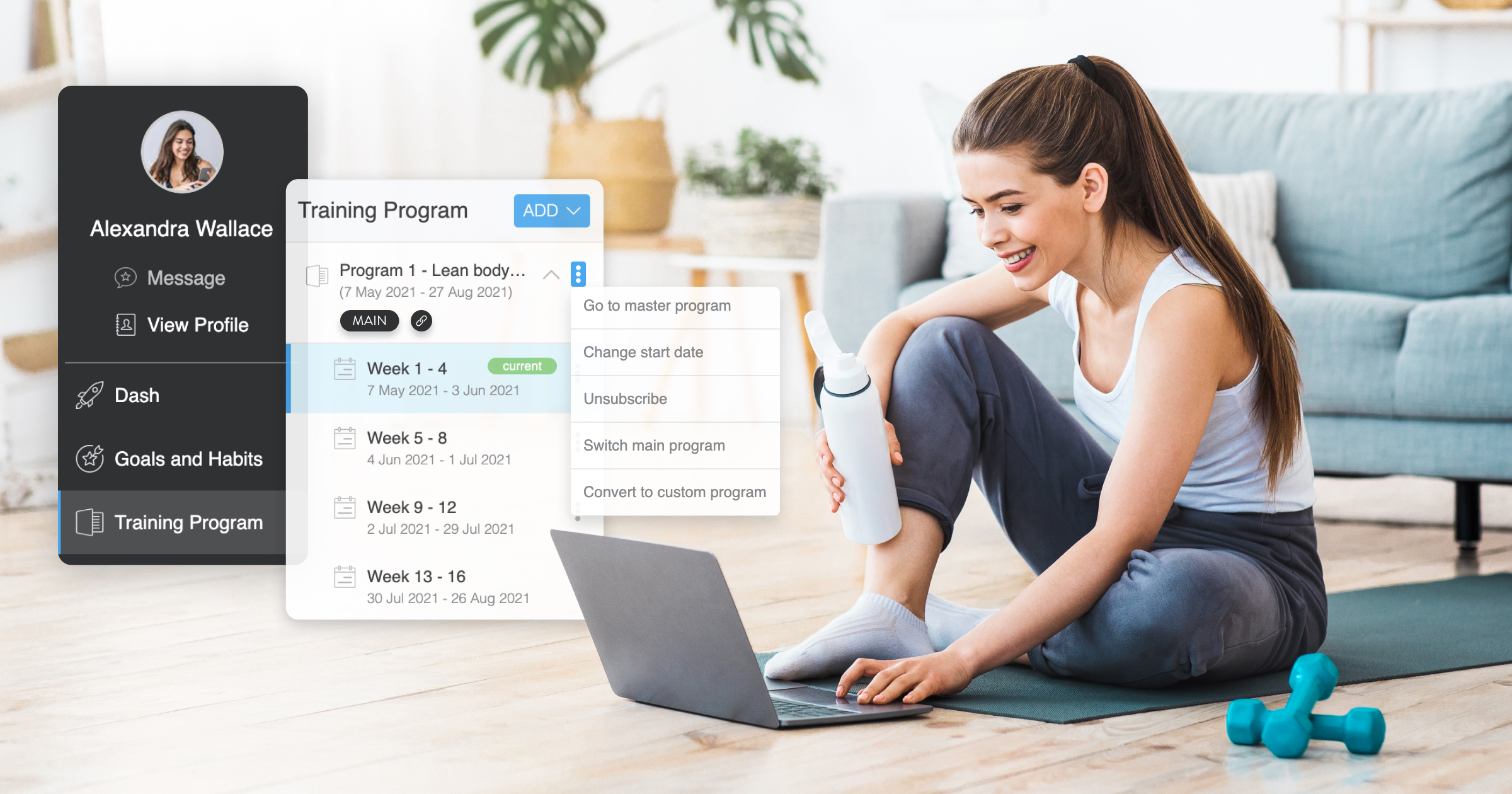 Here at Trainerize, we've done a little bit of spring cleaning where we've refreshed and updated a couple of features to give you and your clients an even better training experience! 
From the ability to set how far in advance clients can preview their calendar, the addition of new automation options when a product ends, to updates to a client's training program and more, we hope you love these upgrades as much as we do! 
At a glance
Take a look at a quick overview of what's been upgraded and refreshed. Keep reading to learn more!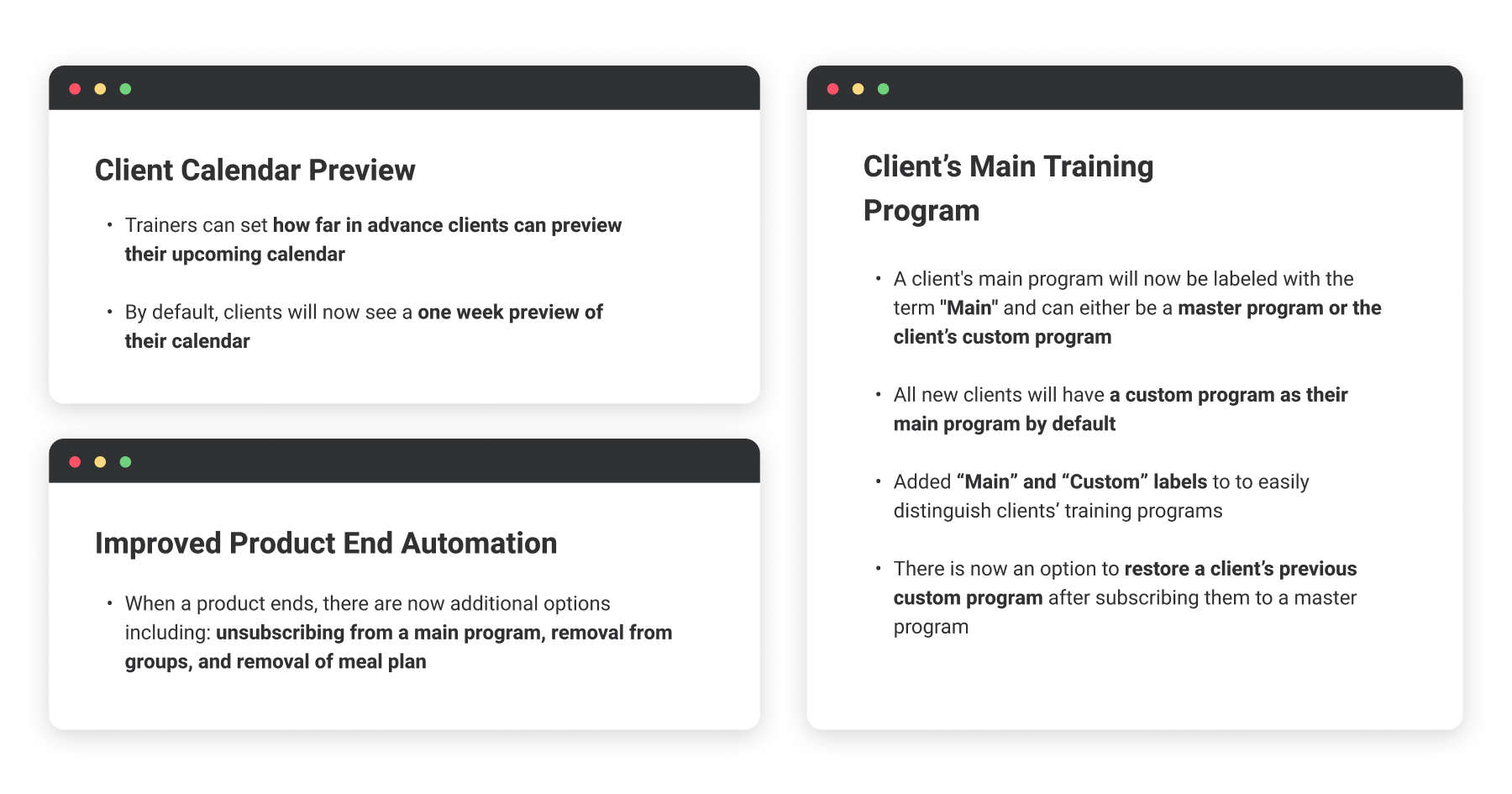 Give clients a sneak peek into their upcoming calendar
We've made it easier for you to stay in control with how far in advance clients can preview their calendars! Previously, clients would see their calendar based on their training phase length, but now you can set the calendar visibility by weeks. By default, clients will now see a one week preview of their calendar. 
Plus we've kept it super flexible. Simply set the default number of weeks you wish for clients to see ahead for any scheduled programming on their calendar or adjust it for an individual client—the choice is yours!  It's a great way to keep clients excited and prepared for their upcoming training and scheduled activities. Learn how to set up clients' calendar visibility. 
Note: The option to look ahead for just the training phase will be coming shortly.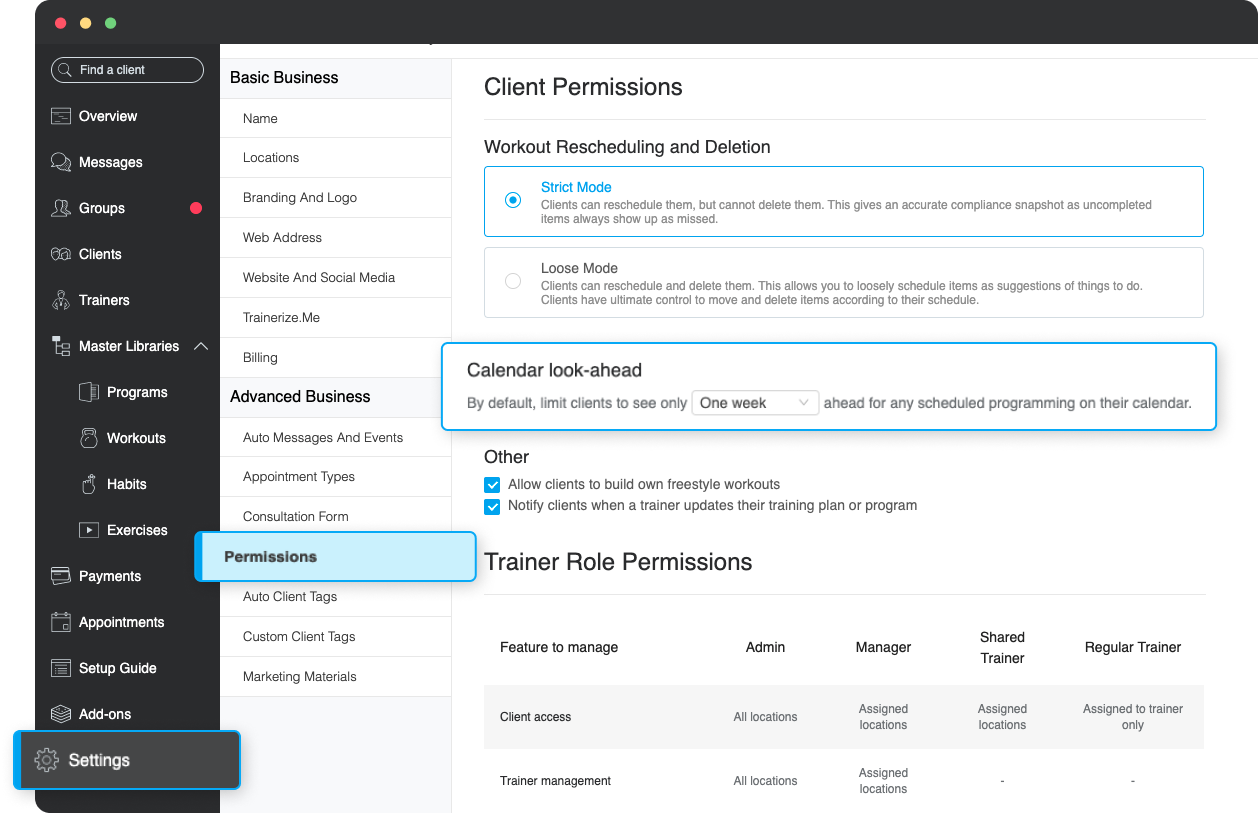 No product? No problem
—
extra automation is here!  
Now, with our improved Product End Automation, you can further customize what type of experience you want clients to have when they've reached the end of their training with you! There have been additional options added to the Product End Automation including the ability to unsubscribe a client from a main program, removing them from groups, and removing their meal plan. 
Goodbye Core, Hello Main 
We asked, you answered! The majority of you guys, trainers around the world, informed us that you preferred referring to a client's program as "Main program" above other options. As a result, we've embraced those changes throughout Trainerize (as you'll see in the upcoming updates below), including retiring the term "Core Product" and replacing it with "Main Product". 
What's new for a client's training program 
We have some pretty exciting new features coming up in the next few months that we can't wait to share with you! However, to prepare for this future upgrade, we've made a couple of small tweaks to a client's training program. Take a look below at what's new.
Get to know Main and Custom Programs 
You might have noticed the term "Main" sprinkled here and there throughout Trainerize. That's because a client's main program will now be labeled with the term "Main". A client's main program can either be a master program or the client's custom program. 
By default, all new clients will have a blank custom program as their main program. To help you easily distinguish between clients' training programs, we've added "Main" and "Custom" labels.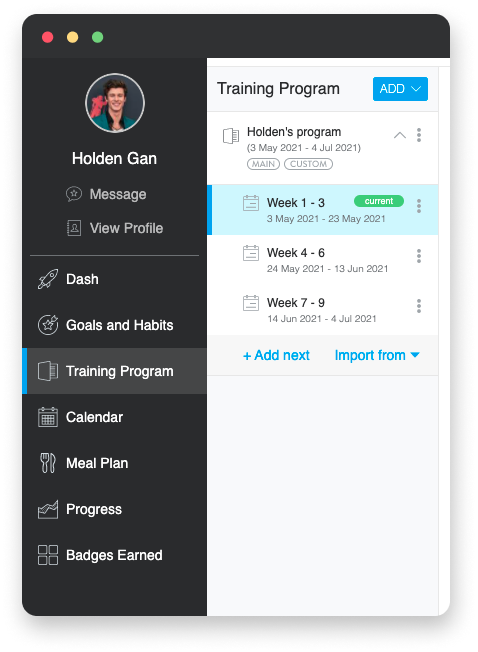 Oops! Help me restore a custom training program! 
Made a mistake and want to revert the client back to their custom training program? There is now an option to restore a client's previous custom program after subscribing them to a master program!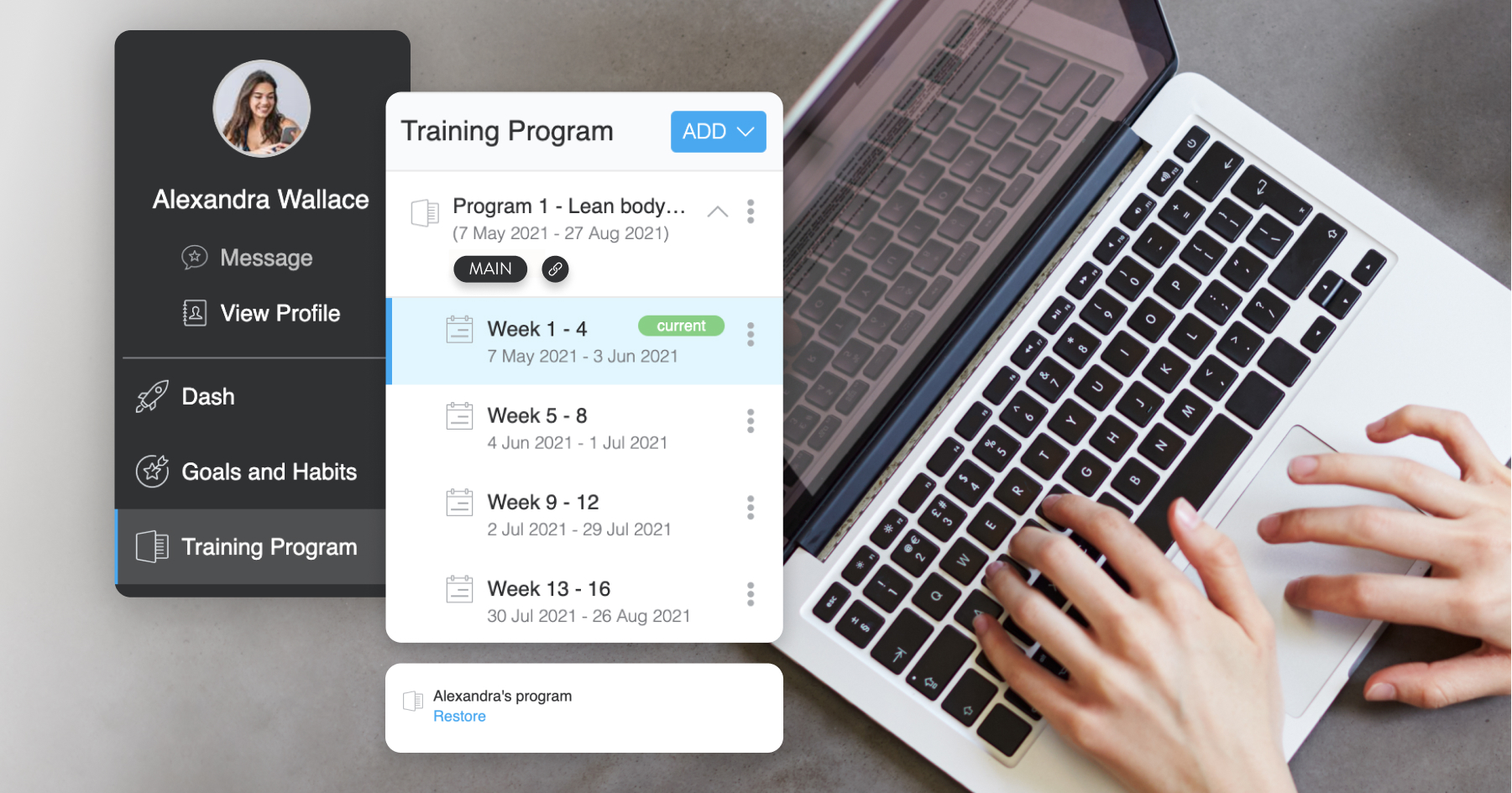 A simplified workout scheduler you'll love 
Lastly, to end off our spring cleaning, we've made it simpler and easier for trainers to schedule workouts within a training program. The clunky experience has been replaced with a simple calendar. To schedule a workout within a training phase, you simply select the date(s) and voilà, workout scheduled!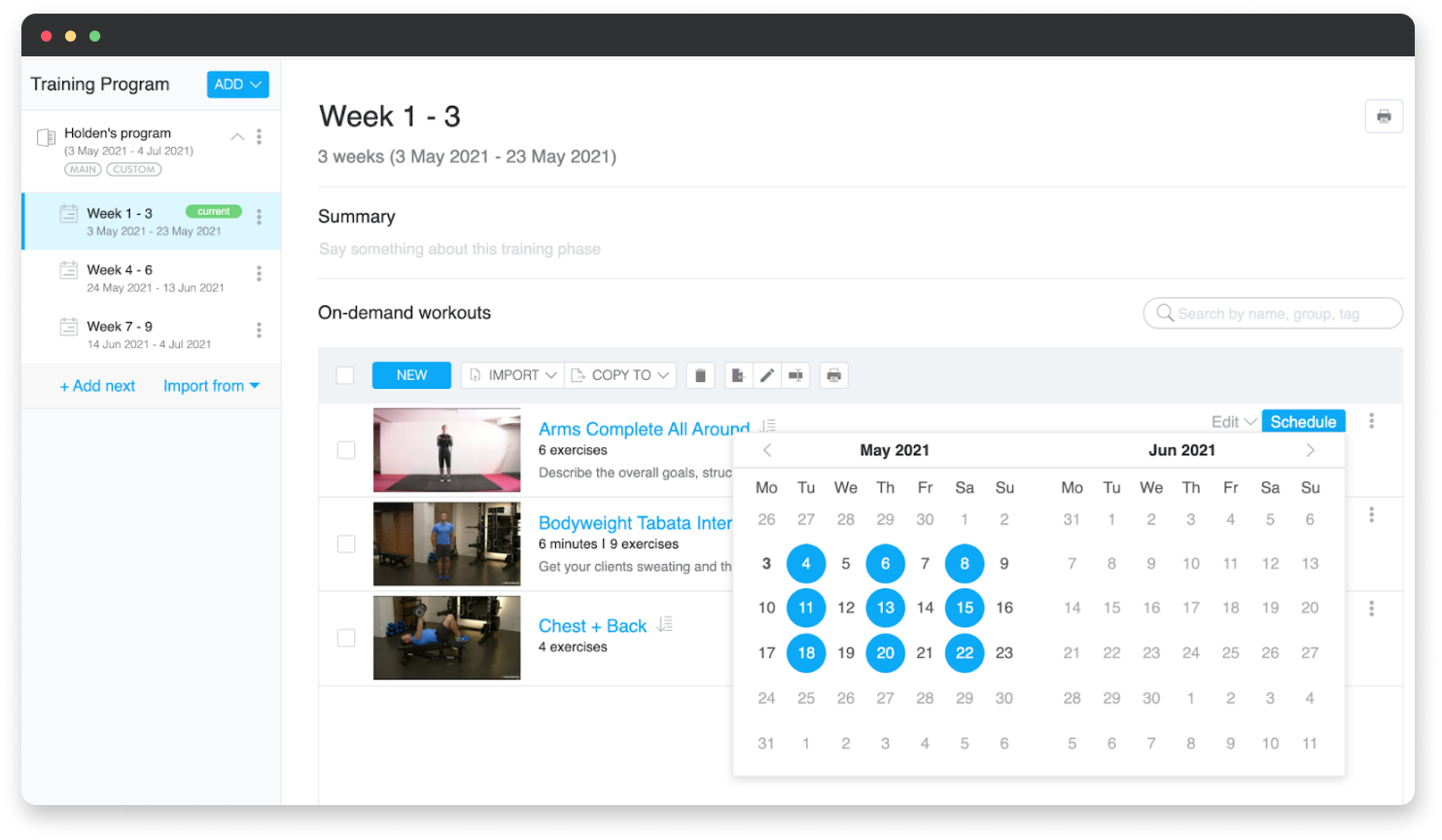 As you know, we're always listening to you—our amazing #TZtrainers. We love using your ideas and feedback to help make Trainerize the best app possible for your fitness business.   
Tell us more about your experience using Trainerize. Let us know what new features you'd like to see in the future by submitting an idea or voting for your favorites in our ideas forum!