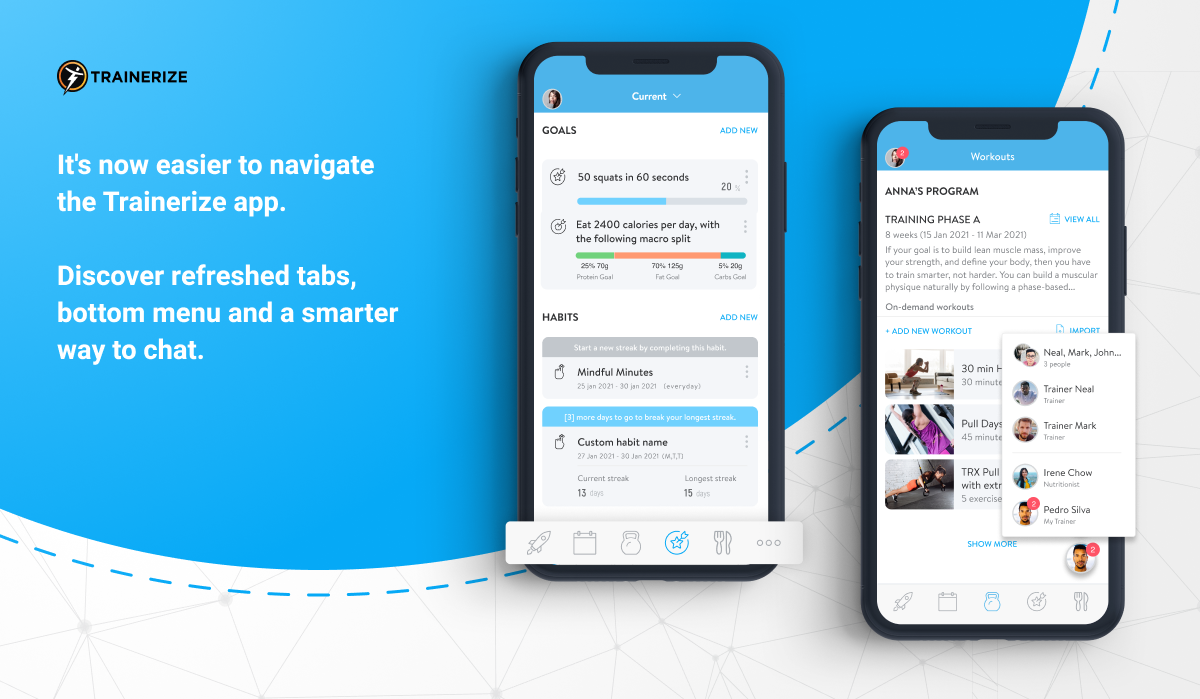 Mark your calendars! On March 5th, 2021, clients and trainers will find the mobile app has been slightly updated to be simpler and easier to use. With the design tweaks we've made, it's still the same app and features you love, only better!
We've streamlined and simplified the look of the app with a few things like adding two new tabs for Goals + Habits and Meal Plan, replacing the messenger tab with new ways to send a message, and more! To simplify things, we've bucketed the changes under either Navigation, Chat, or Display. 
Keep reading to learn more about what's being changed to the mobile app and don't forget to share the news with your clients! Feel free to send them the link to this article. 
Note: We're also working on a few new in-app tutorials for clients and trainers. Keep your eyes peeled as they'll be available soon! 
At a glance
Here's a summary of what has changed for both the client and trainer end on the mobile app.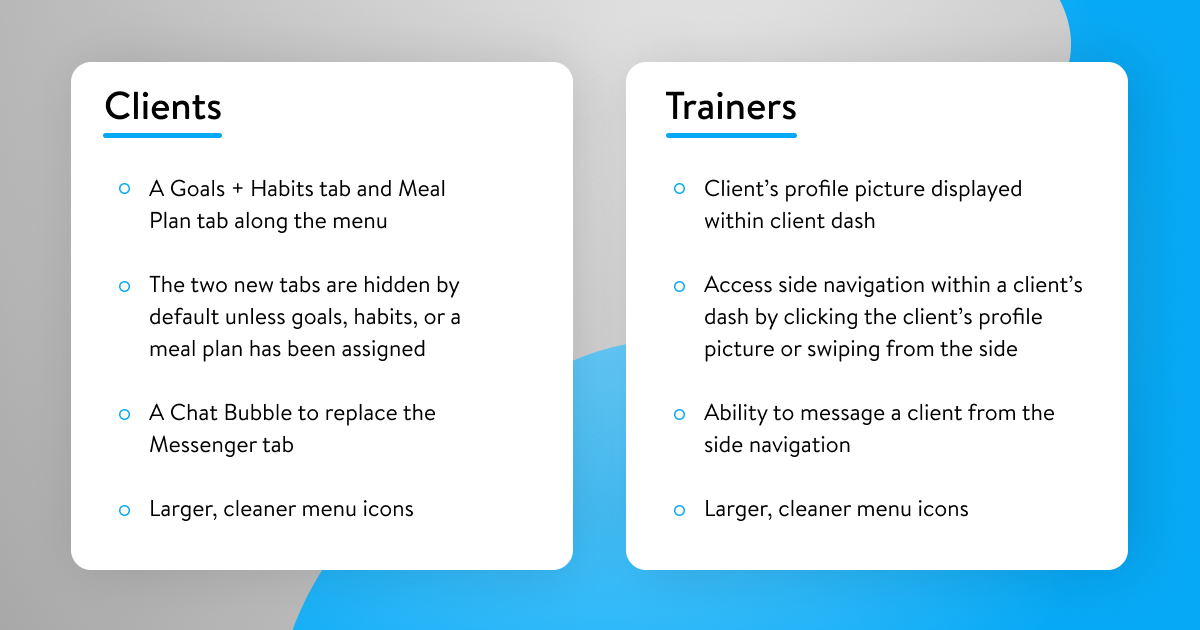 Navigation
We've simplified the way the bottom menu looks for clients. We've replaced the messenger tab with not one, but two new tabs they'll love instead! As a result, we've also made some updates to the side navigation menu inside the client's dash for trainers. 
New tabs your clients will love 
Are you thinking of or already taking a 360 degree approach to coaching with the addition of habit and meal plan coaching? We've made it easier to navigate for clients on the mobile app to these sections with two new menu tabs, a Goals + Habits tab and Meal Plan tab! 
Our Goals + Habits tab will house all of your clients' goals and habits, including their nutrition goal. While the Meal Plan tab will display their assigned meal plan, plus more nutrition features coming soon, so stay tuned!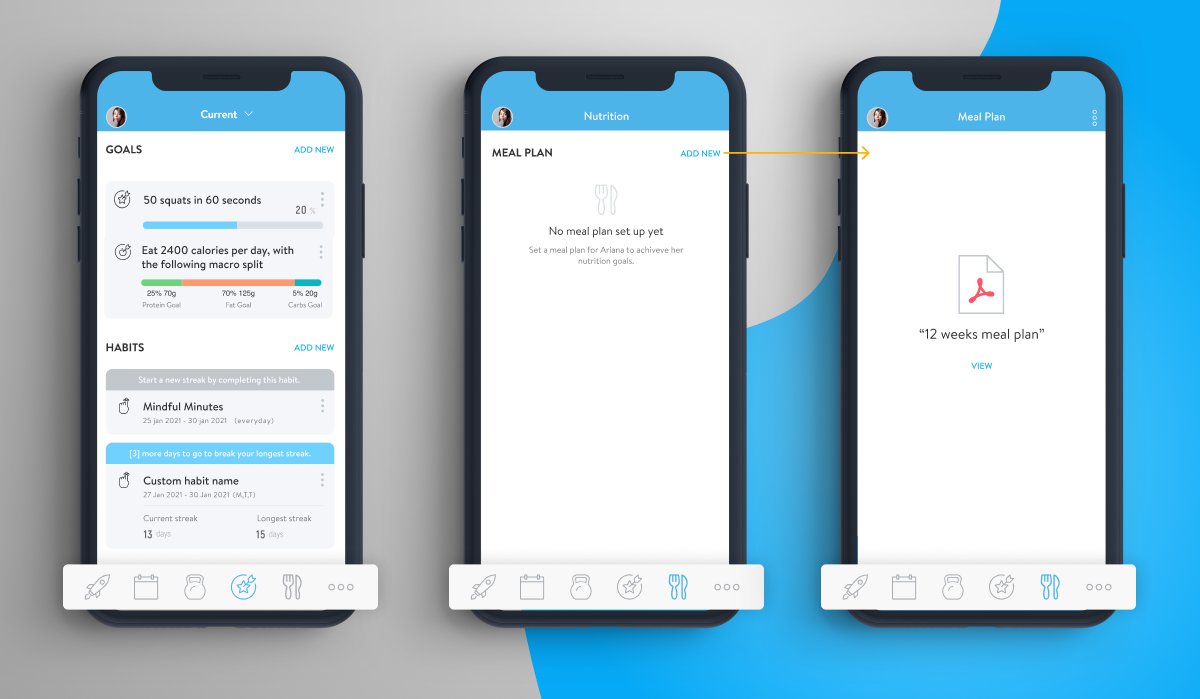 Better client dash experience for trainers 
Within a client's dash on the mobile app, trainers can easily access the side navigation by clicking the new client profile picture on the upper left corner or by making a fluid swipe from the left. From this updated side navigation menu, trainers can exit out of the client's dash, view the client's profile, and message the client.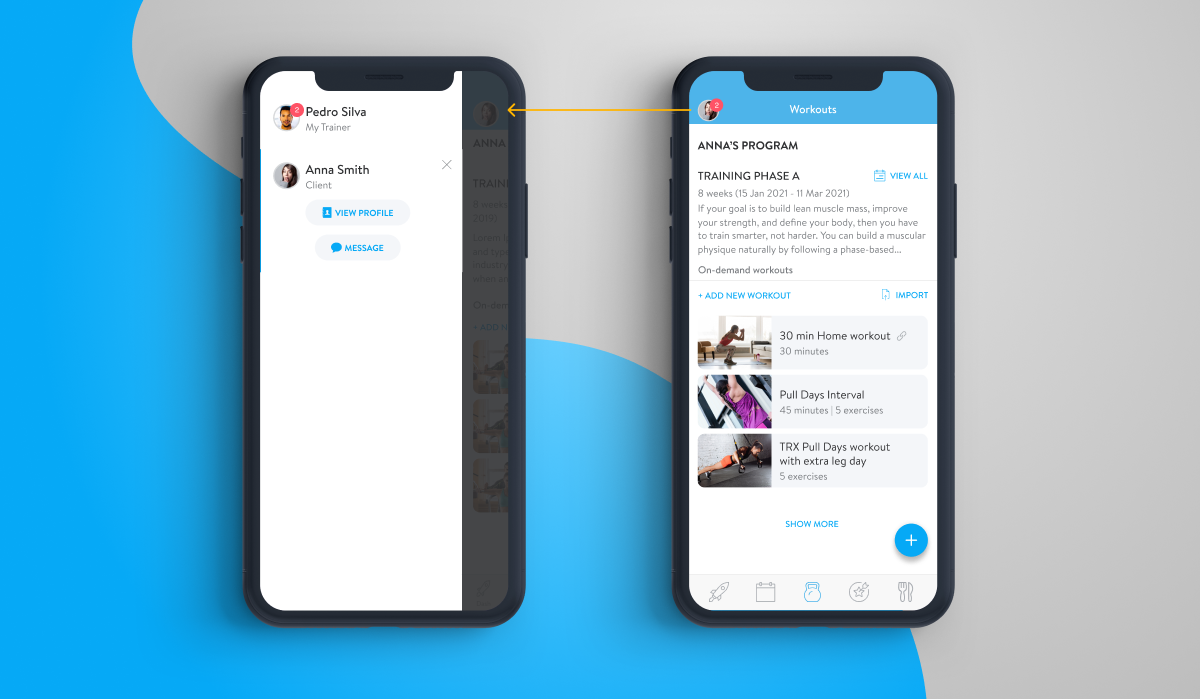 Chat
To make room for our two new menu tabs, we had to collapse the Messenger tab under the chat bubble. Take a look at how messaging has changed for both clients and trainers on the mobile app!
The chat bubble for clients is getting more powerful 
Clients will now see a chat bubble instead to access their message threads. The client's assigned trainer will be the default chat bubble displayed. Clients can also press and hold the chat bubble to bring up their message threads and click up top to display a dropdown of other messages.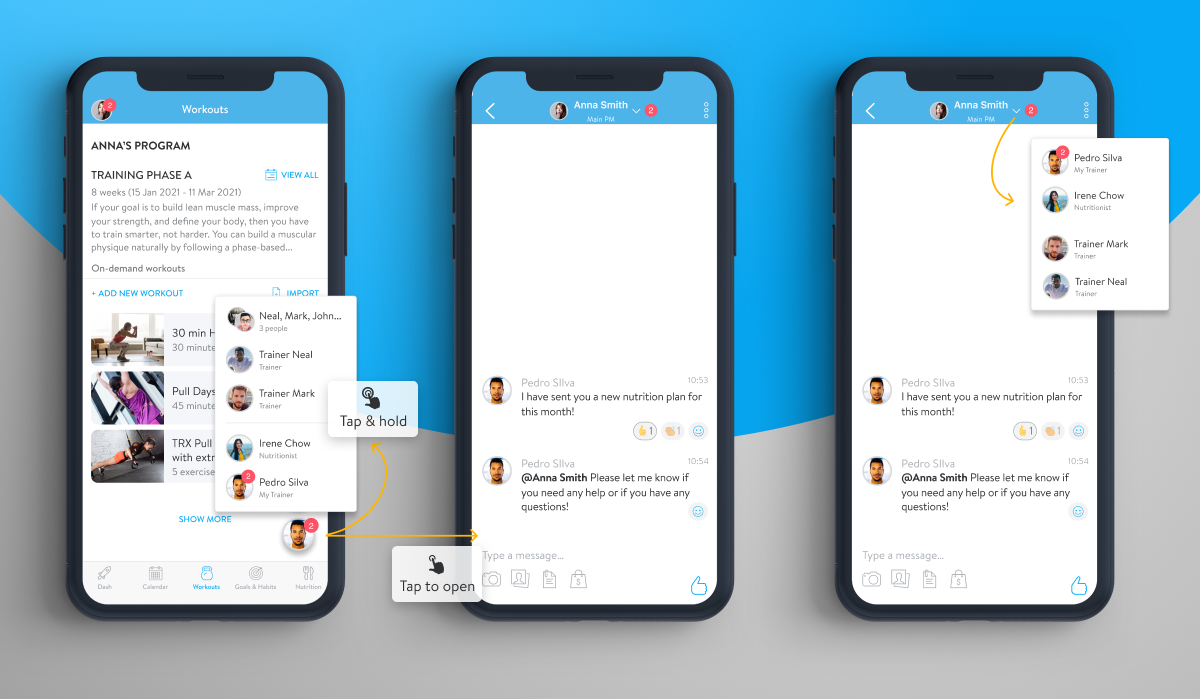 It's now easier to message clients as a trainer 
Since we've changed the menu for clients, the client dash for trainers naturally reflects those changes as well. To now message a client within the client dash, access the side menu by clicking the profile picture or swiping from the side. Once you're in the messenger, you can also access other message threads up top.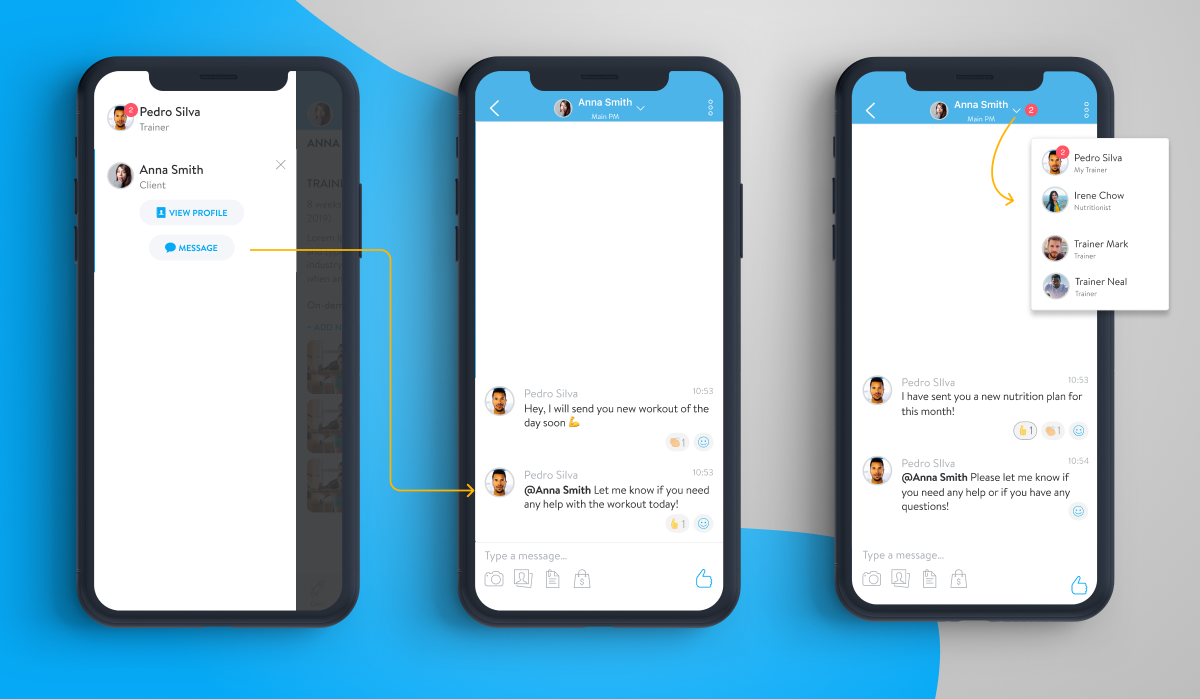 Display
We're here to help you deliver the best, tailored coaching experience to your clients. With our customizable and simple to use app, training has never been easier and more enjoyable! 
Smart tabs that align to how you train!
Now the app will be customized based on the services you offer. Our new Goals + Habits and Nutrition tabs will be hidden by default unless a goal, habit, or meal plan has been assigned for a client. That way, clients only see what is applicable to them on their mobile app!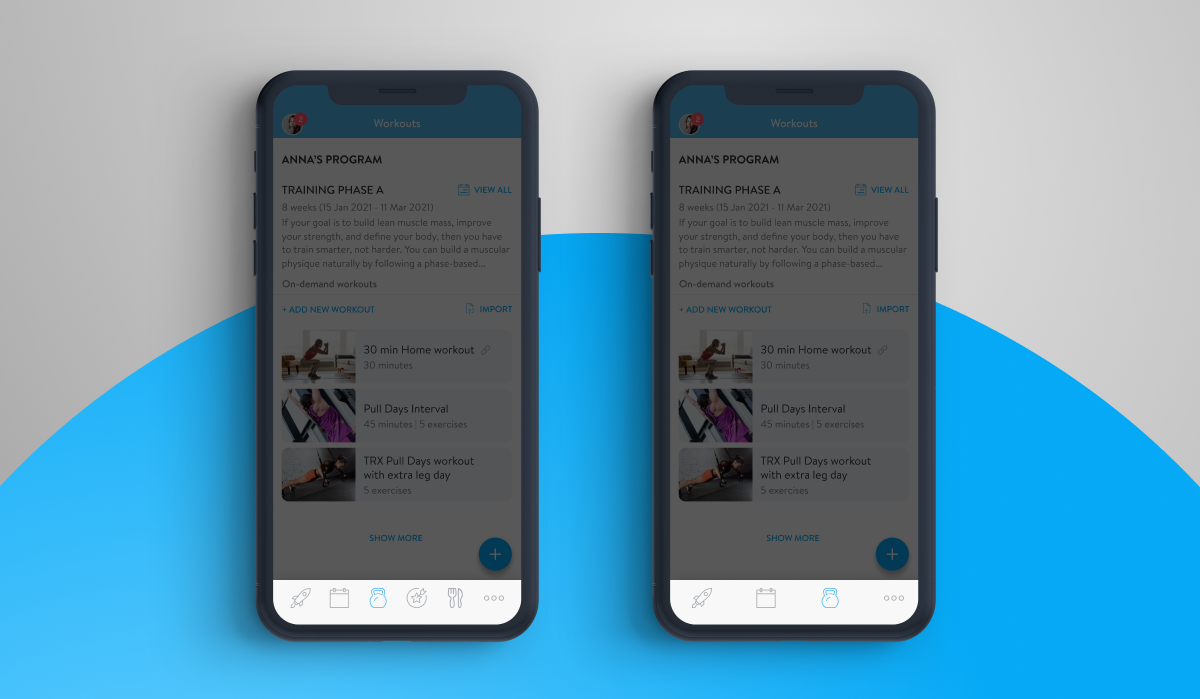 Larger icons, cleaner look
With the new changes being made to our navigation menu, we also took the chance to simplify the display of our icons by dropping the text. We hope you and your clients enjoy the cleaner look of the larger icons and decluttered menu! 

As you know, we're always listening to you—our amazing #TZtrainers. We love using your ideas and feedback to help make Trainerize the best app possible for your fitness business.  
Tell us more about your experience using Trainerize. Let us know what new features you'd like to see in the future by submitting an idea or voting for your favorites in our ideas forum!