We've added new features to Trainerize that you're going to love! Since we're building the leading app in the personal training space, it has to be useful for all different types of personal trainers.
Many of you reported that you and your clients were using separate timer apps when delivering and performing interval based workouts, such as Tabata, HIIT, or cardio training. That's why we're excited to be able to address this by adding an Interval workout feature to Trainerize, as well as introduce you to the all new Trainerize Video Drive – upload and store custom exercise videos in Trainerize without requiring the use of YouTube. But that's not all, scroll through our new features listed below!
interval workouts

Experience an engaging new interval-style workout powered by the most advanced timer and custom videos.
The new Interval workouts appear as a completely new workout type in Trainerize. They are engaging, video-centric and highly customizable workouts. Trainers can now build and deliver one continuous interval workout with multiple exercises to be completed in a structured and timed fashion; there is no need to create separate workouts.
Plus, interval workouts can be built with any Trainerize exercise video or custom exercise video. Both clients and trainers have the ability to track the total reps for each exercise in the interval workout once the workout has been completed.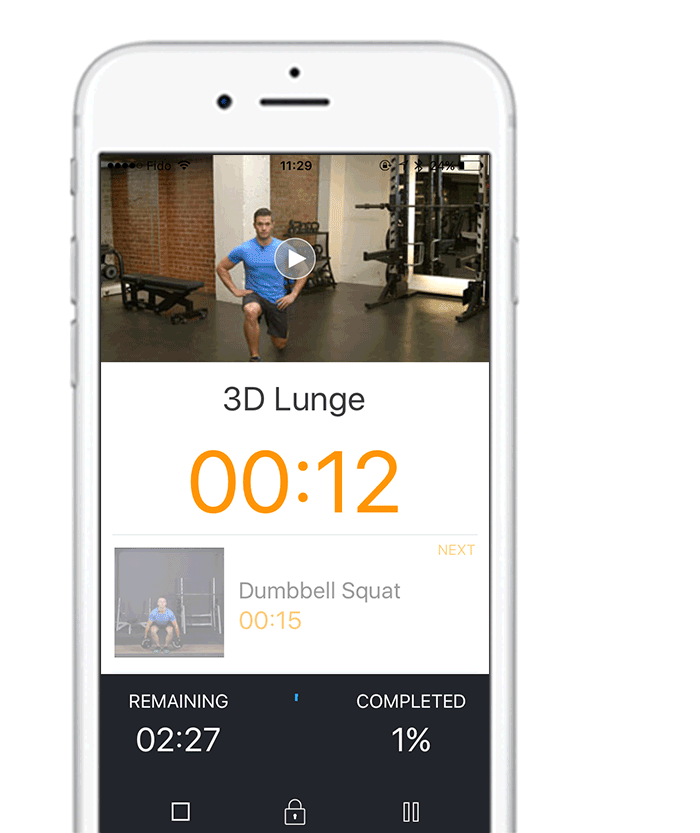 No more fumbling around with multiple apps in workout sessions for you and your clients!
INTERVAL TIMER. The advanced interval timer features a countdown timer for each individual exercise, and a timer that counts down the rest of the total time in the workout. The timer incorporates the exercise videos right into the workout, so trainers can create a highly customized interval routine by being able to specify the exercise duration and rest time.
The video for the next exercise becomes available as you go through the workout. If you click to watch the video, the Interval Timer will pause until you've finished watching the video, then it will automatically resume.
VOICE-OVER. Need to know which exercise is coming up next? Let your device tell you! The voice-over feature will announce the names of the workouts and the time left on the clock, so that clients no longer have to keep looking at their mobile app to follow the interval workout.
TRAINERIZE VIDEO DRIVE
We've released a brand new Trainerize add-on that will make recording, uploading and storing custom videos faster and more efficient than ever! Trainers can upload new exercise videos directly from inside the Trainerize app, in addition to importing exercise videos from YouTube.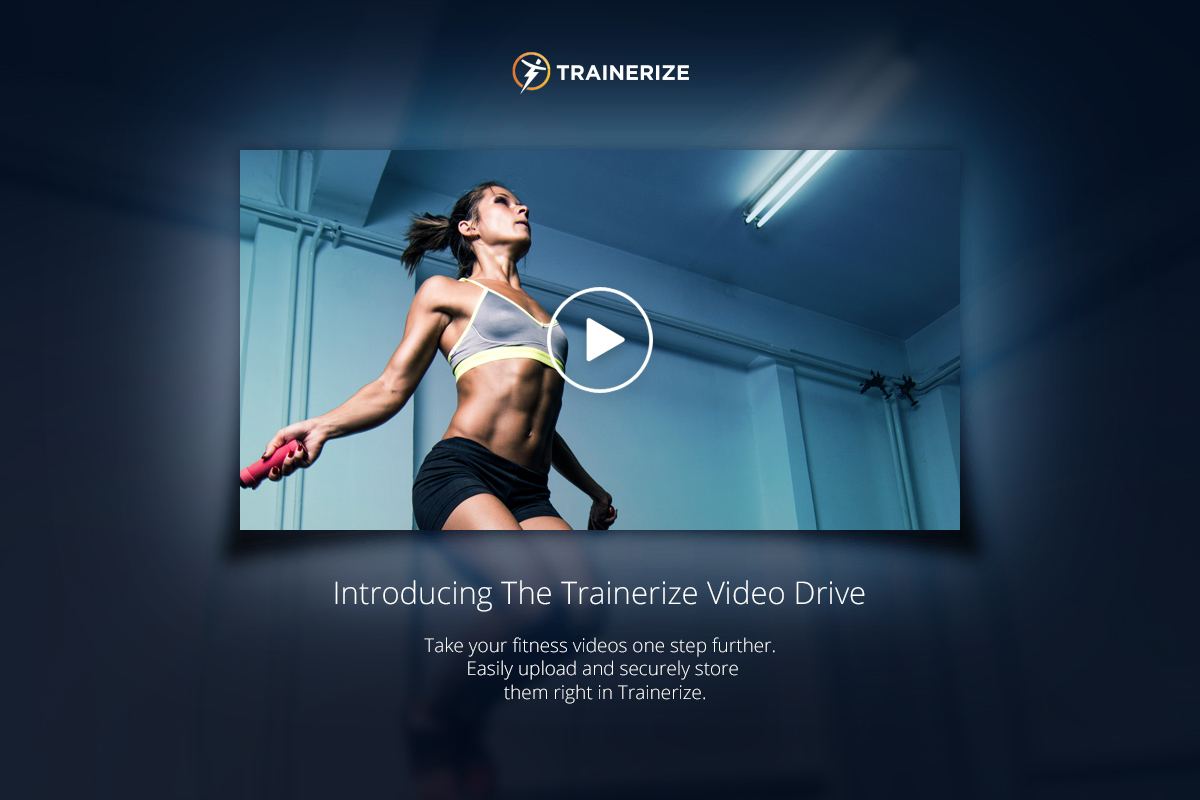 EASY AND CONVENIENT. On the web, it's as simple as dragging and dropping your custom videos into Trainerize. We've created a seamless in-app experience for trainers when managing custom videos; just turn on the Video Drive add-on and start uploading! Uploading a video happens in the background, so you can still use the app–you will receive a notification once the upload is complete.
After you enable the Trainerize Video Drive, there is no need to upload videos to YouTube prior to adding them to Trainerize, nor is there a need to even login to a computer! You can get started right from your iOS mobile device.
With this update, Trainerize is making the leap to video-centric exercises! We encourage everyone to add exercise videos–your existing photo exercises can be replaced with custom video.
With the Trainerize Video Drive, you get all the benefits of Trainerize custom videos, and beyond: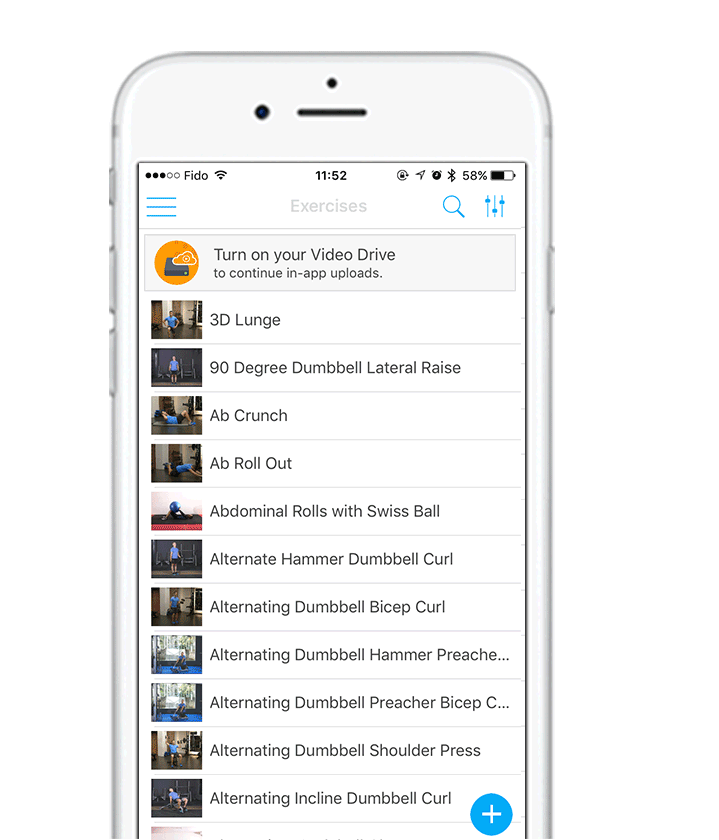 PERSONALIZED. With the customized branding and your own personal exercise videos, you can really make the Trainerize app your own. Trainerize can be used as the main hub for your training business, to host all of your client files and workout videos, eliminating paper and the use of multiple apps.
SECURE AND PROFESSIONAL. One of the main reasons for adding this custom video option is for security and professionalism – trainers can store their custom workouts in Trainerize securely, the videos are protected, and it prevents people from sharing your videos outside of the app. And the best part is, they are ad-free!
AFFORDABLE. Custom exercise videos come at an affordable rate–once you turn on the Video Drive add-on and start adding videos, it costs 0.10 USD per minute per month to store your videos in Trainerize.
new tags and search for exercises videos (iOS)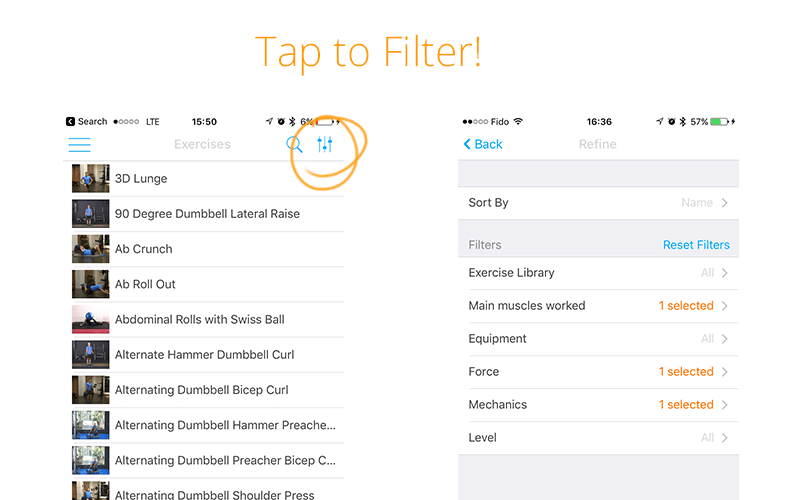 Finally, no more playing hide and seek, searching through hundreds of videos to find the exercise you're looking for! We've added a new expanded tagging system for organizing the exercise videos in the Exercise Library. Trainers can now find exercises faster when searching on the web, or from an iOS device with new filters and tags – such as the muscle used, the equipment required, the force, and the mechanics.
As a result, trainers can now increase their productivity when building workouts by quickly finding and including the exercise they want. The new tagging system also applies to the custom exercises trainers add to Trainerize. After uploading an exercise video, trainers will now get the option to select the different tags that apply for the specific exercise. More advanced tagging allows trainers to get more specific about how they organize their custom libraries.
scheduling multiple events
Trainers and clients have the option to schedule multiple items, like workouts or check-ins, using the + button in the menu. For example, trainers can schedule a body stats check-in for the first Friday of every month for their clients.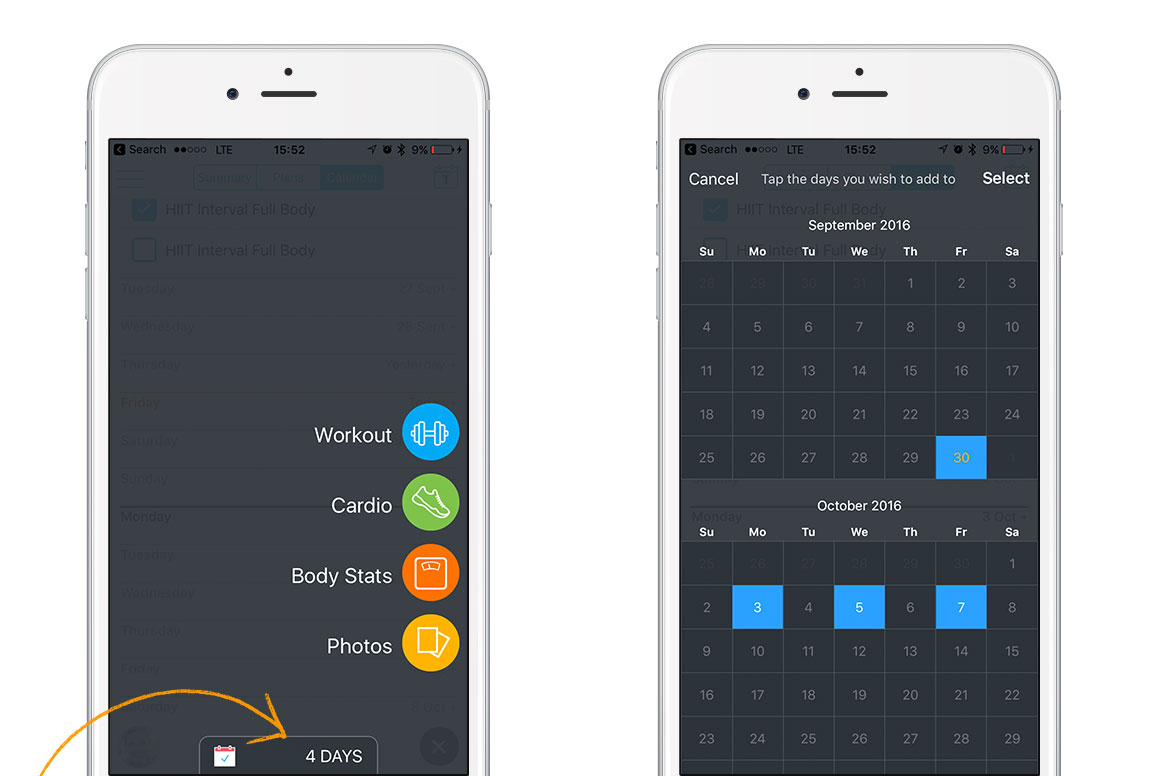 speed optimizations
On the Android Trainerize app, we've optimized the memory to make the app run faster and smoother for you and your clients.
youtube links now on mobile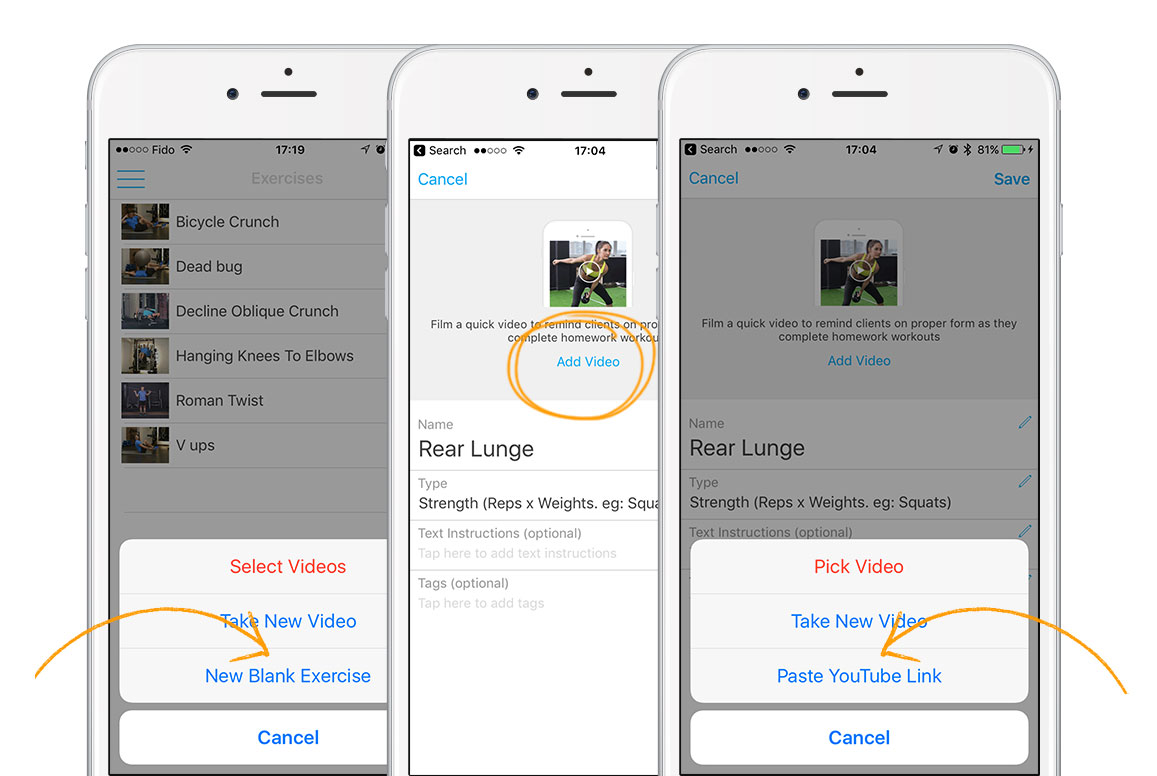 If you have your videos uploaded to YouTube already, you can easily add them as a custom exercise by pasting the YouTube link directly into your iOS app.
Want to know more? Check out some extra resources about creating intervals or the Trainerize Video Drive .
We can't wait to hear from you regarding this update! Get in touch with us through the in-app chat bubble or at [email protected] if you would like to provide us with feedback! We also welcome all our trainers to continue suggesting product features and vote on the existing ones on our ideas.trainerize.com platform. We're building Trainerize for you, so we'd love for you to be a part of it.
Take your Fitness Business to the next level.
Start your free 30-day trial of Trainerize.