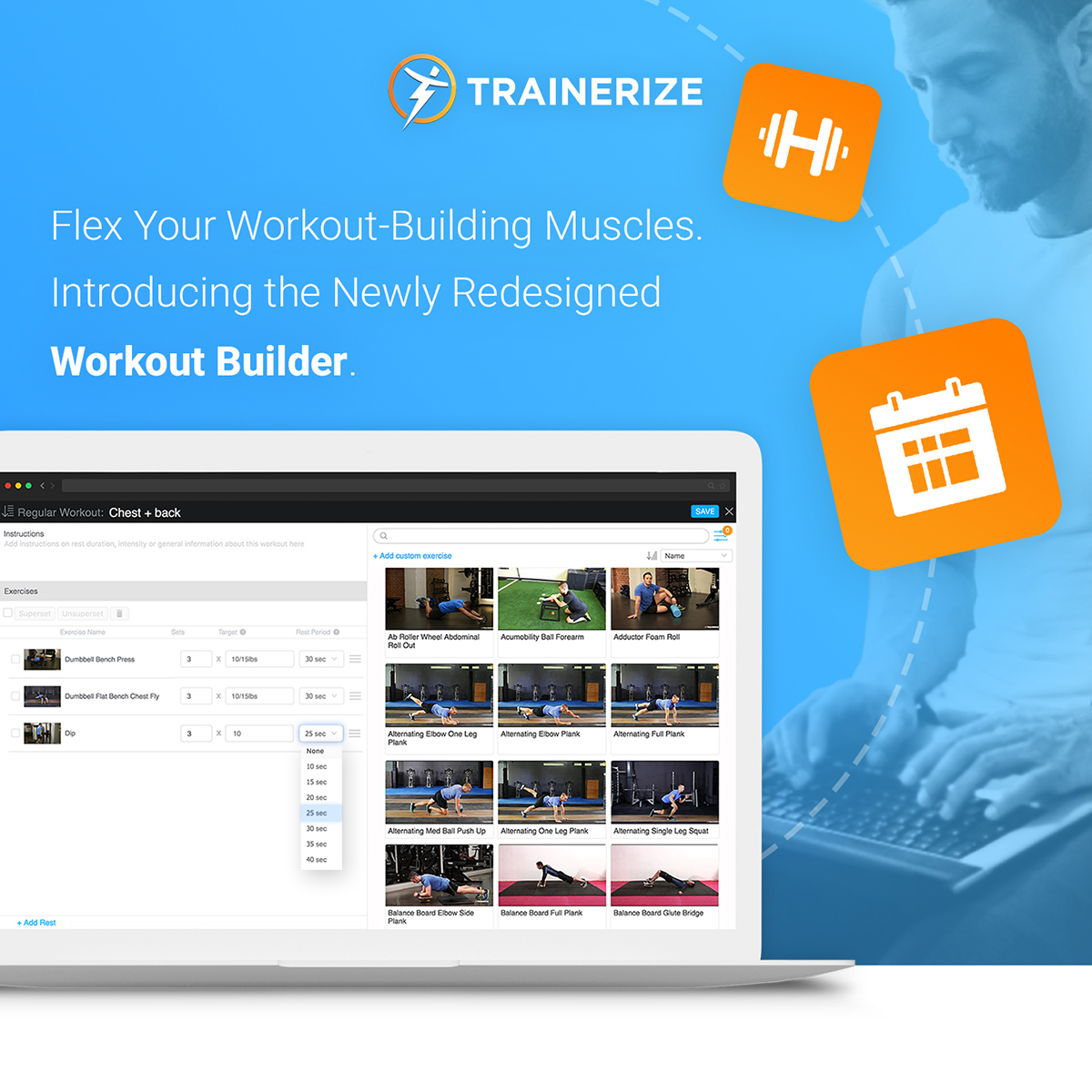 Introducing the NEW Redesigned Workout Builder
Great personal training starts and ends with workouts your clients love (or love to hate ;)). Workouts are the core of your business and the soul of your training method, so to help you program and deliver the training that will change your clients' lives for the better, we're introducing a completely redesigned workout builder. Now we're empowering you to program and create workouts faster and easier in Trainerize like never before!
These new updates come straight out of the feedback we've heard from all of you. And based on what you told us you wanted, we've created a workout builder that's smooth, stable and easier to use than ever, leaving you with more time to spend connecting with your clients and offering them an even better workout experience. That's what we call a powerful new upgrade—one we hope you'll love!
Light the fire 🔥 in your workouts and discover new ways to program.
WHY YOU'RE GOING TO LOVE IT
Now, with the newly redesigned workout builder, there's nothing getting in the way of your passion. You can truly show your clients what you've got by building workouts that push their limits and take your programming to the next level.
WHAT'S NEW:
Brand New Workout Builder
The things you do all the time now happen faster than ever. We're boosting your productivity and transforming how you create, imagine and design your training. Enjoy an improved workout builder where you can easily drag-and-drop exercises to build workouts in seconds. Now you can quickly organize and reorganize exercises and build insanely effective workouts!
Redesigned Exercise Library
Now it's easier than ever to navigate around the Exercise library. We've made creating workouts simpler and more powerful. The "NEW" button allows you to create or import new exercises all in one place. Plus, saving, replacing videos, and making edits to exercises is now easier too. Try it out for yourself!
YouTube Bulk Uploads
Want to upload multiple videos to your Exercise Library straight from your YouTube account? No problem! You can do this quickly and easily by heading to the Add-Ons tab.
Improved Exercise Search Algorithm
No one likes to waste time searching for exercises! That's why we've improved our search algorithm, helping you locate the exercise you're looking for quickly using smart search terms and filters. We've also improved our YouTube suggestions to give you exactly what you want when you want it.
NEW: Streamline your search 🔍 with exercise shortcuts. 
If that weren't already enough, we've also created search shortcuts for the most common types of exercises (you'll see these as you start typing!):
KB = Kettlebell

BB = Barbell

DB = Dumbbell

SA = Single Arm

SL = Single Leg
We've also got you covered for typos and synonyms!
In-line Rests
Add rest times between sets! This brand new feature lets you quickly specify the amount of rest your clients should take between each set and streamlines the process of adding rest to workouts.
Heart Rate Targets
To truly let you build the workouts you want, we've introduced heart rate targets to the workout builder.
This allows you to design cardio interval training or metabolic conditioning workouts by specifying the target heart rate clients should be reaching during their workouts and the time (or distance) they should be spending in each of those metabolic zones.
To help you quickly identify the maximum HR for a client, we've also included an automatic calculation for maximimum heart rate. To use this feature, make sure your clients' birthdays are entered accurately so their age can be detected. 
All of this comes together so that you can track cardio like never before and start to deliver metabolic training to your clients. This also paves the way for Trainerize to integrate with more wearables and HR trackers in the near future!
Interval Workout Duration
We've also added a total workout time feature that lets you easily see the duration of your interval workouts.
Role-Based Control for Custom Exercises
To help with your programming, and keep things consistent across your business, we're also introducing a new way for you to manage your custom exercises with role-based permissions.
Just like you can control access to your master program and master workout libraries, or manage who can see access client profiles, enable add-ons, or set-up billing and payments, you can now use Trainerize roles to determined who can add, edit, and remove custom exercises.
Start and End Dates for All Training Plans
We know how much you love periodization, so we're making it even better. Now, all training plans will be created with a start and end date and we're retiring the "ongoing" training plan option.

This won't change anything for clients currently on an ongoing training plan, but you won't be able to build any ongoing plans moving forward. This lets you have better control over your clients' progress and gives your clients a better sense of where they are in their training. 
Chrome Compatible
Of course, to make your experience stress-free and fun, the new workout builder works like a charm with the new version of Google Chrome. No crashing, no glitches, just smooth workout building and programming magic.
Build Your Workouts, Your Way
Get ready for a smooth, sleek, stress-free experience with the newly improved workout builder. It's time for you to start building your workouts, your way.
Build the workouts of your dreams with Trainerize.

Start your free 30-day trial today