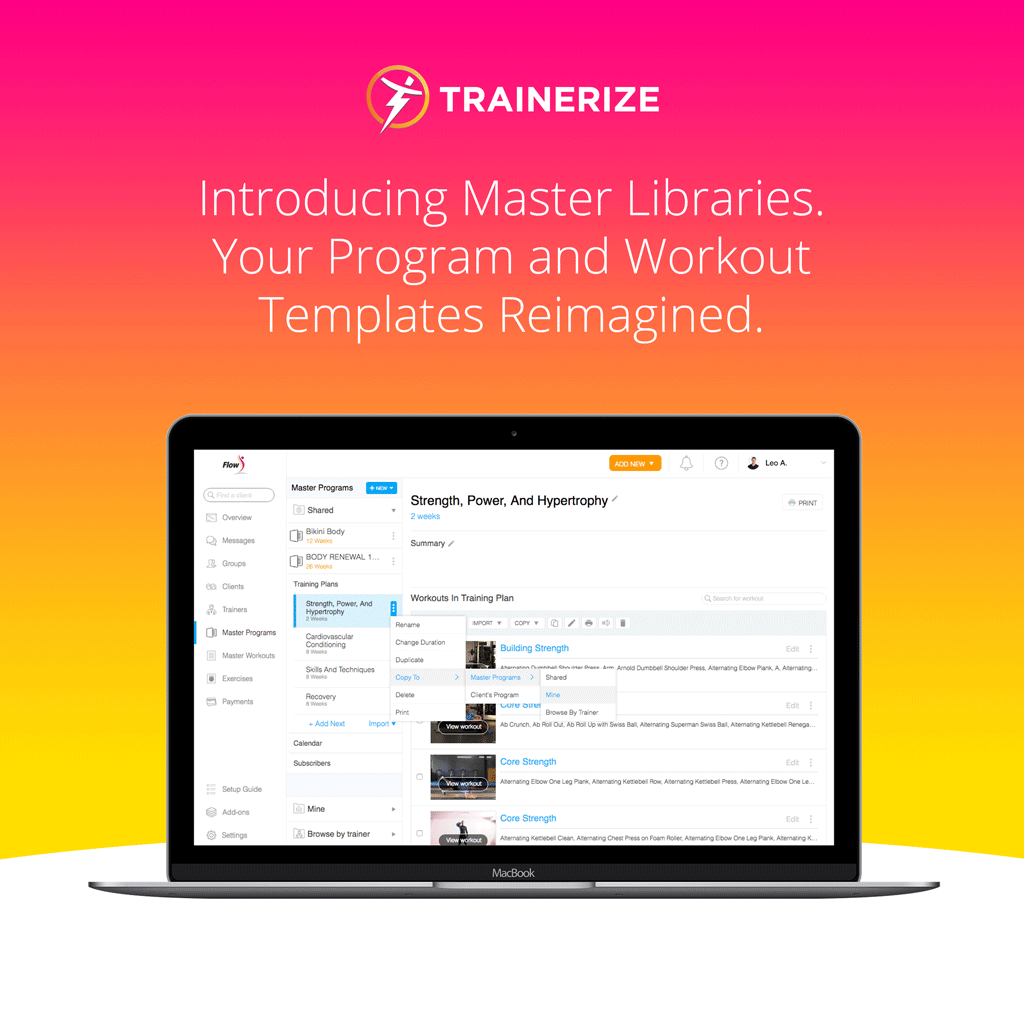 As your online training business continues to grow, so do your needs: like finding ways to create a consistent training experience for clients business-wide, organizing your training, building specific programming, or defining how your team can navigate your business.
Today we're excited to introduce a new way for fitness clubs and chain fitness businesses to manage training more effectively and keep their business organized and consistent across multiple locations and various staff roles.
Introducing Master Libraries. Your Program and Workout templates reimagined.
⏰  Save Time.
✅  Stay Organized.
👍  Look Professional.
Where your workout templates and programs once lived, you'll soon find what is now called your Master Workouts Library and Master Programs Library. Inside each of these libraries, you'll see 2 folders, each containing a different type of Program or Workout:
Shared: contains workouts or Programs centrally available for use by all trainers across the business
Mine: contains workouts or Programs built or customized by you
Managers, Owners and Admins can also see the "Browse by Trainer" area where they can view workouts and Programs built by other trainers.
With these folders, you can share, borrow or build your way to consistent training experiences while also saving yourself time and getting your clients training faster.
A new and improved way to organize your programs and workouts is here!
How to Use the Master Library Folders
Shared. If you have multiple trainers, now you can use the "Shared" folders to create a consistent training experience business-wide. You or your more senior trainers can build Programs and workouts, and place them into the Shared folder for other trainers to use. Not only does this keep everyone on the same page when it comes to quality of training, it also saves your team time and can help get them up and training faster than ever. No need to build a new Program or new workouts from scratch every time a new trainer joins your business, just use the Shared folders!
Mine. The "Mine" folder is the perfect place to store Programs and Workouts that are under construction and not yet ready to be added to the Shared folder or to store your own personalized training Programs and workouts. To save time and build out your personal collection, you can copy Programs and workouts from the Shared folder into your own folder, then edit and modify the Programs and workouts as much as you like to give them your personal flavor or to make them better fit the needs of one of your clients.
Browse by Trainer. For Managers, Admins, and Owners, the Browse by Training folder has a special purpose, allowing them to view and access the workouts and Programs built by their team of trainers. This allows them to find amazing workouts and Programs and copy them into the Shared folder so that others in the business can use them. It also allows Managers, Admins, and Owners to help their trainers get up and running quickly or trade-off clients by adding workouts and Programs to their accounts.
Take Things to the Next Level: Brand and Market Proprietary Training
For larger businesses, clubs, or fitness chains, making sure the client experience is consistent across all the business' locations is even more important.
But now you can take that consistency to the next level and turn your Programs and Workouts into branded and proprietary training. Think, Les Mills, Barre, "Class by …", and other big name fitness brands.
Use Master Programs and Master Workouts to develop your own methods or techniques and use them throughout your business and locations to create a branded experience that your clients and members will come to recognize and rely on.
#TZTIP:

Use custom exercise videos to really ramp up the branding in your Programs, Training Plans, and workouts.
Training as Customized as You Want it To Be (In Half the Time)
While consistency is definitely key to building your brand and delivering quality training across your business, you are still, after all, delivering personal training. So customize your training exactly the way you want, but do it in half the time by using existing Master Programs as a starting point.
Think of your Master Programs as super templates that you can quickly reuse, customize, and edit as much or as little as you like. No need to build anything from scratch ever again (unless you want to of course).
#TZTIP:

 Copy Programs or workouts from the "Shared" business-wide folders to their own "Mine" folders and start customizing them for individual clients.
What's Changing in the App?
THE LOCATION OF YOUR EXISTING PROGRAMS AND WORKOUTS. Because this update includes some in-app restructuring, you'll find that some of your existing Programs and workouts are relocated after the release:
All Programs will be placed into the Shared Master Programs folder
Workouts built by Owners will be placed into the Shared Master Workouts folder
Workouts built by all other trainers will be placed into their individual (Mine) Master Workout folders
All client subscriptions, training groups, and workout tags will remain unchanged.
NEW OPTIONS TO COPY, MOVE, IMPORT. We've made organizing your workouts and programs easier than ever. With powerful options to copy, move or import you can quickly reuse your existing Programs or Workouts or organize them more effectively. Check out this easy guide and learn how to take advantage of all of them.
CLIENT CUSTOM PROGRAMS. As clients can now be subscribed to Master Programs, we are introducing the terminology of Client Custom Program. These are different from Master Programs because they were created for an individual client and built inside that client's account.
#TZTIP:

 Built the perfect Custom Program for a client and want to use it again? Copy it to your "Mine" folder in the Master Programs library or copy it from one client to another.
We hope this update will take your fitness programming to the next level! We can't wait to see how you are using the new Master Libraries. As you know, we're always listening to you—our amazing #TZtrainers—and love using your ideas and feedback to help make Trainerize the best app possible for your fitness business.
Master Libraries are just one of the many features that has come (and will come!) from the conversation with all of you. So keep sharing! Tell us more about your experience using Trainerize and any features you'd like to see by posting in our ideas forum.
Ready to take your online fitness game to the next level?
Start your free 30-day trial of Trainerize today.