We've just launched a huge batch of exercises for the Smith Machine. Try out 50+ new Smith Machine exercises, including Smith Machine Bulgarian Split Squats, Reverse Crunches, Bench Press, and many more. All of the classics, and maybe even some you've never heard of. 
The Smith Machine that's been gathering dust in your client's condo gym could be the ticket to getting them back on track with their workouts. After all, the Smith Machine actually has some seriously underestimated benefits… 
Beginner Friendly
You can think of the guide rails on the Smith Machine as a set of "training wheels" for your clients. They might not know that the bar should stay in line with the middle of their foot during the whole squat – not to worry, Smith has your back. 
It's great for beginners, but that doesn't mean they won't be able to make some serious progress. The bar can be loaded indefinitely, once you've greased the groove with some great movement patterns. 
All-in-One
More than ever, people are looking for a "bang for your buck" solution for their fitness. It doesn't get much better than a single machine for their entire body. 
With supersets out of the equation, your clients need to stay to their own respective areas in the gym. Lucky for them, you know all about a machine that can be a one-stop-shop. 
New for Most
Lots of people have steered clear from barbell exercises because they're scared that they would get hurt, or look like they didn't know what they were doing. This is a great chance to add something new into your clients programs. 
For someone who has never squatted with a bar, the Smith Machine can be a great introduction. Who knows, they might just love it! 
Change up your clients routines with these pre-made workouts and programs with Smith Machines!
Head over to the app and from Master Workouts click on Browse Trainerize Library. Next, pick from our brand new pre-made workouts with Smith Machines.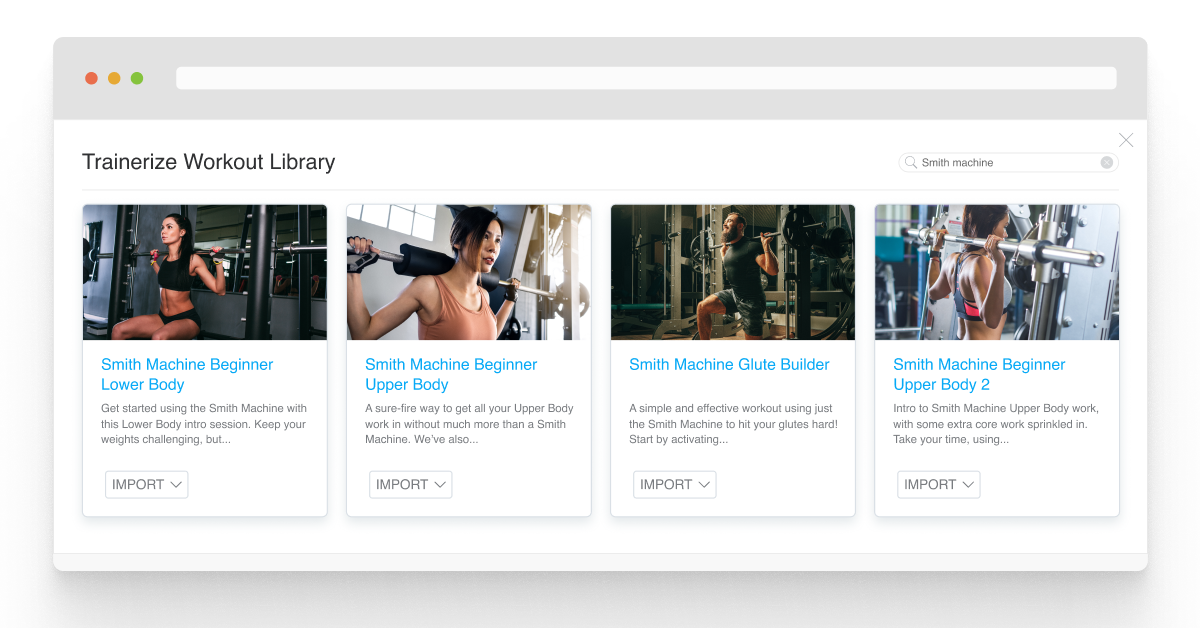 We've also made an "8-week Beginner Smith Machine" Master Program that you can import and use with your clients in seconds. Feel free to customize the program calendar after importing the program and make it just right for your clients!
We hope you enjoy these new exercises and pre-made workouts and programs. Stay tuned, there are more coming soon!