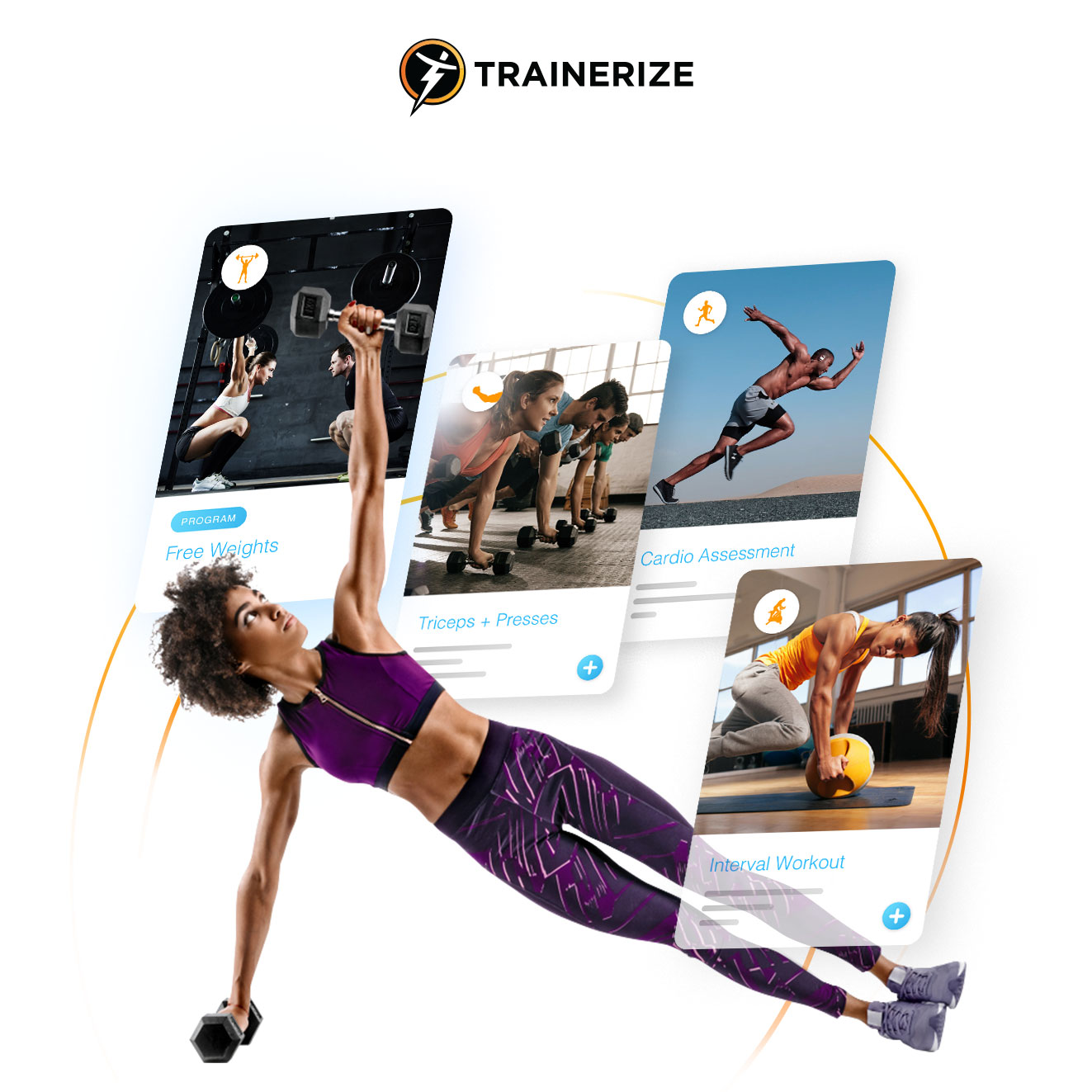 Start training clients faster with pre-built workouts and programs.
As a fitness professional, you're busy. Really busy.
Your alarm goes off at an ungodly hour in the morning and you head out to meet your first client.
Between sessions, you spend your time responding to client messages—at the bus stop, in the grocery store, sometimes even (admit it!) in the washroom—though, try as you might, that notification number never seems to go down.
When you're not doing that, you're busy setting up your sales channels, marketing your services, or (if you're not using Trainerize Pay 😉) chasing after payments.
With so much to manage, it's no wonder it's so hard to carve out time for programming!
That's why we're extremely excited to introduce to you the all-new Trainerize Content Libraries for Workouts and Programs!
TAKE A LOOK INSIDE THE LIBRARY
The Trainerize Content Libraries are packed with amazing pre-built programs and workouts that make it faster and easier than ever to build and sell training services.
All of the content is scientifically developed and professionally built by our in-house fitness expert and certified personal trainer, so you know they'll pack a punch and help your clients achieve their goals.
With just a few clicks you can easily import the program or workout of your choice to your Master Programs or Master Workouts library, make some edits to give it your own unique personality and apply your trademark training style, then send it to clients or sell it online!
No more blank screen anxiety! We've given you the perfect starting block for amazing training experiences.
PERFECT FOR NEW TRAINERS
Of course, the Trainerize Content Libraries are especially great if you're new to Trainerize or are just getting started building programs and workouts.
Instead of an empty app, you'll have access to ready-to-edit content that highlights all the different types of workouts you can build in Trainerize and shows you how you to create comprehensive periodized training programs.
Whether you use them as inspiration or as a template to edit, your Master Program and Master Workout Libraries will soon be full.
START SELLING IN SECONDS (LITERALLY)
If you're looking to start selling your services in as little time as possible (and who isn't!?) the Trainerize Content Libraries will also be your go-to starting point when building programs or workouts.
All of the workouts and programs in the library are built so that all they need is a few small tweaks and they're ready to use or sell. It's the fastest way to build and deliver training.
HIGH VOLUME MADE EASY
In addition to using the content libraries as a starting place for your regular training, you can also use them for low-touch, high-volume training.
Because they don't require as much heavy lifting as programs and workouts created from scratch, our pre-built templates make for excellent trial programs or free offers.
Our challenges in particular (which you'll find in the Trainerize Programs Library), are perfect for this kind of training, especially if you pair them with our new client messaging options.
GET A HEAD START
One more way to use the programs and workouts in the Trainerize Content Libraries as initial service offerings.
You can use some of the pre-built content as "prep" week programming before their actual program is ready or, if you work in a fitness club or studio, as a free introductory training program that comes with a new membership.
Imagine using offers like this to bring in new clients or members: "Join [your club name here] and get a free 30-Day Personal Training Program!" Hard to resist, isn't it?
WHERE TO FIND THE CONTENT LIBRARIES AND WHAT'S INSIDE
Workouts
To access the Trainerize Workout Library, head into the Master Workouts tab of your account and click "Browse Trainerize Workout Library" at the top of the page. From there, you can browse through more than 20 pre-built workouts, assessments, warm-ups, and cool-downs.
Programs
Similarly, to find the Trainerize Programs Library, open the Master Programs tab in your account, click the "Add New" button, and select "Browse Trainerize Library" from the drop-down. Once inside the library, you can choose from 20+ programs and challenges to use as a starting point for your training.
Each program includes a description with details on what's included so you can see at a glance if the program is right for your clients.

#TZTip: Want to turn the content libraries off or on? Head into your account settings, and navigate to the permissions tab, then locate the "Trainerize Content Permissions" section. The content libraries can be disabled or enabled from here by using the checkboxes.
AND WE'RE ONLY GETTING STARTED
As always, everything we do here at Trainerize is part of a master plan to help fitness professionals (like you!) get the absolute most out of the app and for their clients to achieve their fitness goals. This release is no different, and marks the very first step in our venture to take content in Trainerize further!
We started with the Trainerize Exercise Library, then added automated messages and events, and now, we're offering pre-built workouts and programs. Now, we have big plans to bring a 360° approach to fitness in-app with our next major focus falling on goals and habits.
We're excited for what's to come and want to thank you for joining us as Trainerize continues to grow and evolve.
Build faster, sell faster, train faster, all with Trainerize.

Start your free 30-day trial today.