Powerful new features, a client welcome video, workout tracking and performance improvements make our latest update as fresh as Spring!
We're always busy enhancing both the functionality and the look and feel of Trainerize in order to make it exceed your expectations. In our newest upgrade, you'll find significant improvements to the web and mobile apps, and a beautiful new trainer profile featuring services, certifications, images and a business welcome video.
More Ways To Promote Your Business
Many of the challenges trainers are facing today revolve around the high level of competition that exists in the fitness industry. This can sometimes make it challenging for trainers to attract and retain personal training clients. Whether it's online or offline, promoting and advertising yourself has a huge impact on your business. Our mission is to help trainers grow successful businesses, so lately we've been looking at new ways to boost your visibility and online presence. We want to build features that help you differentiate yourself, attract new clients and keep existing ones longer.
We're laying the groundwork for an exciting project we have been working on for quite some time, so today we're happy to announce the first completed step: a completely revamped trainer profile on both web and mobile. Make sure to update your information so you're not missing out!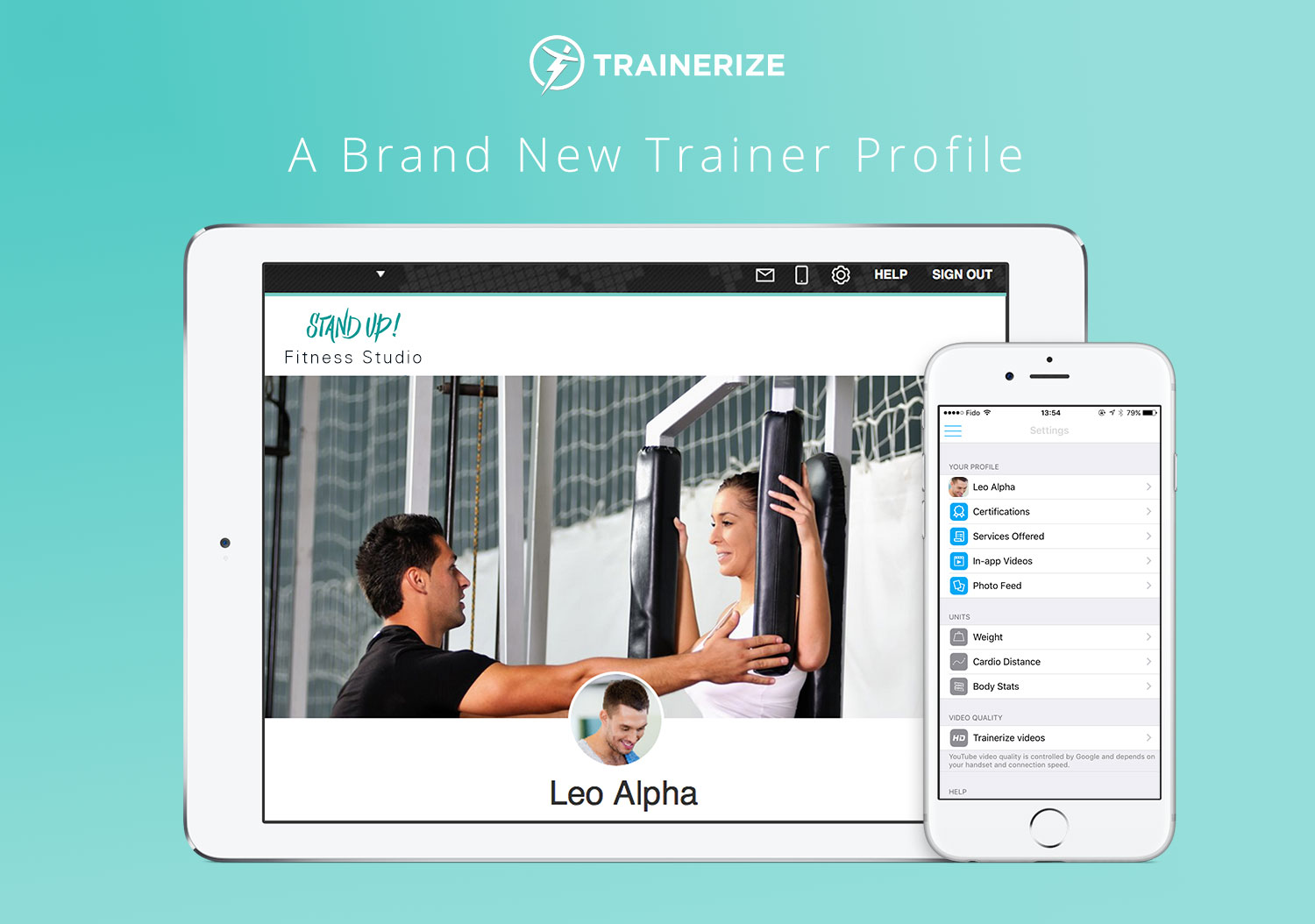 Trainers can now better promote their services, list certifications and add images for their business. The new revamped trainer profiles include all the new features below and many others!

NEW HD PROFILE PICTURES. Trainers can now upload profile images from their mobile apps! Profile pictures will be visible at a high resolution both on the web and in the mobile app. Update your profile image for a better overall experience while communicating with your clients!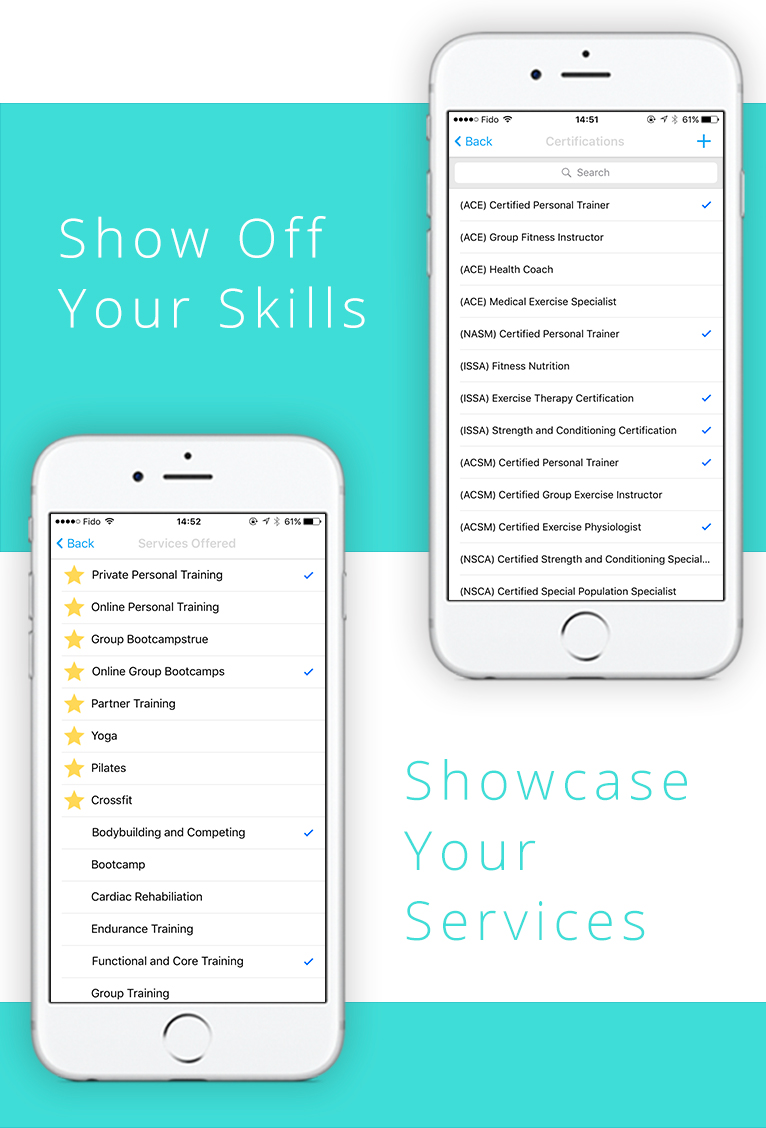 COVER PICTURES. Trainers can add a cover image both from the web and from the mobile to showcase their business and brand.
PHOTO FEED. Add featured images to showcase your business, packages and training offers. The photo feed will enable you to better express yourself and your business to potential clients.
LINK ALL YOUR SOCIAL MEDIA ACCOUNTS. Trainers can link new social media profiles on their sites. Yes, Instagram too!
SERVICES OFFERED.  We've introduced the ability for trainers to select from a wide range of services in order to better promote their businesses.
CERTIFICATIONS. We're very excited to announce certifications as part of the new trainer profiles. Trainers can select from a list of the most popular certifications and have those displayed on their Trainerize site. This will give trainers an easier way fill up the information on their sites and it will all become part of a bigger picture. Can't find your certification? Tap the edit button and add your own!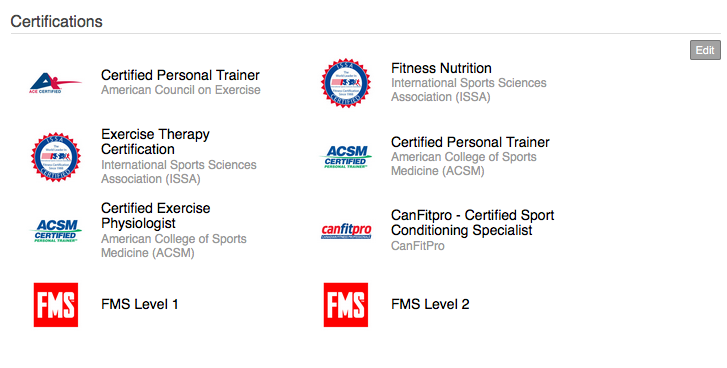 WELCOME VIDEO. Trainers can now record a welcome video to greet clients joining their business. The video will show up when clients first sign in to the app for the first time. This is a great way to add a personal touch and motivate clients joining your business. You can create and upload a professional video or just take one with your phone and upload it on the fly.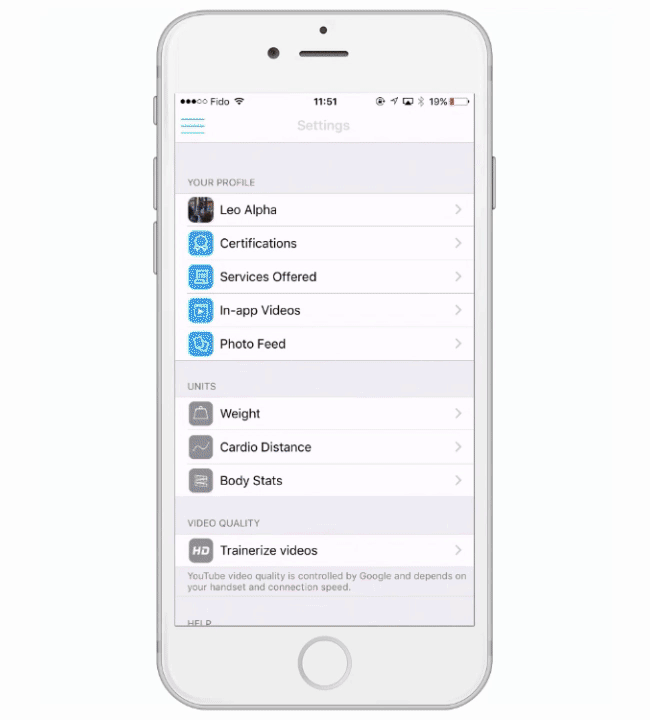 TRAINER AND CLIENT VIEWS FOR WELCOME VIDEOS 📽👉
New Features
TIMER FOR PROGRESS PHOTOS. We've introduced a timer mode for taking progress photos which makes taking pictures easier than ever! This features benefits clients who need to setup and take their own progress photos.
AUTO-SAVE DATA WHEN TRACKING WORKOUTS.  This is a key feature we've improved when tracking a workout. Trainers and clients who were tracking workouts reported that the information was not saved when they changed between apps or tapped on other notifications. This is now fixed! Your workout stats will be auto-saving, so you never miss a thing!
ABILITY TO "UN-CHECK" A "CHECKED IN" WORKOUT. Clients who accidentally checked into a workout can now "un-check" it and turn it back to a scheduled workout. They can then check in again (this time for real).
Bug Fixes and Improvements
In this update we fixed a pesky issue with meal plans that were not loading from local copies on iOS devices and sometimes they kept downloading each time.
We've also completed several performance improvements that contribute to an even better Trainerize experience. Keep the feedback coming, we're here to fix any issues you might have and we're always listening to your suggestions for powering Trainerize with new features. (Submit them here!)
Prepare For Exciting Things Coming Up!
upload a new profile photo.

add a cover photo.

fill up your profile with services offered, certifications and photos.
GET READY. YOU'RE GOING TO LOVE THIS.