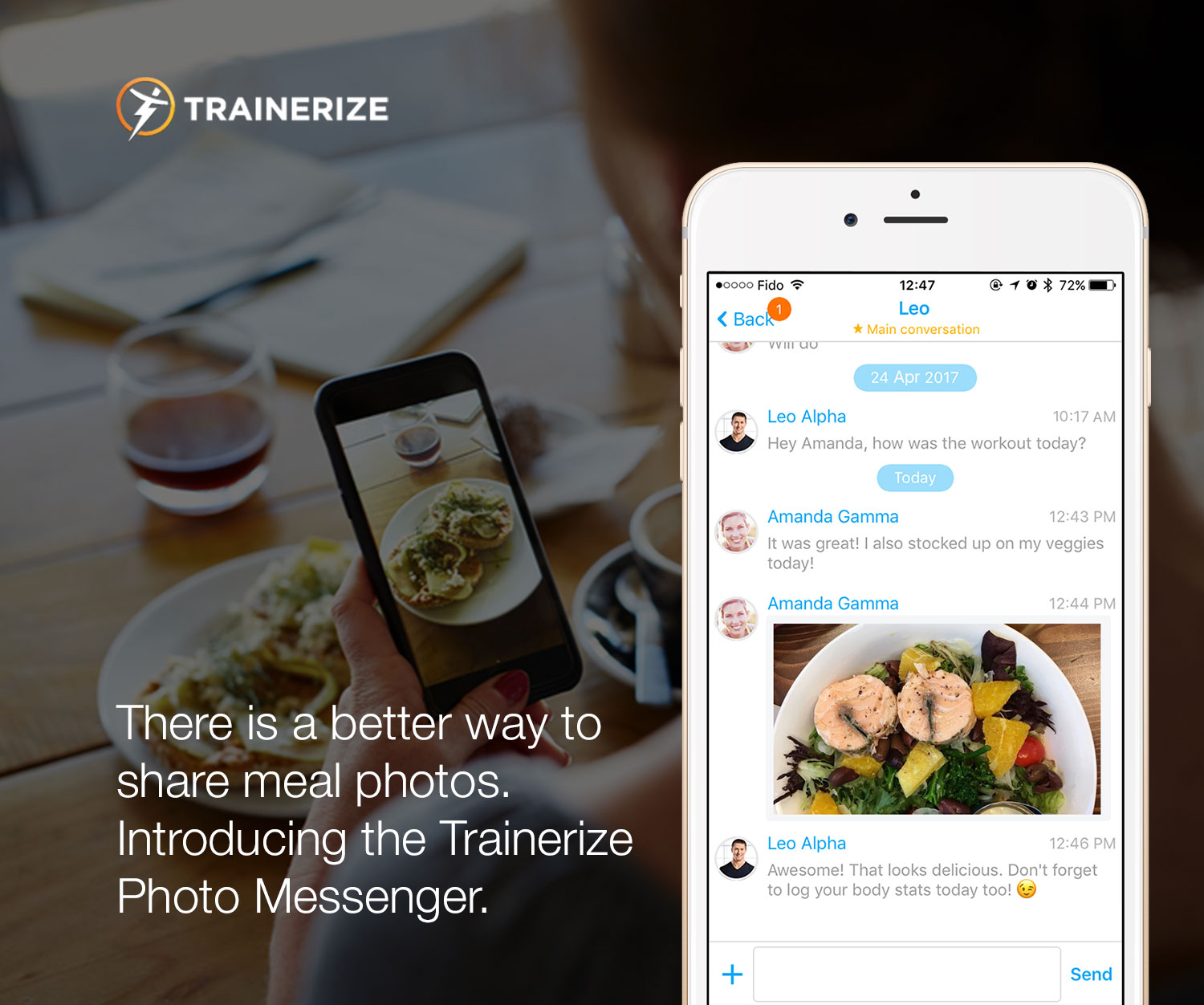 When it comes to meals, Instagram has proven that people love taking and sharing pictures of their food! Our latest update allows clients to share photos of meals with their trainers through our newly enhanced photo messenger. Trainers can also use the enhanced messenger to share exercise posture photos, or any other photos with their clients!
Share Meal Photos and Keep Track of Client Food Habits
Food diaries and meal photo journals are effective ways to keep track of your client meals and inspire them to make healthier food choices.
In addition to Trainerize meal planning and MyFitnessPal logs, now you can use the photo messenger as an extra tool for providing better nutrition guidance to your clients. Make clients more accountable by getting them to share snapshots of their meals with you. You can even create healthy eating challenges with a group of clients, and change habits for the better, all at once!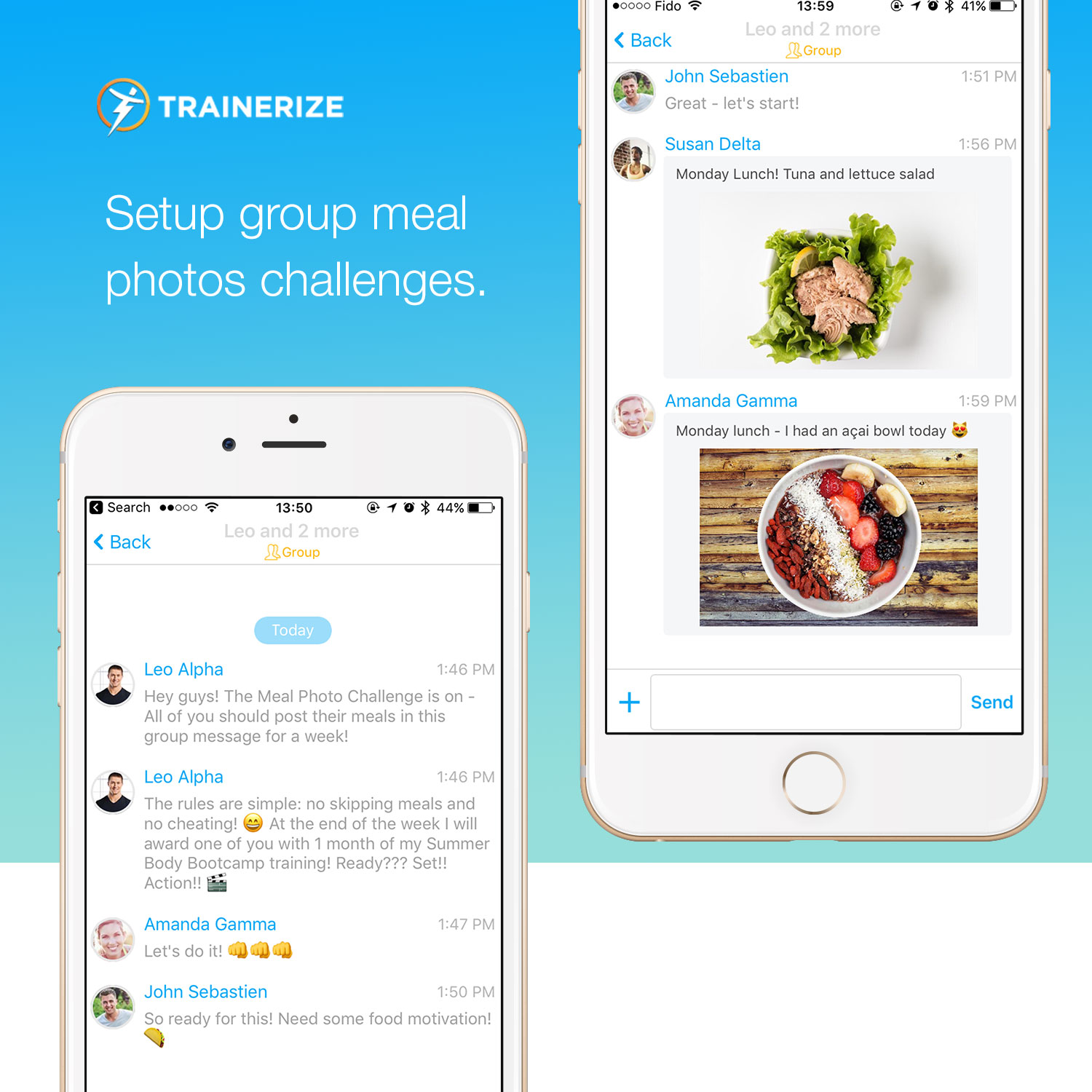 HOW IT WORKS: Upload photos directly from your phone to the messenger, or drag and drop to upload on the web. All images shared in the messenger can be downloaded as well, and saved for later use. In addition to this, any links you share through the messenger will now show up with their full preview. This will make conversations more visual and engaging for you and your clients.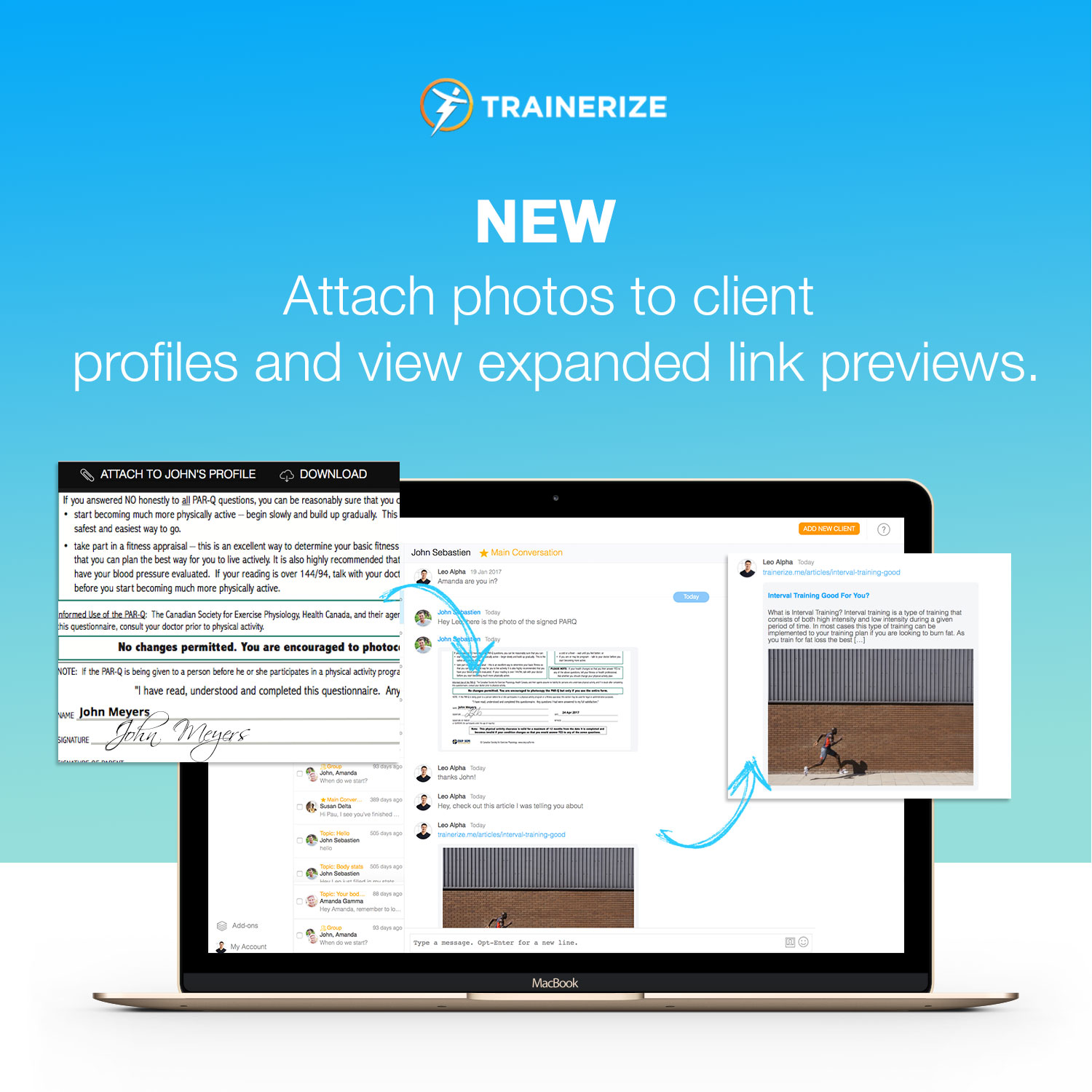 ATTACH TO PROFILE: Trainers also get the option to save images to their clients' profiles. These will show up under the attachment section. Use this option whenever you want to save an important photo, such as a signed document or PARQ form.
This update also includes some other exciting features. Discover them below! 👇
LONGER BODY STATS GRAPH TIME-FRAME
Did you know that some trainers are lucky to have had clients training with them through Trainerize for several years? That's an incredible achievement and we couldn't be more excited!
Online training, combined with messaging and progress tracking, allows you to keep track of complete client fitness progress and impact their lifestyle by improving their habits over time. This directly impacts client retention and will grow your business in the long run.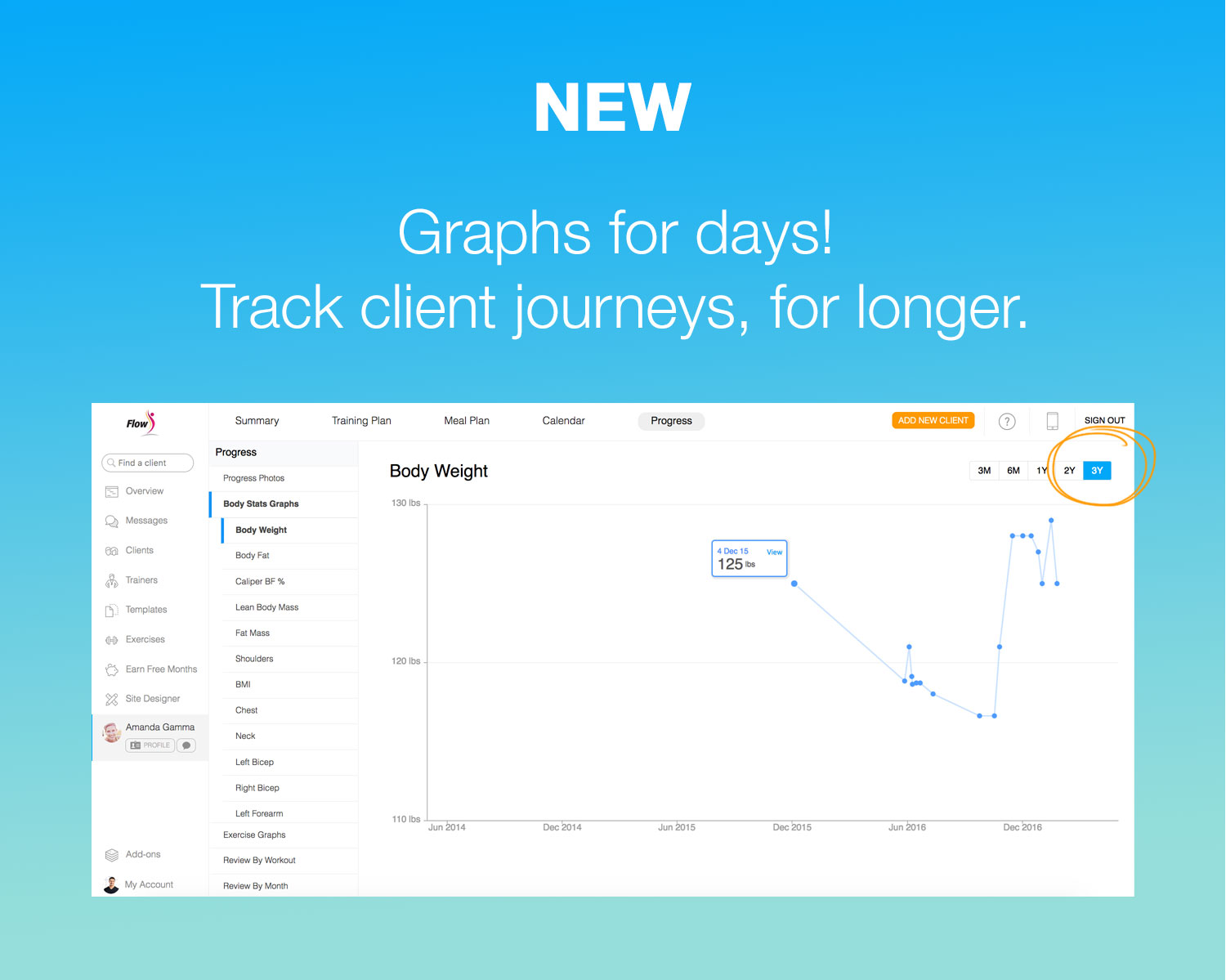 To accommodate these champion clients, we've updated the body stats graphs to include a 2-year and 3-year time-frame so you can view their progress over a  longer period of time.
Start tracking fitness progress for your personal training clients in Trainerize.
ENHANCED CLIENT LIST FILTER ON MOBILE
Can't remember a client's name, but know who they train with? On the mobile app, we've made it easier to find clients! If you have multiple trainers, you can now filter your search for a client by their trainer, and by the built-in client tags or the custom client tags you have created. As your business grows, this change will save you loads of time!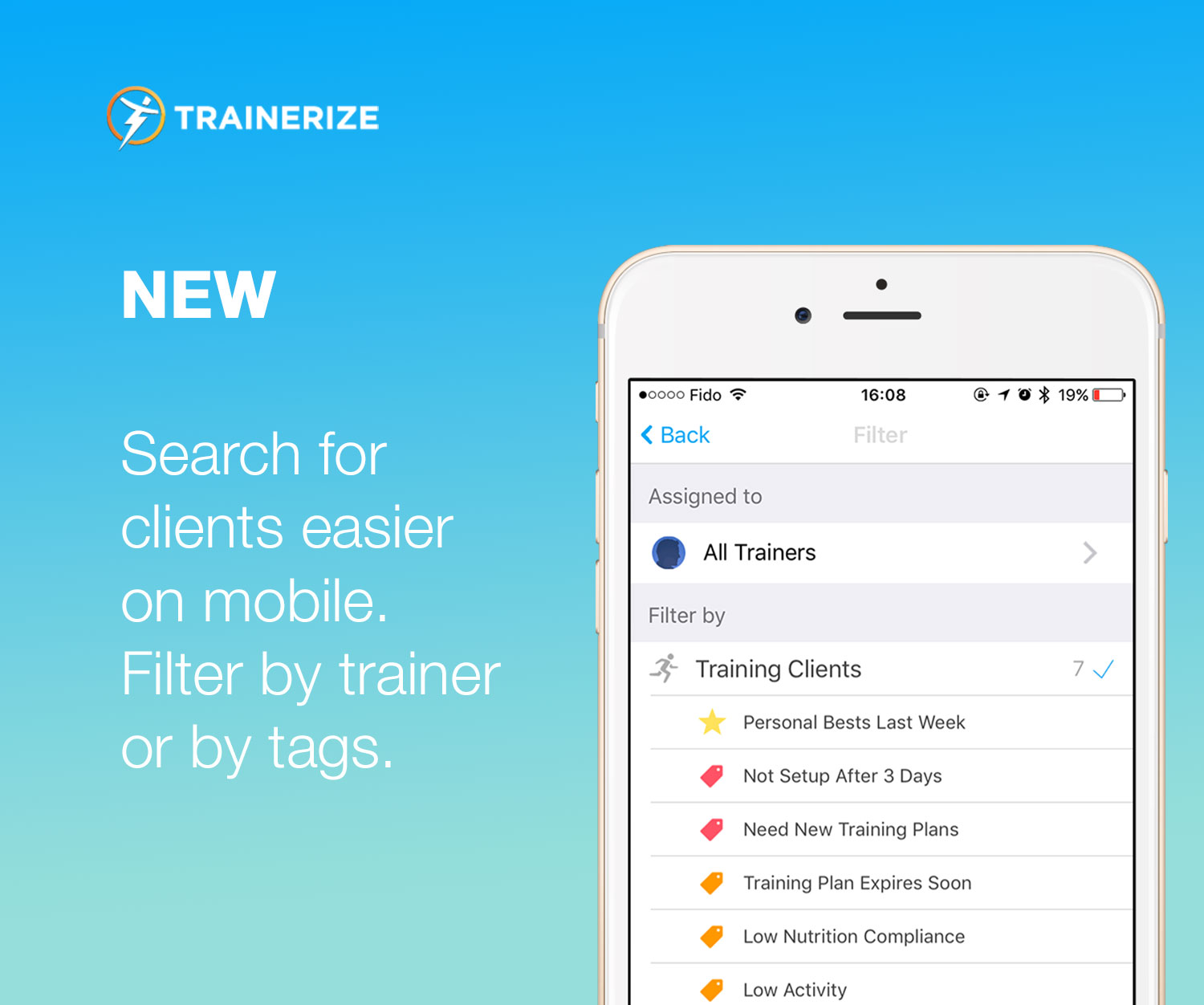 With all the latest changes, you can now reach your clients faster, communicate with them in new ways, and customize their training even more! We can't wait to see how you are using the new features to help your business!
Ready to start using these features to change your clients' habits for the better? Sign up for Trainerize and try it free for 30 days.