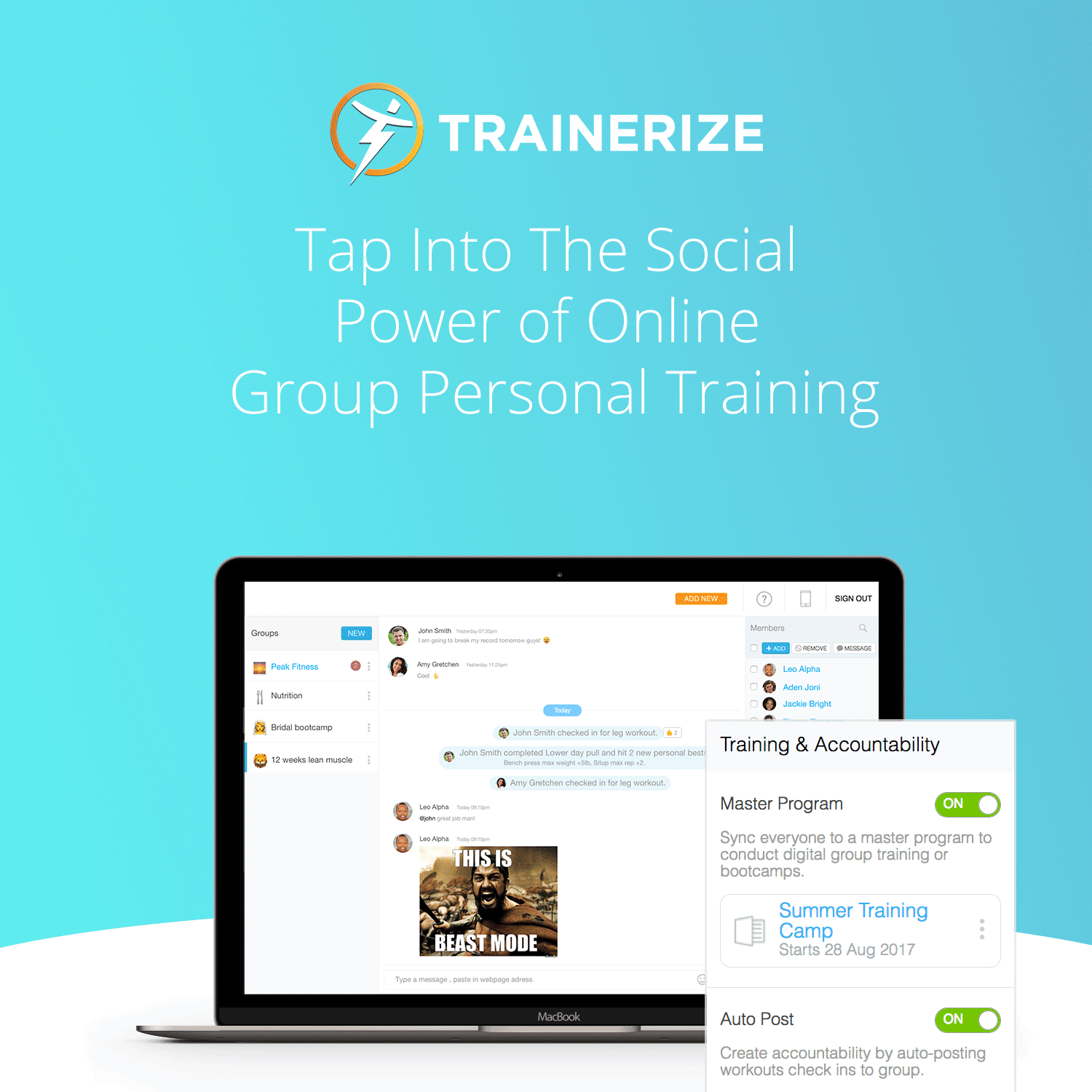 With the online group personal training feature, we're doubling down on our mission to make fitness accessible by giving trainers and gym owners a brand new market to tap into where they can build their competitive edge, attract new clients, and boost their revenue by selling custom-tailored niche group programming.
Personalized and Social: Send Your Clients on Joint Custom Fitness Journeys
Online group personal training starts with a group of clients—big or small—with shared goals and preferences and offers them a unique training experience that is both personalized and social.
In a sharp departure from the cookie-cutter routines of traditional group training, with Trainerize, online group personal training clients embark on joint fitness journeys, following shared master programs that include scheduled workouts, periodized training plans, regular progress checks and assessments, constant access to their trainer, and ongoing peer support and motivation.
The use of custom-tailored comprehensive fitness curriculums with groups of online clients is a first in the industry and is redefining not only the way trainers offer online services but also the entire client experience of group personal training, sending client retention soaring and engagement levels sky high.
The Power of Programs and Groups—Combined
The unlimited potential of online group personal training comes from the combined power of two key features: Trainerize Programs and Trainerize Groups.
The Programs feature, which allows trainers to build comprehensive, periodized fitness journeys for their clients, infuses online group personal training with the personalization clients crave while Trainerize Groups adds the social element, using its in-app messaging feature to boost social motivation; build stronger relationships between clients, trainers and peers; and spice things up with a healthy dose of competition.
Together, these two powerful features are the horsepower behind online group personal training and provide clients the best of both worlds.
Make Trainerize Online Group Personal Training part of your fitness business.
One-Click Delivery with Master Programs
Making online group personal training even more powerful is how easy it is to set up and deliver programming to clients. Trainers build their programs in advance (customized just the way they like), build a group, then, with a single click, switch on the Master Program. Really, it's as simple as that. All group members will be automatically subscribed to the program and will start their training on the same day.
Studio and Gym Owners: An Opportunity to Upsell
For studio and gym owners, online group personal training comes with the added benefit of amplified member engagement and retention and increased opportunities to upsell personal training services.
Imagine offering new members a free in-app "Beginner" program as part of their membership package, available the minute they sign up at your studio or gym. Simply have new members download the Trainerize app (or your own custom branded app powered by Trainerize), add them to a group of other new members and subscribe them all to a master program. Members start their fitness journeys off on the right foot, feel motivated to use their membership, learn the benefits of personal training, and are instantly engaged with your personal training staff.
Beyond the upsell opportunities, adding your members to online personal training groups also fosters instant community building, and creates a network of gym members who can connect and engage with each other, increasing member retention and satisfaction. An instant win for both members and owners.
Ready to start using Online Group Personal Training?

Start your free 30-day trial of Trainerize.