There's always a silver lining! This kind of positive thinking isn't easy in the age of COVID-19, but it's a valuable coping mechanism that we've been employing over at Trainerize. The world is facing an extremely challenging time, not only for our health and families but also for the global economy. But, like John Krasinski with his Some Good News Youtube endeavor, let's look for the positives.
We took the opportunity to seek out success stories from Trainerize trainers. We lurked our Facebook groups, we scrolled our Instagram feed (hey there #Trainerize!), and we looked into the community. And there are some extremely cool things happening!
Let's celebrate!
We've summarized some of our favorite efforts from this community—both to celebrate everyone's hard work and to share inspiration with everyone as we work through this new time. Take a look, and be sure to tag @Trainerize or #Trainerize on your upcoming social media posts to show us what you're up to!
1. Update, customize, and update again
It's an unprecedented time, which means we all need to make adjustments as we go. For these trainers, adapting to the new normal has been NBD.
Gray Ann is taking the opportunity to build new workouts in the workout builder in Trainerize—developing programs for clients without home gym equipment. She's also updating their programs as clients receive equipment they ordered!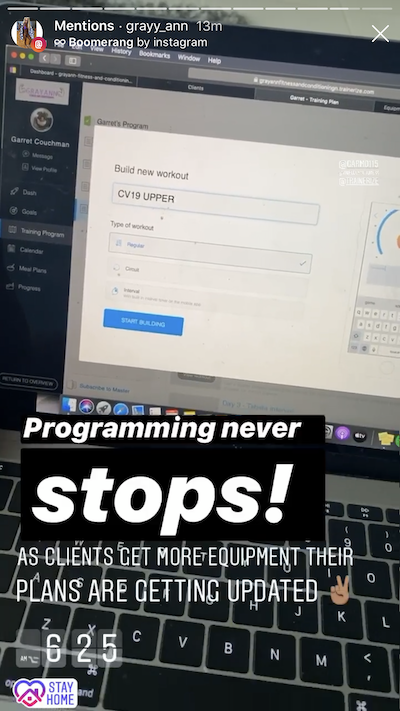 Jason Irvin shows clients how to make do without equipment and find your own weights around the house… including your pets!
Jon Vlahogiannakos has been making adjustments to all of his clients' programs based on their capabilities for at-home workouts. "Some have no equipment, some have a few bands and a ball. It just adds to the creativity and customization of what I do!" He's also reaching out as much as possible to check in, either through scheduled Zoom calls or by using the automated messages feature in Trainerize.
2. Encourage social fitness-ing
Physical distancing, isolation, shelter-in-place—whatever you call it, you don't have to be all alone! Integrating workout buddies (remotely!) or group workouts (hello, Zoom!) adds a fun, motivating element to at-home fitness.
Nicole Taylor has been promoting a new HOMEFIT program, focused on giving clients exciting, motivating workouts that can be done right at home. And she even offered clients some freebies on her Instagram page.
3. Establish community and grow accountability
For lots of clients, on-demand at-home workouts don't offer the motivation they need. Timely, challenge-based and relationship-based workouts can be the solution!
Allie Smith has been running a live bootcamp for those who want accountability and urgency built into their workout regimens… and encourages attendees to bring a friend! She is keeping her clients motivated by monitoring their activity and progress in Trainerize, and giving them extra motivation when they need it.
Annie Hall's clients were actually in the middle of a 12-week challenge when social isolation kicked in, so she had to act fast and switch all her groups over to home-based workouts. "It's actually going smoothly," she says. "We just had our first Zoom meeting last night!" She even opened it up to new participants in light of the social distancing measures.
4. Video, video, video
And speaking of Zoom and custom video… video is now more important than ever!
Sarah Gardner says that her two years of experience with Trainerize has set her up for success during this time of at-home workouts."I moved my classes live via Zoom so we can see and interact. I then upload to YouTube and into Trainerize for clients who missed the live workout." She's also running a challenge that encourages her clients to log active minutes—ideal motivation for this sedentary new lifestyle!
Sherry Mccay says although most of her Custom Fitness clients have transitioned to online workouts, they're including both virtual face-to-face sessions and individual video workouts—"our new addition since we have so much time… clients love our workout videos so much more. They relate it to use being right there pushing them." She's also adding new clients to her roster, and credits the simple sign-up process through Trainerize with making that happen seamlessly.
Luis Guerrero is using video on Trainerize to provide full demos of all recommended movements. Plus, he's sharing those videos on his Facebook page as a marketing tactic as well.
Nathan David from Rugged & Refined Fitness Coaching ran an inspirational video ad on Facebook to show his clients and leads that they aren't alone in this difficult time. He's also finding the video selection in the Trainerize Fitness Libraries helpful with time-sensitive program needs!
Keep it up!
At Trainerize, we feel fortunate to be able to support so many fitness professionals through these uncertain times. Entrepreneurs, personal trainers, and fitness club owners are working overtime to serve their communities. So why not celebrate their hard work?! Let us know what you're up to by tagging @Trainerize and #Trainerize on your social media posts! We look forward to seeing how you're staying creative, keeping motivated, and ensuring ongoing success for your clients.