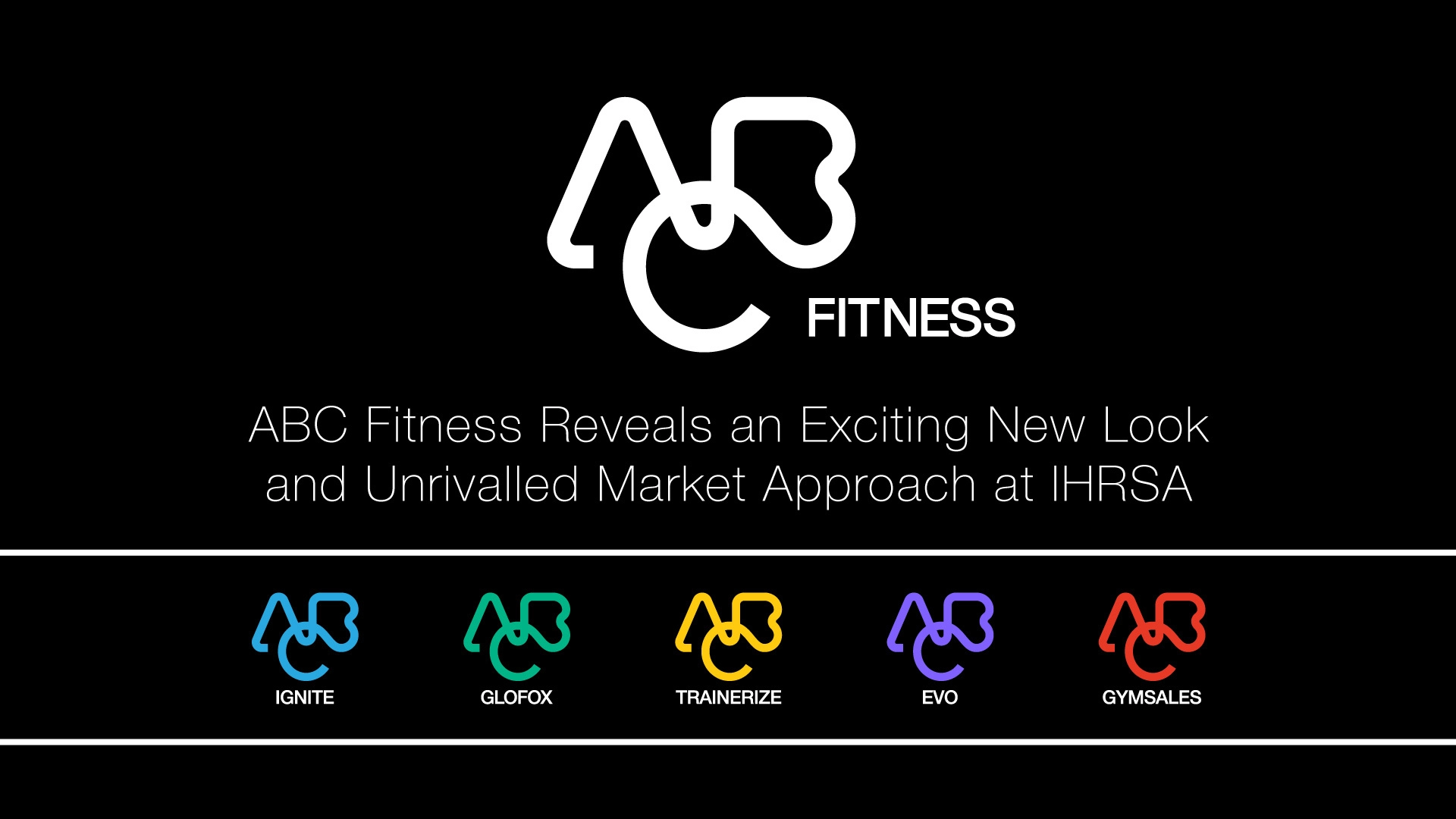 ABC Fitness unveiled a new corporate identity and details of its strategic plans to deliver tailored services to all segments of the fitness market in a move that cements its position as the fitness industry's leading technology and related services provider. Outlining a new "branded house" approach, the bold new look comes with an even bolder mission to enable its customers to bring their vision of fitness to their members by removing obstacles that come from running a fitness business in ways that best suit them. 
The ABC new look and logos are fluid yet strong, flexible yet stable while reflecting the industry by conveying perpetual motion and placing people at the center of the experience. Similarly, its "branded house" approach places the fitness industry's unique market segments and regions at the center of its tailored delivery through distinct yet integrated and complementary platforms – ABC IGNITE, ABC GLOFOX, ABC EVO, and ABC TRAINERIZE. 
Whether an individual coach or trainer, a specialized boutique or studio, a local gym, or a regional chain, multi-location franchises, fitness businesses and their professionals share a passion for changing lives but face common operational issues. While the challenges are common, how they are solved varies from business to business and market segment to market segment; today, one size does not fit all. Now, through its platforms, ABC can deliver insights quickly and remove the friction and manual effort typically associated with managing a profitable operation – regardless of size. 
ABC IGNITE

is a fully integrated club management solution optimized for traditional, large gyms and multi-location franchises scalable to suit the needs of club operations of all sizes in North America. With a modern new design and intuitive user experience, it has a flexible modular approach covering every aspect of club management. Deployed individually or collectively as an entire suite, its six modules cover Sales, Membership, Engagement, Operations, Commerce, and Insights.

 

ABC GLOFOX

is a fully integrated club management solution primarily focused on boutique and studio fitness, from startups to scaled international franchises. Its powerful suite of tools spans Sales, Membership, Engagement, Operations, Commerce and Insights.

ABC EVO

is an integrated club management solution focused on Latin America. Optimized for country-specific payment processing and delivering content in native languages, it provides tailored services covering the whole range of club management needs for club operations of all sizes.

 

ABC TRAINERIZE

is a member engagement mobile app and software platform that allows coaches and fitness businesses to expand their reach beyond their physical space, better connect with members, and digitize the training experience. By combining fitness, nutrition, and habits with online coaching, ABC Trainerize can help coaches drive deeper behavioral changes and healthier lifestyle decisions. ABC Trainerize is available as an integrated solution with ABC platforms, ABC IGNITE, ABC GLOFOX, and ABC EVO, as well as other third-party software solutions.

 
 While each platform is primarily focused on a specific fittech segment or geography, as part of the wider ABC portfolio, they benefit from the ability to integrate best-in-class technology and solutions. In addition, and unlike any other service provider, ABC serves tens of thousands of operators and millions of members and its platforms are in a unique position to bring tailored solutions to market faster and more relevantly than ever before. 
"We are continuing our journey to redefine how fitness operators and members interact with technology to better reach their respective goals." said Bill Davis, CEO of ABC. "By harnessing the best talent, technology, and data insights at a macro level and delivering solutions through our one brand in tailored, bespoke, and creative ways, we benefit from the combined resources of a global leader with the nimbleness of an individual and invested business partner. We can solve common industry problems in a myriad of ways, ensuring the best fit for each specific customer. This ability is unrivaled in the industry, and I look forward to working with the ABC team to help our customers focus on delivering their fitness vision to their members while we help optimize running their business." 
In the coming months, ABC Fitness will be sharing further news of its new brand and individual platform delivery.