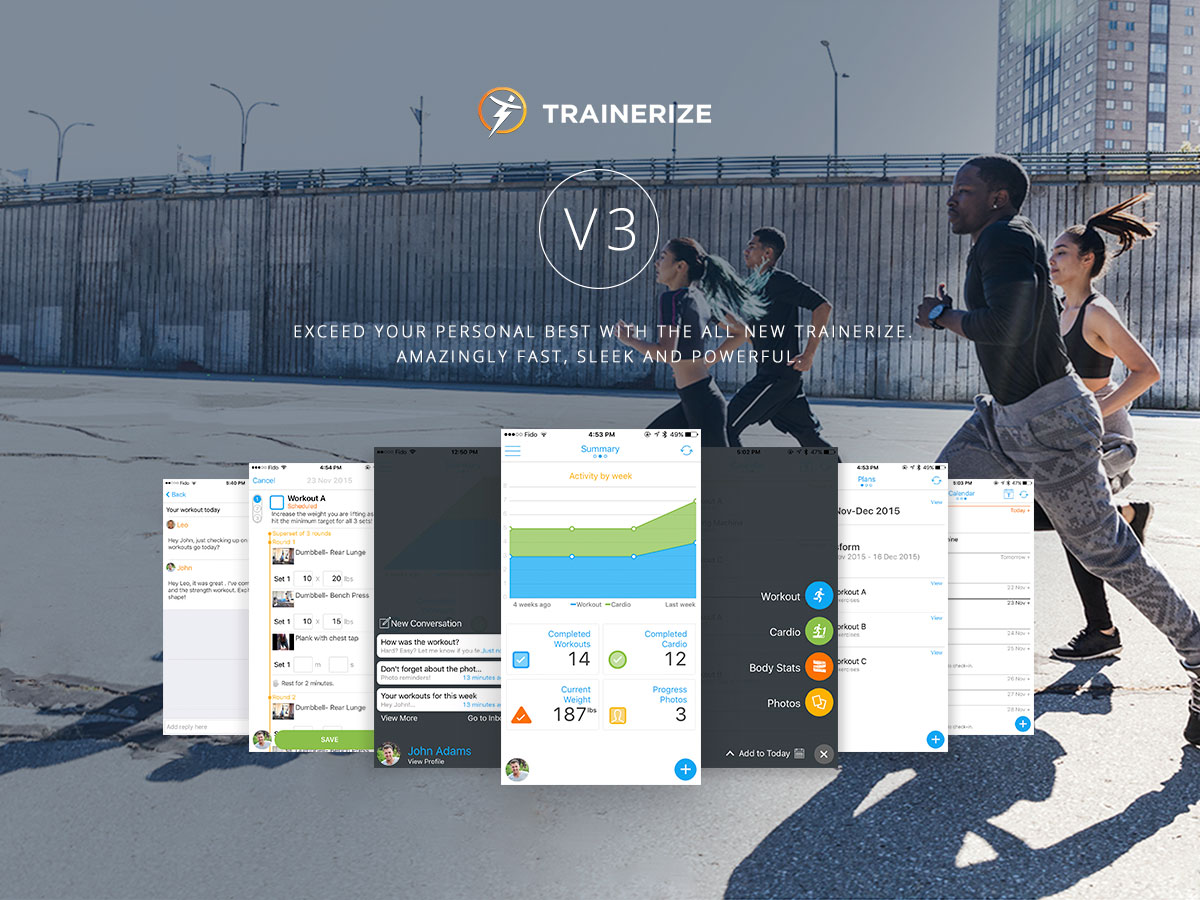 This update is our biggest one yet and it's all about performance for coaches, athletes and fitness enthusiasts worldwide. We wanted to raise the bar with what Trainerize offered to fitness professionals and fitness enthusiasts and look at what Trainerize really stands for: achieving results while building strong relationships. We elevated the core values of the brand, and used them to re-imagine and rebuild a more powerful experience. We want Trainerize to give you the performance you need to maintain momentum and push your personal best further each day.
and for this we needed to THINK BIG and outdo our own personal best.
We are extremely excited to introduce you to the brand new Trainerize V3. The new Trainerize empowers fitness coaches and studios to better manage their business on the go every day, and at the same time, allows clients to achieve better results by using the app to keep track of their goals, their personal best and their overall fitness progress.
why is this our biggest release yet?
In Trainerize V3, we've taken a step back and looked at what is essential for trainers in their approach to managing their clients and their businesses. So we cleaned up, revamped, improved and streamlined all the existing features into a brand new mobile experience. We're excited to introduce a more stable and robust app that is packed with lots of amazing features that you've all been waiting for.
The new Trainerize is….

FAST & STABLE
Discover a brand new app. We've rebuilt the app from the ground up, so that it works as good as it looks.
FUN & ENGAGING
Experience an exciting new mobile look and feel with a clean, visually addictive design.
CAPABLE & ENHANCED
Get more power and flexibility to manage your business on the go with amazing new features.
Client Engagement
We've redesigned Trainerize to help you effectively manage your business wherever you are. We know this doesn't always happen in front of your computer, and for this reason the new Trainerize you will be your one stop shop to connect with clients, modify scheduled client workouts on mobile… and the best thing? Clients can now schedule workouts to any day of the week and they can even track stats for past workouts.
CLIENT DASHBOARD RE-IMAGINED.  We've completely redesigned the client dashboard into a 3-screen experience. From the Summary screen, trainers and clients can access the calendar and the plans by simply swiping left or right.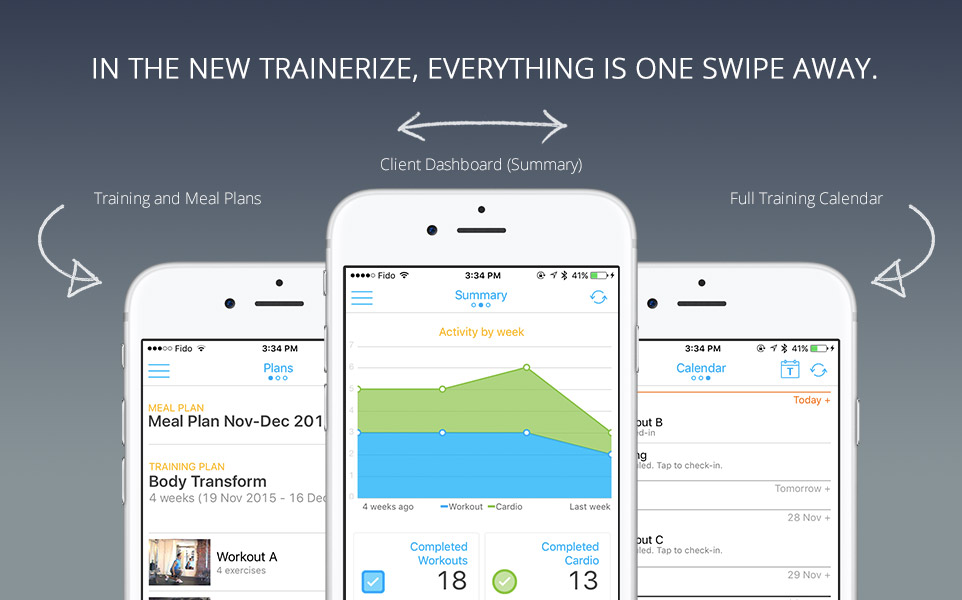 REDESIGNED WEEKLY SUMMARY EMAILS. We've transformed summary emails to put you in control of what's happening with your clients and how your business is growing. You'll know what your clients are up to and who needs your attention through a personalized weekly email notification, just for you.
NEW CLIENT LIST CATEGORIES. Your new client list knows everything. You'll be able to see the last time you got in touch and the last time you messaged your clients. This is a great way to find out who is engaged and great way to keep them committed by messaging them at the right time.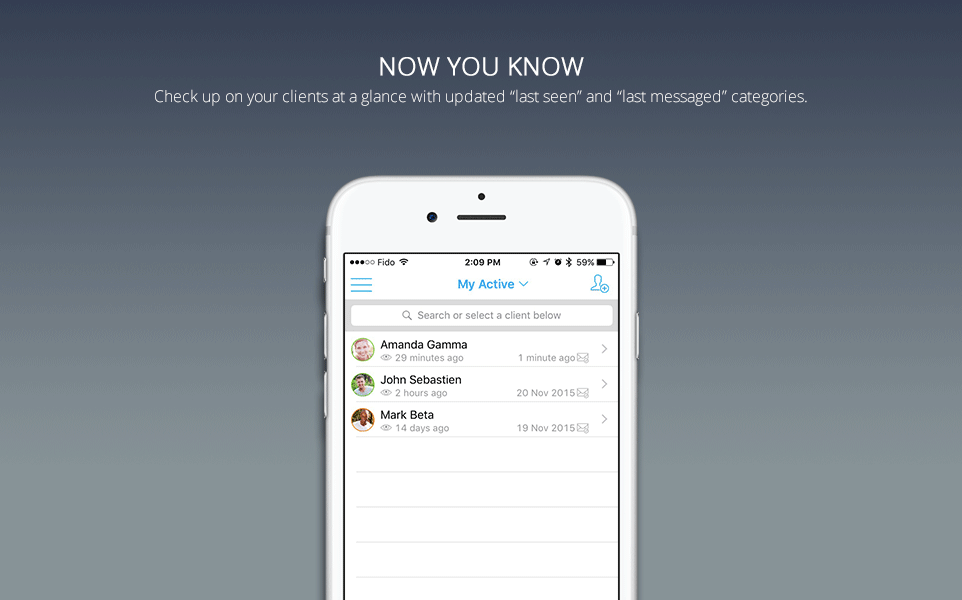 TRAINER CAN EDIT PROFILE ON MOBILE. We've made editing information on mobile available for trainers too. Adding and editing client contact information is more convenient than ever, so you can share your contact information on the spot with clients anytime.
FULL MOBILE CALENDAR VIEW. This is a highly anticipated feature that we're really excited to announce. Trainers and clients can easily schedule, move or delete items from the calendar. This provides more flexibility when scheduling and tracking workouts for both trainers and clients. Now clients can workout at their own pace and makes changes to the scheduled workouts themselves by logging past workouts or pre-scheduling workouts – clients can plan ahead.
EDIT SCHEDULED WORKOUTS ON MOBILE.  Trainers can edit and customize workouts that are already scheduled in the calendar. This is an extremely powerful feature when training clients in-person as you will be able to instantly alter and adapt their existing workouts. This is just the beginning of a series of features that will enable you to fully manage  your clients and their workouts from your phone. Stay tuned for the fully editable mobile workouts.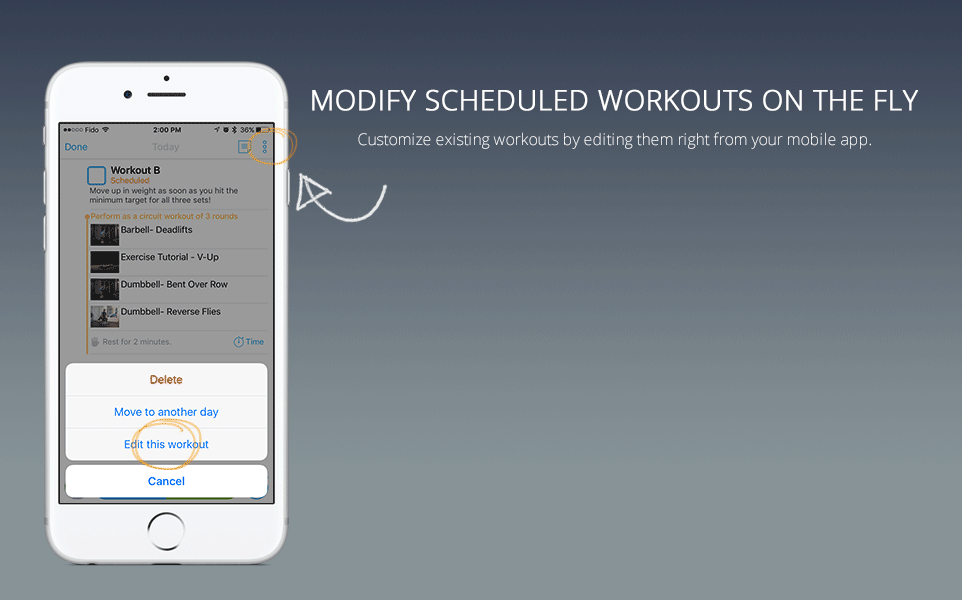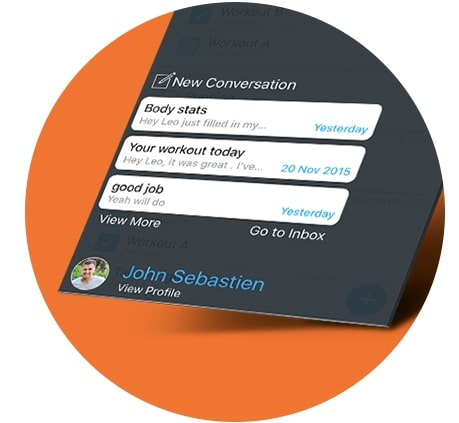 INTRODUCING THE CONTACT BUBBLE. 
Trainers and clients can now get in touch at anytime. Pull up conversations, send a message and check contact information without leaving the current workout. This feature is particularly useful when training clients in-person and pulling up a client's profile to review injuries or notes.
Workout Tracking
Workout tracking is one of the core functionalities in Trainerize. We wanted to leverage the great features that we already have and make them even more amazing! We added multiple training plans for trainers to plan in advance and better optimize their time and workload. We also enabled queuing training plans, adding timed rests within workouts and adding a general exercise type when building workouts. But the biggest time-saver and life-saver that we've added is a brand new, totally redesigned copy tool. We can't wait for you to try it! You can copy your plans and workouts in so many new ways, using a simple drag and drop interface.
INTRODUCING MULTIPLE TRAINING PLANS. This feature is finally done! We are excited to announce one of the most requested features, the ability to create multiple training plans, is now available! Trainers can now plan in advance and stay on top of their client fitness history. Having multiple training plans is a key feature for phasing, as trainers can reference previous training plans and edit them based on new targets.
QUEUE SCHEDULED TRAINING PLANS. With the launch of multiple training plans, we introduced an exciting new way of organizing training plans. Based on the duration of the training plans, you'll be able to plan both your client's training and time-off. While you make changes to the duration of a plan, extend or delete plans, rest assured that all the other plans will adapt and so will your scheduled workouts.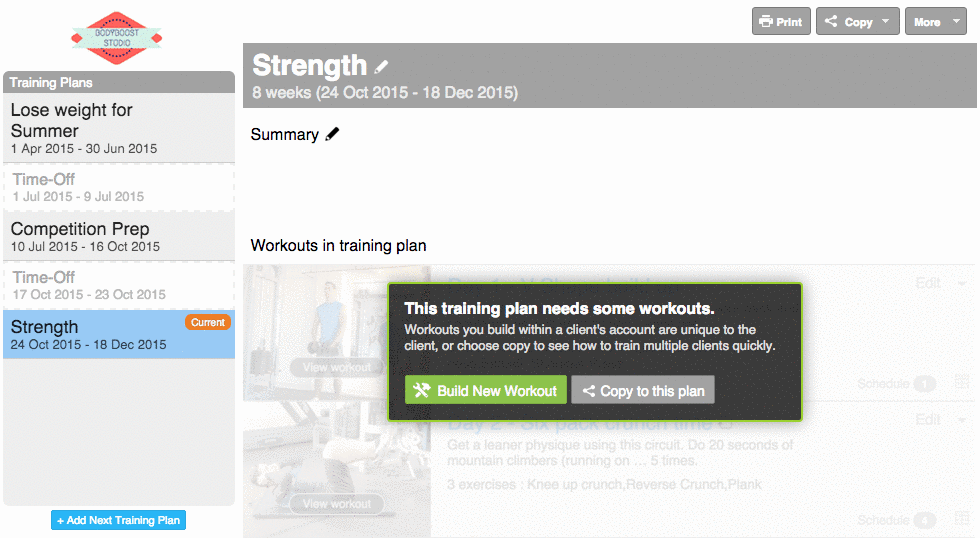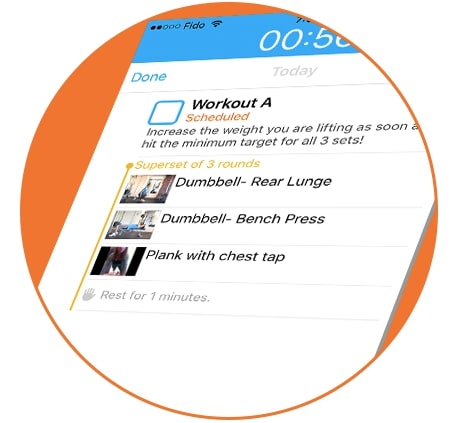 YOU CAN NOW ADD TIMED RESTS IN WORKOUTS.
You asked, we listened! We are really happy to announce that you can now include rest timers as part of workouts.
This allows clients to track workouts continuously and allows a continuous workout flow. Add them in between workouts or group them when making supersets.
INTRODUCING THE GENERAL EXERCISE TYPE. With the new general exercise type you'll be able to make complete workout programs with everything included. Think all in! The general exercises will not need to be tracked, so they are ideal for stretches, foam rolling or when you just want clients to go through motions.
SAME EXERCISE, MULTIPLE TIMES. Whenever you build a workout or you need to create a sequence of exercises, you'll be able to customize workouts by adding the same exercise multiple times into the same workout.
INTRODUCING THE SUPREME COPY FEATURE. With the launch of multiple training plans, in Trainerize V3, we have redesigned the copy feature and transformed the copy technology inside the web app. From the web app, trainers can now perform various copy actions that will will help them streamline their work, save time and boost efficiency when creating training plans. We've added highly powerful options such as copying to and from your workout templates, copying between clients, or copying full or partial training plans. Yes, down to individual workouts! With all these options and improved look and feel, the copy tool will become your new best friend. You'll never have to create a workout from scratch – unless you want to. Ready to create plans quicker and train even more clients? Mix and match workouts to make plans faster than ever before.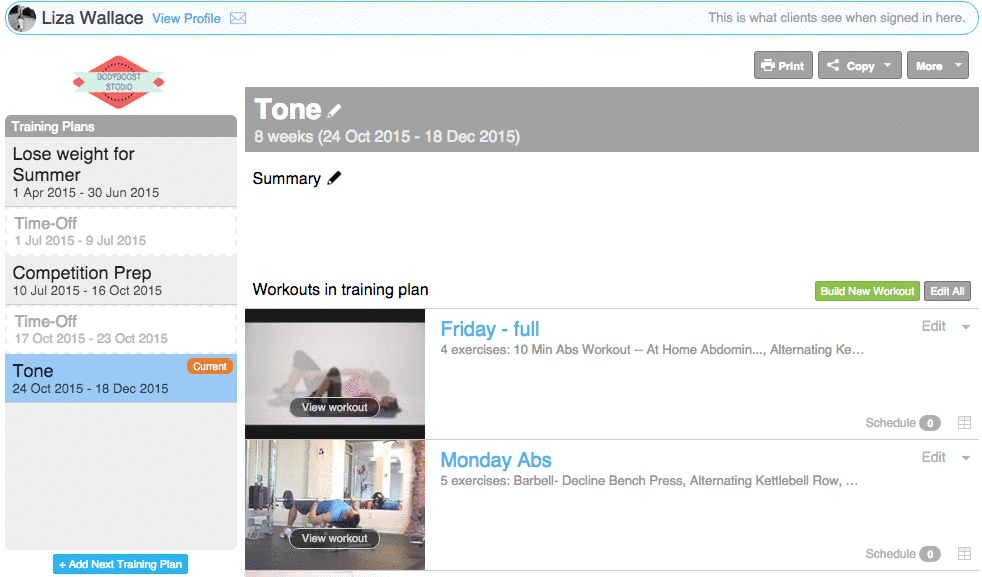 BEAT YOUR PERSONAL BEST.  We are delighted to finally be able to track personal records for exercises! Trainers and clients can both view their best performance ever for an exercise – whether this means weight lifted or time performed. This feature is going to help keep your clients committed to tracking workouts with stats, and excited to try and maintain and exceed their best performance.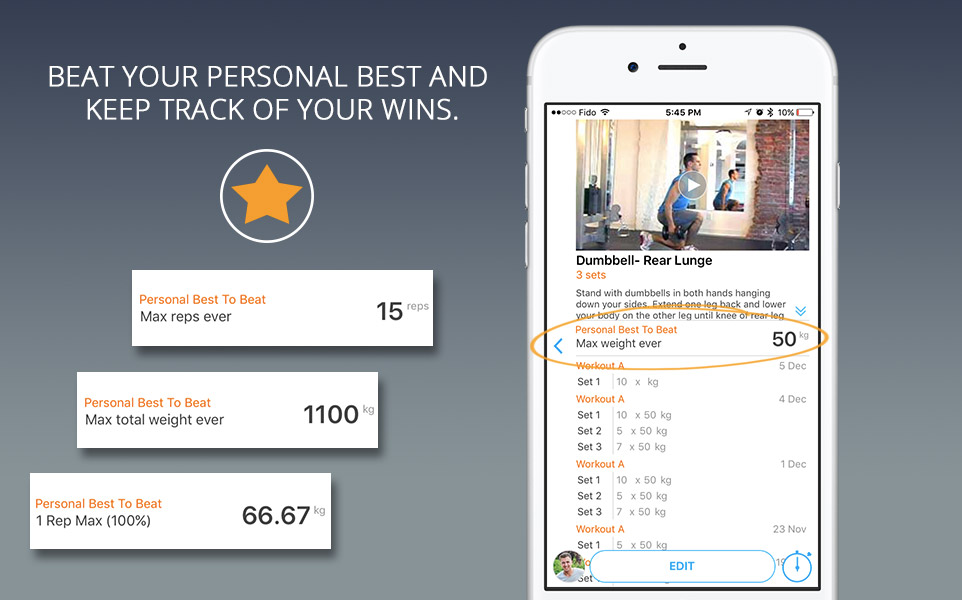 Cardio Features
DO MORE WITH REFINED CARDIO ACTIVITIES. We've streamlined cardio activities to include the most popular ones. Trainers and clients can select from the most popular cardio activities and add them to their calendar. We've also left room to personalize the cardio activities with a "general" type of activity which let's you track any type of cardio you want.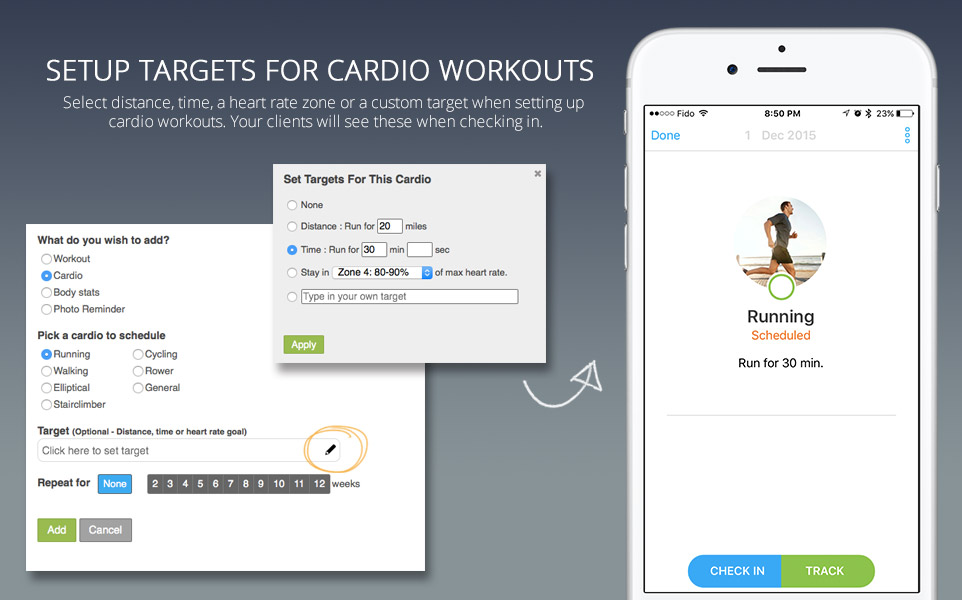 TRACK CARDIO TARGETS. Trainers now have the ability to add cardio targets to all cardio activities. Distance, time and even heart rate zone target setting is now available. For example, whenever a trainer sets a heart rate zone target, the system will automatically figure out the right zones based on client body stats, and set the target according to the suggested zone. Cardio targets are visible to clients when opening a cardio activity and while tracking it.
REDESIGNED CARDIO TRACKING. We know tracking is essential not just for workouts, but for cardio activities too. In Trainerize V3, you'll be able to get more out of your cardio tracking by adding time, distance, speed, incline and calories to your cardio activities.

BUILT-IN CARDIO TIMER. One of the most important things to track with cardio is time, and now it's easier than ever. The built-in timer mode for tracking cardio on mobile app is so simple to use, you can hit Start timer now and it automatically starts tracking and adding the time to your workout.
Overall experience and enhancements
HIGH QUALITY EXERCISE VIDEOS. To get the best experience with the new Trainerize mobile app, we've upgraded the quality of our exercise videos. The new videos should make following workouts even more engaging.
IMPROVED APP RELIABILITY FOR BAD CONNECTION. Basement gym? No problem, you will not lose any workout tracking stats! They will stay on your phone and you can just save your workout when you get a better internet connection.
VARIOUS BUG FIXES AND ENHANCEMENTS. We've addressed the timezone error that caused some Trainerize accounts to default to Pacific Time. The Android display size issue has been fixed. There is also a new numeric keyboard for tracking workouts so now you'll never have issues when hitting those numbers!
We hope you enjoy this update as much as we've enjoyed building it! We're committed to making Trainerize the best platform for fitness professionals and their clients. Feedback is essential to us and we will continue to improve Trainerize with every update, every patch and every new version. Keep great suggestions coming to our
Ideas Forum
, we're always listening.
Take your Fitness Business to the next level.
Start your free 30-day trial of Trainerize.