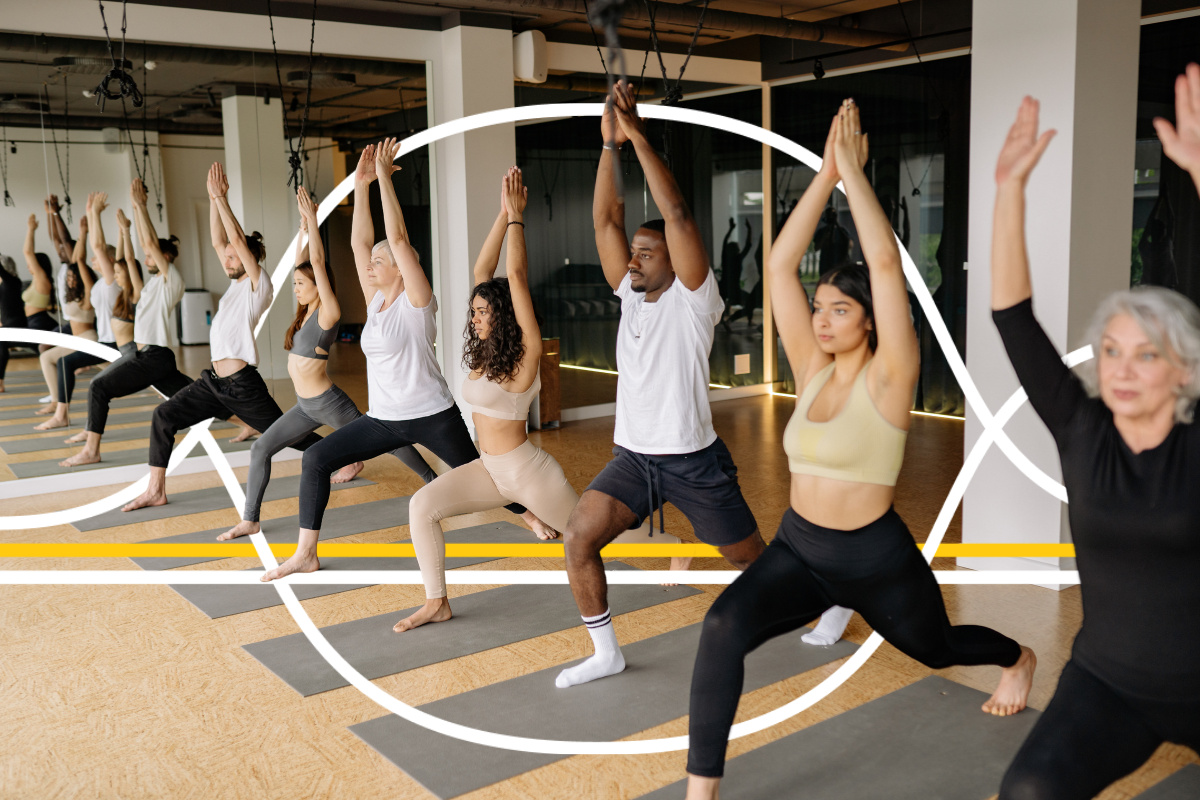 At ABC Trainerize, our whole thing is helping fitness studios deliver better client experiences—which means we're always tapped into the latest trends. That spans buzzy modes of exercise, and tech tools like ours that make gym membership that much more seamless. So let's dive in and explore the latest fitness studio trends, so you can start working them into your personal training sessions.
Why is knowing fitness trends important?
If you want to create the best possible fitness experiences for your customers, your gym needs to stay up to date on the latest trends. Although not every trend survives the test of time, the simple truth is that people love getting to jump on new fitness trends while they're hot. As a fitness provider, giving them the chance to do that can help keep them motivated!
You have to pay attention, though. Riding the trends means that you're looking at what people want and giving it to them. Do research, and pay attention to emerging trends on social media so you're ahead of the times—not behind them. Then, make it extra-easy for them to get started with your gym. If they can sign up for classes on their phones or pay membership fees through an app, there'll be zero friction between discovery and their first class. 
That's how you scale. 
View this post on Instagram
The top 10 fitness studio trends in 2023
There's always something new and exciting going on in fitness studios, thanks to the 39% of Americans who hold gym memberships. These top fitness trends support a wide range of fitness goals—and attract plenty of Google searches online!
1. Biohacking
Although we all benefit when we get plenty of movement, the fact is that every person who walks into your gym has their own original biology. As we learn how individual differences in our bodies can affect fitness results, studios that help their athletes biohack are starting to catch on. (Some are even offering oxygen therapies with tools like the Live02 trainer.) 
Biohacking coaching is often done in one-on-one training sessions, or small class settings—'cause it's personal. You'll help clients fine-tuning their nutrient and supplement intakes, as well as their rest and recovery periods. People want to optimize how they train, and catering to that crowd makes complete sense. (Or if you're looking for an easy jump-off point, start by offering some supplements for sale.)
2. Integrating wearables 
The market for fitness trackers is only growing and getting better over time. With each new model that hits shelves, more fitness enthusiasts find ways to optimize their workouts. When you integrate wearables into your programming, your clients can track their workouts with incredible real-time biometric data and make it easy to keep pushing every time they drop by! 
Mobile platforms like Strava are popular for tracking runs, while some smart watches can track everything from your heart rate to your blood oxygenation. The amount of data they can collect is astonishing. Help your clients set up their wearables at the beginning of classes so they can track the training they do with you. (This also helps prove your efficacy.)
3. Low-impact workouts
Some clients are always looking to go, go, go—but others prefer a more casual approach to physical activity. By offering low-impact workouts, you can make it easy for your gym clients to increase their health without strain.
Perfect for visitors of all ages, these dedicated workouts build upon themselves, prioritizing gains and improvements that happen over time while keeping everyone comfortable and motivated! This'll open your fitness studio up to new groups of clients and… accessibility is also just important. (Period.)
4. HIIT workouts
Although high-intensity interval training (HIIT) has been around for ages, this form of exercise is always trendy. There's so much to love about HIIT classes—the way that they get your heart rate up, keep the workout structure fresh, and make you feel like the literal Energizer Bunny. 
HIIT is also almost a brand, in and of itself. Offering high-impact workouts lets you tap into an always-trendy workout mode that has instant recognition with many hardcore gym-goers. It's good fitness, and good for your fitness business. That's the goal, right? 
5. Camera-free spaces
Every time you scroll through social media, chances are that you see a bunch of fitness influencers, dietitians, and other health experts filling up your feed. That doesn't mean that everyone wants their workouts to be broadcasted online while they are working with free weights or on a jog.
Offering an explicitly phone-free space can give people a respite from being online 24/7, and help them be present in the moment with your fitness community. You can tie this approach in as a mindfulness exercise during yoga classes, or as a "let's focus and sweat" thing during HIIT training. (It's flexible!) 
View this post on Instagram
6. Dance studios
Regular degular workouts are fine and fun, but who doesn't love learning to move while they exercise? Dance classes are always trendy, and if you can move, you should jump on them. Some studios offer Zumba, some studios teach salsa, and some studios teach pole classes—there's almost no limits, and body movement is one of the most creative ways to deliver exercise. 
The one challenge with this form of exercise: you've got to be able to dance, or have access to instructors who can. It's a tricky specialization to pick up, but once you've got it, you'll have a laser-focused offer that few gyms can deliver on. (You'll have a ton of fun teaching, too.)
7. Spin classes
Spin classes are having a renaissance right now. Aerobics has always been one of the most popular forms of exercise, but this's the it exercise of the moment. You'll need a fleet of bikes to offer this training, and good speakers to blast music while people cycle. Once you've got that all setup, you'll be able to deliver one of the most high-intensity, community-oriented workouts out there. (Love that.) 
8. Strength training
While strength training was once viewed as a way to build large muscles, modern strength training is a space that welcomes everyone and encourages them to improve and embrace health on their terms. In fact, this helpful practice is known to support healthy aging!
There's all sorts of fitness trends within the broader umbrella of strength training. Circuit training is popular because it keeps athletes on their toes, while CrossFit combines weightlifting, aerobics, and functional movements for an everything workout. Some studios even offer strongman training, where you lift unconventional objects like tires and logs. 
9. Multi-use fitness spaces
Today's fitness enthusiasts are more educated and more driven than any generation before them, and that means that they are more aware of how different exercises can help them meet their goals. Given the growing interest in diverse and all-encompassing exercises, it's always a good idea to have balance and creativity in what you offer at your studio. 
Toronto's Sweat and Tonic is a great example of this. They're a fitness studio, a cafe, and a wellness space, all in one. They're centrally located, so it's easy for their clients to drop-in between busy work schedules. This means people aren't just coming by to sweat, although that is a big part of it. It's a third space, where people can hang out and bond over fitness—and that's so valuable. (Hence the pricey membership.) 
10. Online fitness
Gyms obviously want their clients to drop by for a visit, but more fitness enthusiasts and fitness professionals are taking a look at online fitness. This approach to fitness, which relies on liv streams and content libraries, makes it easy for people to access high-quality training from home.  
With online fitness classes and fitness wearables, you can help support the interests of your clients even when they can't make it to your physical location. Gym management platforms like ABC Trainerize also make it easy to deliver online fitness classes, from signups to the actual streaming itself. So you know… tap in! 
So, what's next?
Health and fitness change lives, and at ABC Trainerize, we're here to help you change lives at your fitness studio. We help gyms deliver fresh fitness programming and get clients signed up, all from our simple dashboard. You'll even be able to offer online fitness classes, without needing any external software tools. So when you're ready to start scaling your gym, we're right here.
Ready to take your fitness business to the next level?
Start your free 30-day trial of ABC Trainerize today!