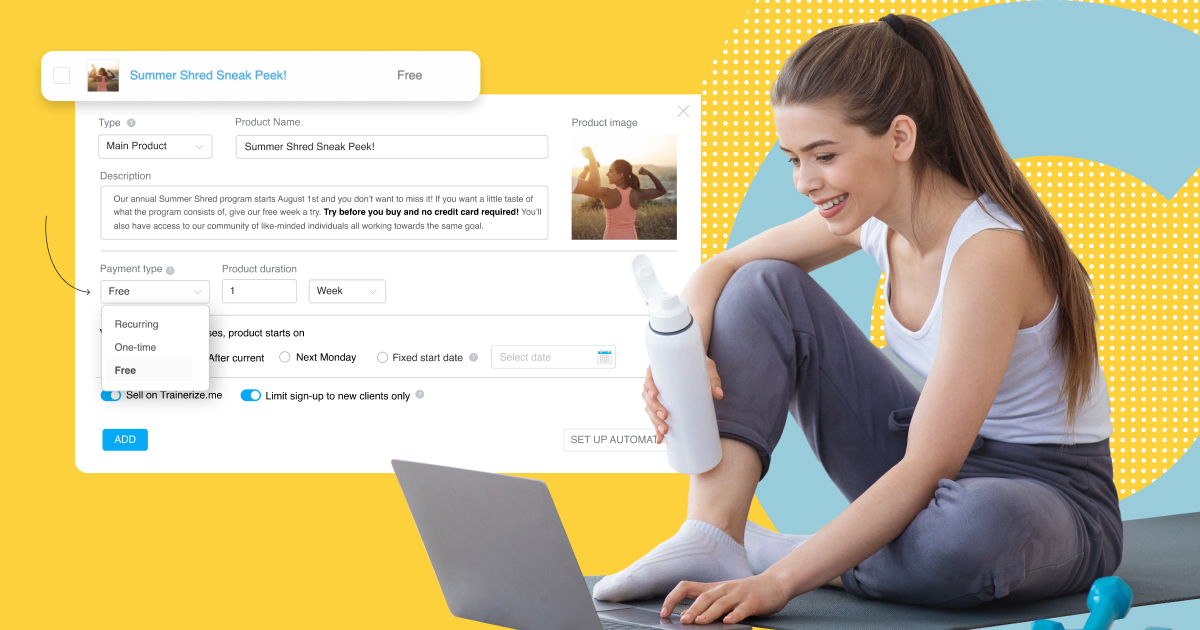 Have you ever experienced sending a client a product to buy, only to have them not go through with it? Or perhaps you have a ton of traffic on your website or social media, but you're converting very few of those visitors into paying clients? 
If you nodded along, we have some good news! Our latest feature lets you offer free trials so you can give clients a risk-free way to try your programs out before committing to a full membership or coaching package. Because let's be honest, we all like trying something out before we buy it, especially if there's no financial commitment involved upfront. 
With our new Free Products in Trainerize Payments, your clients can sign up for programs without a credit card, making the process easy and deterrent-free for maximum sign ups. You can also use free trial products as part of your sales funnel to target new clients specifically to capture more leads, upsell them faster, and easily grow your client base overtime. 
Discover How Free Trial Offerings Can Grow Your Business
⚡️💡Generate more leads
Who doesn't love free? Free trial products pique interest in your brand and offerings and offer a risk-free way to try your programming – helping you to generate more leads overall. 
⚡️👋 Engage leads and clients better for faster upselling
Free trials are an easy way to get leads to start loving your programs and services. For existing clients, it can help reduce the friction it takes for them to commit to a paid program. In either case, keeping them engaged through a free trial makes it faster and easier to upsell to them now and into the future.
⚡️💰Get more people paying for your products and services
With more leads, and higher engagement throughout your client base, you'll see an increase in free to paid conversion within your business. More payments for your programs and services means business growth for you!
The free trial feature also gives you an option to target new clients directly, meaning you have full control on how you want to move clients through your sales funnel.
How to start using free trials to grow your business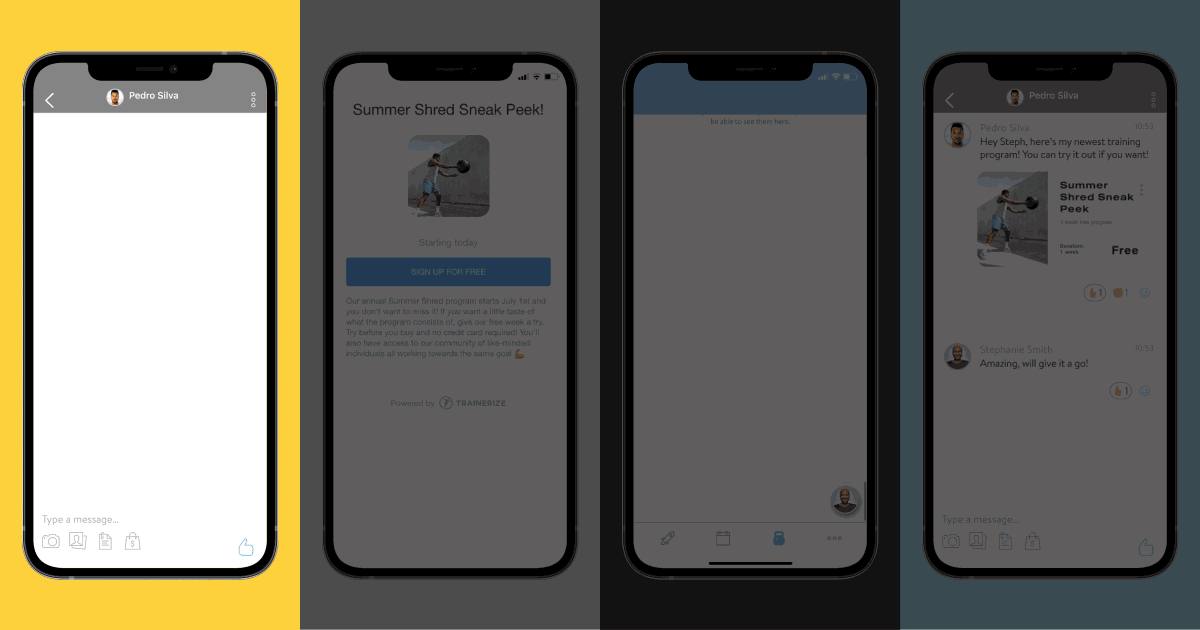 Depending on your business, there are different ways you can use the free product feature to grow your business.
For trainers, simply create a free product, limit it to new clients, and place it on your website, social media, or any other marketing channels to offer your free trial. It's incredibly easy for new clients to sign up. No credit card is required, and the free trial program is automatically delivered to them. During the course of the free trial, trainers can check-in and follow up with them through direct messaging. This really helps build trust and strengthen the client-trainer relationship. Over time, the new client will purchase a paid product after a great free trial experience.
You can also use free products to upsell existing clients by allowing them to try different programs and services they're not already getting with you as a trainer.
For studios and gyms, free trials can be presented as an appealing offer for current and new members to encourage them to try personal training, nutrition coaching, or any other services you offer. By providing a variety of different options, members are more likely to pick and try one that best suits them. With an enjoyable free trial experience, it will be hard for members to go without the service and you'll see an increase in revenue overtime.
Read more about how to use free products to make sales in this article here.
How To Create Free Trials
Creating a free trial is just like creating any other product within Trainerize. Go to the Payments tab in Trainerize, and in the Products section, select "Add Product". 
Under "Payment type", select "Free" for free trial. Choose how many days or weeks you want the trial to be, when the trial starts after the client signs up, and if the trial is limited to new clients only.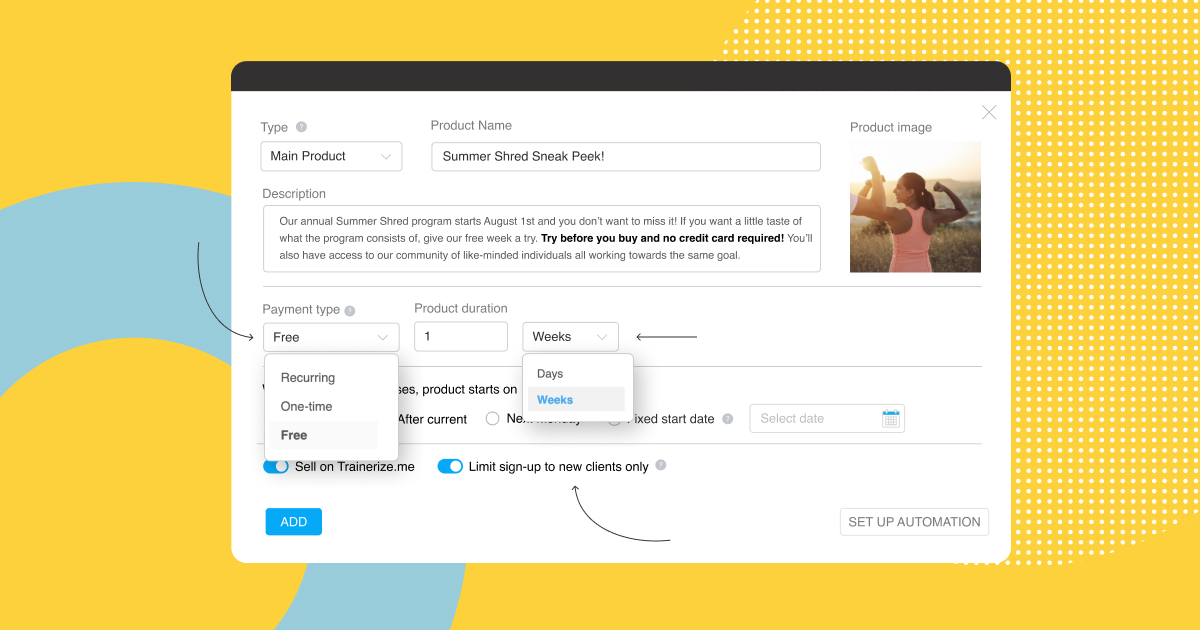 Add any product automation into the trial so your programming content is automatically delivered and you're all set! You can take a more detailed look at this feature by reading this article.
Have a feature on your wishlist?  
As you know, we're always listening to you—our amazing #TZtrainers. We love using your ideas and feedback to help make Trainerize the best app possible for your fitness business.   
Let us know if you have any feedback on this feature or current functionality, or vote on other suggested ideas here.