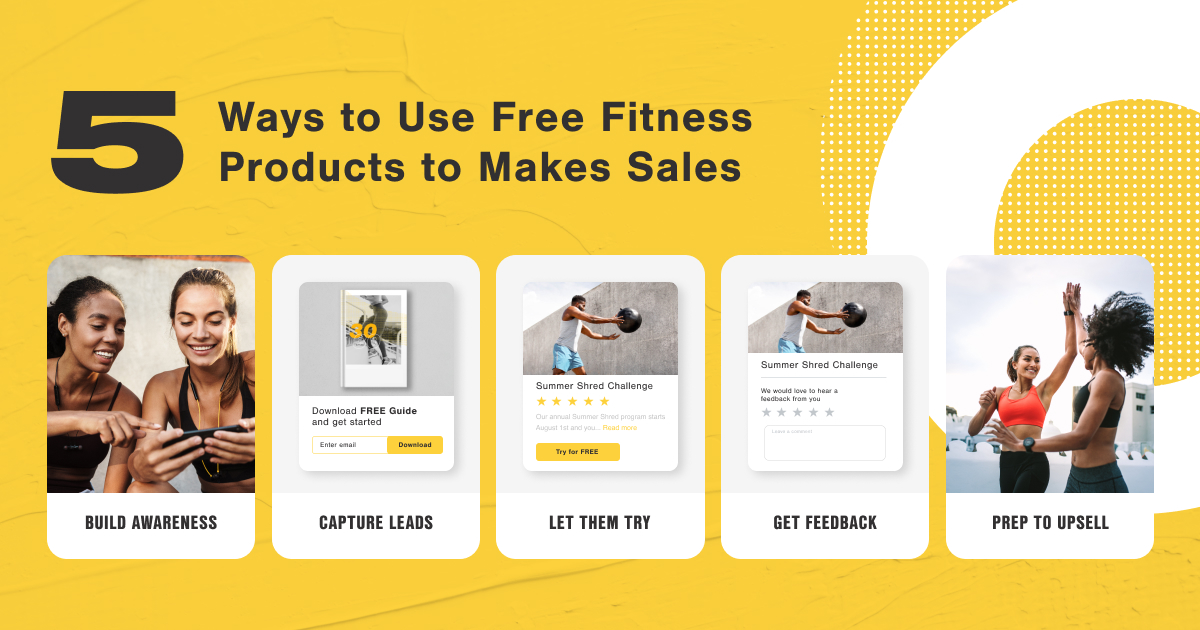 If you're working as a personal trainer, your goal is likely to sell products that will help people improve their lives. So why would you want to give away free fitness products?
Our brand-new Trainerize feature, free products, is all about doing exactly that—selling products at a $0 price point as a way to grow your business. You're likely familiar with the sales funnel—the top of the funnel is brand awareness, the middle of the funnel is engagement, and usually the bottom of the funnel is sales. Free products fit in the middle-to-bottom of the sales funnel—products where you engage and educate potential customers. You'll give them so much value for free that they will be willing to pay for other products sooner than you think!
Free products include things like:
Downloads: a grocery list template, meal planning template, mini workout plan
Trials: a one-week or two-week workout routine, a week of nutrition coaching or habit coaching
Access: access to your on-demand workouts, access to a group chat, access to group nutrition coaching, your weekly newsletter
Consults: a one-time one-on-one training session or nutrition call
These are all free products that you can offer that will convert clients, fast. 
So let's dig into the benefits of free products! Here are five ways your business will benefit from selling free fitness products, starting at the top of the funnel.
1. BUILD AWARENESS: More buzz and attention to your business
There are countless benefits to building your brand, other than just building brand awareness. Among many things, you're improving recognition, building trust and establishing your niche. Of course, the goal is always to always get qualified leads that result in more purchases. However, if the worst-case scenario is that more people are talking about your brand, then that's not so bad!
Offering a free product is sure to get people talking—which may mean referrals from existing clients! Don't forget to offer freebies to existing clients as well as new leads! They'll be your best advocates.
2. CAPTURE LEADS: Grow your list of leads and build an audience
Have you ever downloaded a tool or a guide in exchange for your email address? This is a lead magnet—a common digital marketing tactic! Common downloads include an exclusive email list, a PDF guide etc. Think of this as the same thing. In your case, you could provide a free PDF or you could provide the full app experience as your lead generation freebie.
We've already talked about the benefits of building brand awareness, but offering freebies also allows you to build up your audience. Free product campaigns can lead to growth in your social media followers and email subscribers, which becomes the core of your marketing and sales funnel.
In your case, after offering some free products you'll have a list of warm leads (these are call "deactivated clients" in the app) that you can reach out to to promote future promotions! This type of offer can also increase engagement.
More followers + higher engagement = more qualified leads and purchases!
🔗 Discover the Power of Lead Magnets
3. LET THEM TRY: Truly help your customers understand what you have to offer
There's a reason a free trial is becoming the norm for most businesses—people want to try before they buy! A little sneak peek into your services is a great way to attract potential clients and give them the security of fully understanding what the entire experience will be like before they pay a fee.
Yes, you read that right: I said "entire experience" because hiring a trainer no longer means you show up at the gym twice a week for an hour and get your but kicked. That's easy. What's not easy is weekly check-ins with your trainer, tracking your steps, water and sleep habits, sharing pictures of what you're eating to get feedback and so much more.
⚡️TZ Tip: Learn to automate your free trials with Zapier!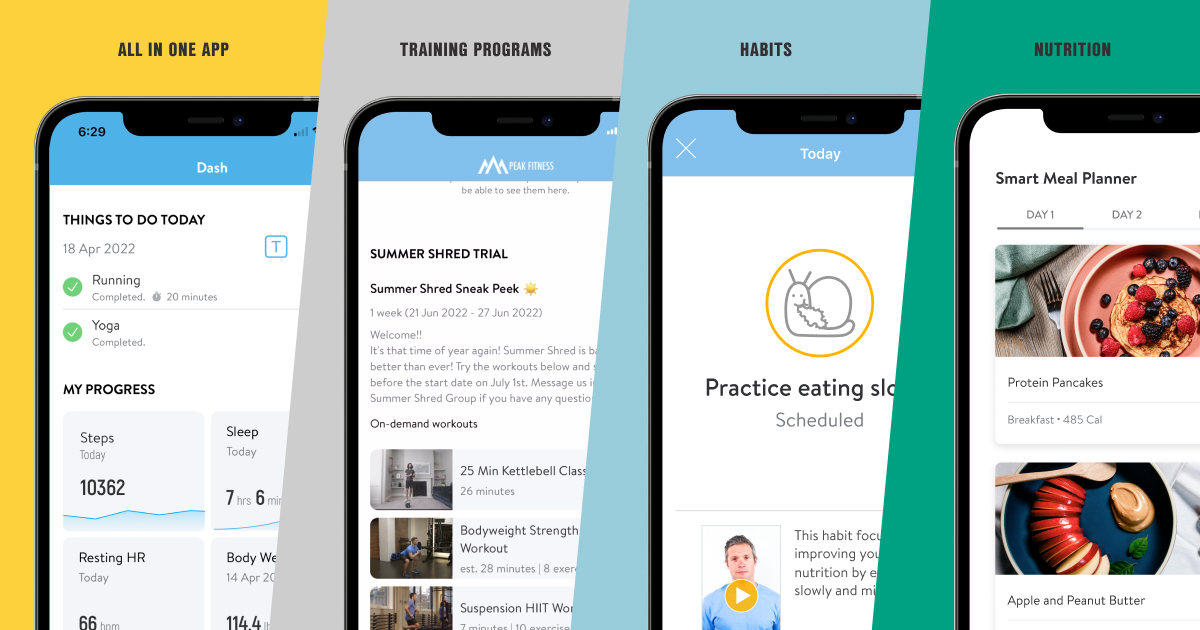 Committing to a big lifestyle change takes a lot of courage! So take away the financial barrier and offer them something they can easily say YES to. Then, take the time to build a relationship during your free trial (even just a simple thank you can go a long way) so that they feel welcomed and supported and ultimately, stick around.
4. GET FEEDBACK: Collect valuable feedback when you soft-launch products
Ever thought about creating a fun new workout routine or switching things up but are nervous about how your clients will react? Soft launching a new product through free access will allow you to test it out and get feedback without the stress of a full-blown sales campaign.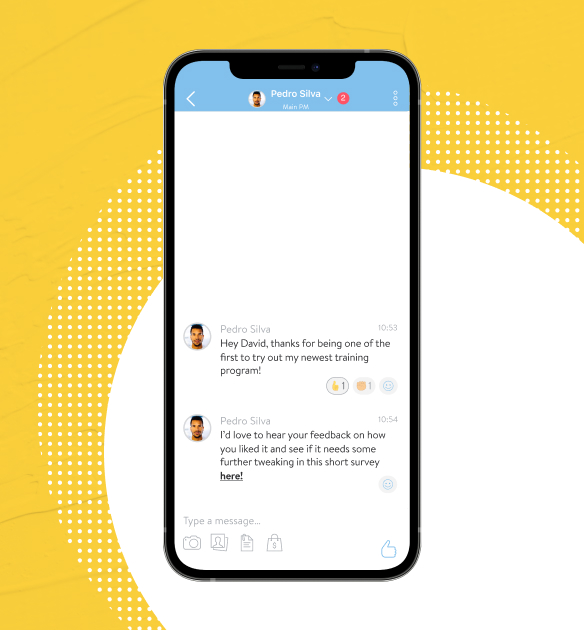 Things like:
incorporating outdoor activities into your programs in the summer
introducing your clients to a new training style
adding another training type, like habits or nutrition
taking a step back from tough workouts and focusing on creating healthy habits
Think of a soft launch for a new product as a "dress rehearsal" for the real thing. At the end of the trial, share a survey (automated through Trainerize's auto-messages feature!) and gain valuable feedback to help you improve your services.
For example, when I first introduced habit coaching in my own training business, I offered to help my clients with one habit—for free. They picked one, I added it to their calendars and the small daily wins they made motivated them so much they would ask me for more. I learned that these daily habits helped them be more committed and stick to their workout schedules. I also learned over time through feedback how to support clients on habits. Now, I focus on a monthly habit in all the products I offer.
⚡️TZ Tip: Stick with one habit at a time, let them master that habit, celebrate their win and then move on to the next.
5. PREP TO UPSELL: Start small and then promote a bigger product later
Oftentimes we think of upselling as a benefit to the business owner, which undoubtedly it is, but it's also closely related to customer satisfaction. A personalized upsell shows you care about your clients' progress and are smart enough to anticipate their needs! When you upsell, you provide them with a set of options that are relevant to them and allow them to make a knowledgeable decision about their overall health and wellness.
To successfully upsell, you need the right tools to pitch your services to your clients at the right time. A freebie or free trial can be a great way to do this! Allowing a client to test out your training services, like habit coaching or nutrition coaching, is the perfect way to pitch them! Once they try, always set up a check-in call or have them join a virtual personal training session to see how the trial is going for them, and to upsell them to the paid version.
Like I mentioned earlier, your goal as a trainer is to sell your products and help your clients. But offering freebies will help with all of the elements listed here: brand awareness, lead capture, education, feedback, and upselling. Don't discredit all of the good things that come with offering a free trial!
You're playing the long game. And now, with free products in Trainerize, you can build up your sales funnel, increase engagement, and eventually sell more. It's just not something that will happen overnight, but offering a strategic free product is a great place to start.
Take your Fitness Business to the next level.
Start your free 30-day trial of Trainerize.