Our purpose at Trainerize is to help trainers reach new clients, build stronger relationships with their existing ones, and promote a healthy lifestyle for everyone. There are a variety of ways you can incorporate Trainerize into your current service offering and get the most out of it.
Some of the most common ways include: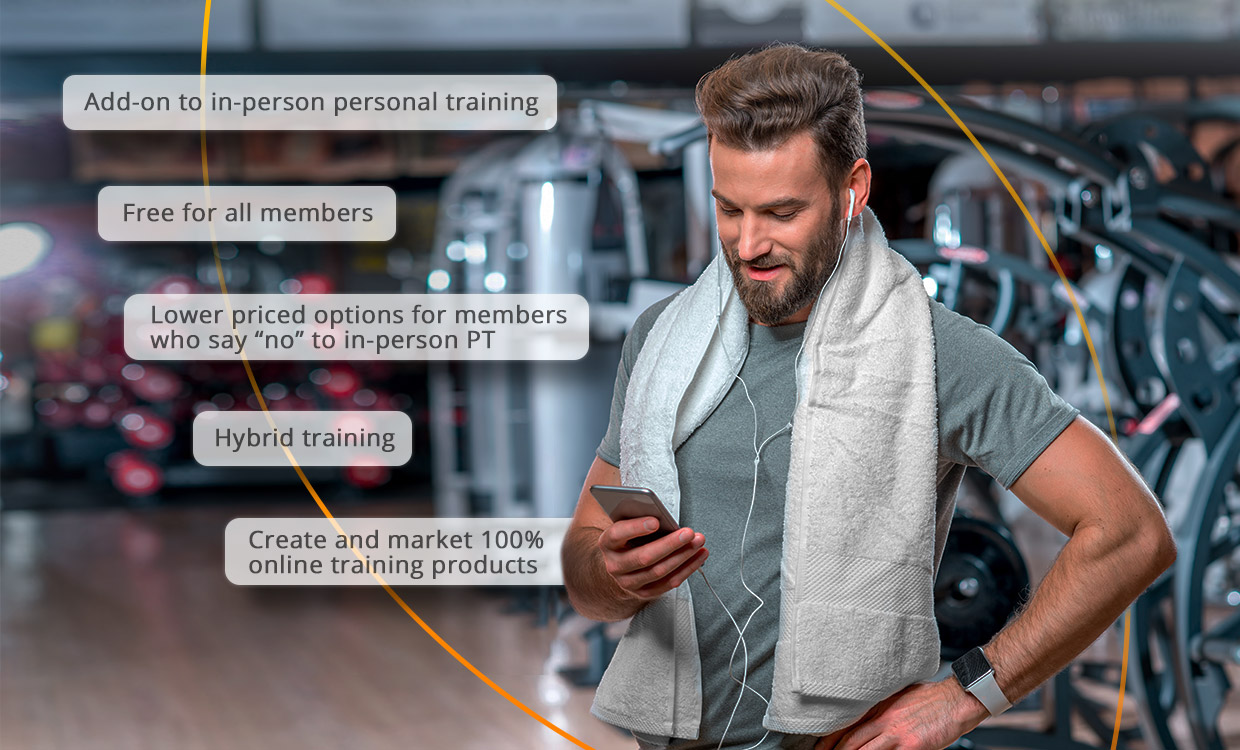 Read through the next steps in the checklist to learn more about each:
Add-on to in-person personal training
For many fitness businesses, in-person training is a staple service, but with fitness technology on the rise there's plenty of opportunity to put a digital spin on your in-person training.
Strike the perfect balance by using Trainerize to track your client's progress and guide workouts during your in-person sessions, then offer app access to your clients between sessions so they can continue their work even when they're not in the gym with you.
Free for all members
A great way to get your members hooked on the personal training experience is to give them a taste of it! To do this, offer all of your members free access to a basic online training program via the Trainerize app from the moment they sign up at your club.
This lets them experience what it's like to have access to professional guidance and opens up a direct line of communication between your members and your personal training staff. Use the app to build strong relationships with your members and to upsell your services.
Lower priced options for members who say "no" to in-person PT
For many, the decision to pass on in-person personal training is a financial one. But with online personal training added to your business, you can offer clients a lower-priced option that gives them access to a trained fitness professional and the support they need to achieve their fitness goals. 
Hybrid training
Online personal training is an excellent way to leverage your time as a fitness professional and help more people with less in-person hours. However, it can't be denied that some clients prefer to have some in-person contact; they like to see their trainer face-to-face, get real-time feedback, and feel the rush of really getting pushed during a session—if not all of the time, at least some of it. This is where hybrid personal training can be the perfect option, offering clients (and trainers) the best of both worlds by combining both in-person and online training. 
Learn more about hybrid training.
Create and market 100% online training products
With Trainerize you can create 100% online fitness or training products that you can market to your current customers or leverage to attract new customers for your business. For some businesses, online training products offer the right level of flexibility and autonomy for their members, and can open up the revenue-boosting possibility of "digital members". Not to mention, online training services can help deliver offerings to more members with lower overhead costs and fewer members of staff. Use digital offerings to sell your unique programs, packages, classes, fitness challenges, or online group training the same way you might sell in-person training products. Building your online training products starts with creating fitness programs in Trainerize.
Master Programs
With your Trainerize plan, you can create unlimited fitness program templates with workouts, auto-reminders and auto-messages.
Learn more about Master Programs templates:
Trainerize Pay
After you create your programs you can automate the way you deliver them to clients with Trainerize Pay.
Create online products and set them up either as one time or recurring digital products. When someone purchases one of your products they will automatically receive the program associated with it via the Trainerize app.
Learn more about automating product delivery to client phones with Trainerize Pay. Introduction to building digital products: