We love feedback! Although we learn from it, we've also learned not to take ourselves too seriously and have fun with it. Watch #TeamTrainerize read funny and mean messages about our app web design out loud!
Are you ready for a change?
Introducing the New Trainerize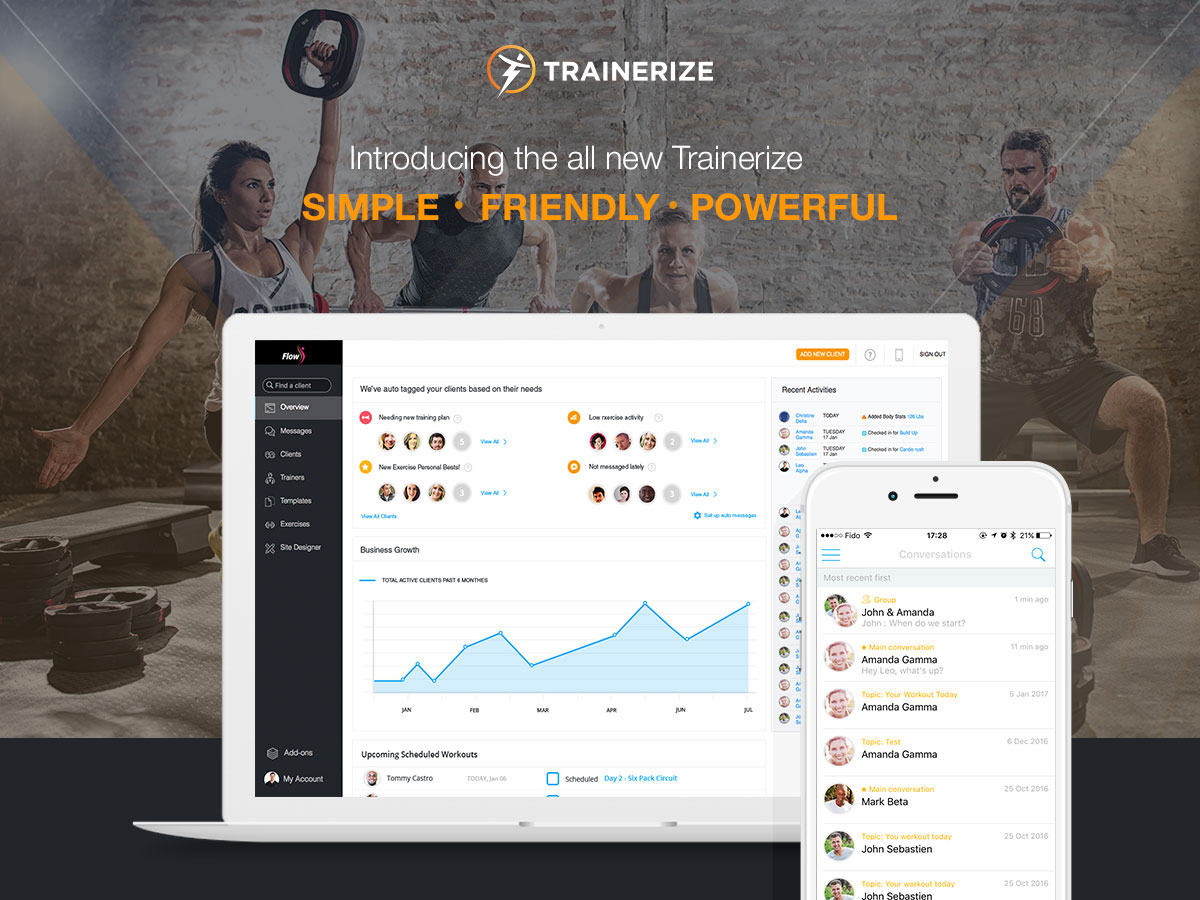 We've made Trainerize a beautiful and advanced personal training platform to help you better run your personal training business online, in every moment of every day. With an updated web interface and cutting edge mobile enhancements, Trainerize is now the most advanced personal training platform for you and your clients. The new Trainerize is all about building better engagement with clients and adding more functionality for gyms. These both come together in a fresh, modern and beautiful interface.
WHAT'S NEW
Engaging Clients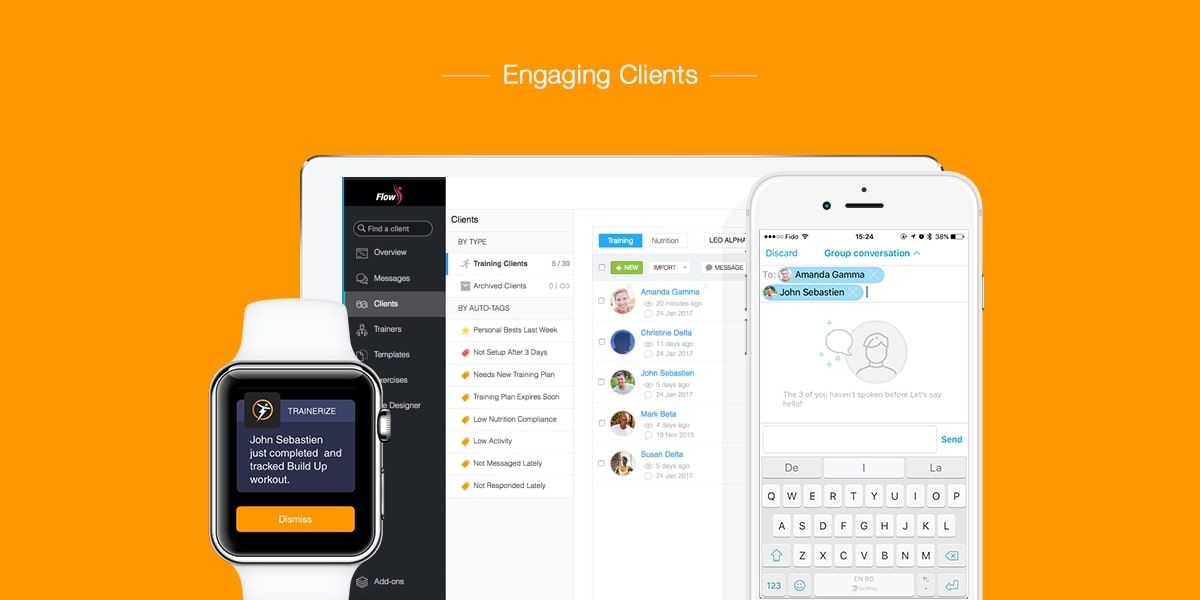 Since the beginning, we've always been about building stronger trainer-client relationships. Trainerize is more than a "tool" you use to plan your workouts, it's a fitness experience that enables clients to get more motivated and feel closer to their personal trainer in the gym, or online through their guidance. The new Trainerize has a brand new real-time messenger, better features for engaging with clients, more app notifications for client activities, and a brand spanking new look!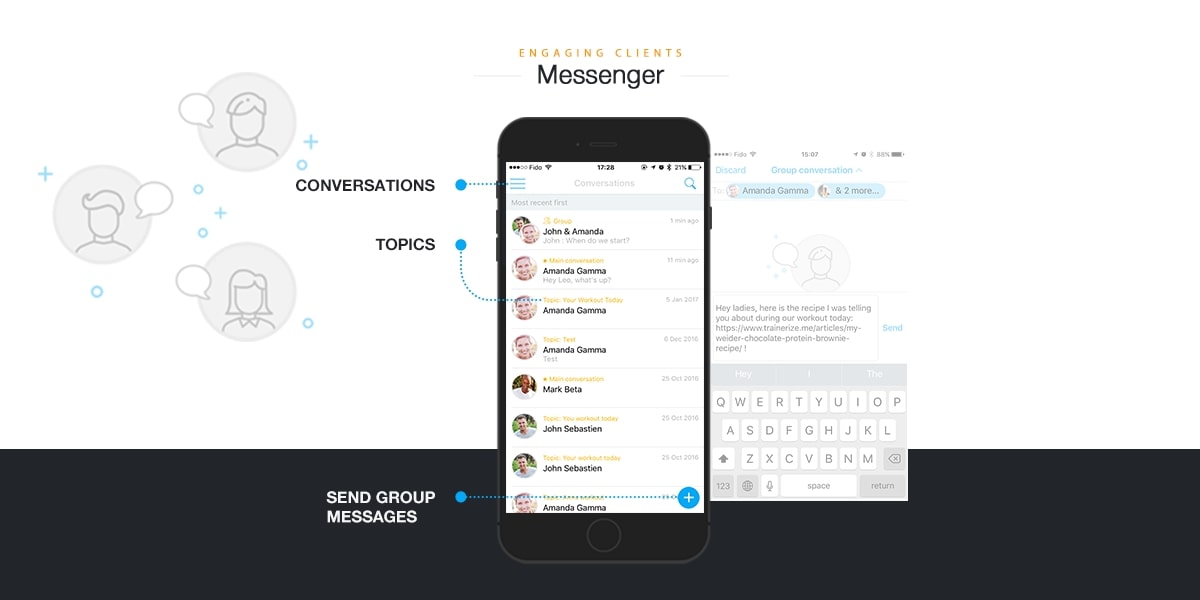 NEW MESSENGER. We wanted to provide trainers and clients with a smoother and more engaging way to communicate with each other, so we are introducing a real-time chat messenger that both you and your clients are going to love!
Now trainers can better communicate with clients through our new real-time, in-app messaging that lets you see when someone is typing.
In addition to 1-on-1 messages, trainers can now streamline their conversations by creating group messages with their clients. Assign a topic to a group conversation to find it more easily in the message inbox.
We also offer support for auto-fields to fill in names automatically. Now you can message all of your clients, while still maintaining a personal touch!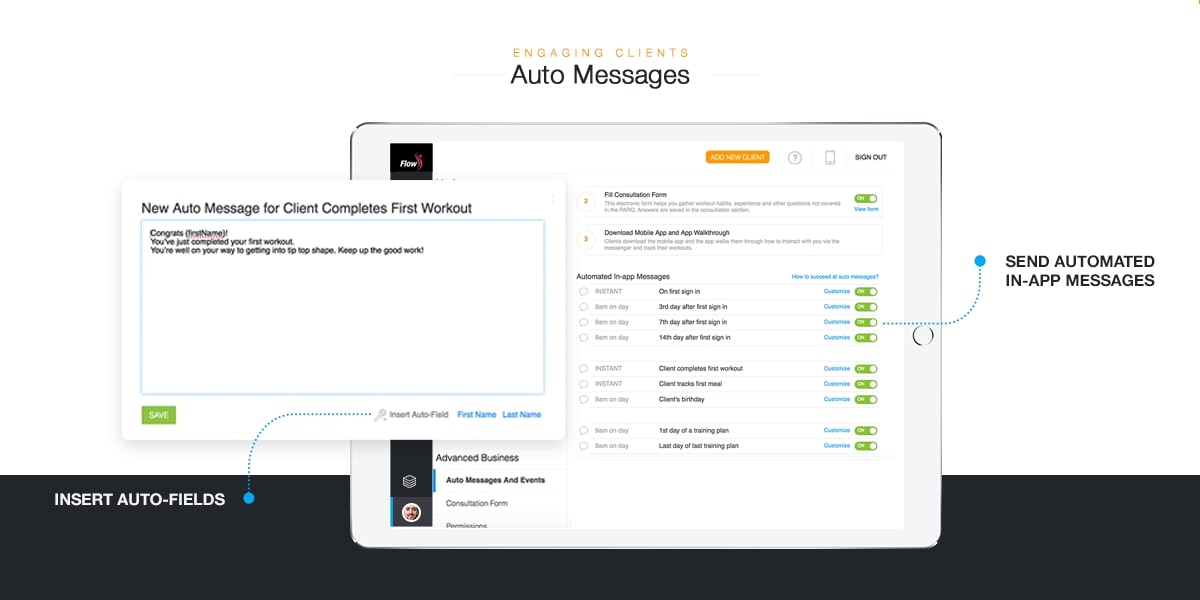 CUSTOM CLIENT ENGAGEMENT MESSAGES. We're introducing a new way for trainers to handle the challenging part of engaging, motivating, and keeping clients accountable.
Trainerize now includes automated in-app messages that trainers can customize to drive client engagement at various touch points (after they log in for the first time, after completing a workout, on certain days after signing up, or on their birthday).
Trainers can also customize a welcome email for clients and use this to include instructions for their individual gyms, for welcome packages, or even for attachments like waivers or ParQ forms–anything, really!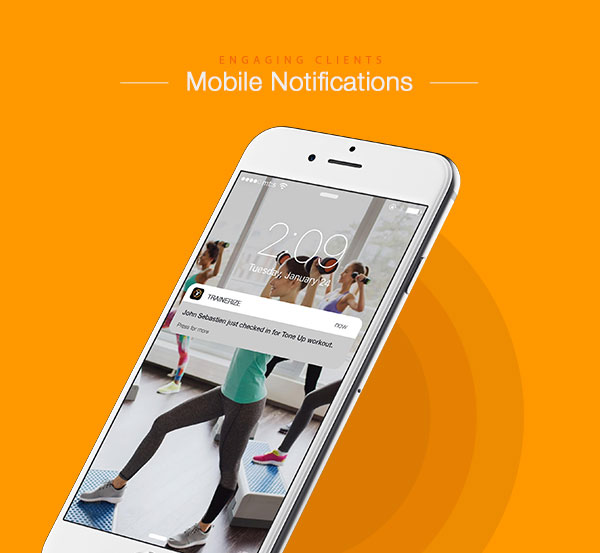 NEW MOBILE NOTIFICATIONS FOR TRAINERS. Client engagement is now one tap away. Trainers receive push notifications when clients complete events in their training plan. This gives trainers a chance to acknowledge their clients' progress the moment it happens and use it to engage with them at the right time.
Connect with your clients when they complete a workout or hit a personal best!
Business Management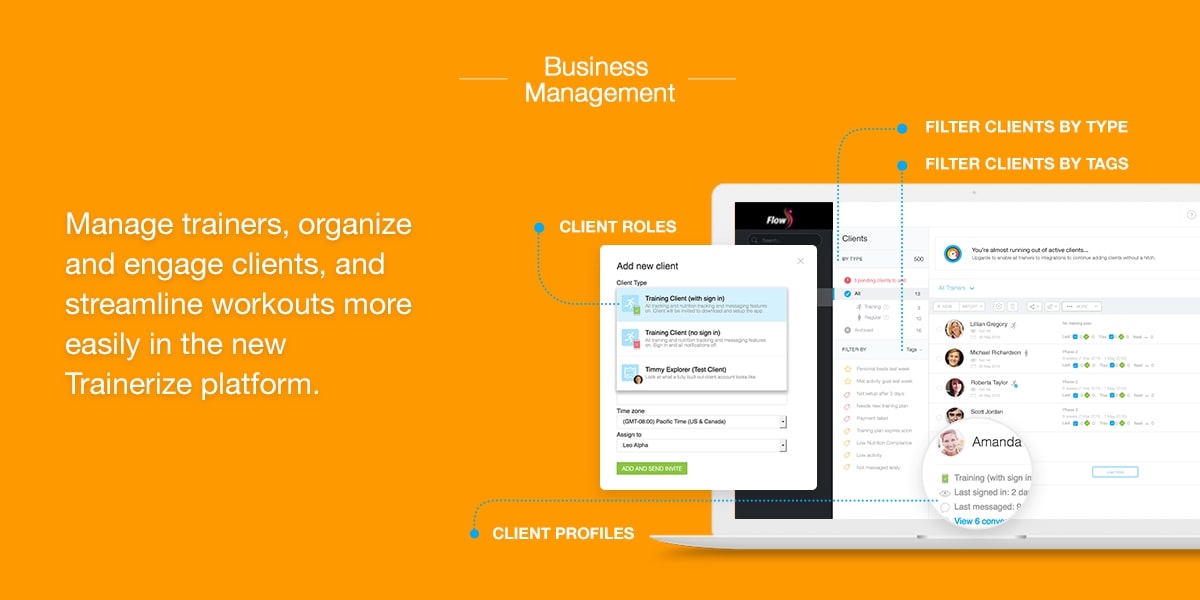 At Trainerize, we're all about focusing on efficiency for you and your training business, so you can spend more time training, and less time on administrative tasks. With this new update, fitness business owners will be able to manage the other trainers on their account, stay on top of clients, and organize workouts in a streamlined manner.
A NEW WAY TO MANAGE CLIENTS. Everyone uses Trainerize differently. Some of you use it solely for online training, others for tracking in-person training clients, and some for a combination of these two! We've made it easier for trainers and gyms to handle all these options with new client categories.
Training Clients are the ones you are currently training. This category replaces the previous Active Clients.
Should your Training Clients be using the app? You now have the option to create Training Clients with the ability to sign in, and also to create Clients that do not have sign-in access.
Archived Clients is a new client category that contains the clients you are no longer training. Use this to store any clients for later and free your Trainerize seats for actual Training Clients.
TAGS TO ORGANIZE CLIENTS AND WORKOUTS. Trainerize now includes new tags for client activity and workouts, so trainers can see a better organized view of their dashboard.
Clients are now auto-tagged with more categories that tell if they've hit a personal best recently, have low activity, have not responded to messages lately, and more–allowing trainers to follow-up right away.
Trainers who create multiple workout templates can now tag them with custom categories to find them more easily. (Example: Beginner, Intermediate, Advanced) Trainers can then select an entire tag, and copy to a client for easy setup.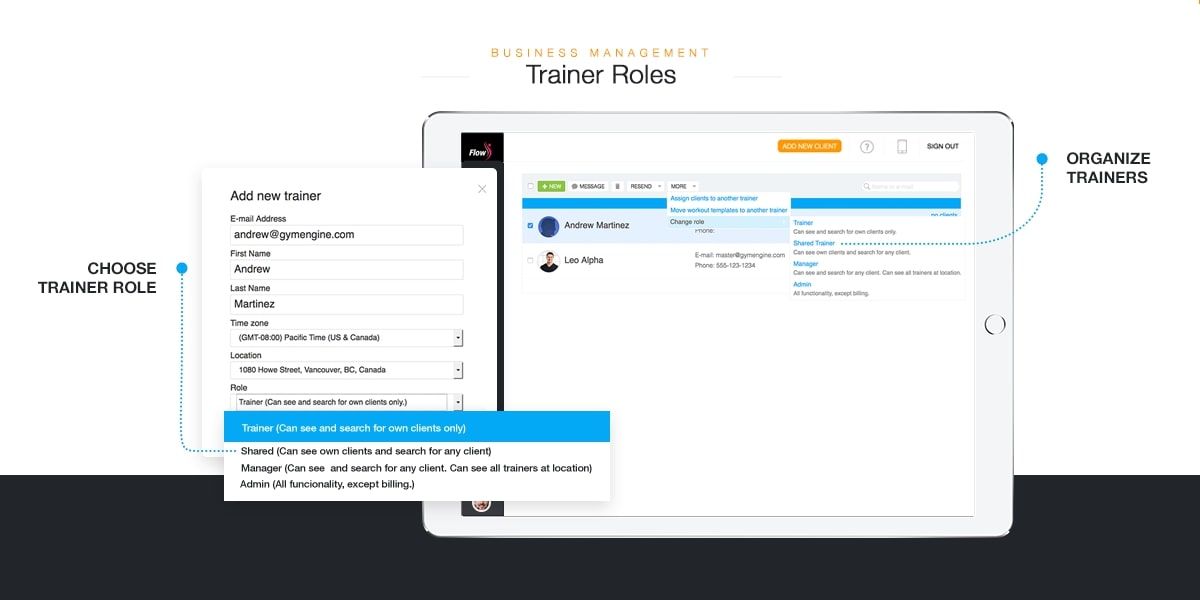 NEW TRAINER ROLES. Gyms and studios don't just have just one kind of trainer. We've made it easier for large accounts with multiple training locations to create different levels of access in Trainerize.
A Manager manages all the trainers at any one studio location, and they have access to all clients at their location.
Shared Trainers can have assigned clients but have the right to search for any client and train them. This is best used for the case when trainers are sick or going on vacation.
A Trainer simply has access to their own clients and cannot see anyone else's.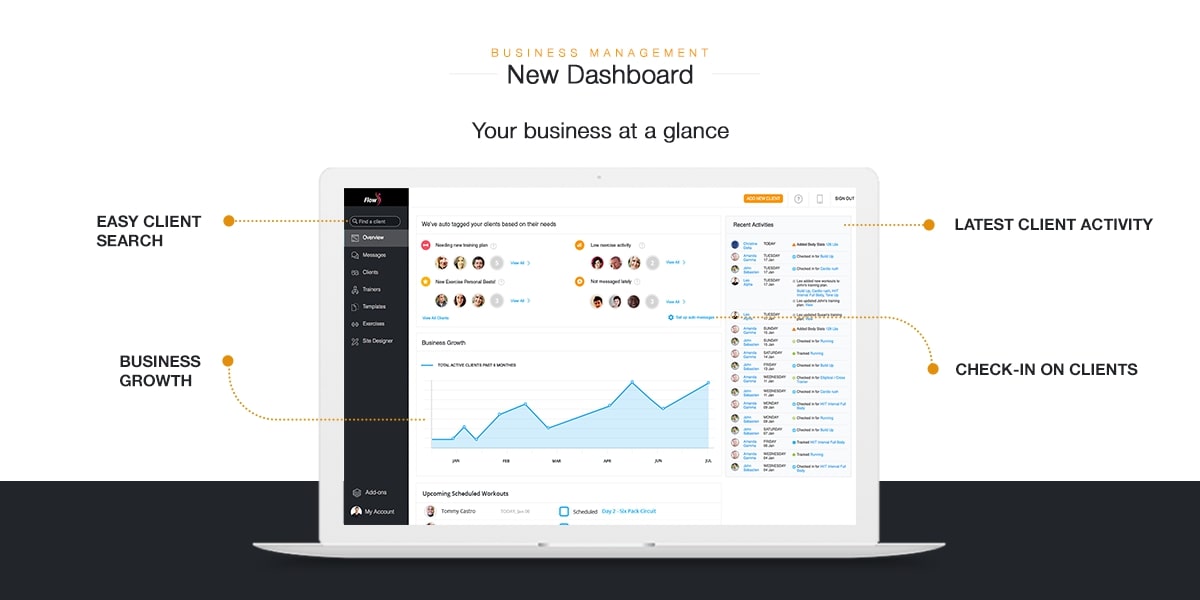 NEW TRAINER DASHBOARD. We've added more useful stats for your business by introducing a new trainer dashboard. Now you can see at-a-glance how your clients are doing, and who needs attending to. You will also be able to see your business growth over time.
Revamped Design
The web interface has been transformed into a modern, easy-to-use experience for trainers and clients to work together in one platform. We are committed to keeping Trainerize as a revolutionary, industry leading platform, and the new web interface was a natural step in staying relevant and having a competitive advantage in the market.
The desktop software now matches the mobile experience, with customizable dark and light themes.
We have a new, easy-to-navigate menu on the left-hand side, and a top bar navigation (which means a few things have been relocated).
Added search functionality will help you find the clients you need faster.
The new notifications feature will let you know when clients have completed workouts, beat their personal bests, and more.
Please take a look around and get to know the new Trainerize. We hope you enjoy this update as much as we've enjoyed building it! We're committed to making Trainerize the most advanced platform for fitness professionals and their clients. Feedback is important to us (as seen in the video above!), and we will continue to improve Trainerize based on your suggestions. So keep the ideas coming, we're listening!
Take your Fitness Business to the next level.
Start your free 30-day trial of Trainerize.