Ahh! Spring is in the air 🌷 (at least on this side of the globe), and that means it's time to pack away the winter layers, breathe in that fresh air, and ramp. up. your. sales.
With the warmer weather bringing prospective clients out of their cozy "hygge" hideaways, now's the perfect time to run some sweet promotions, get the word out about your services, and start raking in the cash. To help you do all this (and more!) we've made another upgrade to Trainerize Pay.
What we introduced:
New Payouts page
New discount code options
Showing more details when account verification has failed
"Auto-archive clients" option moved to Payments Setup page
Various bug fixes and small improvements

Learn more about what's new! 👇
PAYOUTS PAGE
Because we're always looking for ways to make your life as a fitness business owner easier, we've added a brand NEW Payouts Page to Trainerize Pay.
This is where you'll find all the details on the payments you've collected, the money you've already been paid out, and the funds that are heading to your bank account next. Plus, just like with your transactions and sales, you can export all your payout records.
This page puts all the important payout details front and center so that you can quickly see exactly how much you'll be paid and when. After all, getting paid 💰 should never involve a guessing game!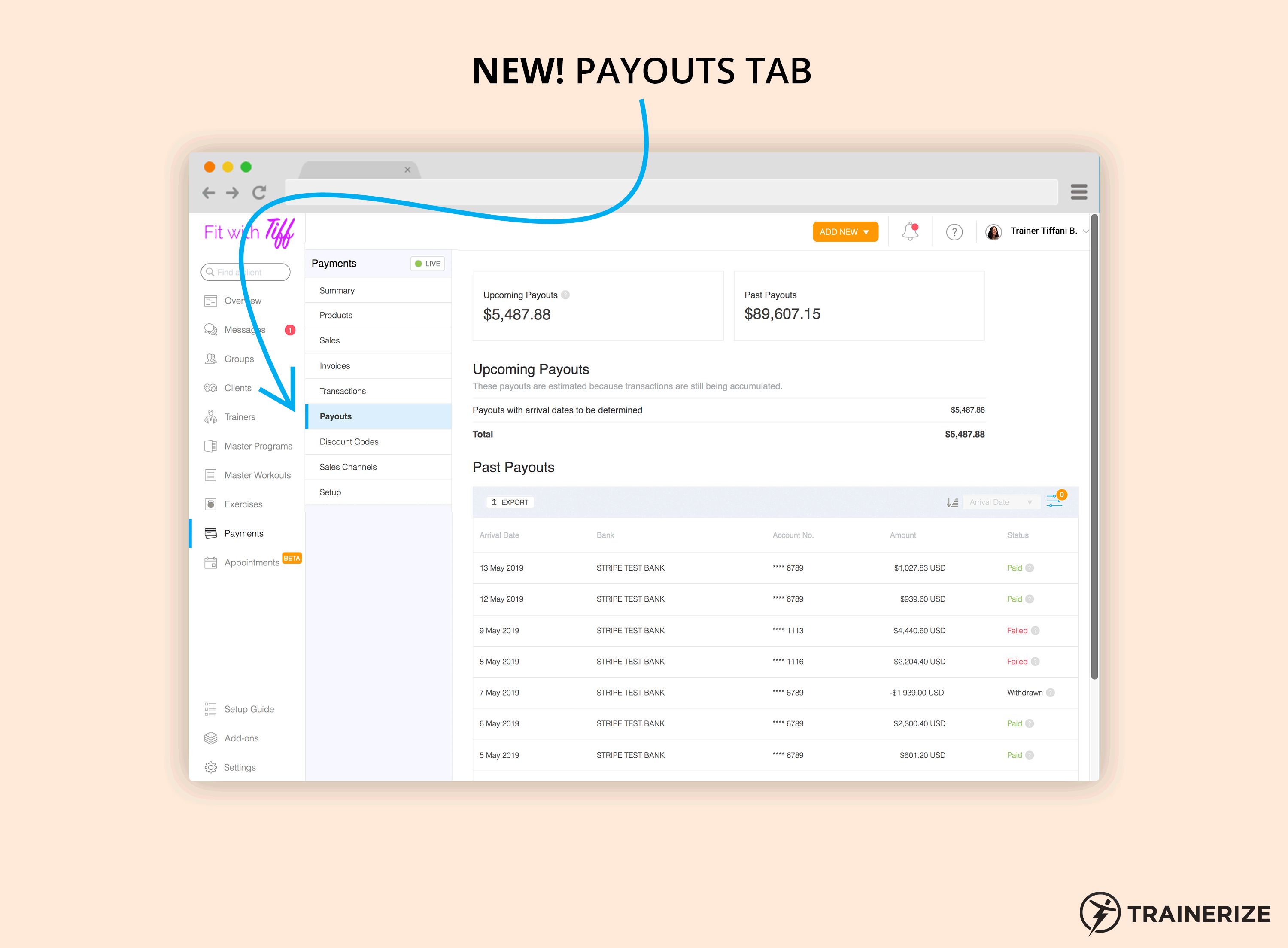 DISCOUNT CODES
To help you better manage discount codes and run promotional offers like the fitness business boss that you are, we've upgraded the way discount codes are created and tracked in Trainerize Pay.
Now you can choose exactly which products your discount codes apply to. Apply them to one or multiple products and say hello to 💯% control over how much you charge for your services.
We've also added options to set the maximum number of times a coupon can be redeemed across all clients, and an option to limit redemptions to once per client.
Not to mention, we improved the discount code duration options so that you can now set how long a discount code is valid in days or weeks (not just in months or years).
#TZTIP:
Find yourself stumped while trying to come up with a discount code name? Or want to lock down your promos and prevent sly clients from guessing your codes? Try our NEW code generator. One click and Trainerize Pay will serve up a randomly generated code.
Don't forget, once your discount codes are created and your promotions are running, you can head into the redemption history tab to see how many clients have redeemed them and you can export all your payout data for easy record-keeping.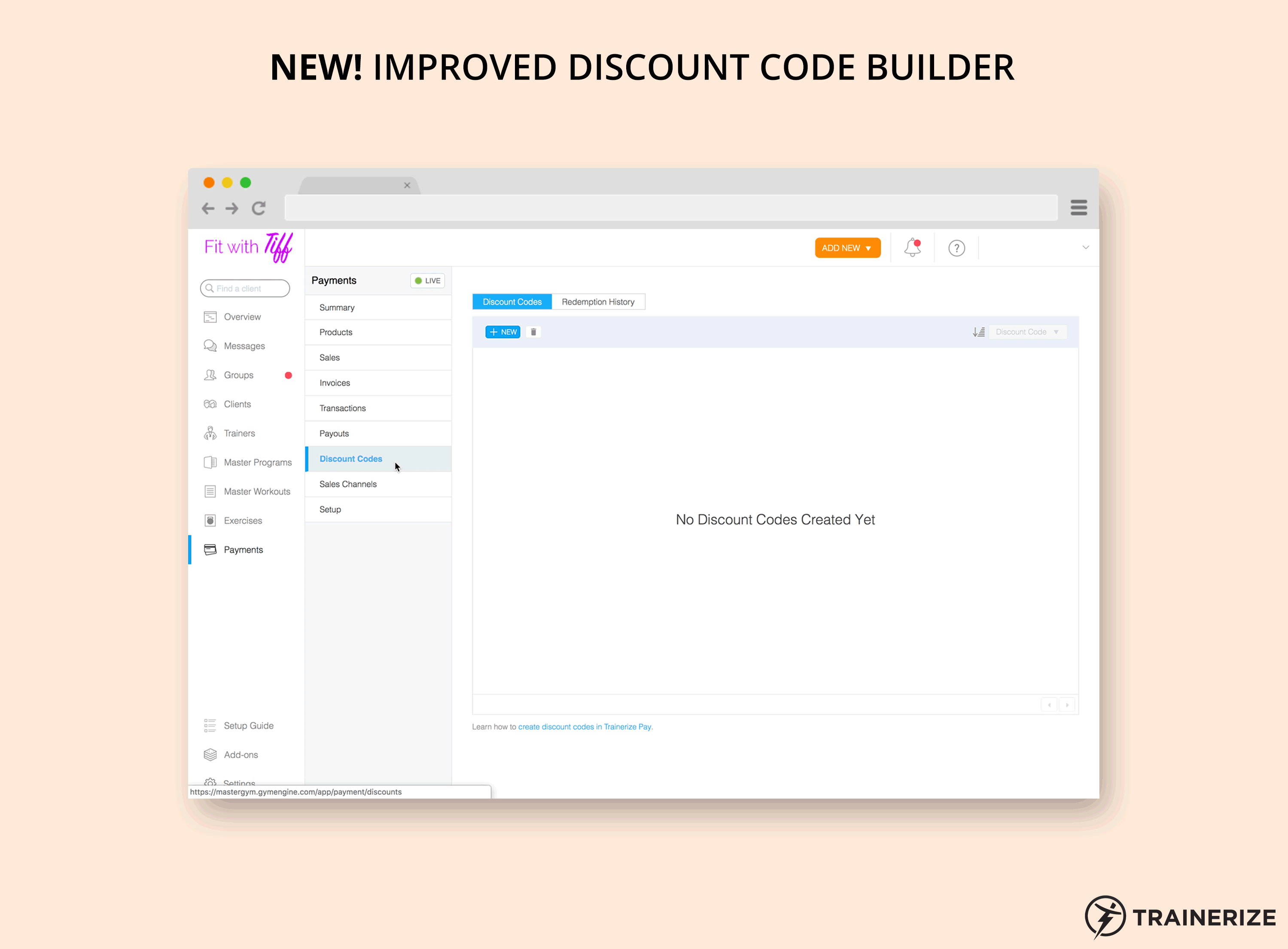 PAYMENT NOTIFICATIONS
On top of these changes, we've also ramped up our notifications for both failed payouts and identify verification failures to give you more information about exactly what went wrong and how you can correct any issues with your account and get paid as quickly as possible.
Plus, we've added email notifications confirming whenever your payout method has been updated or changed, helping you stay on top of all your account details—no sweat. 💦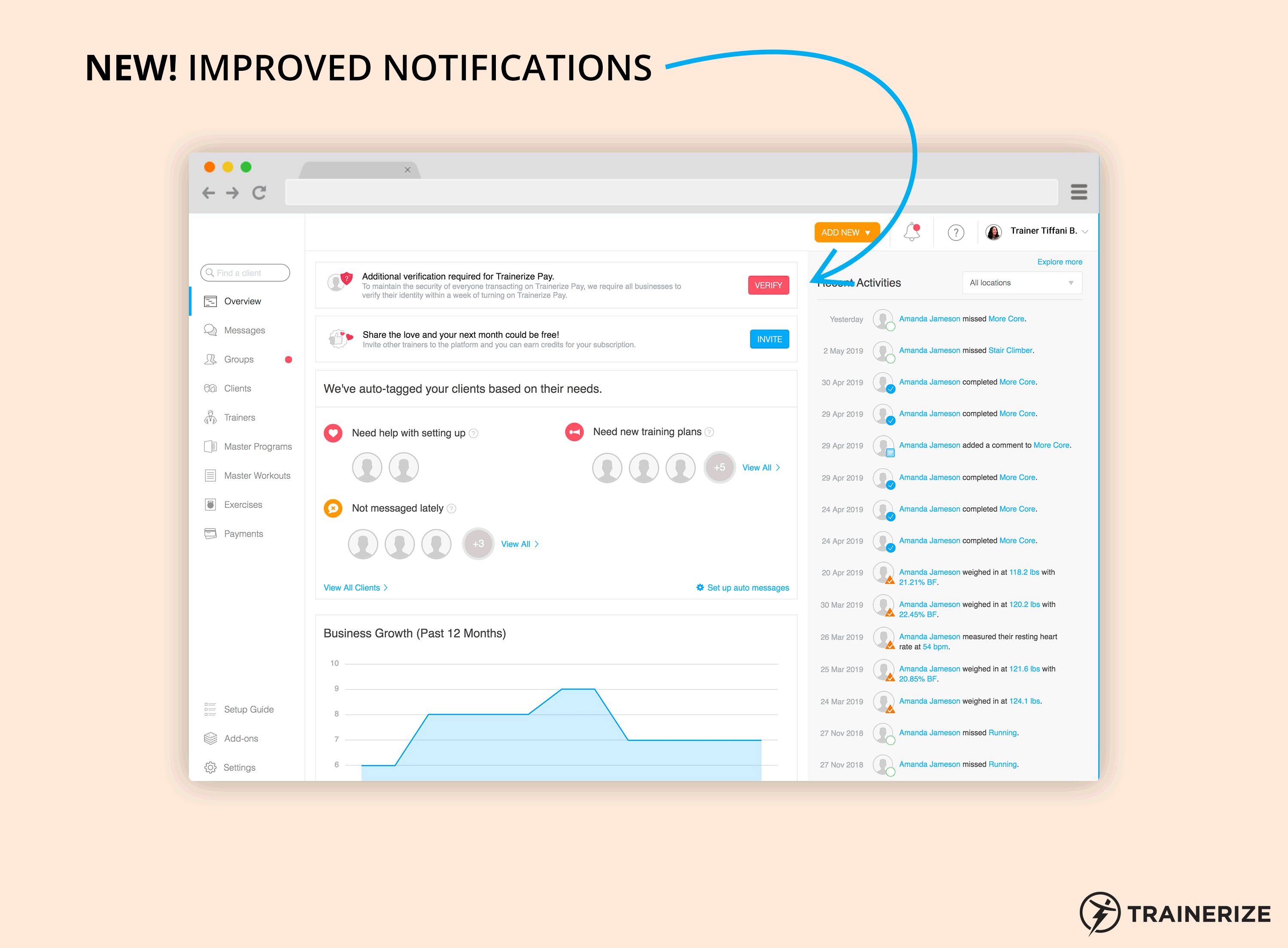 MISCELLANEOUS
Of course, what product update would be complete without some extra little improvements and bug fixes to make your Trainerize experience awesome?
CLIENT AUTO-ARCHIVE, MOVED TO PAYMENT SETUP
On top of the upgrades above, we've also moved the client auto-archive option from the account settings page to the main Trainerize Pay Setup screen. This powerful 💪 little feature automatically archives clients when their product expires, helping you keep your account organized and make room for new clients.
NEW: CLEAN STATEMENT DESCRIPTIONS
And finally, to prevent any payments from failing due to invalid Traineirze Pay statement descriptors (a.k.a. the description that shows up on your clients' credit card statements when they're billed for your services), we've added some extra rules and restrictions around how these are created. Our handy new error prompts will help guide you through the process.
We want to hear from you!
We hope you'll find these updates useful and help you better manage your sales and marketing promotions this spring (and looooong after that).
Tell us what you think about this release and what would other updates or features you'd like to see added to Trainerize Pay by posting in our Ideas Forum or upvoting your favorite ideas already submitted!
P.S. We've already got some big things COMING SOON including a better way to manage disputes in Trainerize Pay. Plus, we'll be expanding Trainerize Pay to more countries! 🌎
Stay tuned!