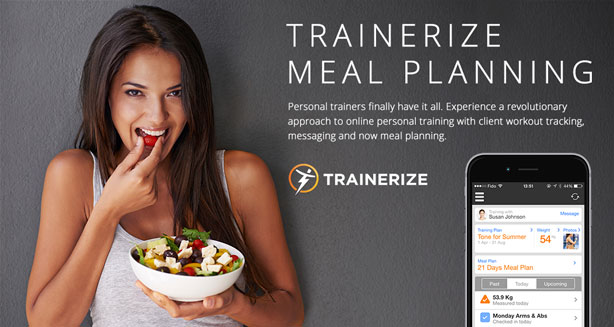 TRAINERIZE, the leading fitness software platform in online personal training and client tracking, has released its customized Meal Planning feature. This feature empowers personal trainers to impact consumer health and fitness goals with nutritional guidance, in addition to online fitness training through the Trainerize web and mobile platforms.
Expertise delivered by personal trainers often goes beyond just exercise and workout routines; personal trainers are a powerful source of information for consumers through providing healthy lifestyle advice and nutrition guidance. Fitness professionals now have access to one holistic solution to motivate and train consumers, both in-person and remotely. Trainerize Meal Planning facilitates better consumer interaction, enabling personal trainers to easily provide meal planning guidance through the Trainerize Online Personal Training Platform.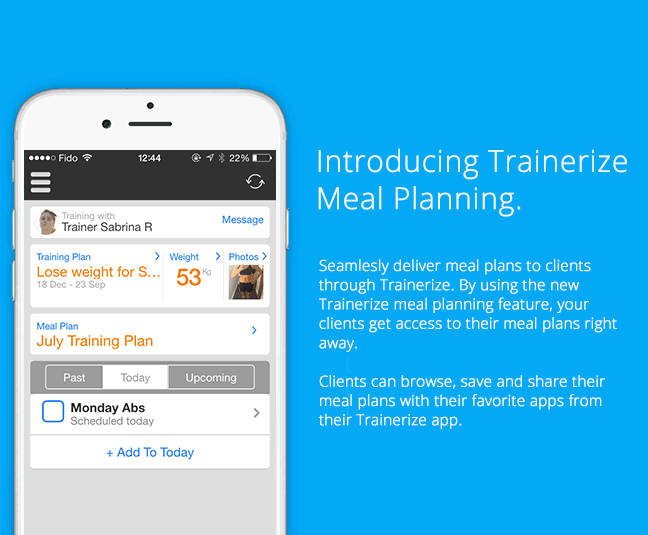 By using the Trainerize mobile applications available in the iTunes App Store and Google Play Store,  consumers can instantly access the customized meal plans delivered by their online training coaches right from the mobile apps in a full-screen format. Training Plans and Meal Plans are now available side-by-side in the mobile apps as part of a complete fitness journey. This enables customers easy access from their mobile devices anywhere.
With a new ability to provide and market meal planning services to consumers, Trainerize saves time and resources which increases earnings for personal trainers and fitness professionals.
"We are very excited to add meal planning into Trainerize. This is just the beginning of a series of advancements that we are planning to do in the nutrition area." said Sharad Mohan, CEO of Trainerize. "Meal Planning is a key stepping stone, allowing us to further establish ourselves as a complete online training solution. We will soon be announcing an exclusive and strategic partnership to further tighten the connection between trainers and clients when it comes to nutrition."
TRAINERIZE is a web and mobile-based platform that allows fitness professionals and studios to market their services and train clients online. With more than 25,000 registered personal trainers and over 80,000 clients, Trainerize enables personal trainers to leverage the online and mobile training platform to train clients in-person and online, using powerful tracking, scheduling and messaging features as well as top fitness industry add-ons. Marketing tools such as the customizable site designer and social media add-ons allow trainers to further establish their brand and create a strong online presence. The end result? Trainers and studios train more clients more often, all while spending less time, and enjoying a boost in income. For more information, visit www.trainerize.com.
Take your Fitness Business to the next level.
Start your free 30-day trial of Trainerize.