At Trainerize we listen to what personal trainers want, and we do that by holding ourselves publicly accountable to our user driven product feedback forum. Lately, the most popular feature request has been an easier way to push out Training Plans with schedules to multiple clients at once, based on one client's training plan as a template.
You asked, we listened! Starting today, personal trainers can now setup a full training plan with workouts and a schedule on a calendar, and then send that entire training plan to multiple clients in one click. One click later, all workouts and the scheduled calendar are fully copied over.
You can send full Training Plans by navigating to the client grid, and clicking on the "send" button, or by clicking on the "send" button under the messaging envelope above.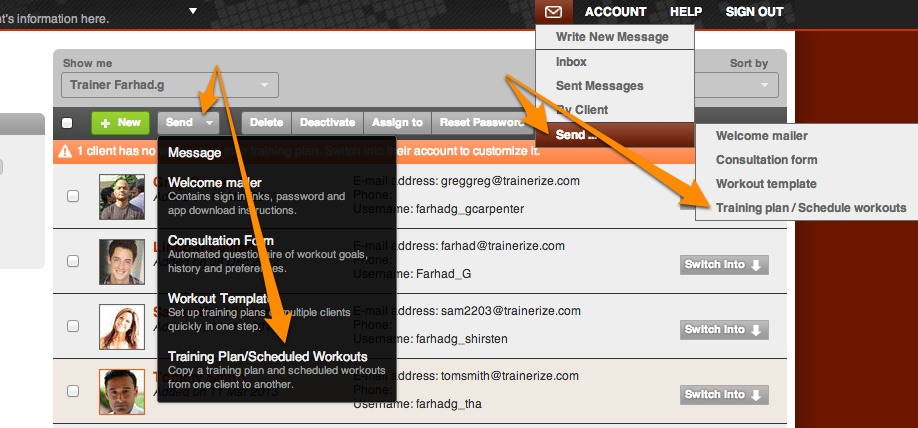 Other features we've pushed out today include:
Updated workout builder: The layout is cleaner, and the exercise targets for reps x weights are cleaner
Built in help: We've placed in guidance text in all areas of the app to help you
Improved Send: The "send" feature is now easily accessible from the message envelope. Quickly send a welcome mailer, workout template, consultation form, or training plan to a client
Improved Training Plan view: Within the Training Plan, there's a cleaner layout to view the workouts
Some quick fixes:
Some clients were not receiving the welcome email with login information. To address this, we now place the welcome email and consultation form in your "Sent Messages". This allows you to access your client's login information to share with them, in case their client doesn't receive the email

Scheduled workout email reminders were sent out a day late for some clients. This has been fixed 🙂
Trainerize – The #1 Training Platform for Fitness Professionals