With a lot of trainers catching-on to the popularity of adding online personal training to their list of services offered, the market is getting busier and it is important to be creative and stand out above the rest.
Ask yourself: what would make someone want to choose you as a trainer over someone else with the same experience or education as yourself? What do you do, or can you do, to put yourself on a different level and become their obvious choice for online training?  Yeah sure you can "soup up" your website with pictures and flashing lights, display before and after pictures or testimonials, or have pictures of your "ripped" self all baby-oiled, promising you can make anyone look like you, however, does all this matter to the online training potential client?
 Also, how do those techniques make you different from every other training site out there right now?
I could chat forever about different techniques and things trainer's can do to set themselves above the rest; however, in this article I am going to cover one specific thing you can do to appeal to a larger demographic of people and help set yourself apart from other trainers.
Today's Tip for Getting More Clients and Client Referrals:
Advertise that you provide specialized training programs for clients with an array of different needs.  Be sure to do this within your expertise though, for example, don't claim you can create programs for professional hockey players if you have never worked with one in your life.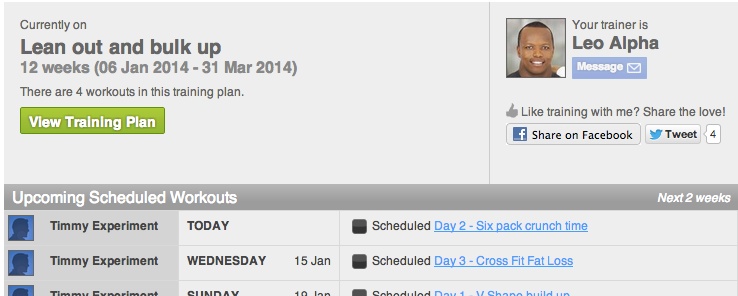 Many people seek a personal trainer for a number of different reasons beyond the most common reason of weight loss.  I have clients who hire me strictly to improve their posture so they get less neck and back pain while at work, athletes looking to train in their off season, men wanting to build more muscle and reduce body fat to look ripped at the beach on vacation, clients looking to strengthen the muscles around their knees as a form of what I like to call "pre-hab" before they go in for knee surgery…..and the list goes on.
I'm not saying this to brag about the different types of clients I train, it's more to demonstrate how personal training is about more than just weight loss help and regular counseling sessions (lol you all know it's true!).
In conclusion, if you specialize in other areas of training, whether it be active rehab, athlete training, or even prenatal or postpartum training, make sure you create programs in your Trainerize site specific to this and advertise that you offer these programs!  The more you can offer the client the more likely they will choose you and tell all their friends about you too!
Ok one last tip, some specialized programs might required a more intensive assessment protocol with each client and more work on your end creating the programs, so make sure you charge ample for these services too 😉
Take your Fitness Business to the next level.
Start your free 30-day trial of Trainerize.