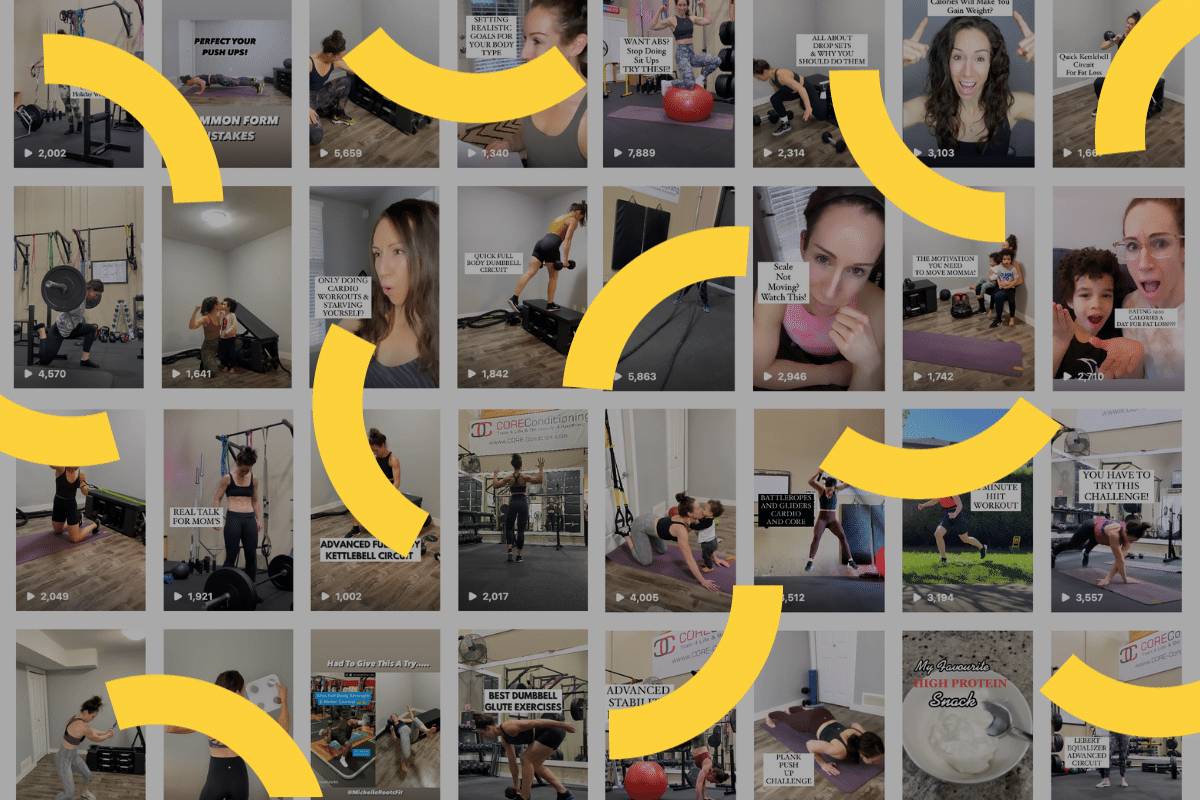 I have mentioned this in previous blogs before, but…
The value of showing up on social media as yourself and providing value to your audience is unmatched. 
No other marketing tactic or paid ads will get you the same amount or quality of clients then just showing up and helping people with your expertise. I have been on Instagram for a really long time and can honestly say that I have pretty much built an entire in-person fitness studio and online personal training business through social media, word of mouth, Google, and *zero* paid ads. One way to do this is by creating Instagram Reels!
I'm going to start by saying I am in no way an IG expert, but I can share what has helped me!
Lately I have been focusing a lot on YouTube and TikTok to continue to grow my online training business and I find Instagram is really helpful for growing both my in person and online business.
What has really been working well on Instagram? Reels! So Instagram is trying to compete with TikTok because of the organic reach available on your posts in TikTok (FYI if you aren't on there yet, get on it I promise you won't regret it!), so they are really pushing their Reels feature.
🔗 Discover how to use TikTok in
The Ultimate Guide to TikTok for Fitness Professionals
What do I like about Instagram Reels?
1. I can show my personality
There is value in both regular feed posts and Reels, but I really have been enjoying making Reels. I like finding fun trending audio and then thinking how I can use that audio to relate to my audience and provide some value (aka teach them something).
Part of being successful on social media and I feel as a personal trainer is being yourself and relatable to potential clients. I am very much myself and show all aspects of my life on my Reels and my Stories (work life, workouts, food, mom life, good days and bad days) and I find that often when clients either meet me for the first time at my studio or I do my first virtual call with them they feel comfortable and like they already know me.
Taking the step to sign up with a personal trainer is a HUGE step for many people and can be scary, but most new clients always tell me "Wow you are just like you are on social media." and I think it makes them feel a lot more comfortable.
📲 Watch Michelle's Reel on fitness myth-busting – using trending audio!
2. I can create shareable and saveable content
Shareable content means videos people will send to their friends. Reels content is often a lot more goofy or makes people laugh—this means they'll be more likely to share it on their Stories or privately to friends.
Saveable content is things that people want to come back to later—educational content is great for that. I have found that short Reels sharing a workout or fitness tips work really well! I add text saying "read below" then I go into more detail about whatever my post is about in the caption. Think about trying to make content people might save for later. Workouts are great for this too!
Either sharing or saving means more reach for you! When your content is either saved or shared it tells the Instagram algorithm that this is a good piece of content and it will continue to increase the reach of your post so more people can see it. Instagram's goal is to keep people on their platform as long as possible, so if you have a piece of content a lot of people are watching all they way through (this is why shorter videos are better), saving, and sharing they see it is a good piece of content and Instagram will keep sending your post out to more people.
📲 Watch Michelle's Reel on Stability Ball Core Workouts – perfect for saving!

3. I get more views and impressions
Reels are being pushed more that feed posts for sure, anyone else feel like the engagement on their feed posts is down a lot? This tells me that it makes more sense to spend time making Reels to try to reach a larger audience and get more impressions on my profile (and hopefully bio link clicks!). You can also repurpose your Reels content right over to TikTok and Pinterest to try to get even more views on your content and more clicks to your services (aka more client sign ups, lol!).
📲 Watch Michelle's Reel on Challenging Your Core – over 6000 views!
So all in all, Reels is winning right now. My advice is to find trending audio and create content that is entertaining and educating people to be most successful.
Win with more than just Reels.
Start your free 30-day trial of Trainerize.