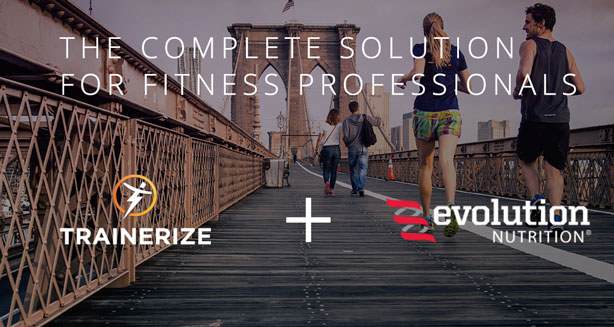 Vancouver, BC / Solana Beach, CA (August 3, 2015) – Today, Trainerize, the fitness software leader in online personal training and client tracking, announced a strategic partnership with Evolution Nutrition, the leader in customized meal planning software, establishing a powerful combined offering that allows fitness professionals and studios to provide a flexible and complete health and wellness solution to consumers worldwide.
This partnership between Trainerize and Evolution Nutrition further strengthens the common mission that both brands have: to improve quality of life and health by connecting industry professionals with technology.
With more than 25,000 registered personal trainers and over 80,000 clients, Trainerize established itself as the leading personal training solution that allows fitness professionals to train and guide clients in achieving their health and fitness goals through an online and mobile platform. Trainerize revolutionizes the role that personal trainers have in the world of fitness platforms and apps. Its aim is to allow consumers to work with fitness professionals and technology so they can experience more effective and healthier results.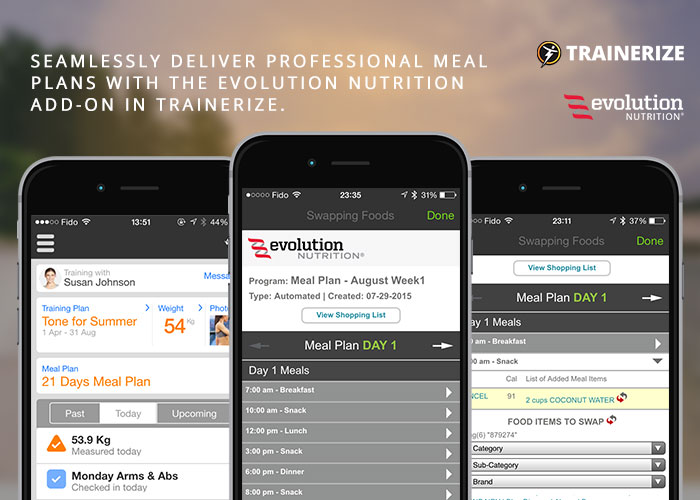 In addition to its existing pre-designed meal planning tools, Trainerize will expand its current feature set to include professional meal planning in partnership with Evolution Nutrition. This will further allow personal trainers to provide both exercise and professional nutrition guidance for their fitness clients.
Evolution Nutrition is a professional web-based meal planning platform aimed at fitness professionals, health clubs and studios. Founded in 2011 and with over 20,000 registered users, Evolution Nutrition is leveraging ongoing advances in physiology and nutrition in order to provide health professionals the ability to deliver customized meal plans and share these with customers in various industries.
"With access to a professional nutrition component, personal trainers can now guide and motivate clients in Trainerize from both an exercise and meal planning perspective." said Sharad Mohan, CEO of Trainerize. "Giving personal trainers access to professionally designed meal plans through Evolution Nutrition will result in a whole new level of engagement between personal trainers and their clients. This partnership will enable trainers to deliver a complete, holistic coaching solution to clients, and will also result in trainers being able to better promote and monetize their services".
"We couldn't be more excited about our partnership with Trainerize.  We all know that to deliver impactful health and fitness results, we have to be addressing both nutrition and exercise.  By combining the functionality, ease of use, and web-based power of Evolution Nutrition and Trainerize, we're now ensuring fitness professionals have everything they need to deliver the results their clients demand, and grow their business doing it", said Ed Cleary, President of Evolution Nutrition.
About Trainerize
Trainerize is a web and mobile-based platform for fitness professionals and studios to market their services and train clients online. Personal trainers can leverage the online and mobile training platform to train clients in-person and online, using powerful tracking, scheduling and messaging features as well as top fitness industry add-ons. Marketing tools such as the customizable site designer and social media add-ons allow trainers to further establish their brand and create a strong online presence. The end result? Trainers and studios train more clients more often, all while spending less time, and enjoying a boost in income. For more information, visit www.trainerize.com.
About Evolution Nutrition
More than 90% of people that join a gym do it to lose weight. Even though the combination of proper nutrition and exercise is shown to be 4.5X more effective than exercise alone for weight loss, because of strict scope of practice restrictions, personal trainers have not been able to properly address their clients' nutrition needs. With Evolution Nutrition meal planning software, fitness professionals finally have the comprehensive, web-based tool they need to start delivering the nutrition solutions their clients demand, while remaining within their defined scope of practice. The Evolution Nutrition system makes delivering individualized meal planning, as easy as logging in. Grow your business and bottom line with the fitness nutrition software designed by fitness professionals and backed by Registered Dietitians.  Find out more today at www.EvolutionNutrition.com.
Take your Fitness Business to the next level.
Start your free 30-day trial of Trainerize.