What sets online coaching aside from in-person personal training and group fitness classes is the ability to see what your clients are doing on a daily basis, instead of two or three times a week. Plus, the client's ability to check in with their coach and be held accountable on a daily basis with their nutrition and workouts.
Before Trainerize, this was very hard to do.
I own an in-person personal training and small group training studio as well as an online coaching business. Trainerize has made growing both of these businesses so much easier.
Clients need accountability
The main thing a lot of people need when it comes to hitting their fitness and fat loss goals is accountability.  They need someone to be checking in on them and coaching them through more than just their workouts a few times a week. Clients don't always have the best support system at home and often no matter how motivated you are when you are at the gym, it's common that when they are returning back to their work/home life that motivation can decrease as well as compliance to their nutrition and workouts.
🔗 Learn to elevate your client engagement experience today!
Clients need motivation
One thing I found when personal training clients were coming to see me once or twice a week, is that they would be very motivated to come to the gym and see me for their workouts, but not so motivated to do things on their own. I always tell clients that my job is to educate them and support them so that eventually they don't need me anymore and they are able to eat and exercise on their own using all the tools I provided them.
Clients need to see results
I found that clients would come see me 1-2 hours per week (maybe 3 max), but then I had no way of continuing to support them for all the other hours in the week and they were pretty much left to their own devices. I found the same for my group class clientele (actually more so!), which sometimes would affect client retention because when people aren't getting the results they want (or as fast as they want) they will go try something else. We all know that it takes a lot more than just showing up to a personal training session or group class each week in order to see results and I truly believe 90% of the battle is clients being held accountable for their workouts and nutrition.
Enter Trainerize, which was a game changer with client engagement, accountability, and results!
⭐️ 3 Ways Trainerize Helped Increase Client Engagement
for In-Person Personal Training and Small Group Training Clients
For better adherence
Hold clients accountable to their own workouts when they are not in my studio. In the "old days" I would actually email clients their workouts with links to YouTube videos I found for exercise demonstration, but had no way of knowing if or when they were actually doing these workouts. Numerous times I would spend my time typing these workouts out for clients and the next time I saw them they would tell me they didn't do it (GRRRRRR!). Using Trainerize with my in-person clients allows me to actually schedule their workouts into their week on days they are not seeing me, and I can actually see if they complete it or not. Last, but not least, it's so much easier to create clients workouts vs. Word document with YouTube links!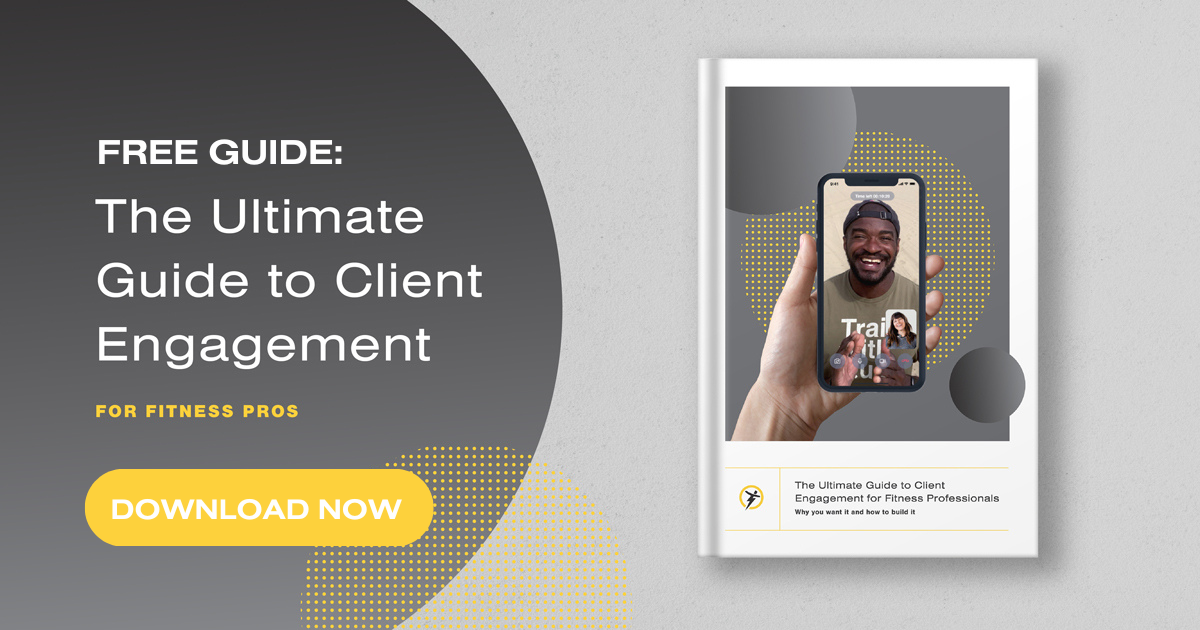 For real-time feedback
I can see what my clients are eating on a daily basis and they know that. Again this comes down to accountability and often if the clients know that you are able to see their food intake each day then they are more likely to do better. Due to the fact that I have many clients (in-person and online) to take care of, I normally take a minute while my client is warming up to look over their food for the week, provide feedback and answer any questions; because it is all in the app it doesn't take long at all. Again this is something else that can set you aside from other coaches in your area and also provide better results for your clients.
For better results
I have been able to sell nutrition coaching services to my small group training clients as an upsell using my Trainerize app. This is something I was not able to do before because I am not seeing these clients for one on one sessions and it was much harder to sell them on the value; however, now all I have to do is show them my Trainerize app and how I would be coaching them through their app with calorie and macro coaching as well as habit coaching. Again this sets my studio apart from others near me, provides more income per client, and in-turn produces better results with my small group training clients (which is of course most important).
What I am trying to say, if you have a studio and you are not implementing Trainerize to help coach your clients (personal training or group), then I suggest you give it a try! Your clients will love it and so will you.
Build your digital business!
Start your free 30-day trial of Trainerize.