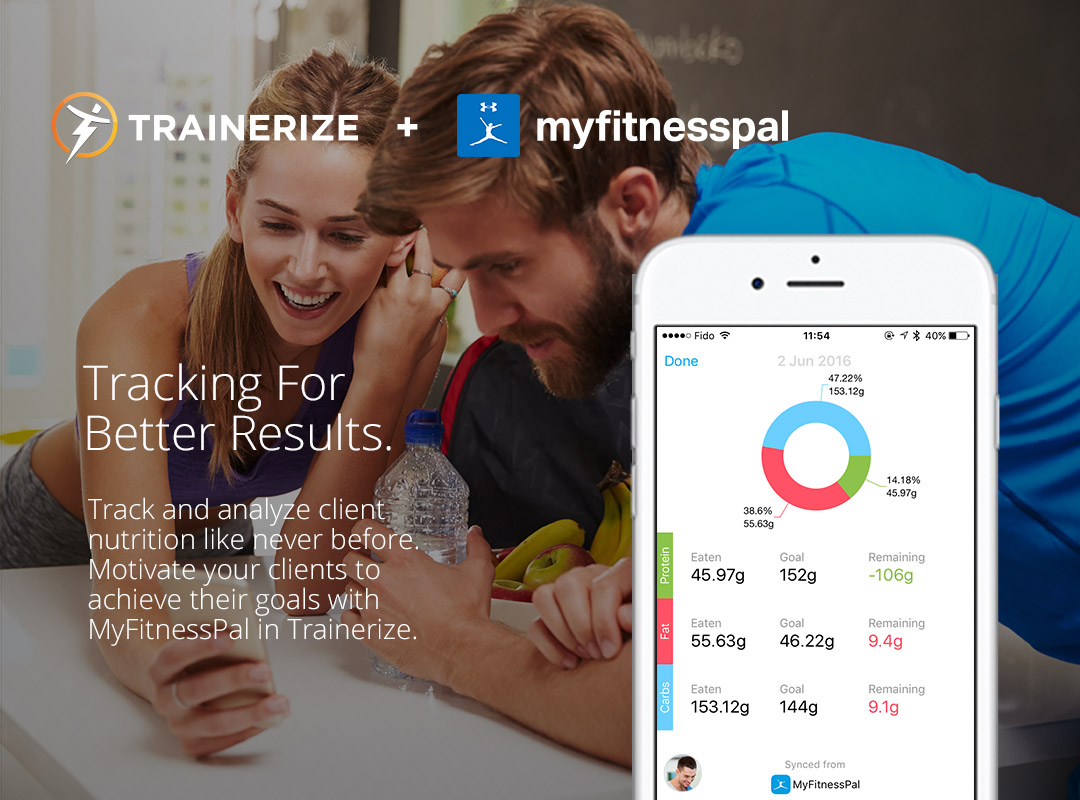 VANCOUVER, BC – June 6, 2016 – Trainerize, a leading personal training software,today announces its integration with Under Armour's MyFitnessPal, the calorie counter app with more than 100 million users. Users can now sync nutrition statistics from the MyFitnessPal app into Trainerize, giving trainers full visibility of their clients' fitness and nutrition tracking in one platform for the first time. With access to valuable micro and macro level nutrition tracking data, the integration allows fitness and nutrition professionals to gain a stronger understanding of their clients' health and provide enhanced nutritional guidance.
"Medical studies have reported that keeping a food diary can double a person's weight loss, and MyFitnessPal created a quick, simple way to keep track of your diet on your phone" said Sharad Mohan, CEO of Trainerize. "By giving your personal trainer access to both MyFitnessPal and Trainerize stats, they're able to create personalized workouts and meal plans that fit your lifestyle, hold you more accountable and keep you motivated."
Through the Trainerize platform, personal trainers are growing their businesses and connecting with clients, providing a unique personal training, meal planning and in-app communication experience. With the integration of MyFitnessPal, clients can grant trainers access to their calorie intake and progress. Trainers can track what their clients eat, how the diet is affecting their progress and utilize this data to set nutrition goals.
Trainers can send motivational messages and tailored workout programs that complement their clients' eating habits based on the feedback from both platforms. In addition to being able to send meal plans, fitness professionals now have the option to set calorie and macro goals for their clients. Users can also measure themselves against the millions of people using the MyFitnessPal app.
"We're continuously working to connect Trainerize to the most advanced set of tools on the market, unifying all client information into one, easy-to-use dashboard," said Mohan. "Implementing MyFitnessPal into our program takes meal planning to the next level. It allows both our trainers and their clients to place a greater focus on the nutritional component of their programs."