Spring is here and we couldn't be more excited to announce our latest update! As this new season is a time of change, we've been working on some changes of our own and have added brand new features to Trainerize for both trainers and clients!
Here's What's New In Trainerize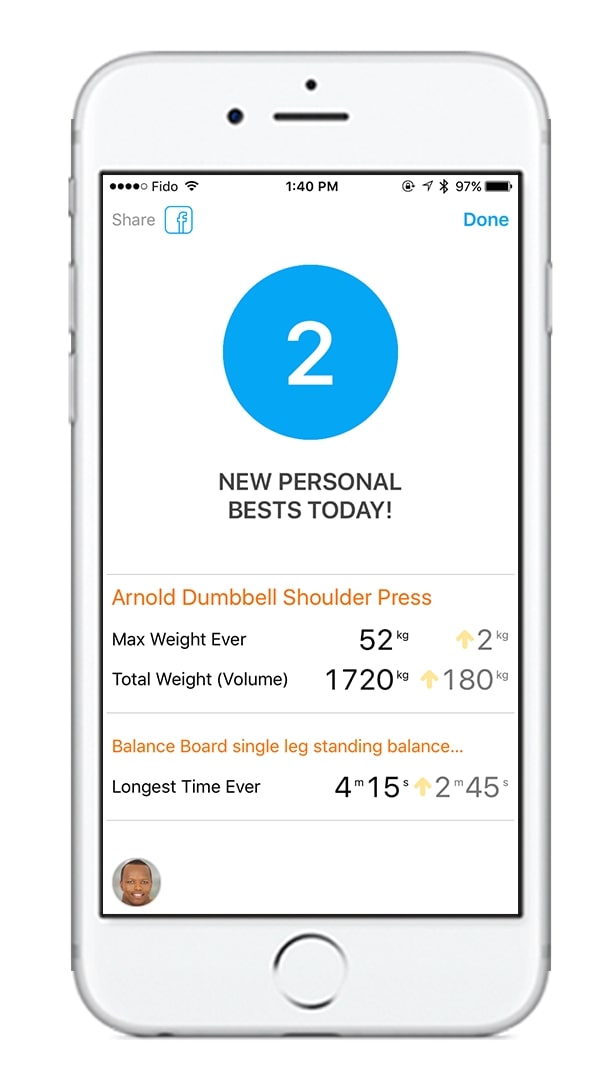 CLIENT SUMMARY SCREENS NOW DISPLAY PERSONAL BEST RESULTS FOR THE WORKOUTS.
We've reintroduced this feature in this Trainerize update and tuned it up so that trainers and clients can keep track of their previous records and aim to exceed them when working out. The new summary screen shows the weight or the time clients exceeded based on each exercise they completed. You can use this new feature to engage with clients and get them to exceed their personal bests. We know some of you already use this method and we've seen so many images on social media with your clients exceeding their best stats. With this feature you will know if your clients outperformed their results and you can congratulate them with a motivational message.
TAP PREVIOUS STATS TO OPEN WORKOUT DETAILS.
Keeping track of previous results is important when working towards a goal. You need to be aware of your history so that you know what you need to achieve. Before starting a new workout, clients can now see their previous stats and prepare to exceed them. How's that for motivation?
SHARE YOUR WINS TO FACEBOOK.
We are excited to introduce this updated social feature! Due to changes in the Facebook sharing mechanism, we had to completely revisit how to share posts on social from the Trainerize mobile app. The Facebook share feature is now completed and we are happy to announce that clients can share their completed workouts, cardio sessions or personal bests they achieved directly to their Facebook profile. We've created color-coordinated share badges for the Trainerize app, and the best thing? Client Facebook shares will link back to your Trainerize site. Encourage your clients to share their results because it will raise awareness for your business and it's an extra social media feature you can use to promote yourself.
Clients can connect their Facebook accounts to Trainerize from their mobile app through the Settings -> Add-ons and devices menu.
SUBSTITUTE EXERCISES.
We're always looking at improving client experience and engagement because we know these are key drivers for client retention. To make Trainerize more flexible and adaptable to real-life situations like busy gyms or various client injuries, we've added the "Substitute Exercise" feature for clients. This allows clients to replace exercises while working out if a machine is busy or for any other reason. This only impacts the current workout and won't change the original workout.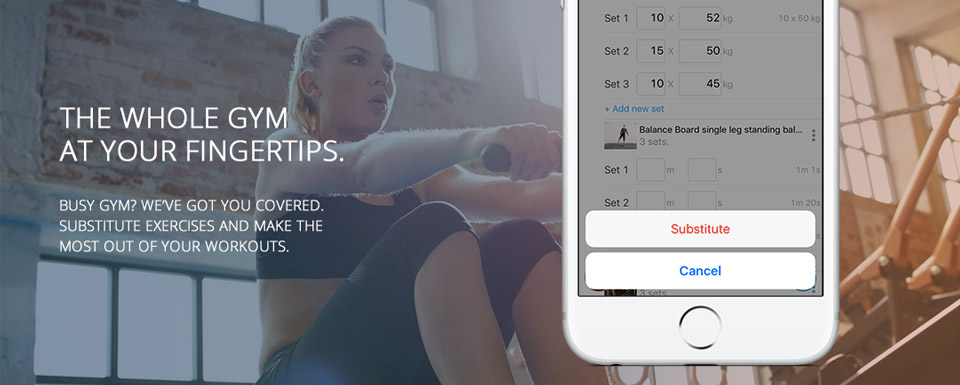 TRAINERIZE VIDEOS LOAD 20% FASTER.
As part of our mission to constantly improve the Trainerize exercise video library, we've updated exercise video speed to make them load 20% faster. Your exercise videos will be blazing and your clients will now have a much better experience when looking at videos.

HD PLAYBACK QUALITY FOR EXERCISE VIDEOS.
Trainers and clients can now set the playback quality for the exercise videos to: "Always HD", "HD on Wifi" or "Always fastest". This ensures the video playback is optimized based on client needs and connectivity. While we were here we also touched up the Settings menu and made it simpler and more visual.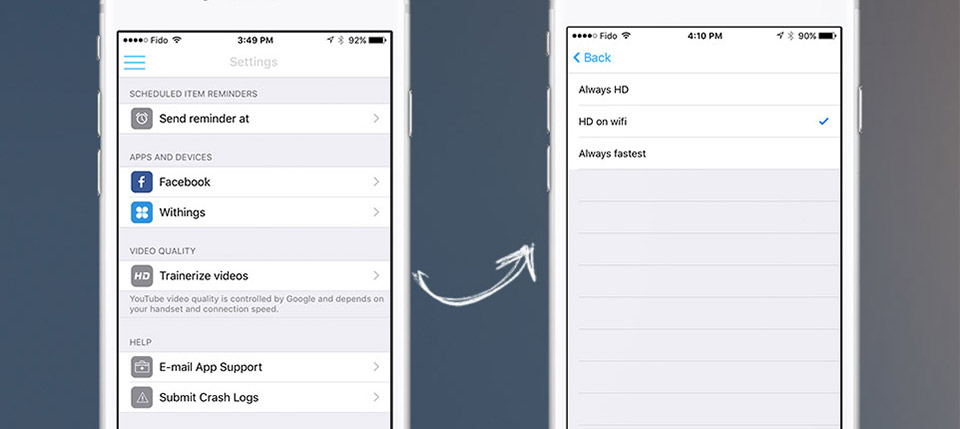 100+ NEW EXERCISES (INCLUDING BRAND NEW BODY WEIGHT EXERCISES).
Fresh from the studio! We are proud to announce that a new batch of exercise videos has been added to the Trainerize exercise library. Besides replacing older exercises, we've introduced new body-weight exercises that are perfect as homework workouts as they can be performed without machinery or extra equipment. Start adding these to your clients' workouts! Check out some tips on how to best use body-weight exercises.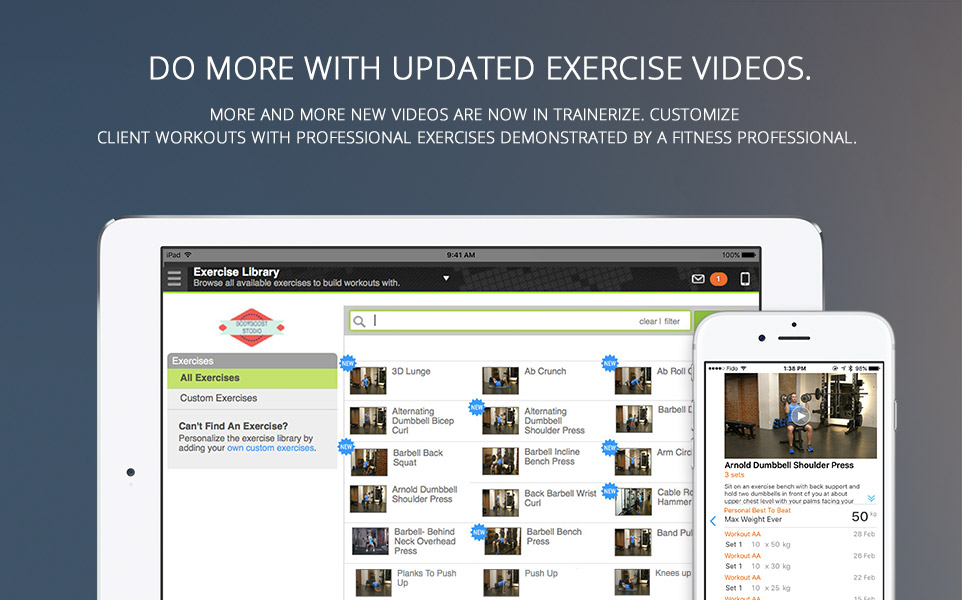 iOS updates
We fixed a bug that was pausing the music when starting the Trainerize app. We've also adjusted the notification sounds so that they will slightly reduce volume of other apps when they notify you in Trainerize.
Android updates
THE BACK BUTTON IS HERE!
We're always listening to your suggestions and working hard to improve the Android app and make it more capable and reliable. After Trainerize V3 introduced a brand new Android mobile experience, we're now happy to announce some new features for Android users.
We've introduced the "Back" button functionality for the most frequently used scenarios when navigating back to previous screens and pages within the app. For example, you can now press "Back" to return to the inbox when you have a message open, or to navigate back to the client list from a client profile.
EDITING WORKOUTS FOR TRAINERS. NOW POSSIBLE!
We've also added the ability for trainers to edit and customize workouts that are already scheduled in the calendar. This is an extremely powerful feature when training clients in-person as you will be able to instantly alter and adapt their existing workouts. This is just the beginning of a series of features that will enable you to fully manage your clients and their workouts from your phone. Stay tuned for the announcement of fully editable mobile workouts!
We really enjoy you'll enjoy the new features as much as we enjoyed developing them! Keep the feedback coming on the ideas.trainerize.com platform. We're always listening!
😎  Team Trainerize.
Take your Fitness Business to the next level.
Start your free 30-day trial of Trainerize.