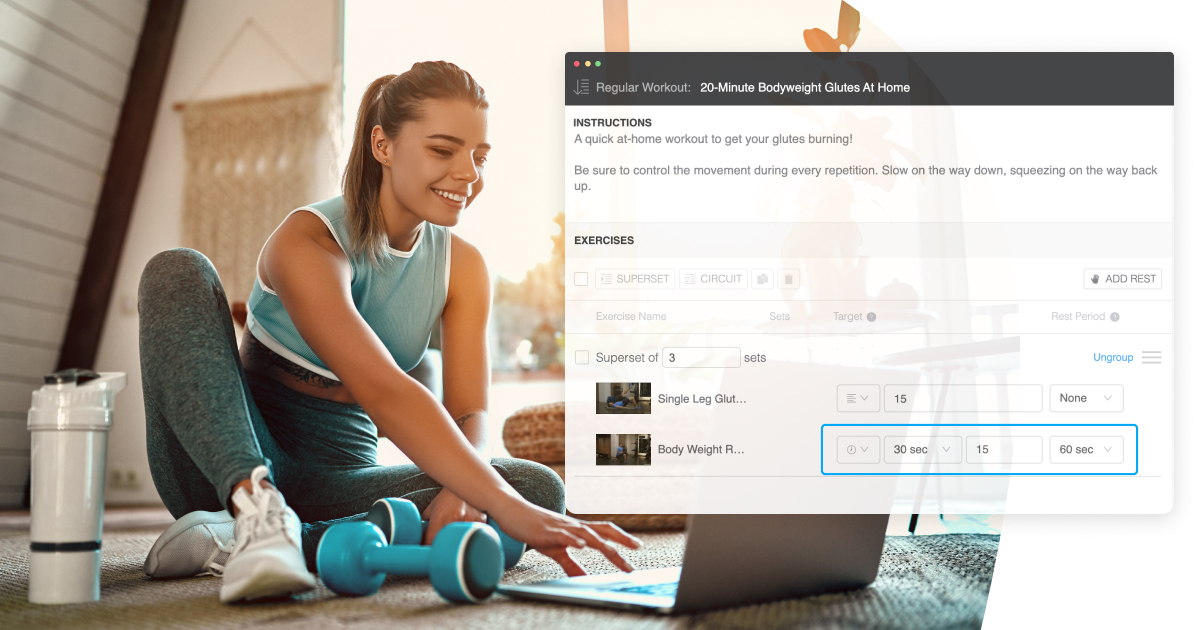 We recognize that building workouts and tracking a client's progress overtime is at the heart of coaching clients to success. Which is why we're continually creating a better experience for you when it comes to training and monitoring clients' progress!
It's now easier to switch up clients' programming and build workouts faster! You can now create timed sets, add in a jump rope exercise, and easily duplicate exercises when building workouts. We hope you love the improvements to our workout builder, plus the additional progress graphs we've added for cardio activities!
Keep reading to learn more! 👇
Goodbye distance targets, hello time targets 
An easy way to help clients be successful in their training is to set the right exercise or cardio targets. Let your clients know their target is 20 burpees or run 2km. That way, clients know exactly what they need to do to crush their workout! 
That being said, we first want to let you know that we're bidding adieu to cardio distance targets when building regular and circuit workouts. While goodbyes are never easy, we want you to meet your (hopefully) new favorite target, time targets! 
When building a workout, you can now select time as the target to create timed sets for exercises (eg. 1 min of push-ups). When clients start the exercise, there will be a timer counting down and afterwards they can input their reps.
We realized that with the introduction of time targets, GPS distance tracking for regular or circuit workouts was no longer needed, as most cardio blocks would either likely have a time or text description target. Hence, we decided to retire distance targets.  
Pro Tip: If you miss having distance targets, simply input it manually by creating a text target to indicate to a client that they need to complete a 200m run.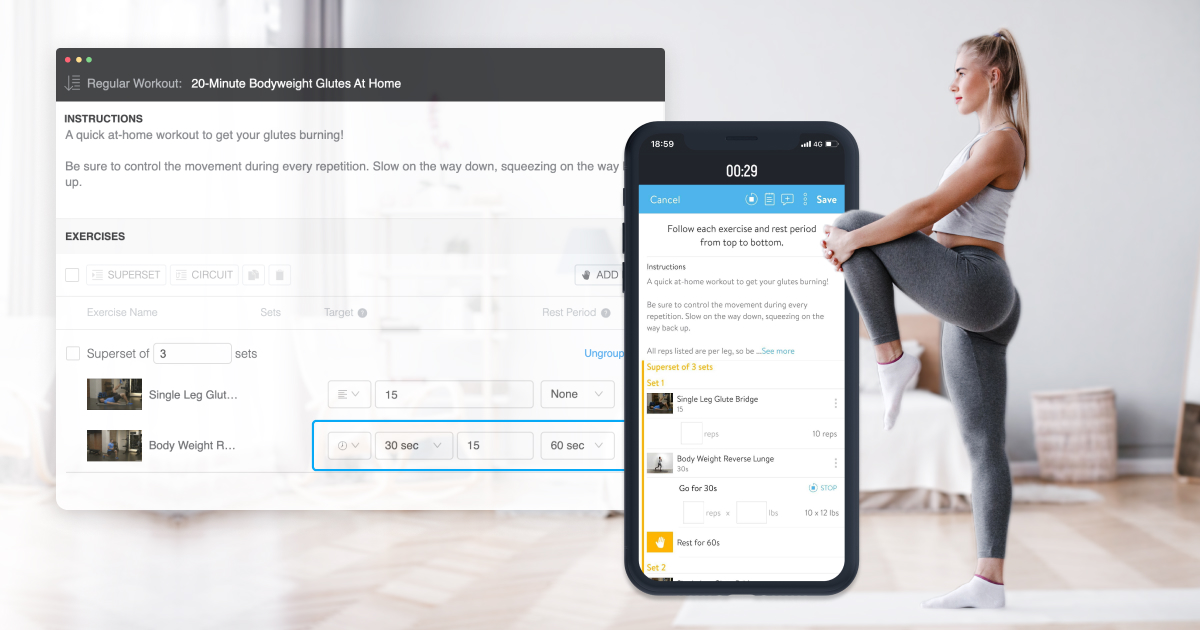 Duplicate your favourite exercises with just a click of a button
Building workouts can be tedious sometimes, creating exercises after exercises—but now it doesn't have to be! After building an exercise once within a workout, you can now easily duplicate it with all the sets, targets, and rest info copied—perfect for repeating the exercise or adjusting it to be slightly different!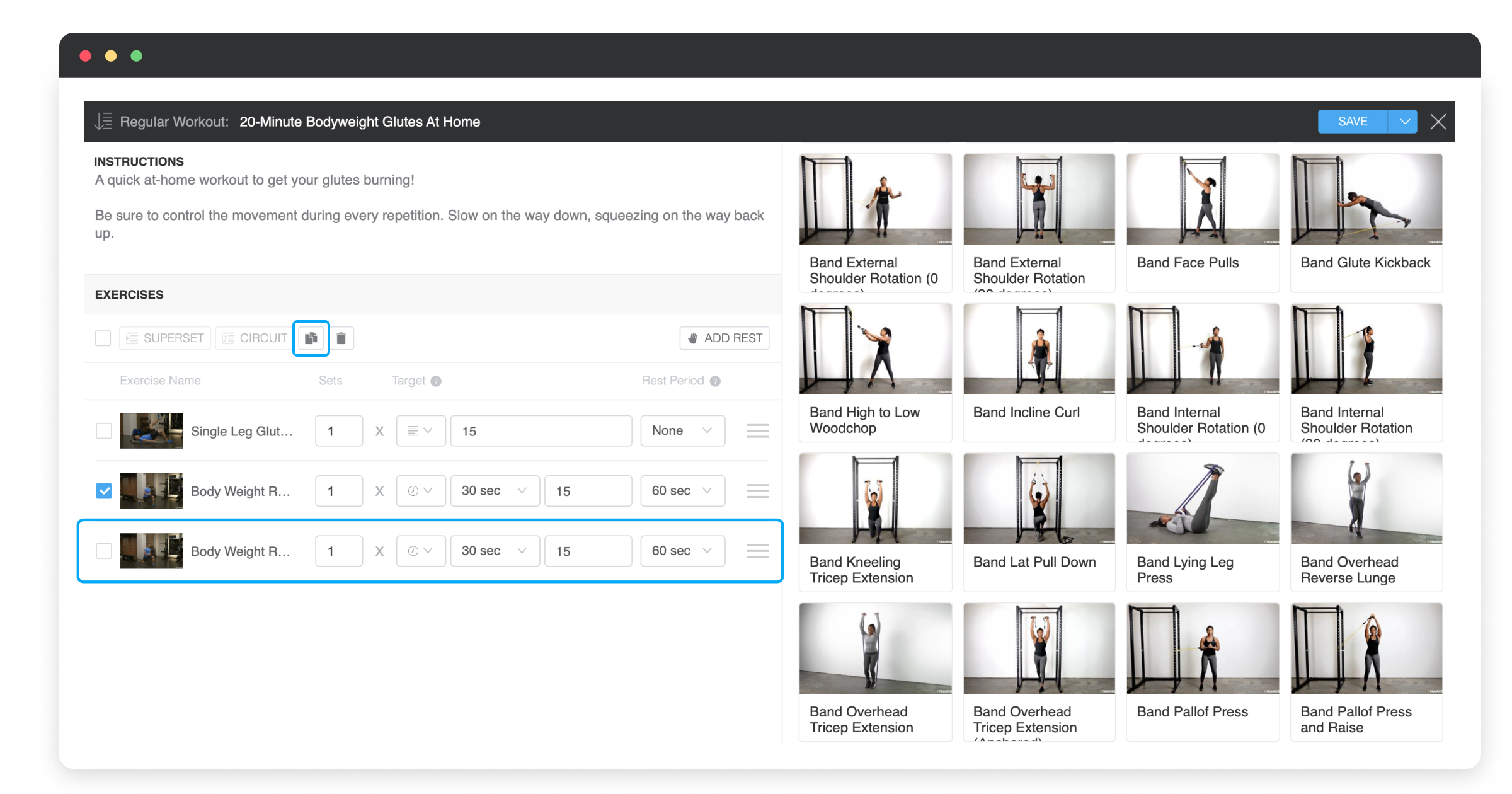 Get those jumps in with the newly added jump rope exercise
With our new cardio exercise, hopefully the only thing clients are skipping during their workout is the kind that has to do with a jump rope! Now, you can now find the jump rope exercise in the Exercise Library and add it into any regular, circuit, or interval workout. 
Jumping rope not only burns more calories per minute than running, but it's a convenient cardio exercise. It can be done at home, at the park, or while on vacation (really, anywhere) with minimum equipment! 
Pro Tip: Include a jump rope exercise into a workout as a quick warmup to get clients heart rate up and body warmed up. 
Don't forget, from the program or client calendar, you can always schedule in a cardio activity for clients to complete just jumping rope!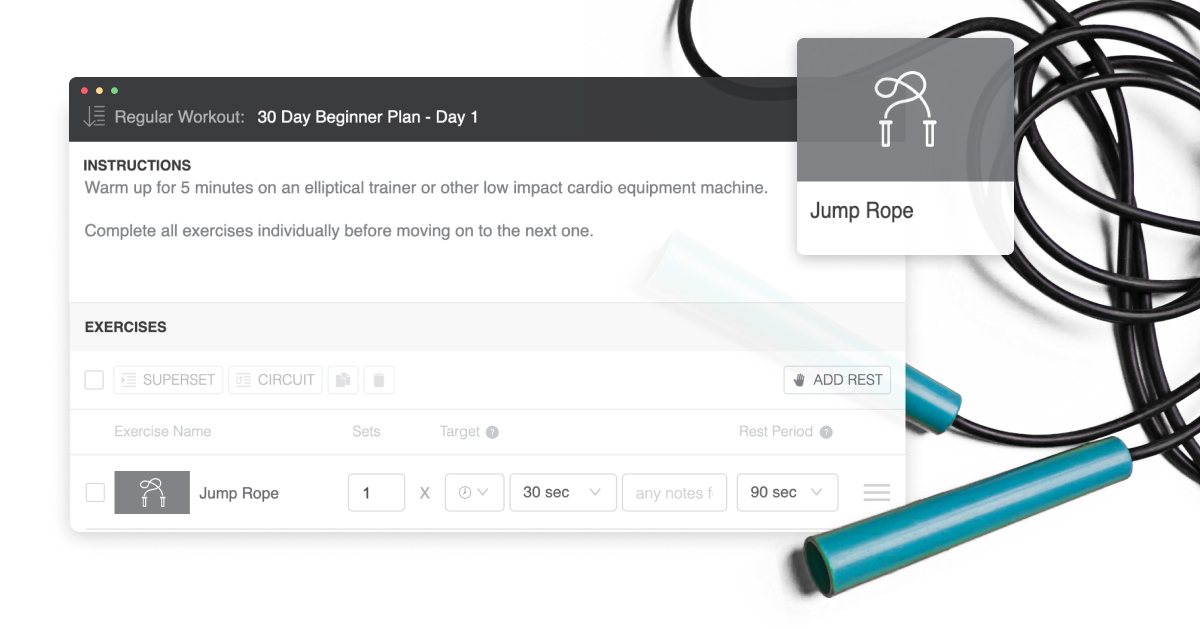 Popular cardio activities get additional progress graphs 
While a lot of the work as a trainer comes from developing exercises, workouts, and training programs clients will love, it doesn't stop there! 
The fun begins once clients start completing workout after workout. Only then can you see how clients are progressing in their training. Then you can adjust their training, keep them accountable, and coach them to success! 
That's why, for our most popular cardio activities, we've added additional progress graphs for "average pace" and "average speed"! Those lucky cardio activities include running, walking, cycling, rowing, and the elliptical. Plus, it's great for monitoring how clients have improved on those metrics over time to then know when to reward and praise clients!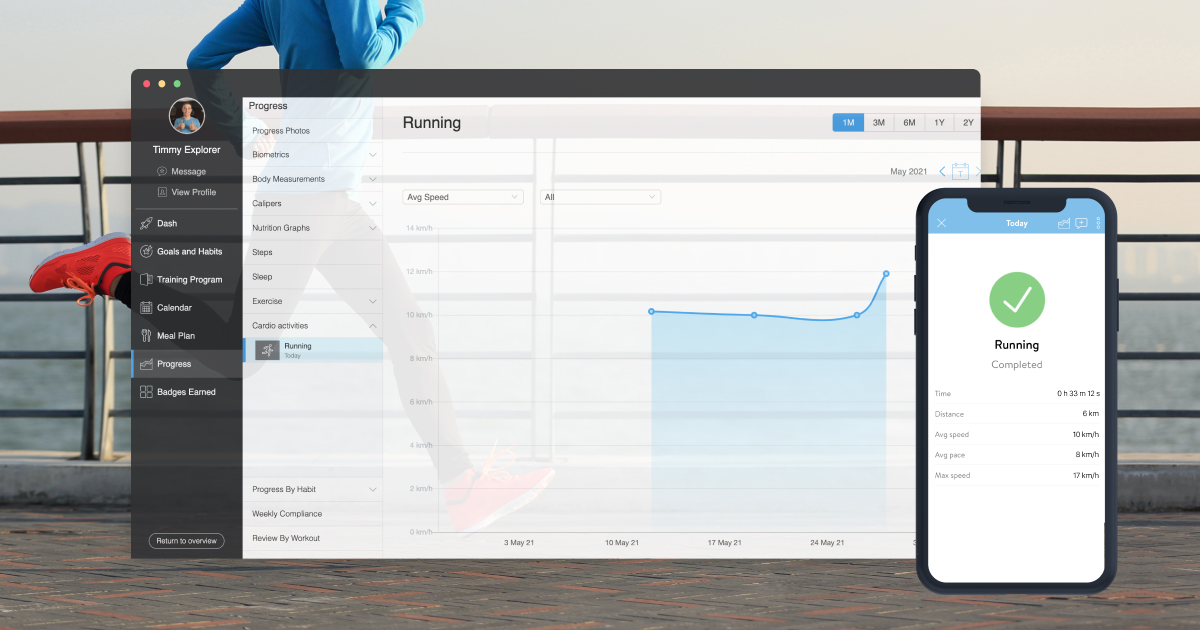 As you know, we're always listening to you—our amazing #TZtrainers. We love using your ideas and feedback to help make Trainerize the best app possible for your fitness business.   
Tell us more about your experience using Trainerize. Let us know what new features you'd like to see in the future. Submit an idea or voting for your favorites in our ideas forum!