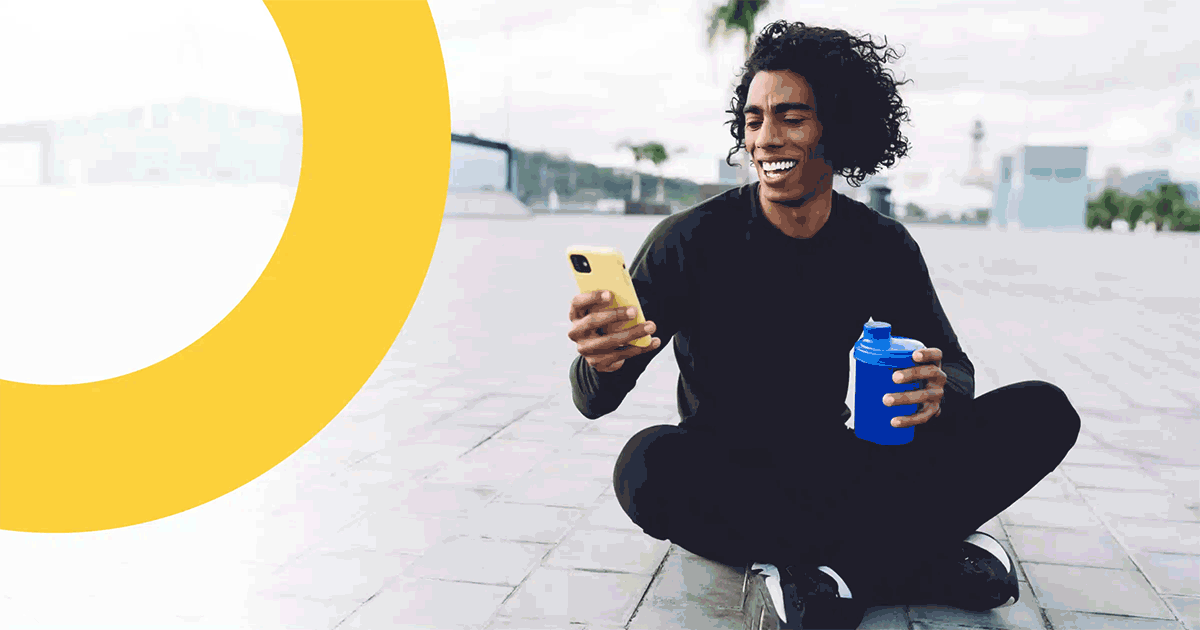 As a coach, your time is valuable. When it comes to scheduling clients in for appointments like virtual 1-1 live video coaching calls or PT sessions, a lot of that time can be lost. First, by having to coordinate with clients back and forth on availability, and second, by manually doing the booking too as the coach. 
That's why we're so excited to announce that your clients can now quickly and easily view your availability and schedule themselves in for their next PT session! No more asking "What's a time that works for you?"–ever again! 
Keep reading to learn more about the new client scheduling features for appointments in Trainerize! 👇
Why your clients will love the ability to book their own appointments, pay online, and reschedule easily. 
If you've been doing all the booking for your clients up until now or thinking about bringing your scheduling into Trainerize, the ability for clients to self-book sessions and coaching calls is a total game-changer! Check out some of the key benefits below that we think you and your clients will love the most.  
💰 Sell more coaching calls and sessions – When booking in for consultations, coaching calls, and PT sessions is easy, clients are likely to book more appointments, and ultimately purchase more of your session packs in the future.
🕰  Save time – Instead of going back and forth with clients to set a time, clients can book an appointment all by themselves! This helps you take back your time and lets you focus on the things that really matter, like being a better coach and having a better work-life balance. 
📱Streamline your booking experience – Create a smoother overall scheduling experience by not only allowing clients to directly book appointments, but by bringing scheduling right into the app and having it seamlessly integrated. Goodbye other, separate third-party scheduling softwares! 
🙌 Better client experience – Your clients will appreciate being able to easily view your availability and book themselves in for coaching calls or PT sessions right within the app–and love that everything just works so smoothly too. 
Now, let's take a look at what's new and how you can allow clients to self-book their next appointment! 
Let clients self-book in three easy steps:

Whether you've been using Trainerize Appointments for a while now, or you're completely new, all it takes is three simple steps to let your clients self-book appointments! 
The best part? After you've mastered these steps, all you have to do is make sure you show up on time for the appointment!
Keep in mind: The ability to self-book is currently only available for one-on-one appointment types as part of Trainerize Appointments. The ability for groups to book appointments (classes) will come soon. Stay tuned! This functionality is not yet available for Mindbody appointments. 
1. Enable the self-booking option on your appointments
Whether you want clients to book in for an in-person PT session or a virtual 1-1 live check-in call, you'll need to enable this on the appointment type first. 
If you already have an existing appointment created, you can edit the settings to enable the self-booking functionality. 
Otherwise, create a new appointment type with self-booking options. In order to do that, head over to the Settings tab and under Advanced Business, select Appointment Types then click "New". Check out this help article.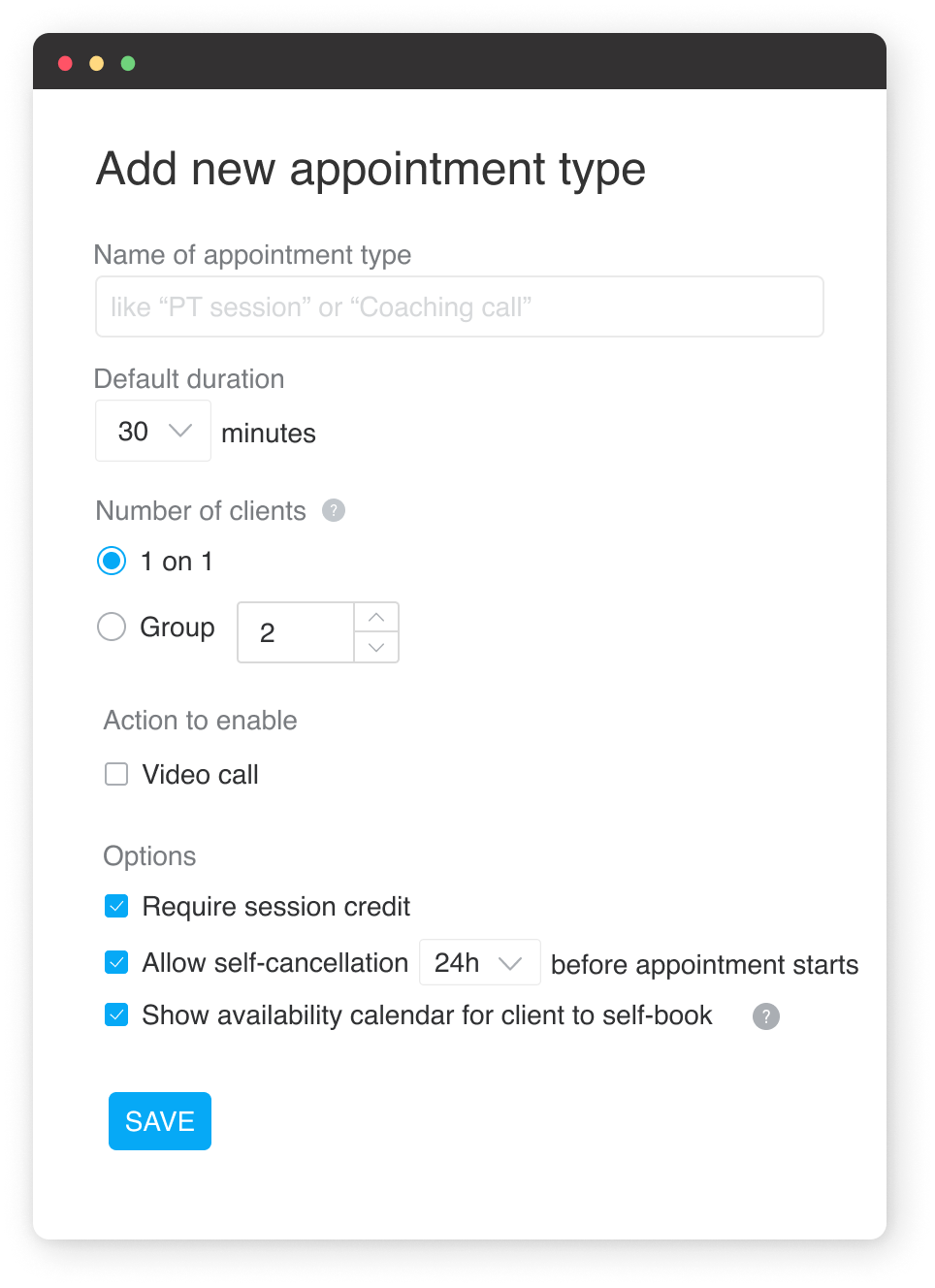 Once you fill out all the details for your appointment, customize the settings:
When "Show availability calendar for client to self-book" is enabled, it will allow for public booking . If you leave it unchecked, you can still share the appointment privately via messenger or groups and let clients self-book.

The "Require Session credit" is great if you want to have this appointment type also deduct individual sessions from a larger PT package or session pack you are selling. Learn more about session packs

here

. 

Make it a virtual PT session by enabling the "Video call" action!
TZ Tip: Control your availability by setting a booking window for all of your appointments. This ensures clients don't book too late or too far out. This works great when you want to give them a timeline for when they need to finish their PT sessions from a PT session pack. On your Appointment types screen, click "Set booking window limit" and set when clients can view and book appointments.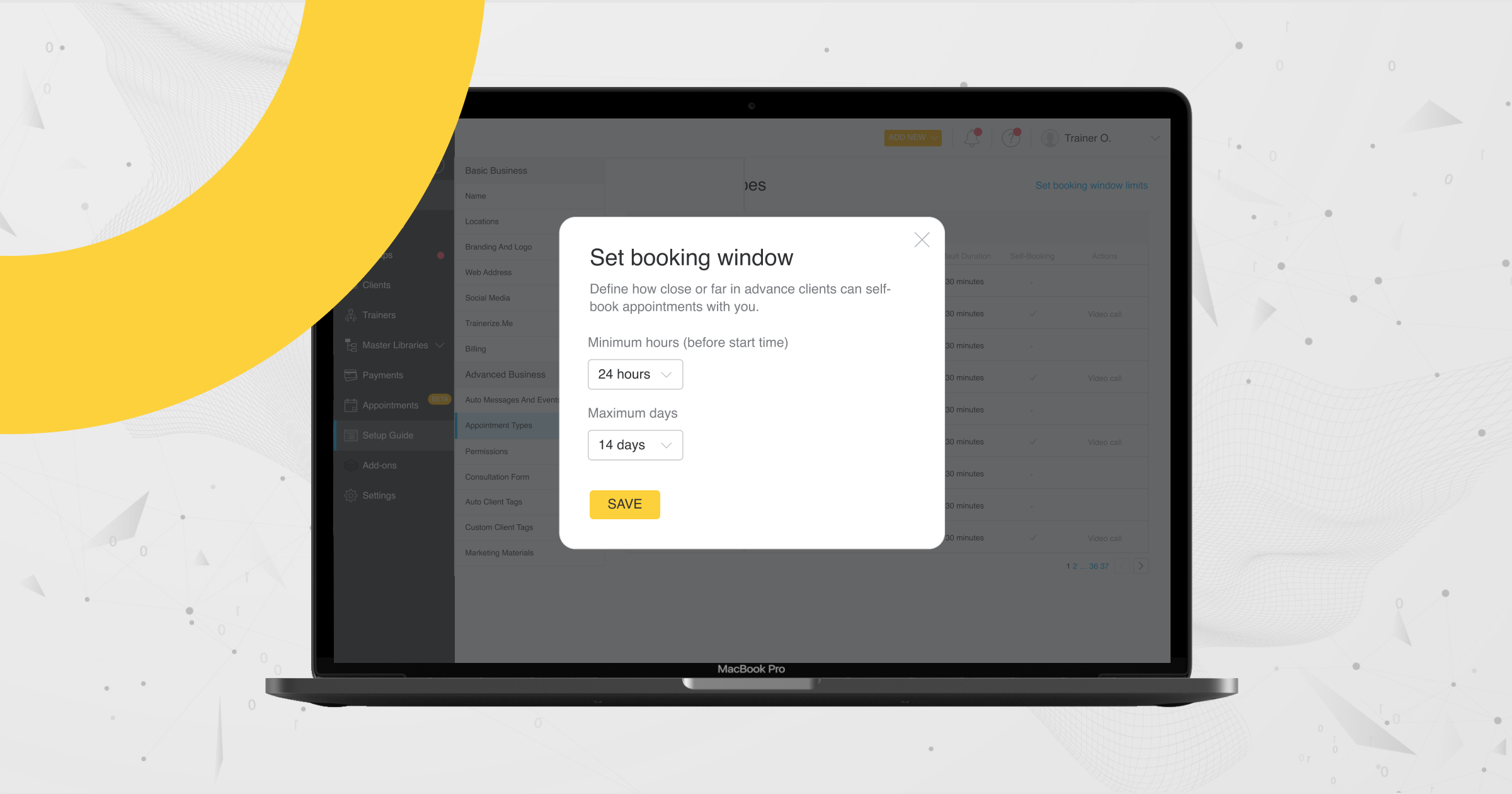 2. Set your availability 
Simplify client scheduling by only offering times that work with your availability. Head over to the Appointments tab and select the Availability tab.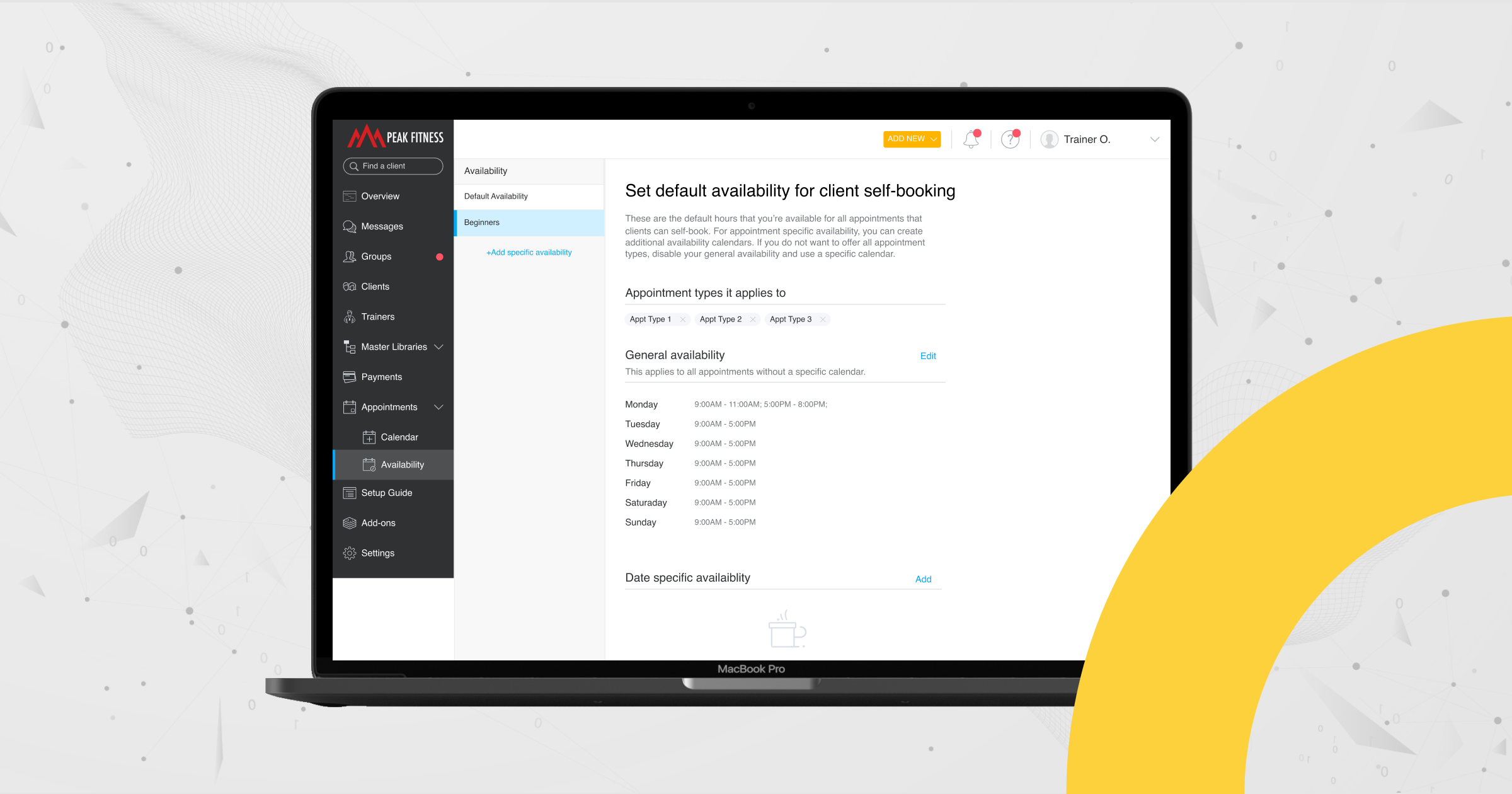 Here you can manage your general availability, specific appointment availability, date specific availability, and any vacation time-off. We'll go over a little bit on each so you're well prepared on how (and when) to use each to manage your availability to the tee!
General availability: This general availability applies across all of your appointments unless you indicate otherwise with the following availabilities. 
Specific appointment availability: Do you have a specific availability for a particular appointment type? This availability will be shown instead of your general availability. 
Date specific availability: If you're unavailable on specific dates, set a date specific availability and it'll reflect across all of your appointments.
Vacation time-off: Going off on vacation? Set your time-off so client's won't be able to book in on the days you'll be away.
Learn more about how to set your availability and the four different availabilities.
Let clients self-book – from anywhere they want 
Meet your clients where they are by giving them 3 simple ways to book PT sessions or appointments with you.
From the dash

– Clients can easily schedule an appointment on  the mobile app by tapping on the "Add" button from the dash. Here they can select from the various available appointment types, pick a date and time, and make the booking!

From an in-app message or group – As mentioned earlier, you can share your public and private appointments via messenger or groups. It's perfect for sharing appointments that you'd like for specific groups or clients to see. Plus, as you're messaging your client to remind them to book their next monthly check-in call, you can share the appointment booking right then and there so they can't miss it! Learn how. 
Extra reasons to love our self-booking feature.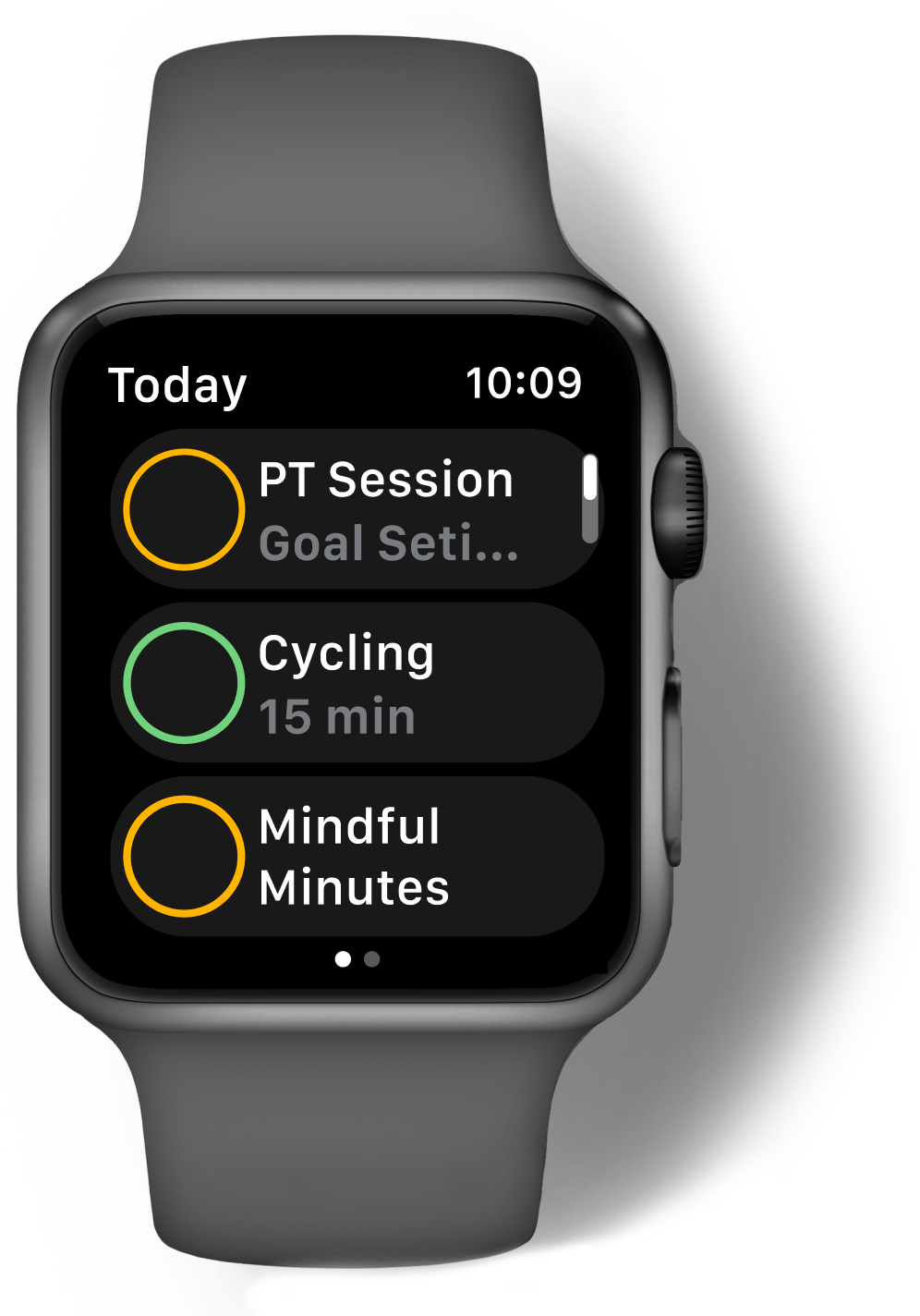 Appointments are synced to your calendar and Apple Watch! Once an appointment has been booked, they are automatically synced onto your and your clients' device's calendars. Plus, they'll also appear on the Apple Watch so you and your clients can easily view and manage them on the go! Learn how to sync appointments to your calendar.

Get reminders and notifications so you don't miss an appointment! Both you and your clients will get reminders from the app of an upcoming appointment–just in case either of you happen to lose track of time! 
Rescheduling is a breeze for everyone.  There are times when life happens and your clients can no longer keep their original appointments–and that's okay! They can easily cancel or reschedule as long as it's within the cancellation window that you've set.

Session credits are automatically deducted and refunded. With Trainerize Payments, you can sell sessions, a type of paid appointment type, to make it easy to track sessions. When a client schedules a PT session with you, a session credit will automatically be deducted and their balance updated! If they cancel outside of the cancellation window, their credit will also be returned back to them.
Want to see TZ Appointments in action and learn more?
Join the webinar "Save time and give clients the power to schedule their own sessions" happening on Tuesday, March 1, 2022 at 11:30 AM PT.  Save your spot now!
There's more to come!
We hope you found these features as useful and amazing as we think they are! As you know, we're always listening to you—our amazing #TZtrainers. We love using your ideas and feedback to help make Trainerize the best app possible for your fitness business.   
Help us shape the future of Trainerize by letting us know which features you'd like to see! If you'd like the ability to:
Then let us know by voting for those features! Have something else in mind? Head over to our ideas forum to submit an idea or vote for other favorites!