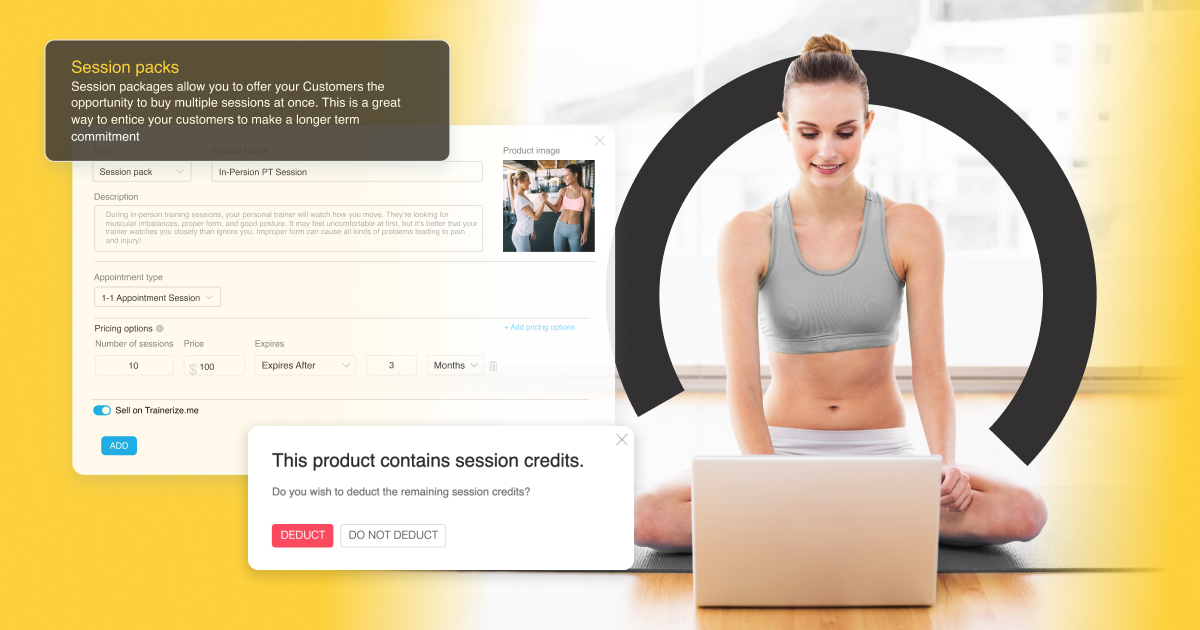 Have you ever wished you could sell and market personal training packages on their own? With session packs, one of the newest products you can sell, you can! 
While some of your clients love your online training programs, others may need a more tailored approach.
Now you can offer clients the option to purchase personal training sessions and easily track the sessions! You can sell these by themselves or include them in your bigger PT pricing packages. Either way, they're fantastic for clients or members who prefer more face time with you, whether that's in-person or online!
Plus, it doesn't stop at just personal training sessions! You can be creative with your services and offer nutrition coaching sessions, weekly check-ins, and more. And last but not least, after you book your clients in for their sessions, we take care of keeping track of how many remaining sessions they have left so you don't have to. 
Keep reading to learn more about session packs and how it will change the way you coach!👇
Why you'll love the ability to sell and track sessions 
Sell additional products and market bigger packages of services

Market and sell PT sessions, nutrition coaching sessions, and more 

Clients stick around longer – when you sell bigger session packs like 10 sessions of PT coaching, you know they're committed until they use up all of their credits 

Easily track client's sessions 
Sessions are here!
Sessions are paid appointments that you can book with clients, and use to deliver personal training, run assessments, facilitate goal setting sessions, or really anything else you'd like! 
The best part is you can use them for your online coaching and run virtual sessions, or you can use them for your in-person coaching too! You can also deliver in-person group appointments as well to train more clients at once, and soon virtual group sessions when that's available! It's one simple solution for scheduling in all your clients, no matter how they train with you.
To book a session, a client must first purchase session credits, which can be done the same way they'd purchase any of your other services.
TZ Tip!  Deliver virtual, 1-on-1 PT sessions straight within Trainerize by using the Video Call features! Learn how to include video calling to your appointments and purchase video call credits. 

Say hello to session packs!
We are thrilled to finally introduce session packs! This feature was in the making for a long time, as we really needed to build the system to track the sessions behind the scenes, and to include this as part of Trainerize Payments and Appointments. So we needed to release those features first! 
But now they are here, and they are better than ever!
What are session packs?
Session packs are a set number of sessions that are sold together for one pre-set price. For example, you might sell a session pack of 10 sessions for $1000. It's up to you how many sessions are included in a pack, and how much you charge for it. It's great because sometimes you just want to give clients the option to purchase packs of sessions that best suit their needs. 
Bring your PT Packages to Trainerize
If you're running a studio or gym, sessions and session packs are going to be absolute game changers! They're going to make it easier than ever to sell your services and streamline everything—so get ready to say goodbye to juggling multiple appointments and training calendars for your clients! Additionally, with session packs, your members can quickly and easily make a purchase without needing to come into the gym, pick up the phone, or jump through any other administrative hoops. Talk about an easy, breezy client experience! 
Ultimately, when you give your clients the option to purchase multiple personal training sessions at once, it can help them truly commit to their training programs. Plus, you can also use the sessions as a selling point because they're one-on-one time that a client gets to spend with you! 
TZ Tip!  You can set different pricing options for each session pack! A common approach to setting the rate is to include a greater discount per session when they purchase more sessions—perfect for incentivizing clients to purchase larger sessions packs!
KEEP IN MIND: Session packs are one-time purchases, and because the sessions can be used at any time, this type of product cannot have a start or end date. As a result, you will be unable to run product automation for session packs. 
Lastly, session packs are available as part of Trainerize Integrated Payments. Click here to learn how easy it is to create a session pack.

Create more powerful training packages
Adding sessions to your existing products is a great way to increase your revenue while offering your clients personalized support to achieve their goals. For example, you can have a higher tiered monthly training package that includes 6 personal training sessions for the month. By being able to add different sessions to your products, like various habits, nutrition, or coaching sessions, you can market more of your services and sell bigger packages at once.
To learn how to add sessions to your products, visit this help article.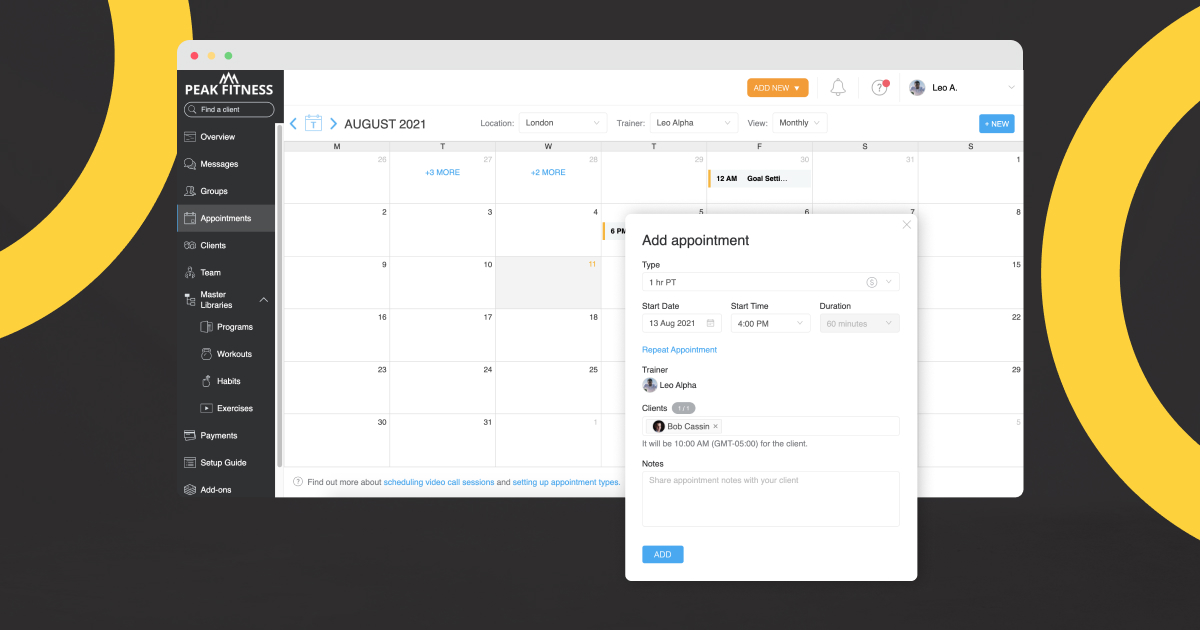 Tracking sessions is easier than ever
When you're training a handful of clients, keeping track of their sessions and how many they have left can be difficult, if not impossible. Thankfully, now it doesn't have to be! 
We've built in the ability to track sessions, so you don't have to. Simply book a client in for a session as a paid appointment and a session credit will automatically be deducted. That way you'll always know how many sessions your client has left. 
After you've booked your clients in for a couple of sessions, it's easy to check how many sessions they have left! Just head over to your client's overview page, either under Summary or the Sales tab to view their remaining session credits.
To learn how to create a paid appointment that tracks session credits, visit this help article. 
TZ Tip! If your client purchased a one-time session pack and they're getting low on session credits, try sending them a personal message or scheduling an auto-message in advance that includes the product link to buy more sessions. That way, you can use your client's momentum to keep them training and quickly sell them their next product—ensuring that they don't miss a beat when it comes to continuing their training! 

Getting the word out, making the sale
Are you ready to boost your revenue with sessions? If so, sharing and marketing session packs has never been simpler! 
Share the link to your session pack product page on your website, social media, or wherever you interact with your clients (and potential clients)! When clients land on your session pack product page, they'll be able to see a drop-down of all of the available packages and pricing options available, then quickly select and buy the one that's right for them. 
Last but not least, if you've included sessions as part of a main or add-on product, the number of sessions will be visible on both the product and checkout pages. This way clients can clearly see what's included and how many sessions they're paying for when they opt in for your product!  
TZ Tip! Don't forget that the ability to sell and market session packs is available as part of Trainerize Integrated Payments. Click here to learn more about this powerful way to sell your services and get paid. 

Hey coach, sorry I can't make it anymore
Our lives and schedules can be hectic, and so are your clients! If they find themselves unable to make a session for whatever reason, they can cancel the session right within the app. 
The option to cancel will only appear if you've enabled client self-cancellation for the appointment and it is within the cancellation window you've set. If you set the cancellation window to 12 hours prior to the start of the session, as long as your client cancels within this window, their session credit will be refunded back. 
As their trainer, you'll get a notification each time your clients cancel their session. That way, you can stay up to date on changes to your own schedule, know that you'll need to reschedule their session, and perhaps even book in a session with a different client for that cancelled time slot! 
TZ Tip!  Don't forget, if you want to give clients the ability to self-cancel, you must enable self-cancellation and set the cancellation window for your session! Learn how here. 
Extra tabs to help clients stay on top of their remaining credits and purchases  
If your clients are ever curious about what they've purchased or how many session credits they have remaining, they can pull those details up in a heartbeat! 
At any point in time, your clients will be able to view their session credits on both the mobile app and on the web. They'll see when their session credits expire and get a sense of when they should use them up by and expect to make another purchase!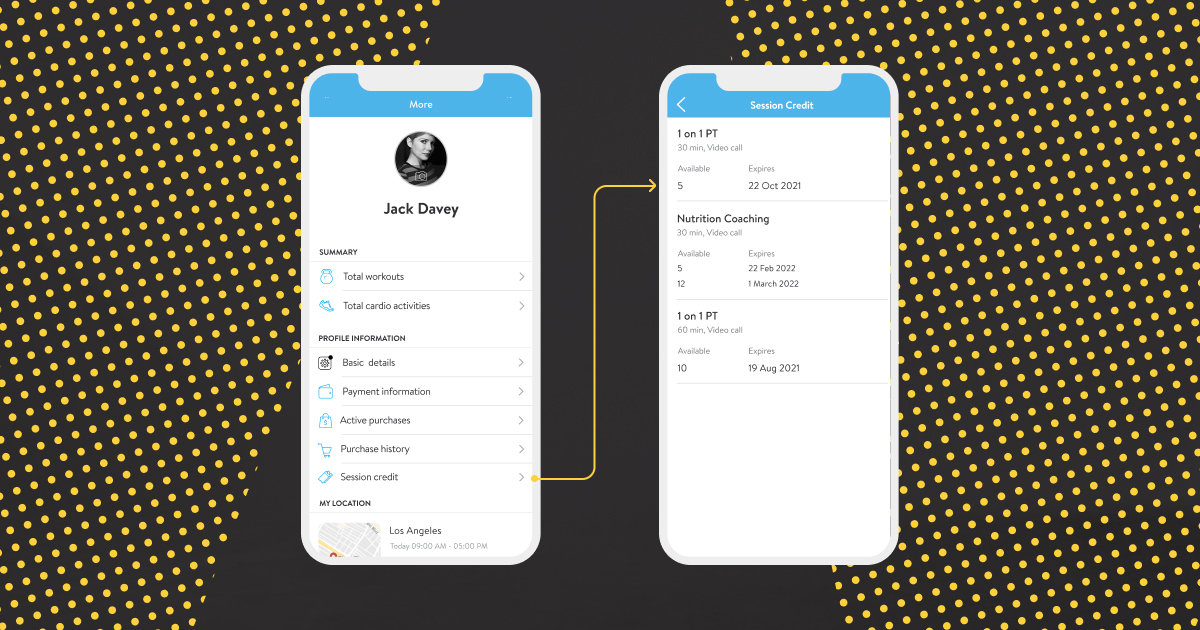 On the web, your clients can also approve pending products, decline upcoming products, and cancel recurring products. This lets your clients better manage their products and stay in control of their purchases and training!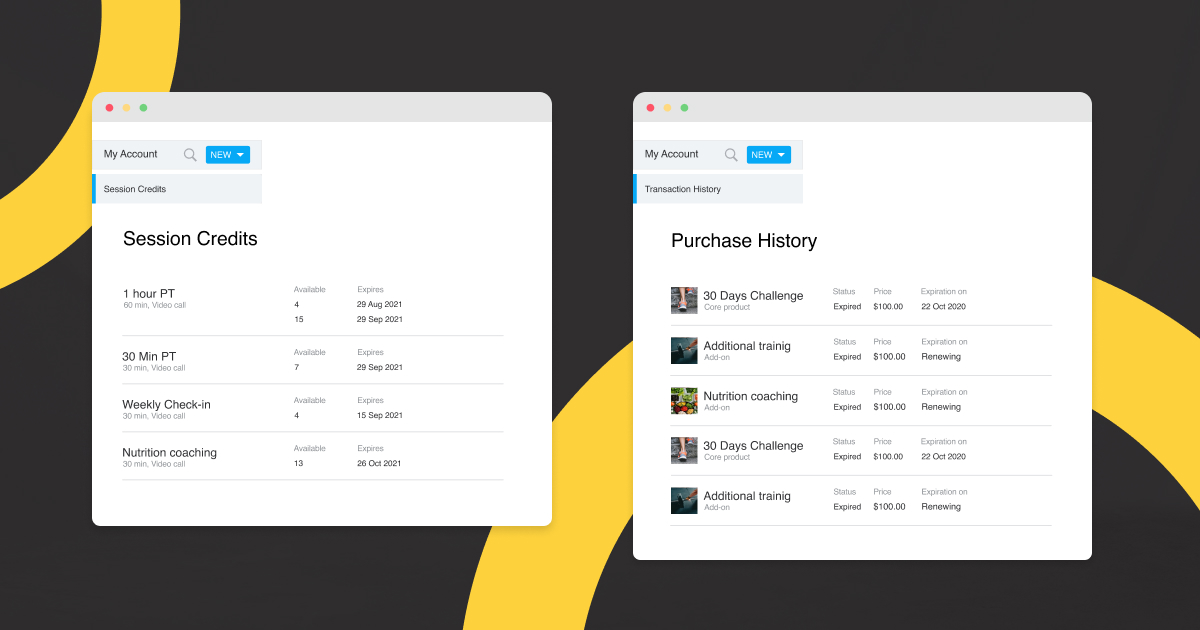 KEEP IN MIND: Purchases and transactions history can only be viewed on the web, unless you have a Studio or Enterprise account. If so, then your clients can directly access their purchases in the mobile app.
When is this available? 
The short answer for most people is it's available now! And everyone can access these features on the web. 
However, if you haven't updated your Trainerize App to the latest version, Version 7.11.0, then you'll be missing these features on mobile. Also, if you have a Pro or Studio Custom Branded App or you're on our Enterprise plan, expect to wait up to two weeks for your app to be updated to the latest version, also Version 7.11.0.
If you're not running the latest version, you may run into some hiccups such as credits not being refunded back to clients when you cancel a session, not being able to edit an appointment, and your clients won't be able to cancel the session. 
If you're still waiting for the update, we promise you that it's every bit worth the wait!  
There's more to come!
Stay tuned for more to come as we continue to improve upon the way you and your clients use session packs. We're talking about the ability for clients to self book sessions and additional reporting and options for Trainerize Integrated Payments including the option to charge more than $1000 per product, plus more!