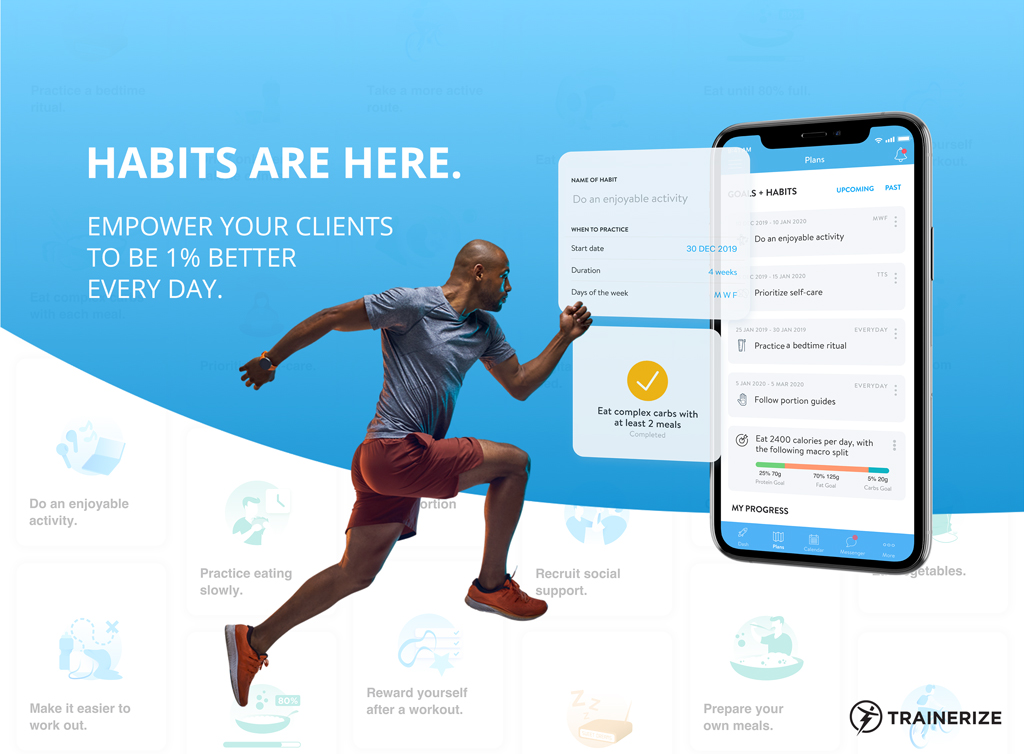 Face it: at our core, humans are creatures of habit. We like the familiar, crush it when it comes to repetition, and are experts at making ourselves at home in our comfort zones. Unfortunately, no one ever said we're creatures of healthy habits. 
Until now.  
Cue the confetti and order up a round of kale smoothies because we've just released our very first set of habit coaching features that you can start using today. 
Now you can add habits to your clients' calendars and daily to-do lists and encourage them to practice them on the daily. It's the perfect way to help your clients ditch their bad habits, gain healthy ones, and live their best lives every day while making small, sustainable lifestyle changes.
Level Up Your Training with Habit Coaching
Why the big fuss about habits? Because we all know health and fitness don't just happen overnight; there are no instant fixes or miracle techniques, and most of the time exercise and nutrition alone are not enough—no, what healthy living comes down to is a collection of small but important choices that add up over time to bring us all closer to our goals. 
Habit coaching is all about turning small changes into big results and it will transform how both you and your clients use the app, taking your average client engagement from 1-2 times a week to 7 days a week!
Some of You Are Already Doing It (Maybe Without Even Realizing)
The great news is, many of you are already on the habit-coaching wagon! 
Coach Sean Cristea of the Kinetic Strength Company has been telling clients for ages that "the secret sauce to success" is habits, while Amanda Boyd of Impact Training encourages her clients to look carefully at their habits when they're struggling to reach their goals.
Kayne Goldfinch, a trainer in Australia at 2 B Strong preaches the power of consistency and cites habits as a key way to build that regularity. Meanwhile, fellow Aussie and Trainerize Trainer, Susan Morley of Susie Morley PT reminds us all that "[our brains] quickly transform as many tasks and behaviors as possible into habits so that you can do them without thinking. So…[t]he more you make a routine stick the better your outcome will be to a HEALTHIER YOU!"
You already know how important healthy habits are! Now we're just giving you even more tools and features to level up the way you encourage them with your clients.
Take a look at what's new!👇
Start Habit Coaching Today

First things first, before you can start using Habit Coaching, you'll need to do 2 things:
Download the latest version of the Trainerize app (or of your custom app).

Habits require version 6.6 or higher, so make sure you're running on the latest and greatest.


Turn on the early-access habit feature. 

Head into the web app and navigate to the add-ons screen. There you'll see the Habit Coaching switch. Enable it and you're good to go.
Once you've done that, navigate to a client's profile to start the habit coaching magic.
From their profile, open your selected client's dashboard and choose "Goals and Habits" from the left-hand menu.
Click the blue "+NEW" button and navigate to the Habits sub-menu. You'll instantly see five categories of habits (Active Living/Movement, Nutrition, Nutrition Portion Guides, Mindfulness, and Sleep). Inside each, you'll see a list of ready-to-prescribe habits.
Simply choose the habits you want your clients to work on, slot them into their calendars by choosing which days of the week you want them to practice, and their scheduled habits will appear in their in-app daily to-do list. 
Each of our ready-made habits comes with a video lesson explaining how to practice the habit and why your clients might way to make it part of their lifestyle.
As they repeat the habits on, they'll check them off their daily to-do lists to track their progress. Over time, these habits should become easier and the healthy behaviors second nature. How's that for creating lasting motivation and long-term change?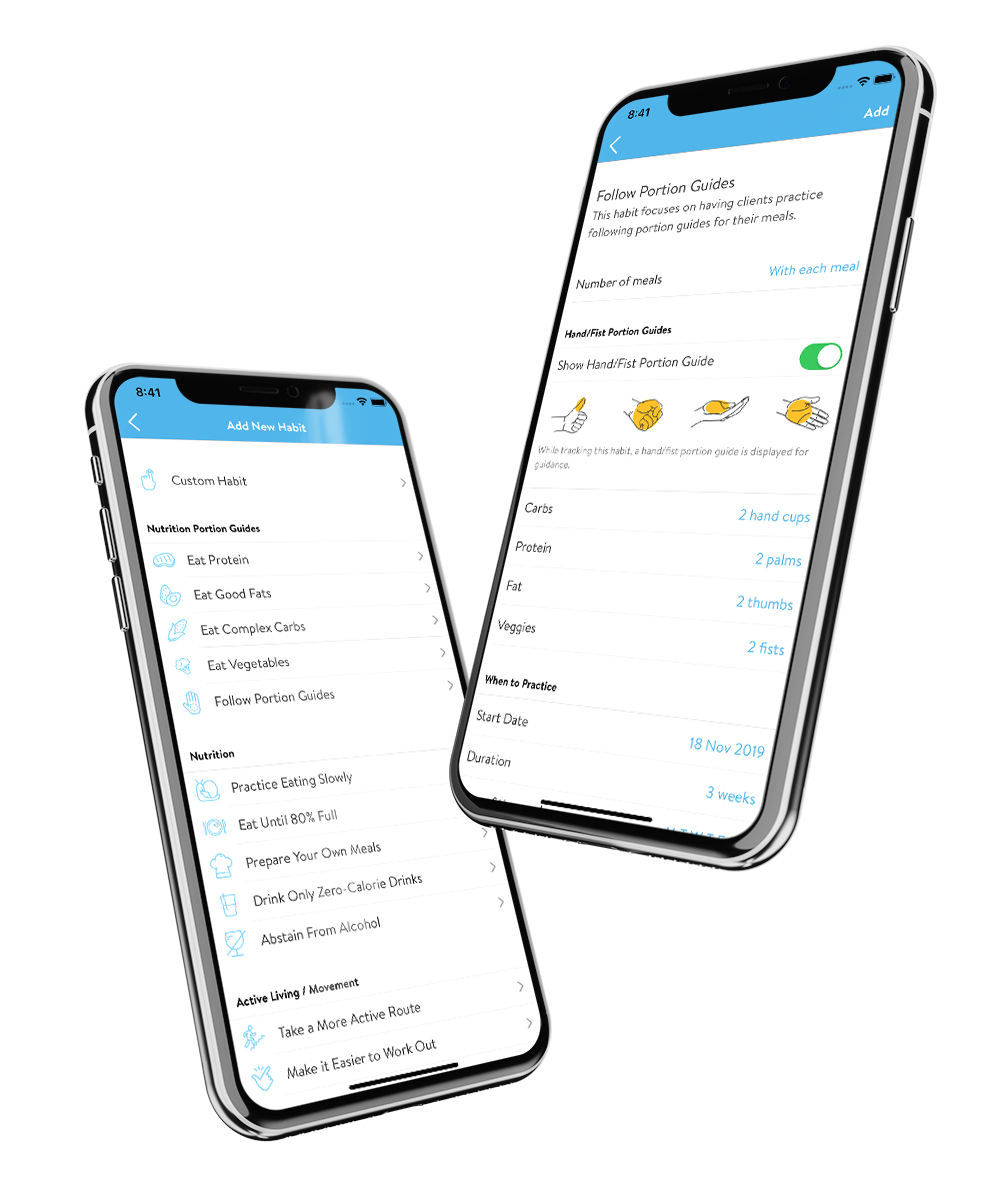 Hello Custom Habits
You may have also noticed we've included an option to select "Custom Habits" from the drop-down menu. 
In addition to the habits we've already created for you to use with your clients, you can also create your own for them to practice. Just like with the ready-to-prescribe options, you just need to choose when you want your clients to practice the habit and it will automatically appear in their to-dos.
Trainers can schedule from both web and mobile, while clients view and track habits from their phones so they can stay on track on the go
To learn more about setting and tracking habits, or for help getting started, check out these awesome support resources.
Explore Our Library of Ready-to-prescribe Habits
To help you take a 360° approach to your clients' health and wellness, our library of ready-to-prescribe habits can be grouped into 5 categories identified by researchers as the pillars of healthy living: activity, nutrition, nutrition portion guides, mindfulness, and sleep.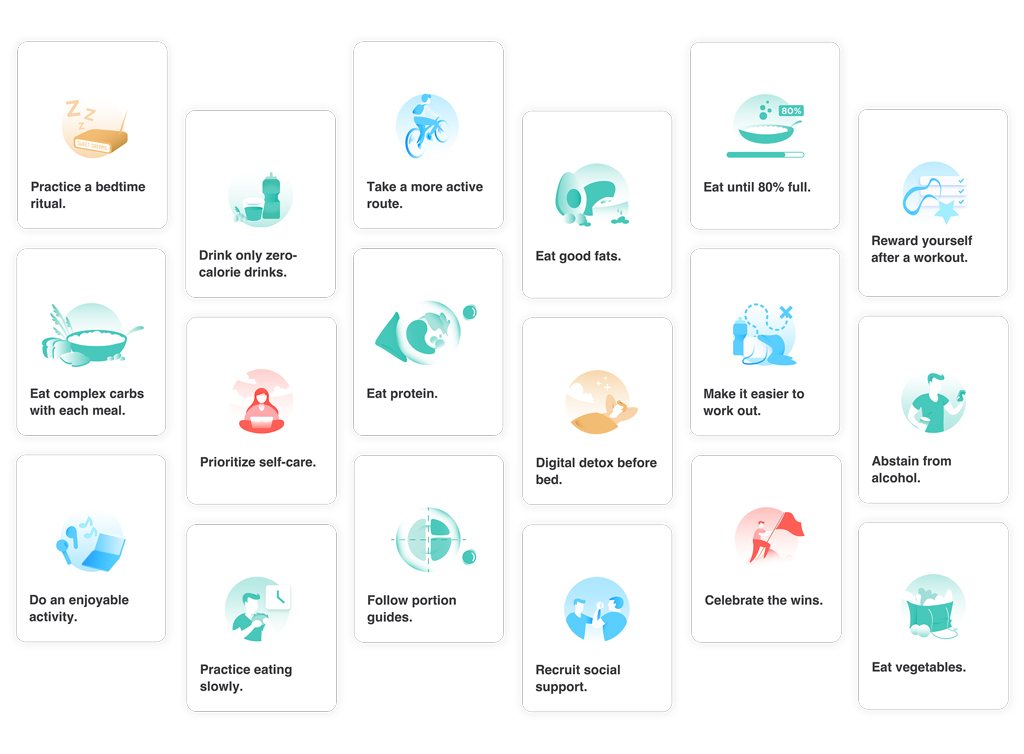 Each habit category has its own unique benefits, but their real power is activated when they're combined. By asking your clients to practice an assortment of habits from each of the 5 areas, you'll be applying a science-driven holistic or integrated approach to your clients' health and fitness goals.
You can learn more about each category, all the different habits available, and how to use them with your own clients by exploring our Habits guide.
Become a Habit Coaching Expert 🎓
Not sure where to start? Looking for some inspiration to get you going? We've put together a detailed guide on all things habits. 
Subscribe to our weekly habit email guide and we'll send you a new lesson every week on how to habits and how to incorporate them into your coaching.
What's Next for Habit Coaching?
You didn't think this was all we've got, did you? Oh no, we're only getting started. 
The ability to set habits for your clients to practice and have them track their progress is the first in a multi-phase roll-out of habit coaching features. Coming down the pipeline in a series of releases will be a powerful way to measure and visualize your clients' habit progress and achievements, plus a new way to build habit-focused programs and fully integrate habits into your existing training programs and products. Be excited. Be very excited.

For more details or for help getting started, check out these great support resources.
And don't forget to join our habits Facebook group and share your feedback with us! (We love to hear your thoughts and ideas and especially how you're using the features with your clients!)

#SmallChangesBigResults