Let's face it, over the last few months the rhythm of daily life has been thrown for a loop. Routines have been disrupted and we've all been trying to adapt and figure out how to get back to "normal". This includes your clients! 
Now, more than ever, they need all the help they can get to make health and fitness a priority and incorporate them into their daily lives. That's why this upgrade could not come at a better time!
Say hello to the new
Apple Watch App powered by Trainerize.
With its convenient format, the Apple Watch App lets you go everywhere your clients go and offers clients an easier way to stay in touch with daily to-dos, start workouts on the go, and track habits—right from their wrist. ⌚️
Plus, as a trainer, the Apple Watch App will allow you to take a 360° approach to client coaching and will put even more client data in your hands—including active and resting energy, steps, and sleep stats!
Note: the Apple Watch App powered by Trainerize is currently only available to clients, but trainer features will be coming soon so stay tuned!
Keep reading to learn how your clients can start using the Apple Watch App powered by Trainerize right now! 👇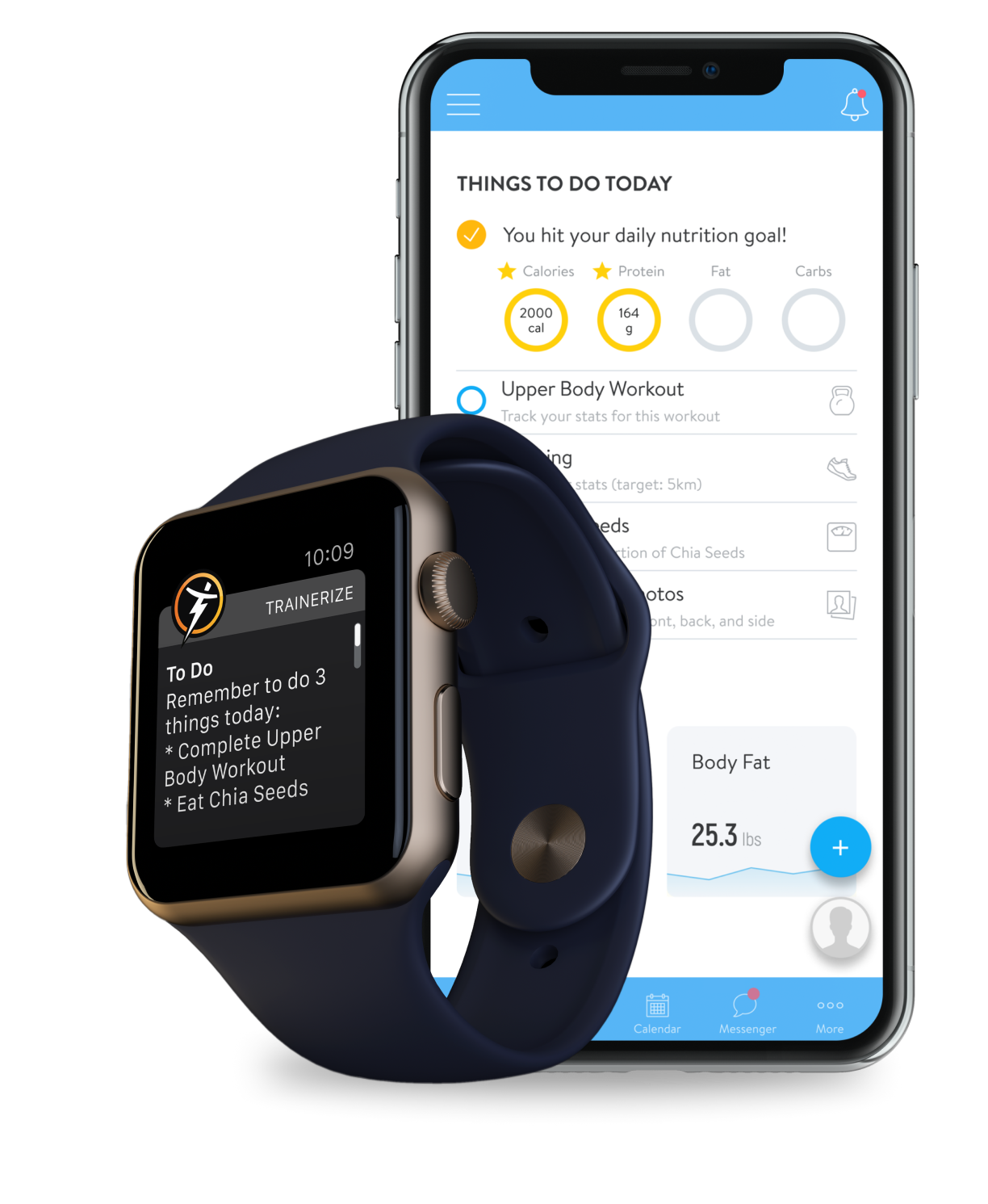 Things to do today, at-a-glance
Who doesn't love a good to-do list? We know we do! 
But we've all done it: created the to-do list only to leave it at home, or gotten so busy we forget all about our good intentions and priorities for the day. A to-do list is only helpful if you stick to it.
Now there are no excuses. Your clients' to-do lists go everywhere they go. With a quick glance at the Apple Watch App, your clients can browse their scheduled activities and habits for the day and get ready to crush their goals. 
Plus, thanks to perfectly timed push notifications, your clients will also receive gentle reminders designed to keep them motivated and on the path to success. It has never been easier to make health and fitness a seamless part of your clients' daily lives.
TZ Tip! Scheduling in workouts, cardio sessions, and habits for your clients to complete is a great way to help your clients rebuild disrupted routines. In fact, research shows that the best time to make a change and adopt new healthy habits is right after a transition. So help your clients make the most of their schedule shake-ups!
Habit tracking on the go
Not only does it keep healthy choices top of mind, but the new Apple Watch App powered by Trainerize also helps make tracking habits a breeze. 
With just a couple of quick taps, clients can use the Apple Watch App to quickly check off scheduled habits as they complete them throughout the day. 

This is great news for client compliance and accountability and is a game-changer when it comes to breaking down barriers to healthy habits. After all, the best way to get clients to do something is to make it easy. 
TZ Tip!Get your clients excited about tracking habits with the new Apple Watch App powered by Trainerize by running a habit streak challenge! And remember, only scheduled habits can be completed from the Apple Watch App, so make sure to slot them into your clients' calendars!
Start cardio activities and interval workouts on the spot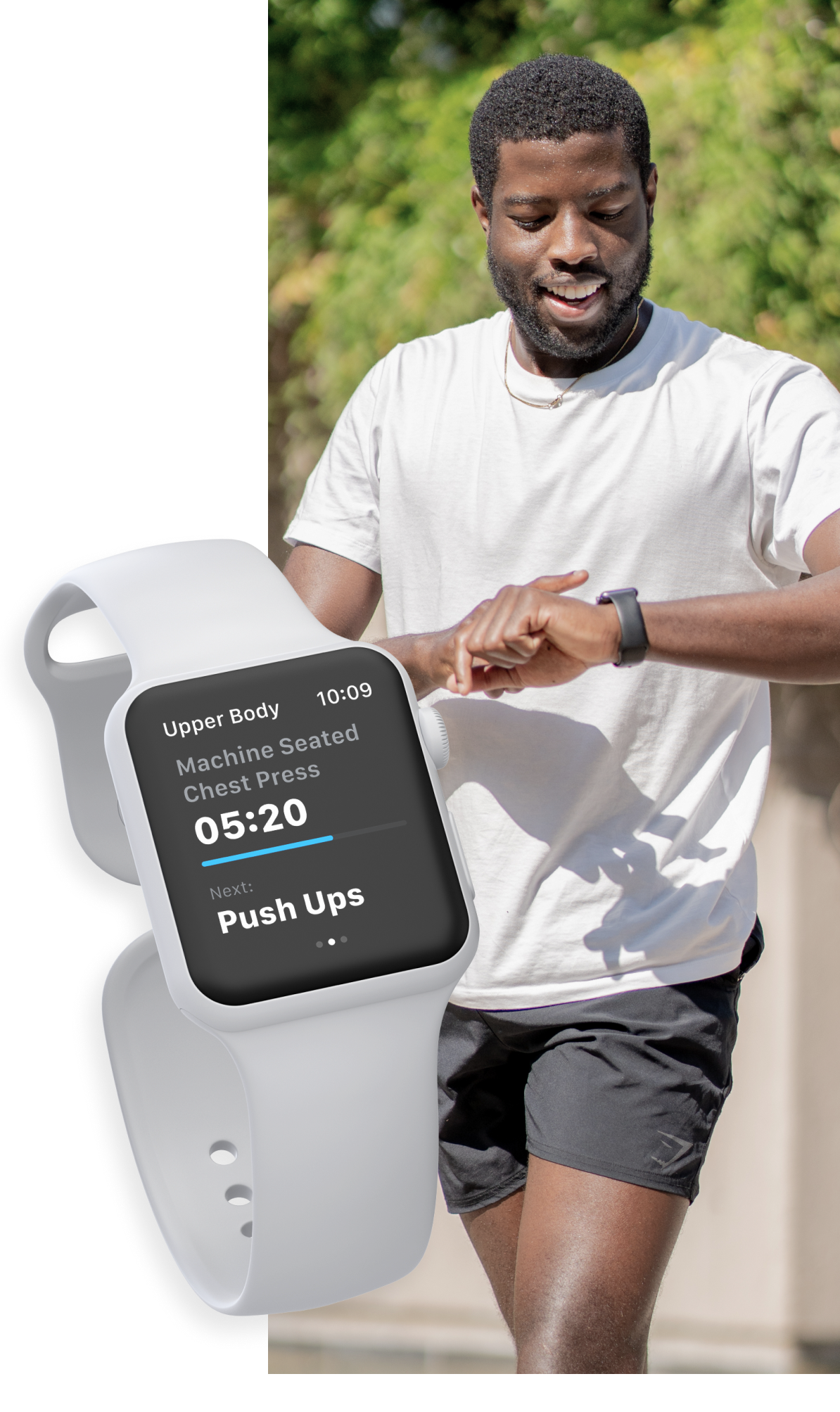 Don't get us wrong, we love mobile phones and apps. If you hadn't noticed, we've dedicated ourselves to using that exact technology to help make fitness accessible. But sometimes, you just want (or need!) to walk away from the phone. 
Now, your clients can do exactly that without missing a workout or cardio session. 
Clients can start an interval workout or cardio activity any place, any time through the Apple Watch App—it doesn't even have to be scheduled into their to-do list!
Note: Version 1 of the Apple Watch App powered by Trainerize only supports cardio sessions and interval workouts but we'll be adding different workout types soon.
Plus, making the whole "leave the phone at home" deal even sweeter is the fact that key metrics like heart rate, time, distance, active calories, and more are automatically tracked during Apple Watch App workouts.
TZ Tip! Some cardio activities (running, walking, cycling) now include both indoor and outdoor options. Encourage your clients to get some fresh air and (socially distanced) exercise by completing outdoor walks, runs, or cycling sessions. 
Track more, with less (including sleep and steps)
It isn't just workout stats that are tracked by the Apple Watch App!
By using their Apple Watch, your clients will also be able to track their active and resting calories, steps, and sleep patterns and automatically sync them into Trainerize to share with you.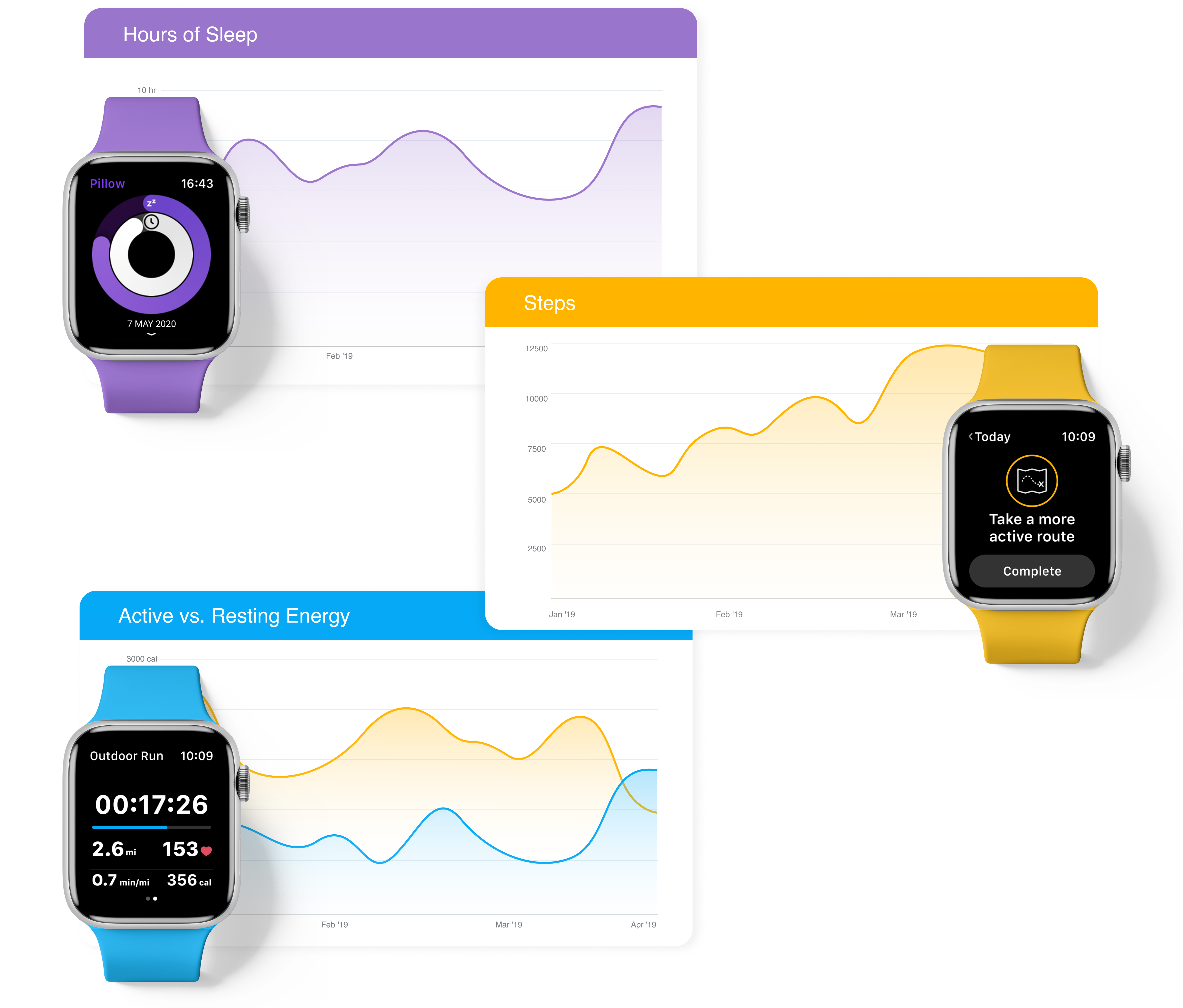 All of this data is valuable and important—especially when you're using a 360° approach to your clients' health and wellness. Monitoring your clients' active and resting energy can give you a clear picture of how effectively your clients are burning calories, their steps help you make sure they're not becoming sedentary, while their sleep (how much they're getting, how good its quality, etc.) is critical to your clients achieving any of their other goals—after all, if a client isn't getting enough quality shut-eye their body isn't going to perform at its peak no matter what they eat or do.
By pulling all of this information from their Apple Watch and putting it together, as a coach, you'll have all the data you need to create perfect exercise, nutrition, and habit coaching programs for your clients.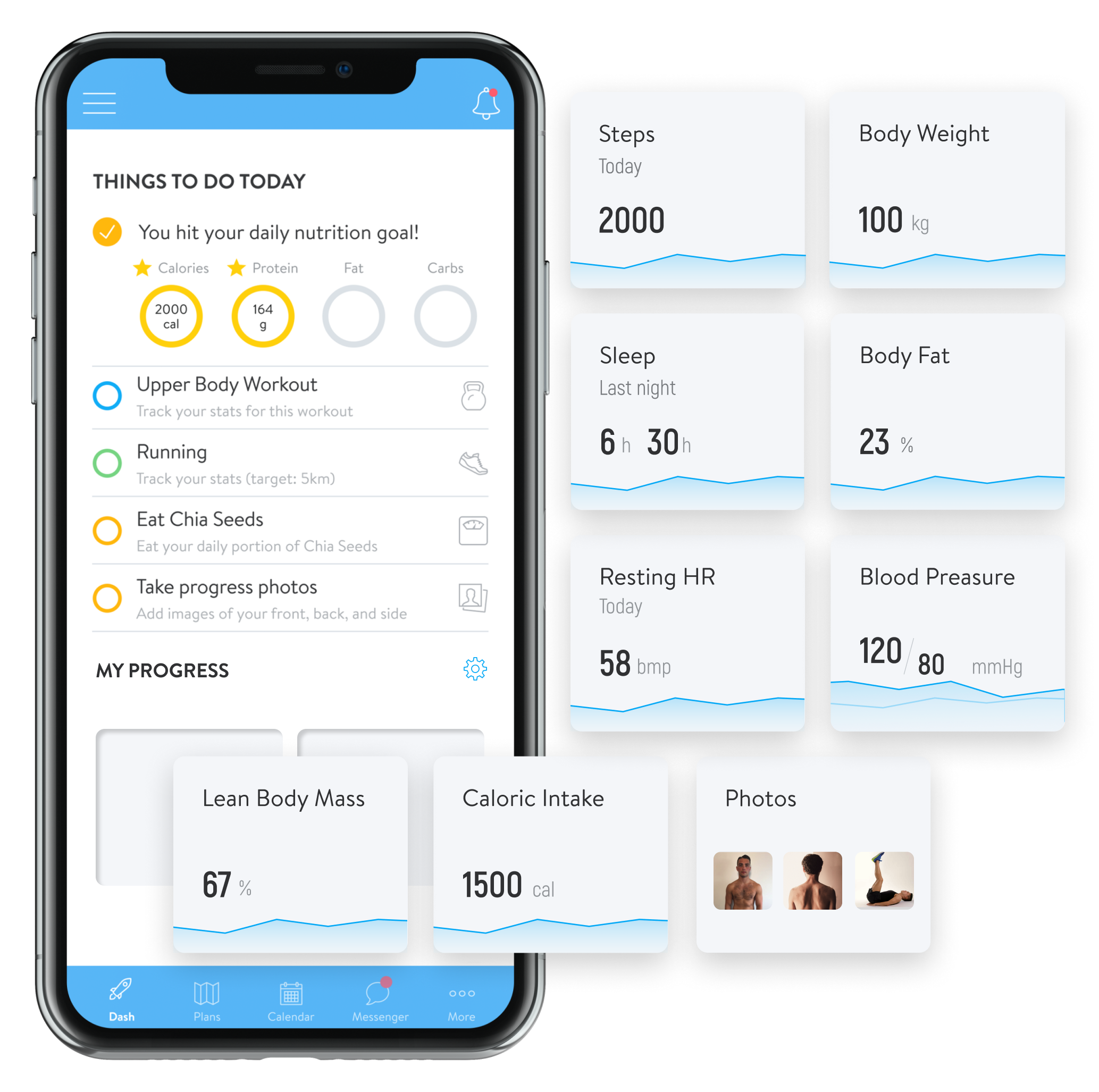 TZ Tip! Put important metrics in the limelight by adding them to your clients' mobile dashboards. Whenever your client signs into the app, they'll see their most recent stats and be inspired to put in the work and continue tracking their progress.
Likewise, the custom dashboard layout gives you, as their trainer, a quick overview of how your client is doing and how their health and wellness is trending. You can arrange the tiles to best match your unique training style or methodology.
Celebrate more wins
Nothing feels better than hitting that personal best, achieving that goal, or setting a new record. So we're helping you and your clients celebrate their wins with a brand new set of achievement badges.
Your clients will see these badges appear on the Apple Watch App alerting them to milestones they've hit or personal bests they've achieved.

Build stronger relationships
Yes, the Apple Watch App powered by Trainerize is an amazing tool to add to your coaching roster. And yes, it is going to change the way your clients work out, track activities, and set themselves up for success. But more than all that, the Apple Watch App is going to help you build stronger relationships with your clients. 
Consider this: when your clients strap that Watch to their wrist, they're strapping you to their wrist too. Everywhere they go, you go; every time they need a gentle reminder to put their health and fitness first, you're there. 
As our CEO, Sharad Mohan says, "Technology can never really replace the interaction a client has with a trainer, but it can strengthen it. With easier communication, more data, always-on messaging…tech can make a trainer part of a client's life in a bigger, more impactful way."
So now that you know why you're going to love the Apple Watch App powered by Trainerize, learn how your clients can get it. 
How to get the Apple Watch App
Currently, only clients can use the Apple Watch App to fuel their health and fitness routines (trainer features coming soon!). If you're already using Trainerize to power your business, your clients will automatically get the Apple Watch App powered by Trainerize.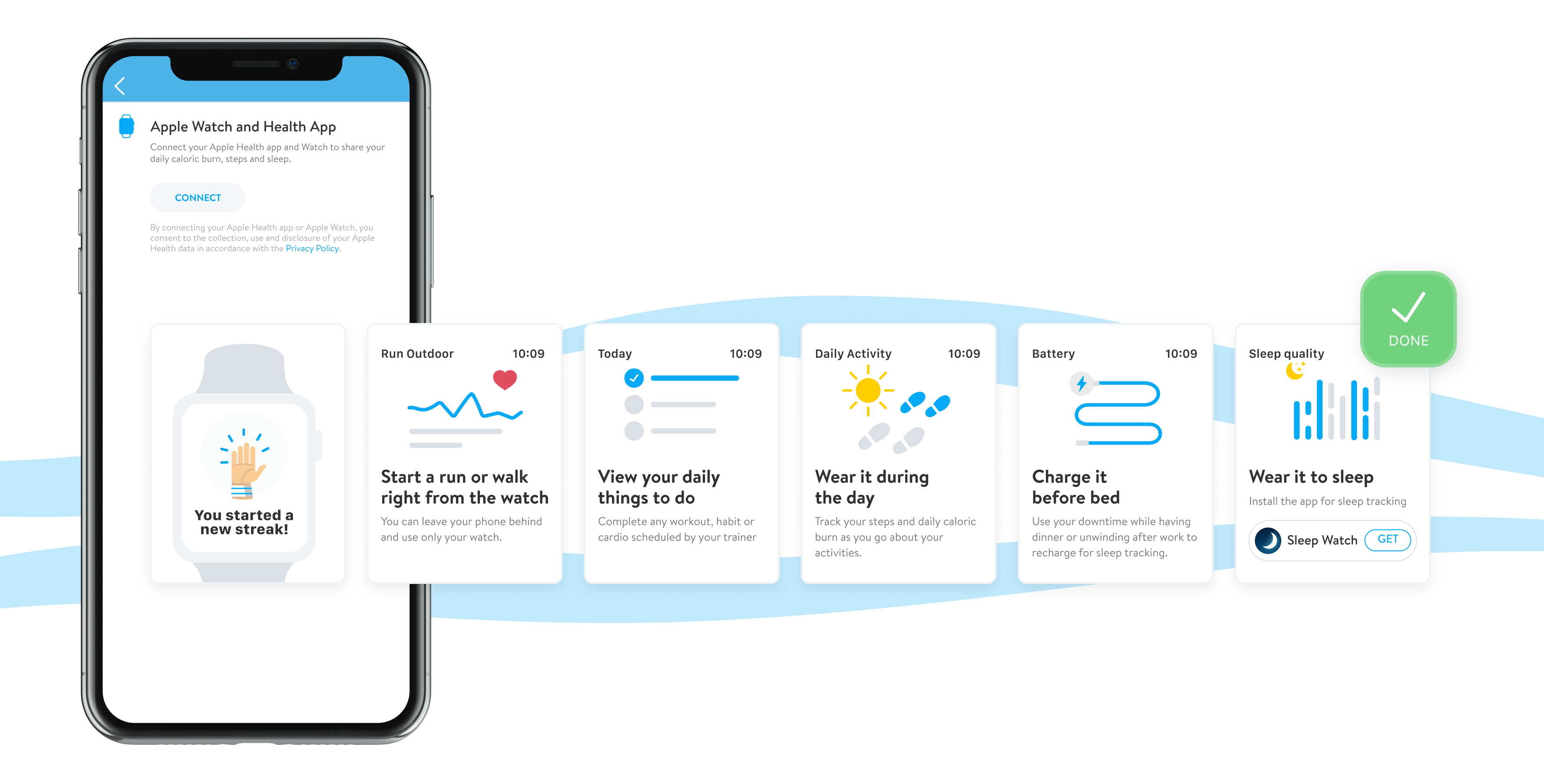 All they need to do is:

Make sure they're running version 7.0 or later of Trainerize on their iOS device

Connect their Apple Watch to their Trainerize account (you can

invite them from the app by clicking "Invite to connect" from their profile, or s

end them these step-by-step instructions on how to do it)
Once they've done those 2 simple steps, the Apple Watch App will automatically install on their Apple Watch and they can start using it for workouts, cardio activities, and habits.
Your brand on your clients' wrists
If the on-the-go tracking and effortless convenience of the Apple Watch App weren't enough, you can also custom brand it.
Imagine your logo and branding on the wrist of each and every one of your clients. Not only will you be delivering personalized and powerful training, but you'll also be building brand loyalty and offering clients a slick training experience, too!

To get your very own custom branded version of the Apple Watch App, you'll need to be on a Studio or Enterprise plan. Not only will you get to make the Watch App uniquely yours; you'll also receive your very own Studio Custom Branded App for iOS and Android mobile devices at no extra charge. How's that for a slick upgrade?
If you're already on a Studio or Enterprise plan, you're all set: the branding from your custom branded mobile app will be automatically applied to the Apple Watch app. 
Note: the Apple Watch App powered by Trainerize does not support custom branding for users with the Pro version of the custom app. To apply custom branding, check out our Studio plans.
TZ Tip! If you've just recently upgraded and received your Studio or Enterprise custom app, you may not see the branded version of the Apple Watch App right away. Don't worry! It's on its way, we just need a little extra time to build it for you. Your branding should appear shortly.
We're just getting started!
Of course, you know us. We're always looking for more ways to make our platform better for you and your clients, so over the coming months, you can bet that we'll be adding more features to the Apple Watch App. 
Some planned upgrades include:

trainer-facing features

a companion mode that lets clients start a workout on their phone and use their Apple Watch as a heart rate monitor

enhanced workout tracking with more metrics and details automatically logged

new cardio activities and additional workout types for clients to complete
Our goal is to help your clients do even more on the go and have you by their side—or on their wrists—every step of the way.
Invite your clients to start using the Apple Watch App powered by Trainerize right now and keep your eye out for more upgrades coming your way soon. 
Start using the Apple Watch App with your clients!
Activate your free 30-day trial of Trainerize.